Marco's, Tommy's, and Patches' Stories
Three Maine Coon Rescue Stories
Marco is a Maine Coon with a great adoption story; Patches and his three brothers got a new lease on life; and, Tomasito Gato went from living under a house to living the good life, in it.
Marco's Adoption Story
by Ann in South Pasadena, CA
Three years ago, my son asked for either: a) a drum set, or b) a Maine Coon cat, for his 10th birthday.
As an animal lover, option 2 was much more appealing. I went on Petfinder and e-mailed back and forth with a few rescue groups.
We needed to find a cat that could blend into a household with a small 3 year old female cat, Moxi (who appeared in my backyard at 4 weeks old), a large Australian shepherd (who likes cats) and a 10 year old boy.
The Ridgecrest, CA, humane society had the most promising prospect, named Marco. The problem was, Ridgcrest is a 3 hour drive from where we live in South Pasadena, CA, But something kept telling me that Marco was our cat, so I made the drive and brought him home.
I knew he was the right cat immediately - he emerged from the cat carrier after the long drive, got up on the couch and calmly looked my Aussie in the eye.
He has been great - he loves my son - sleeps in his bed every day, comes when he is called, and gets along great with everyone.
Thank you to the Ridgecrest Humane Society - they had him for 4 months before he found his forever home with us...
Comments:
Marco
by: Pat in Ocala
Marco is a beautiful cat with a wonderful story - thank you for sharing it. May he have many happy years with your family and especially your son. Because of your young son, Marco is in his forever home.
---
Patches Powers
by Sheila Powers in Pompano Beach, FL
Patches and his three brothers were found abandoned between the wall boards of a house being renovated in Boston, MA.
An 11 year old neighbor raised them for three months with the understanding they all needed to be adopted. Patches was adopted and now resides in Pompano Beach, Fl. Visited yearly by his rescuers.
Comments:
Look like my cat
by: Rosemary Suffolk England
Wow I had a bit of a shock when I looked at this picture Of Patches, He looks just like our Clyde. Clyde is a maceral tabby with white patches, shame I can't send you a picture they could be twins.
Regards Rosemary
---
Tomasito Gato (His Full Name)
by Patricia Bruner in Santa Fe, NM USA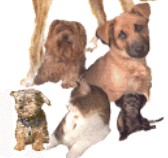 Tommy was under my house 10 yrs ago and I fed him food and water until I could pick him up and bring him into the house.
He was a kitten, didn't know his breed at the time, but he is the cutest, sweetest, loving cat. Never having had one before I can't compare but trust me I'm sure he's the best of his species.
He has had his own room ever since I brought him in the house. I live in the country and there are bad predators out there and the vet says I'm saving his life.
Even though he's about 30 lbs now he's no match for the coyotes out there.
When you see the pix attached you'll see all the animals I have had and have now. All rescued kids. They are the most appreciative being rescued. TREAT YOURSELF.
Top of Marco's and Tommy's Stories