February 2022 Album
Welcome to the February '22 Album of featured Coonies! Come meet Atticus, Isabella, Tyson, Archie, Jack, Dexter, Charlie and more. 

Bones
Scott
(Middleville MI Barry CO)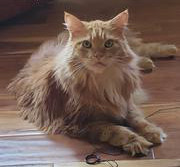 Loves to be my shadow
---

Puss at Home
by Jacqui
(Sydney NSW Australia)
She is a beautiful big fluff butt. And as gentle as a lamb. Loves being combed, except her tail. No one is allowed to touch her tail. She holds it high.
---

Augusta
by Brian Young
(Boston)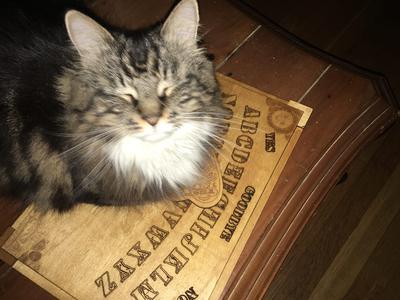 She acts more like a dog then any other cat I have head. Makes all sorts of coonie sounds.
---

Trixie aka Tricker Treater
by Tammy Swann
(Niagara Falls NY USA)
| | |
| --- | --- |
| Took 3 years to figure out the water trickles for them. | Missing daddy |
| | |
| --- | --- |
| Hiding from her half brother. 😉 | Mommy time |
Trixie is our only female pet and our youngest Maine Coon.

She got her nickname because she is a tricky little stink pot when it comes to grooming. It takes a lot of patience.
Other than that she is so sweet and loving. Everyone loves her colors.

Her favorite game is when mom tosses pieces of food so she can chase and catch it.

She and her brother like to watch the birds and squirrels on the catio and her favorite position is laying on her back.

We absolutely love this tricky little bundle of fur. I had to change the picture so the caption doesn't fit. The first picture was of her on top of the sink.
---

Two Australian Maine Coon Brothers
by Deborah
(Perth, Western Australia)
| | |
| --- | --- |
| Rex loving the air conditioner | Quinnie mid yawn |
| | |
| --- | --- |
| Rex still wants to travel | Quinnie on watch detail |
The Mighty Quinn and Inspector Rex.
6 years old and best of friends.

Extremely affectionate, follow us everywhere. We have a cat proof back garden so the boys have a wonderful life.

They bring us so much joy.
---

Introducing Isabella the Serene
by Katrina Small
(Pueblo, Colorado)
Isabella the perfect poser
Isabella was re-homed to me when she was one year old. She is now five. It's just her and I in our 2 bedroom home, and she is strictly an indoor kitty.

Fortunately, the second bedroom is downstairs, so she has a whole different environment to go into, darker, cooler, and it is where her cat box is, in the downstairs second bathroom.

I work from home and Isabella plants herself on her cat tree that is next to my computer desk and she "hangs out" all day this way.

At night, she sleeps on the other half of the bed, goes to bed a little after I do (she has to look out the front window first to make sure we are safe and other outside kitties aren't on the porch) and she gets up when I do. She will stretch and sweetly touch me before we get up.

When she is not next to me while I work, she's looking out the front window, and side door that I keep open. There she watches the squirrel I feed. They are used to each other and squirrel will get close and just stare at her. Isabella also tears unexpectedly through the house any time of the day.

Isabella mostly drinks water from a dripping faucet in the bathroom. If it is not on, I will hear her call out "Mom!". Up I get and turn the water on for her. When she is done she will walk underneath my chair and brush her tail across my legs to thank me. Such a sweet girl.

She does not like catnip, but I keep trying. She only likes her kibble, so she has very clean teeth.

You know how we adopt pet names for our kitties? Even though she is Isabella formally, sometimes Izzy, she is Louis and Louisville. Don't ask, I don't know, just happened and feels right!
Comments:
Beautiful Isabella
by: Kathy
She is just beautiful and regal.
---

Holly Noel
by Nanci
(Valatie, New York)
| | |
| --- | --- |
| | I'm waiting for that squirrel… |
| | |
| --- | --- |
| I'm watching you! | Chilling |
Holly loves to give love pats with her polydactyl paws as you try to sleep. She loves her squeaky toys and the bathroom sink is her go to place!
---

Atticus
by Heather
(Ypsilanti, MI)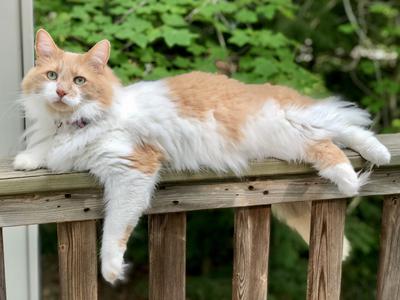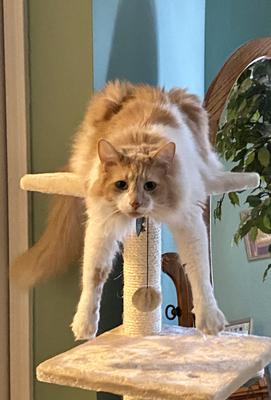 We've never had a cat with so much personality.

Atticus, who is 8, thinks he's a dog. He has to be right in the middle of everyone's business, constantly.

He insists on drinking water from our faucets - every single time we're at a sink. He's very vocal, and loves to play.

Sometimes we think he's playing with a ghost, because he'll run around the house like crazy and jump up in the air randomly. He definitely keeps us laughing!
Comments:
Best cat Ever
by: Leon
Hey neighbor, my Makita acted like a dog too and drank from faucets water bottles and the pool, sometimes going in😎 sad to say he passed last year at 20
Atticus
by: Carol
I, too, have a beautiful ginger and white Coonie also named Atticus. He's 9 years old and a gentle giant.
😀😀😀😀
by: Gianni
He insists on drinking water from our faucets - every single time we're at a sink. He's very vocal, and loves to play.

I think all MC are the same! They are so funny! 😸😸
---

Dexter
by Craig White
(London, UK)
This is Dexter. He's a 5yo Male Maine Coon. He's very confident, energetic, loves to play in cardboard boxes and is obsessed with finding/playing with and eating clear plastic packaging wrapping!
---

Merlin the Magical
by Barbara Ann Moore Peters
(Braddock, PA 15104 USA)
He's only finishing his last year of maturity from four to five! Never have I as his owner had a young guy so smart & funny!

Does tricks & comes when I call him! Hugs his groomer but not his Momma yet! He makes a day so worth getting up!

Goes out like the dog like I could stop him! Lets me know when our Raccoon is on front porch! Guess it's a Coon thing!

My baby has been called a Persian and I've had many of them! Merlin isn't one! His coat changes and he's way too smart! Give him a look please! Will appreciate! 💙
Comments:
Black cats
by: Gianni

All black cats are magic! 😻😹
---

Limon Ingenious
by Malene
(Denmark)
He is a big chunk of love. Bought him from Russia to make kittens.

But he doesn't want to make kittens. He just wants to be with me in my apartment and on my balcony. He is 6 years old here 02/12/22.

And by the way. He is so much fun!
Comments:
Wonderful Maine Coons
Maine coons are wonderful cats. Had one for 14 years.
I sure miss him.
A big rascal
by: Kim

Your KGB cat!
---

Telulah
by Gloria Brissenden
(Deal Kent England)
Telulah is a sweet fluffy girl with a mind of her own.

She has large fluffy paws and a large voice too. Telulah likes to get in the bath with the tap running and will wash all over.

She has recently enjoyed a lap cuddle and will smile and drool if petted. She waits for her brother to get the treats out of treat toys and then she homes in to eat them.

If I don't watch she will eat her food and just push her brother out of the way and eat his. He never stops her and has been known to bring a treasure home which she also takes.

If Bertie is playing with a feather stick and she looks interested he will sit and let her play only playing himself when she has finished.

Telulah is a princess and expects to be treated as such! Her little face is adorable and everyone loves her. She loves attention from visitors but has never been out of my back garden.

Telulah will proudly bring in a leaf she has caught and present it to me. She loves retrieving shiny sweet papers and when I moved my sofa I found a pile which she instantly pounced on. She carries these papers so gently in her mouth.

When she was younger she would drag the door mat into the kitchen and cover her food with it. She also liked to drag leopard print fur fabric from my sewing room, through the dining room to place it under the coffee table.

She really is the sweetest little girl!
Telulah is nearly 5yr and weighs 7.35 k
Comments:
Coat Color
Looks like she is a Brown Mackerel Tabby w/ White.

From the pictures I think I see dark flecks in her coat instead of stripes ... Stripes is a Classic Tabby, flecks make it Mackerel.

When the paws are white, it is called w/white.

Type
by: Gloria
Can anyone tell me what sort of Maine Coon Telulah is please? Her brother is a Tuxedo.
---

Tyson!
by Tammy Harris
(Davie, Florida)

Tyson is 8 yrs old male. He loves it when you sweet talk to him. He also loves to cuddle with mommy every night. He is one handsome guy and knows it.
---

Jack, the Maine Coon from Maine
by Robert M Guzman
(Kent, NY)
Jack was born in northern Maine and now lives in western New York.

Jacks family consists of three other Kitties plus my Wife and I. Jack will be three years young in April.

He loves to spend time outside in his Catio as well as drinking water from the kitchen sink. He's the love of our life.
---

Sweet Andy
by Marcie Centofanti
(Michigan)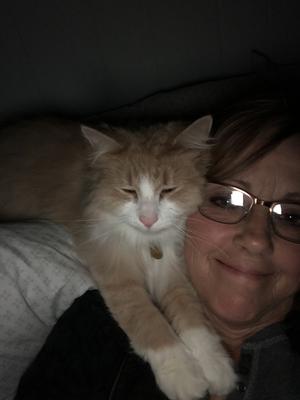 Andy is the most loving cat!
He loves the bathtub, he will sit there until you turn on the faucet. When you do he will roll around in it! I have never owned such a smart loving animal before.
---

Archie Relaxing
Andy
(UK)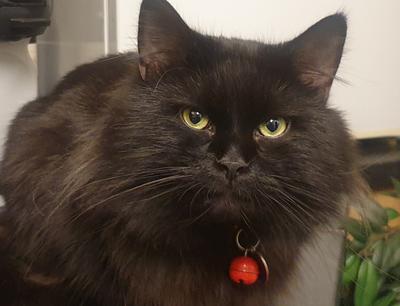 Archie is a black Maine Coon who loves belly rubs, sleeps in my bed curled up by me, head buds me following me everywhere, likes chasing lights and so loving.
---

Charlie, My Spoiled Kitty!
Michael J.
(Chula Vista, Calif)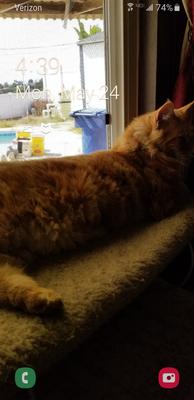 Charlie, a spoiled 10year old boy, is the pride of my life. Since I retired, he is sooo happy! I think that "coonies" were put here, so connie lovers, can spread the word, about this "special" breed.
---

Wookie!
by Kate & Justin
(Austin, TX)
Wookie is among the funniest people we know, and the hungriest (she once at an entire stick of butter…)

From kittenhood, she's been spirited, clever, chatty, and—when she's ready to cuddle, oh boy. She doesn't do anything halfway.

She's a tortie smoke, with ginger tendencies, and a single "butterscotch" paw (among three others which are black). She adores her big sister, Ntombi (a tuxedo), who still hasn't quite gotten over the fact her little sister is twice her size.

We get great joy watching Wookie do pretty much any of her favorite activities—nap in high-up places, steal people's sandwiches, chase her cadre of fake mice and pizza slices, and lead us directly to the treat cabinet, where she chirps and trills until we give her what she wants.

Yes, this Maine Coon has us wrapped around her (massive) paws. We are but lowly servants to her fuzzy whims.
Comments:
I relate
by: DD
We are living with our second Maine Coon and recognize the intelligence, love, devotion and fun you see in your kitties.
Maine Coons share these qualities pretty uniformly from what we've seen. I love all animals, snakes not so much, but Maine Coons are first among equals.
---

Max..... again
by Melody McCord
(The Plains, Oh USA)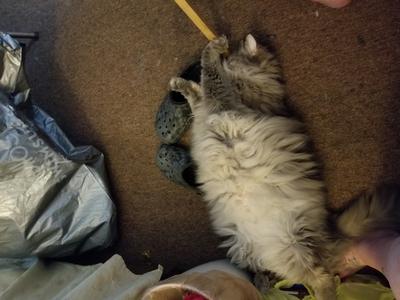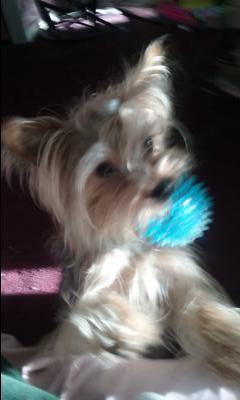 He is 4 yrs old. He is a talker!!

He talks to anybody and anything...lol. He presently was sick, he is sooo much better now.

He loves to play, sit in the window, talk to the birds and squirrels. He has a girlfriend, Sasha, she is a Yorkie mix.... omg, they are so cute together!!
---

Fancy
by Rhonda
(Jacksonville, IL USA)
Fancy loves to get in our cabinets, we get woke up at nights her banging on the doors trying to get them open.

She also loves to sit on the side of the tub when I take a bath.

Fancy is not very good with young children, when our grandkids come over she goes to the basement. She actually belongs to my sister, but we have her now due to my sister's health issues.

She's still learning to get along with my cat, Fancy hisses at her all the time. We really enjoy having her, she's a very unique cat.
---

Shandy-Fluff
by: Sarah Larkins
New photos of Shandy-Fluff
(note: comments are closed in this archived photo album)
Return to Top of Feb 2022 Album
Dec 10, 23 03:14 PM

New today: Meet

Ginny

from Lumacoon Maine Coon! Ajuna shares, "This is Ginny our three year old dramaqueen. She's a big softie once you get to know her, despite that look of doom in her eyes XD she wa…

Nov 10, 23 03:06 PM

New today: Meet adorable little

Juniper!

Nicole shares, "I went to the vet and they originally had her as domestic medium hair and once the vet saw her she said she has some Maine Coon in her because…

Nov 05, 23 08:36 AM

New today: Meet

Yellowstonecoon Tomboy Honey!

Jessica of Yellowstonecoon Cattery writes: "Hello, Maine Coon families! We are so tickled to share our beautiful Black Smoke baby girl with everyone! She…