Welcome to Maine Coon Cat Nation!
---
Welcome! Maine Coon Cat Nation is the complete guide for owners (or future owners) of this beautiful cat breed.
Here, you'll find the most amazing community of Coonie lovers and fans... AND everything you ever wanted to know about these awesome animals!
Where to Begin: Quick Links to Our Top Sections:

About The Breed - Unique Traits and Quirks:

These guys and gals are certainly unique! This section is all about those special quirks and personality traits. What makes them tick?

If you are considering this breed, explore our articles to learn about their unique traits and quirks, charismatic personalities, and more. Choosing a breed is an important decision!
There is something alluring, almost mysterious about these beauties. What is it? Here we take a look at their history, characteristics, colors and more.
What is a Maine Coon cat? What makes them one of the most popular breeds? Many people are familiar with this big, beautiful, long haired feline.
It is said they developed their thick coats in response to the cold winters here in Maine. There is so much more to them, though!
You'll want to learn about their characteristics, many possible colors, and an exciting, mysterious history!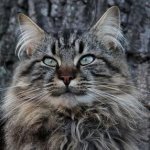 This is our photos and videos section. We have many Monthly Photo Albums to see.

Come see the pictures sent in by visitors, and if you have photos to share, this is the place to do it!
---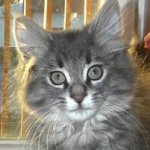 Are you wondering where to get your new Maine Coon cat or kitten? This section is loaded with helpful articles on how to choose a breeder, what to look for at the cattery, and a huge directory of breeders.

There is also info on adoption, and our Rescue Page now has a handy interactive search tool.
You can find a local kitty to rescue with just a few clicks!
---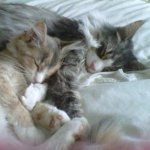 This section is dedicated to these adorable, irresistible kittens. Find everything related to planning and shopping, and info about introducing a new kitten.
Plus there are lots of names for kittens and many adorable pictures too.
Care and Grooming: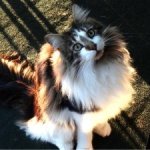 Care and grooming are important parts of life with these pets. Read on for some tips to keep them in top condition!
This section includes info on healthy food, and litter box care as well. There is a lot to think about.
If you already have a Coon (or two) in your life, you'll find lots of useful information regarding their care and grooming. It's not easy being beautiful!
---
What does a Maine Coon need? What should he not consume? What exactly are fillers?
Is wet or dry food better? And, how much? This is one of the most asked-about topics!
Here, we discuss overweight kitties, free-feeding, kibble, best brands and so much more.
---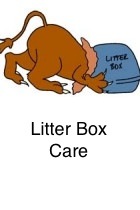 Welcome to our headquarters for Maine Coon litter box problems and best practices. Meeting their needs will help head off any issues before they arise.
One of the most common reasons for a cat to be surrendered to a shelter is poor cat litter box behavior.
Almost all of these circumstances are a result of the feline not having their needs met in this area. These kitties tend to be meticulous and perfectly trained.
Health Questions: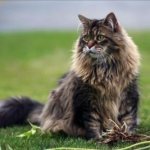 Each breed has it's own health concerns. Here, we address Maine Coon cat health, common health questions, kitten health and elderly feline health.

Read on to learn about these specific, genetically inherited conditions. If you have health questions, we'll try to cover them here.
---
Shopping - Top Picks For Big Boys & Girls:
Pamper your furry feline friend(s) with the best of the best! We are regularly reviewing the latest products.

After sifting through the sea of "stuff" and here we present our Top Picks for litter boxes, toys, outdoor enclosures, scratching posts and trees, flea control and lots more!
---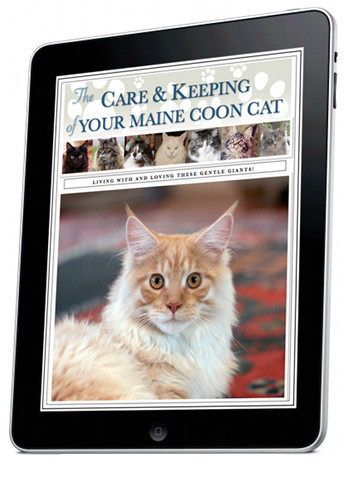 There is a certain something about these felines that sets them apart.
Their stature, their personalities, their striking appearance, their notable intelligence, and their demeanor all contribute to a loving companion that is so much more than a pet. 
Check out our ultimate guide to caring for your furriest family member.
---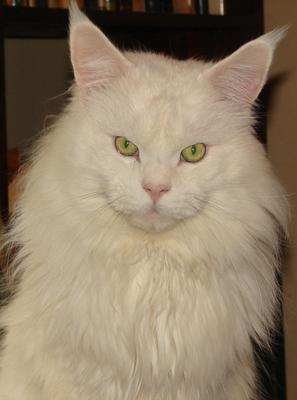 Whether you are a new or long-time Maine Coon owner, you'll enjoy our many cat cat care articles on nutrition, grooming, feline health and Photo Galleries.
If you are considering rescuing, adopting or buying a kitten, you'll find informative articles on how to choose a breeder, a full breed history, physical characteristics, colors, personality traits, and lots of kitten names.
You'll find breed-specific information, as well as lots of useful advice for owners of any breed. Whether you already own one of these special animals, or are thinking of bringing one home, you are in the right place!
---
Exploring Different Cat Breeds: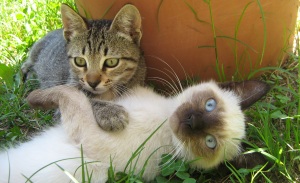 Many folks come here looking for hypoallergenic cat breeds, non-shedding kitties, and of course, the largest domestic felines!
Here, we talk about all this and more.
There are so many different cat breeds. Each offers it's own set of characteristics and traits. Which is your favorite?
---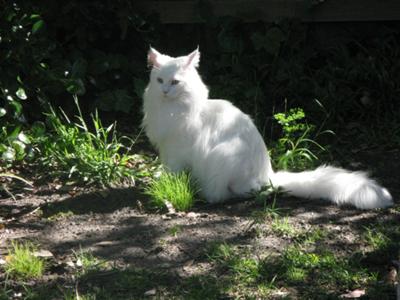 Our popular directory of reader Q & A's is the perfect place to find answers for any care or new-owner questions you might have.
It is chock full of almost any question you can think of! Seasoned pet owners have added their thoughts and answers as well!
---
Get Involved!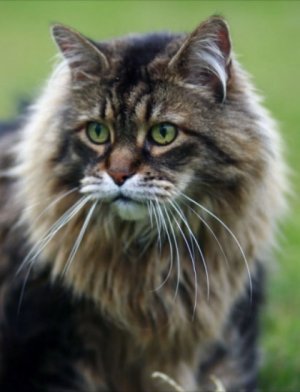 Our friendly community is growing! There are some great places here to interact with us, and other Maine Coon Cat lovers.
On our Photos and Videos page, visitors to the site can send in pictures of their own Maine Coon cats, which we'll add to our ever-growing galleries.
Whether you have a great rescue story, or a beautiful new kitten, your furry family member will be a welcome addition to our photo galleries.
---
This is where we post all our new pages and photo album additions, in order.
We're regularly adding new articles and information, so check in often to see what's new!

Sep 24, 23 09:30 AM

New today:

Chubbs

is our newest addition to our Maybe Coonie Photo Album. What do you think? TJ shares, "Our male kitten, Biggerton Chubberton, or "Chubbs" for short, is a tuxedo kitten.. Chubbs is di…

Sep 20, 23 03:16 PM

Freshly updated: Our

Royal Canin cat food review

looks closely at their formula marketed toward Maine Coon owners. What makes it a breed-specific food? Here, we examine it's ingredients and what it of…

Sep 15, 23 06:35 PM

New today: Meet Leigh-Anne's fluffy girl,

Ruby!

She wonders if she has some Maine Coon in her.. ⬇️