Welcome to the gallery of Maine Coon cat pictures!
Check out all the cats here, and click on a photo to read more about them. What does your Coon look like? We'd love to feature your Maine Coon.
There are so many Maine Coon colors; Tabbies, Torties, Torbies, Calicos, solids and smokes!
Maine Coon Cat Nation's Photo Album
Do you have a Maine Coon cat? We'd love to add your cat to our photo album. Take a moment to send us your picture! Who knows, it may even become featured on the home page!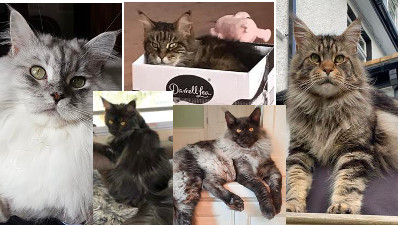 Our Latest Album:
November Featured Coonies '21

Meet Enzo, Hunley, Georgina, Pandora, Puss, Augustine, Luna, Nubble and more in our growing November album. New beauties are being added daily!