Rainbow Bridge Pet Sympathy Poem
And Photo Album Tribute To Beloved Pets
Welcome to our Rainbow Bridge Pet Sympathy Poem & Photo Album. These cats all hold very special places in the hearts of their families. And here is where they have a lasting tribute.
This a place to share those we've lost, console others, and remember treasured friends. These Coonies are gone but never forgotten. They're waiting at the Rainbow Bridge. (Skip down to read the Rainbow Bridge Pet Sympathy Poem).
The first time I read this poem I was moved to tears almost instantly. The poem resonates with anyone, whether they are thinking about a beloved cat, dog, horse, or any other animal.
And I was thinking about my Bonny, a Sheltie who was my constant companion from the time I was 12 until I was married and a mother. Such loyalty, devotion and a bond we had! She was an old gal by then, and yet still my baby. In fact, her buddy Clyde was a domestic medium haired cat who inspired me to learn about the Maine Coon cat breed and eventually welcome our two Maine Coons into our family. We know we will always have Coon cats, so thank you Clyde, my honorary Coonie!
It brings me much comfort to imagine Bonny and Mr. Clyde frolicking by the Rainbow Bridge playing an endless game of tag! How I miss them, as we all miss those who've gone before us.
The moving and now famous rainbow bridge pet sympathy poem is a touching reminder that our pets are much more than just animals.
They are our companions, friends, and give us their unconditional love. Spending a lifetime with a special animal changes a person. We never forget them, and we always miss them.
I think that's why the rainbow bridge poem resonates with so many of us animal lovers. It's comforting to believe, to know, that they are not only all right but that they are patiently waiting to reunite with us.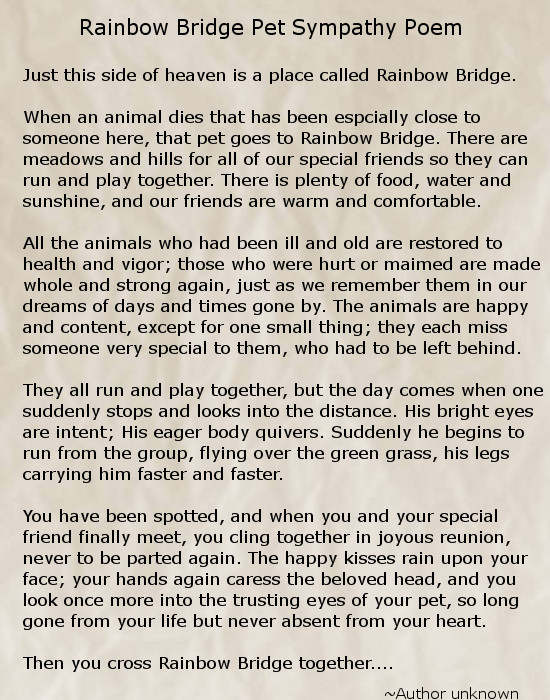 Rainbow Bridge Pet Sympathy Poem
Leave A Tribute To Your Cat - Create a Memorial For Your Special Friend
Do you have a cat who has gone to the rainbow bridge?
Send in a photo for this tribute page.
Pages Created By Other Visitors
Click below to see rainbow bridge pages created by other visitors to this page...