Bubba The Maine Coon Cat
by Joann in Oregon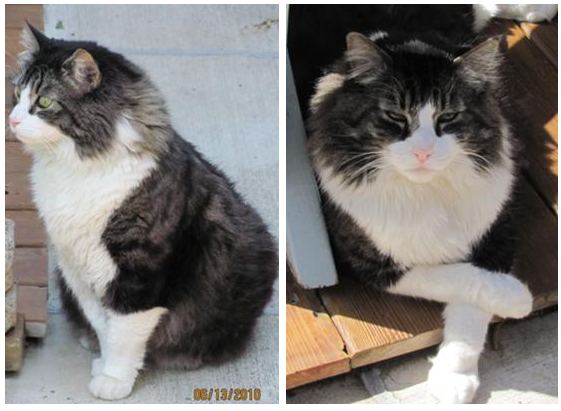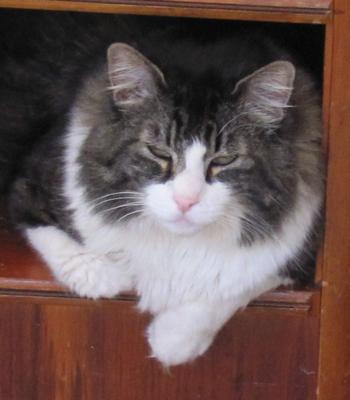 (Summer 2010) Bubba came to live with us several years ago. He has just been to the vet, he weighs about 23 pounds.
He is such a good boy, he grooms the other 2 cats. Bubba has to go back into the vet on Friday, he may have Hip dysplasia.
Friday he will be shaved & have x-rays. We wanted to share our beautiful boy with all of you :
Comments:
About Bubba
by: Maine Coon Cat Nation
Hi Joann,
Bubba is so handsome, and big! I hope all goes well for him with his x-rays. We'll be thinking of you...
Bubba Boy
Bubba is coming home this afternoon, his spine & hips are fine, he has torn ligaments and damage to one of his knees. The vet thinks that he has good quality life left in him.
Thank you, we are happy to have him come home, they did shave him because of the mats of fur from him not being able to groom himself & not allowing us to groom him. So thankful our beautiful boy is coming home
Great news!
by: Maine Coon Cat Nation
That's great news, that his hips and spine are fine. Hopefully he'll heal up and be good as new! Thanks for the update,
~Carrie
Bubba update
by: Joann
Bubba is taking his time recovering. He still needs help @ times getting up on the couch or the bed. He will go out on the deck but only if he can see one of us here in the house. We are spoiling him, he deserves it. His fur coat is starting to fill back in. His progress is slow but we are sure he will overcome his bad back knees.
Hi
by: Anonymous
Hi Joann, I saw your comment on Misty and thought I would comment on Bubba Boy, he is one gorgeous Maine Coon :)
Bubba's progress
by: Joann & Bubba
A quick update on Bubba. His fur is taking its time growing back in from the lion shave. The fur on his tummy and back legs looks and feels very, very soft and curly, not sure why so curly.
Maybe as the fur grows out that will change. Bubba is much more affectionate than even before.
He has to sleep with us now :), he talks to us a lot more, which is pretty darn cool. The sad news his bag knee now doc says it is both knees are not getting any better.
The medication to help Bubba makes him very sick.
So we are keeping him comfortable and we are doing every thing that we can to give him a happy life, my husband fixed it so that he can walk up on to the bed, we have a little step for him out by the love seat.
He can no longer jump up on anything. So we lift him up to where he wants to be. He is the love our life of course along with his 2 sisters. I will post some photos in a few minutes.

Bubba Update: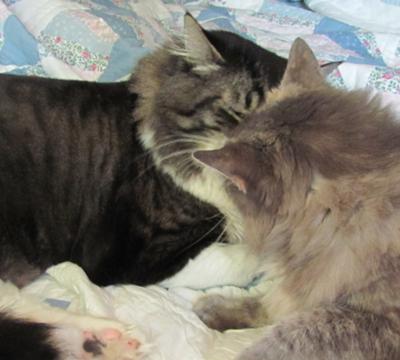 Biscotti mothering Bubba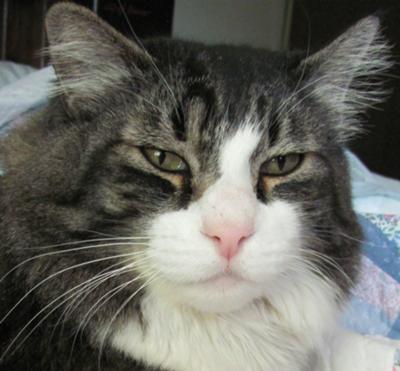 Bubba looking good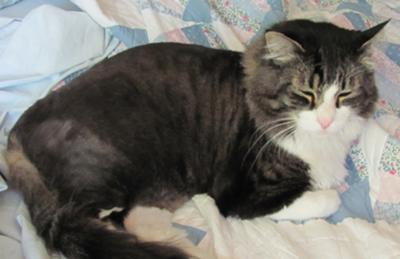 Bubba getting his stripes back
Bubba is our gentle giant 23 pounds worth, he is recovering from having a lion shave, x-rays and finding out he has damage to his back knees.
Bubba is getting his stripes back again as his fur coat grows back in. He is the sweetest part of our crazy daily life.
Biscotti likes to mother Bubba, She use to hiss @ him, now she is a little caregiver to him and she is less than half his size. We wanted to share his progress and updates with all of you.
Comments:
Looking Good!
by: Maine Coon Cat Nation
Hi Joann,
Thanks so much for the update & more photos. Bubba is looking well.
It is so hard when our pets have to go through health things like this, isn't it? They're like our children and we just want them to feel good.
I'm sure he knows that you have taken care of him. He feels loved and well-spoiled. Cats are really smart and intuitive.
Biscotti is showing that, too! What a nice girl to look after him, especially when she didn't used to be his biggest fan. That's so sweet!
Hopefully Bubba will be back to his old self before too long.
~Carrie

Bubba celebrating Halloween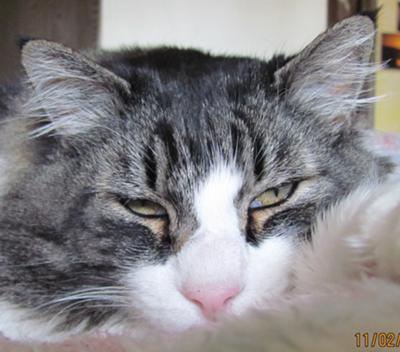 Bubba trying to nap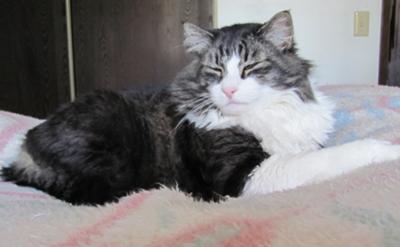 handsome boy Bubba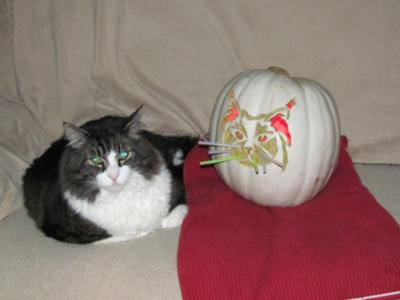 Bubba taking easy with his kitty pumpkin. Bubba is hanging in there, his fur is growing out very, very slowly. He is a very lovable kittie.
We are making every accommodation for him so he can just walk up on the bed and the furniture, since he can no longer jump, it hurts his back knees too much to push off to jump.
We are getting really good @ lifting him up to where he wants to be :).
Thats OK its good exercise for me :)
Enjoy the photos
Comments:
Looking Good!
by: Maine Coon Cat Nation
Hi Joann,

Thanks for the pictures of Bubba at Halloween-time! And, thanks for the update on his other page. I was wondering how he was.
I'm so sorry to hear his knees bother him still, and that it's both. He's such a sweetheart, and he deserves to feel well.
I must say he's some lucky to have you and your husband for his "people." You are clearly doing everything a person can for a cat. He knows how loved he is and wouldn't want to be anywhere else.
Does Biscotti still look after him? I'll merge his pages together so they will be easier to find. I do hope things look up, health-wise. He seems so happy, I can almost see him smiling in one of the photos.
~Carrie

Happy New Year with Love Bubba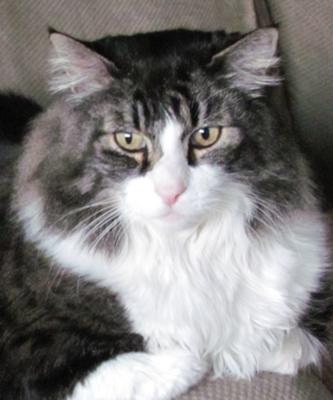 Happy New Year
Bubba wants everyone to know that he is feeling much better. He woke up a couple of days ago with the sparkle back in his eyes.
He played with Precious & Biscotti. He says he feels pretty good. Bubba is talking to us a lot more just like the old days.
May the new year hold all things good for all of us
Bubba & Joann
Comments:
Happy New Year Bubba!
by: Maine Coon Cat Nation
Hi Joann,

This is wonderful news from Bubba! We're so glad he has a spring in his step.
Thank you so much for the update. I was thinking about Bubba. He's one tough cookie.
He's so lucky to have the family that he does :)
~Carrie

Bubba August 2011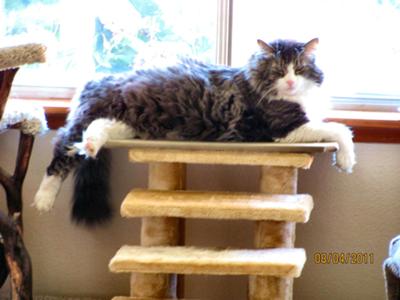 Bubba resting in the front window
Summer time has been pretty good here in southern Oregon for Bubba and the rest of us.
Bubba has another blood clot, good news is it is not moving and it is not causing him any pain. The vet said they just don't do heart transplants on cats, boy if they did and we were sure it would extend his life to be long & healthy we would be in line.
Bubba is eating good, and more lovable than ever, he does not like to be alone any more, he wants to be right with us or right where he can see us.
Bubba has become very, very close to the other 2 kitties Biscotti & Precious, they sleep beside each other, they clean each other.
Bubba has brought so much love in to our home, that we are providing him with all that we can to make his life easy and comfortable.
Bubba wanted me to let everyone know that all the kitties here are beautiful.
Happy summertime 2011
Comments:
Hi Joann,
It's great to hear from you and Bubba! He is looking fabulous. I'm glad to hear he's having a nice summer & bonding with your other cats.
He couldn't have found a better family. Bubba is one special boy, I've really enjoyed getting to know him :)
~Carrie

Rest In Peace Bubba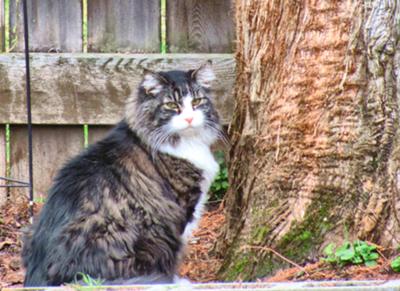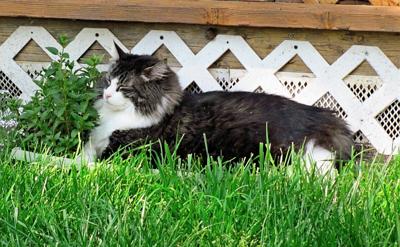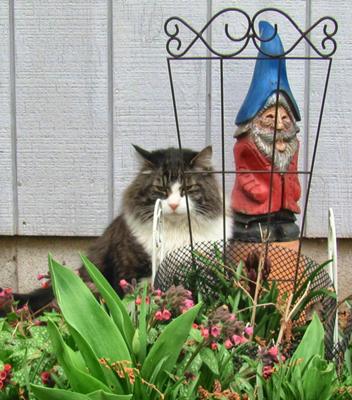 (3/19/2012) Bubba succumbed to liver cancer today @ 2:45 pm. Bubba gave us a wonderful bunch of years.
He was just diagnosed on Sat. the cancer came on wild and took him from us quickly.
Bubba I will always Love you with all of my heart & soul.