🐱 The Benefits of Maine Coon Adoption: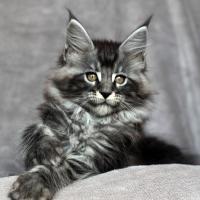 Did you know that owning a cat can have several positive impacts on your health?
Studies have shown that spending time with cats can help reduce stress, anxiety, and depression.
Petting a cat can also help lower blood pressure and reduce the risk of heart disease.
In addition, the presence of a cat in the home can provide a sense of comfort and companionship, especially for those who live alone or have limited social interactions.
It's safe to say that Maine Coon cat adoption can not only provide you with a loving companion, but also improve your physical and emotional well-being. A win-win!