Do you have cat questions? Whether you're a lifelong owner or just thinking about getting your first kitten, questions are bound to come up!

Are you concerned if your dog will get along with your new kitty? Maybe you are wondering what kind of toys you'll need, or how often you'll be going to the vet. Skip down to see cat questions here!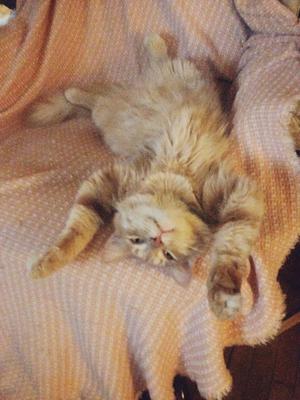 Although this site is full of information, sometimes questions are specific and unique! Every feline, owner, and situation is different.
As a community, we'll put our Maine Coon cat experience to use and do our best to give you an informed answer.
Please keep in mind that this section will not be offering medical advice! Basic health questions (for example, when to spay/neuter or signs of parasites) are welcome, but if you have a serious medical concern we will always want you to ask your vet!
So, this is not veterinary advice, just general information about care, grooming, etc.
As you'll see below, many of these questions are about training, behavior, aggression, and more. If you have a Maine Coon and really want to understand their care needs, I have written an e-book that's tailored just for Maine Coon cat care.
It helps Coonie lovers understand how their furry friend thinks, and helps you create a happy bond. You can Click Here to read more about it or get your own copy.
By continuing to read the advice here, you agree not to rely soley on our answer. Our answers are given only as informational advice to get you started.
Your vet is the only one who should have final say on your pets well-being.
Also, feel free to comment or answer the cat questions above if you read a topic and feel that you have something to share!
Over time, this section on Maine Coon Cat Nation has grown so much! Almost every conceivable cat question, problem, or subject has been asked.
Now, since we are receiving variations on the same themes almost daily, we are closing the submission form. Please take some time to browse the questions above. I'm sure you will find similar cat questions to your own, and helpful advice.