Disclosure Statement for Maine Coon Cat Nation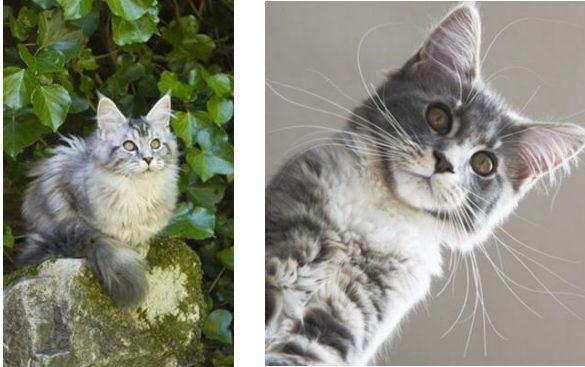 Meet Kali and Chloe, today's Throwback Featured Coonies!   Rosie says, "These are my beautiful girls. They live in the UK with me and are sisters. They'll be 1 year old on 9th January 2011.
The silver is Kali and the blue tabby with the white bib is Chloe." ...See more of Kali and Chloe in our 2010 Album!
I hope every visitor to Maine Coon Cat Nation has an enjoyable visit, and finds lots of useful cat information. I love this website, writing articles, receiving visitor photos and stories, all of it! And, it takes money and lots of time to run a website.
So, in order to devote even more time to the site, and be available to do it, we do have advertising and affiliate links on Maine Coon Cat Nation.
Advertising
We have Google Adsense and Infolinks on this site. When a visitor clicks on an ad, we get a very small commission. The Google Ads are clearly marked as such, and we have no control over which ads are presented. So, if an ad seems to match the written material or photo near it, it is a coincidence. The Infolinks are marked with double-lines within our text.
What Are Affiliates?
We are affiliated with a few companies. This means when you see an ad, click over to their site, and make a purchase, we receive a very small commission. We carefully seek out only quality products.
We never receive any monetary compensation for presenting these links, and rest assured that any product reviews we may write are are our honest opinion and never, in any way affected by our affiliations.
Regarding our Amazon links: Maine Coon Cat Nation is a participant in the Amazon Services LLC Associates Program, an affiliate advertising program designed to provide a means for sites to earn advertising fees by advertising and linking to amazon.com.
It is our goal to only present our visitors with high-quality products. We sincerely appreciate our visitors, and their loyalty.
One way you can help us to devote as much time as possible to Maine Coon Cat Nation is to support our affiliates. By making a purchase through one of our links, it help this site to "earn its keep!"