Maine Coon Cats Exposed!
The Characteristics, The Myths, And The Mystery!
What is it about Maine Coon Cats? Is it their magnificent coat? That amazing tail? Who could miss the super long whiskers?
Perhaps it's their size? Maybe your favorite trait is the lynx-like tufts on their ears?
Let's take a closer look at their unique traits and characteristics to give us some insight. As all Coon lovers know, this is no ordinary cat!
Head To Tail:


They are anything but ordinary! These are the special traits and qualities that set them apart from the crowd.
---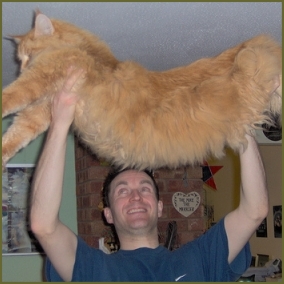 How Big Do They Really Get?

Everyone loves those really big Maine Coon Cats! Welcome to your complete guide to this awesome breed.
Here, we talk about weight, length, who holds the record, how to find a big boy or girl of your own, and more.
---
This section is all about the breed standard. A breed standard describes every aspect of a breed, from size and shape, to color. There is so much to learn about.
Every aspect of their physical appearance is described here. Whether you are wondering about the ears, the eyes, or the tail, you are in the right place.
---
They can win over even the most hardened "cat skeptic"! I like to say that they are the Golden Retrievers of the feline world. Gentle, sweet, playful, and totally affectionate. Read more about that wonderful personality.
Tell-Tale Coon Traits
"Is S/He or Isn't S/He?" Think you may have a Coon on your hands? Many folks find this site when researching the Maine Coon traits and characteristics. They wonder if their cat fits the bill.
This section reviews all those tell-tale traits. If you are not sure, this is the place to check.
We now have a special section devoted just to that topic, complete with an invitation for you to send in a picture of your own cat, and get opinions! Think you have a Maine? How do you know? It's a very popular subject.
---
Speaking of a Mix, how often does this happen? There is a common belief that Maine Coon Cats are simply big old barn cats reproducing at will.
They are actully a fully recognized breed. This page dives into how, when and why a boy or girl may actually be a Mix. What are the chances?
---
FAQ's

There is definitely something special about these beautiful animals. They seem to fascinate almost anyone. Everything about these well-rounded pets endears them to people.
If they are new to you, start with our page of frequently asked questions about Maine Coon Cats.
---
A Rainbow Of Colors

Most of us are familiar with the classic brown tabby. Did you know that they can be virtually any color? From solids, to tabbies, torties and more, our colors page gets into all those beautiful colors.
---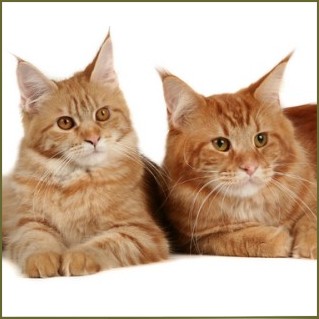 The Vibrant Red Color:

One of the brightest of the colors is Red. Some people also refer to it as orange.
Whether it's Solid, Red Smoke, or Red Tabby, this is such a beautiful and vibrant color.
---
A very popular and alluring color is Black.
Learn the difference between Black and Black Smoke, and check out lots of photos on this page!
---
The Color White - Stunning and Bright

Here, we also talk about deafness & blue eyes, and albinism.
A Mysterious History
There are theories and legends galore. From the fascinating story starring Marie Antoinette to the less exciting possibilities, here is a look at the various explanations.
Where do those physical characteristics come from? Actually, their origins are a mystery. The only thing we know for sure is that they have been in America since the early settlers arrived.
How did they get here?
---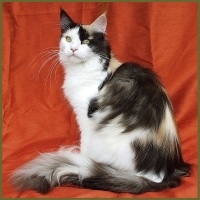 Rise of the Breed:

Once here in New England, they needed to evolve to adapt to the harsh climate. At first, there were no settlements. No early American homes to claim them as their pets.
How did this breed go from being survivors, living in the harsh New England climate, to beloved pets, even prize winning show animals? The history of their evolution, then rise, decline, and rise again to popularity is quite interesting. They were not always one of the most popular breeds. In fact, for quite some time they were not even recognized!
Personality Characteristics: Fun Facts, Urban Legends, And Busted Myths!

"In a nutshell, what is it like to have these cats as pets?" The characteristics of Maine Coon cats are shrouded with an aura of mystery. There is just something fascinating and mysterious about them.
Perhaps it's because of their rugged appearance or formidable size that they are often perceived as being a "rough and tumble" sort of feline. It's time to bust these myths!
---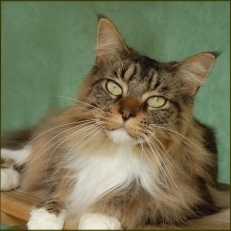 Temperament - Gentle Giants Or Rugged Ruffians

What is their temperament like? Their distinct disposition is what makes them so beloved. If you are familiar with the breed, you know what treasures these pets really are!
If not, get to know their personality, traits, and characteristics!
---
This page includes a fun video of Alice & Leo playing in the water.
---
Did you know that early in the breed's development, many were polydactyls?
Because of this, there is a common misperception about polys.
10 Things I Love About Maine Coons

Whether you are new to this breed and just learning about them, or have a Maine (or two) of your own, there is just so much to know and love about them. How about you? What do you love about your fur-friend?
---
Did you know that they also purr when they are scared or hurt? There are a few theories as to why this is.
---
Do They Love Laps?

Have you heard that they are - or are not - partial to laps? Different sources provide different info on this, and usually it's contradictory.
So, we held a survey! Visit this page to see the results and learn the truth!
They are sometimes called the clowns of the feline world. Here are some quirks that might make you ponder!
---
Get Everything Maine Coon at Your Fingertips - Now: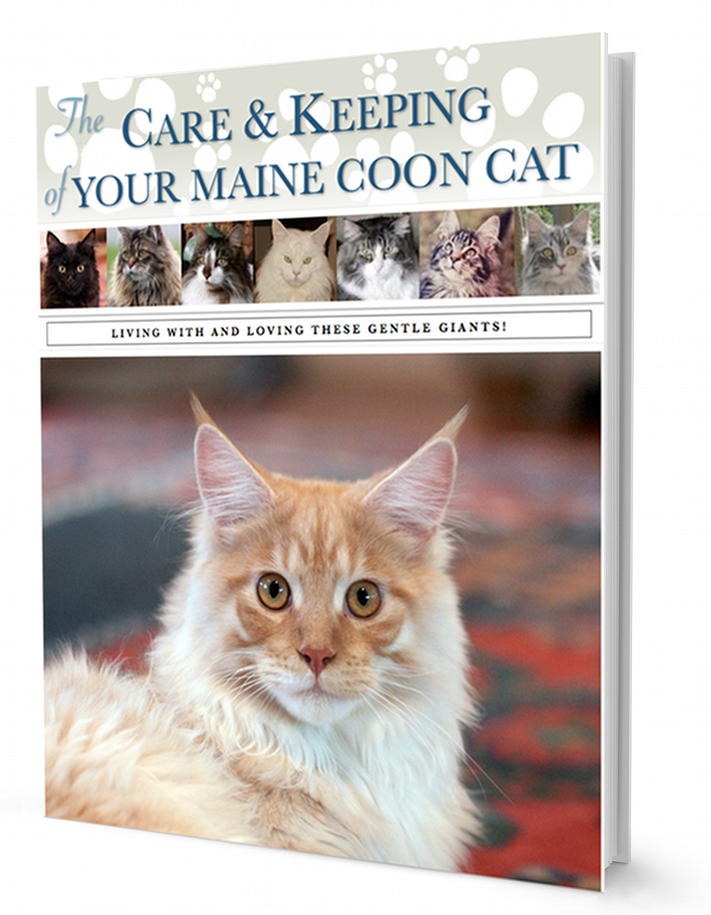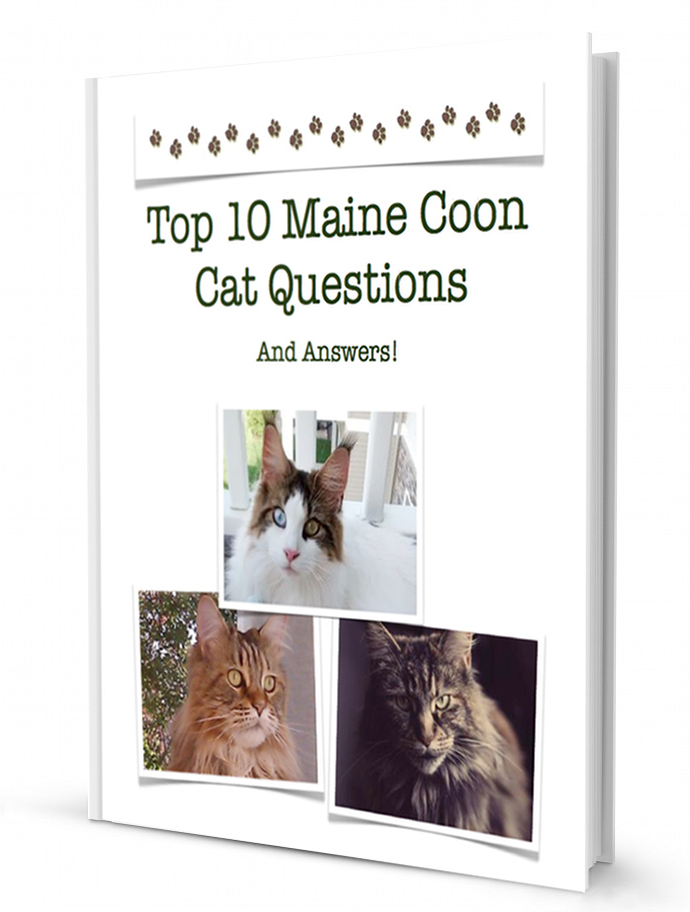 << The Care & Keeping Of Your Maine Coon is the ultimate guide to all the breed-specific needs of your Coonie. This unique breed has unique needs! A must-have.
The Top 10 Coonie Q & A's >>
is the essential handbook for all Maine Coon Questions, covering topics like nutrition and weight, "Is he a Maine Coon?," size, lifespan, and more.