10 Maine Coons With Amazing Eyes
We all know how stunning Maine Coons are. Their natural beauty is without compare!
These ten gorgeous guys and gals kick it up a notch with drop-dead gorgeous eyes. Enjoy!


PG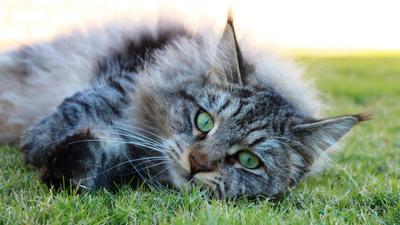 Beautiful PG lives with Debbie in Lephalale, South Africa, who shares,
"She has to be the proudest looking little monster I know - She is only a year and a bit old , but prances around as if she owns the house."
---

Luke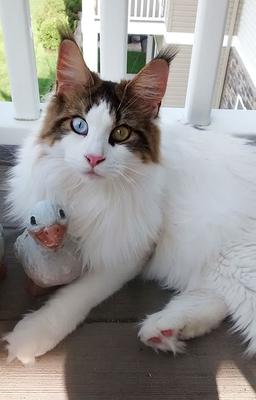 Luke is from Freeville, New York. His owner Pat tells us, "Luke is a pure-bred Maine Coon. He is just over a year old (born August 8, 2013).
He has one blue eye and one golden eye. I caught him snuggling up to a duck figurine on my mother's porch and he looks so sweet and beautiful! He has gorgeous ear tufts too.
He also has a "wonky" tail. We had him x-rayed and the tail bone comes out from his body and does a complete loop, like a pigtail.
This means he cannot raise his tail. Instead it just hangs down. But even so, he is the most beautiful boy!
At just under 13 pounds, he still has some growing to do."
---

Bella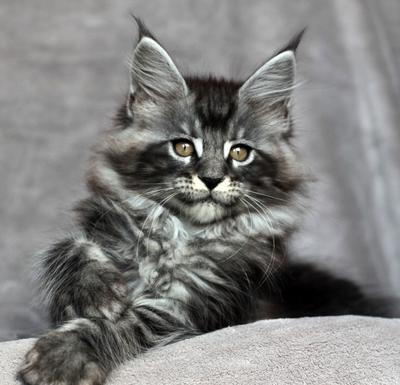 This is Bella of Colossal Cats in Tampa, FL. Her black and silver coat is so beautiful with the streaks of rusty copper through it.
She loves to run up to her humans as they come through the door, giving snuggles and loving. Her striking eyes look so beautiful against her dark fur.
---
April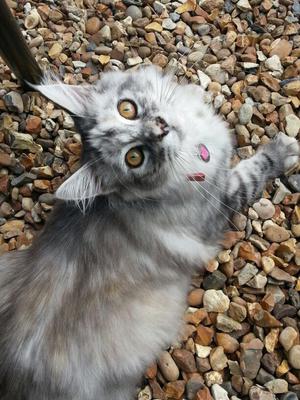 April is a gorgeous Silver Tabby Maine Coon in Cheshire UK. Lindsay tells us,
"We have really fallen for the breed she is an absolute delight with her chirps and laid back but very playful nature.
Most people in the UK haven't seen a Maine Coon and can't get over the size of her and she's still a baby."
Willy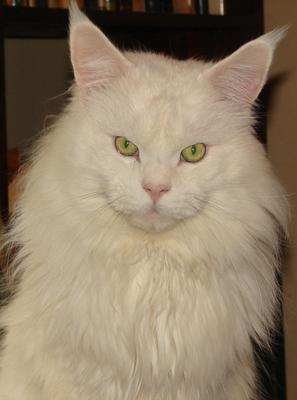 Wow, it's like he can see right through me!
Willy is a Solid White masking Blue who lives with Stella in Edgewater Maryland.
She also has a variety of lovely Maine Coon colors at her home!
---

Raeiya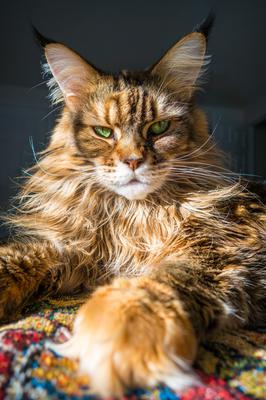 Meet Raeiya - Queeen of Beds! Ken in Merrimac, MA, USA tells us,
"When Raeiya is laying on it, every bed is queen-size."
---

Kitty
Can you believe stunning Kitty was ever homeless? Donnie in Sanford, FL, USA shares,
"He found me at work. I fed him for about a week before deciding to take him home. He's been an awesome kitty, and everyone says he's beautiful:)"
---

Venice Cat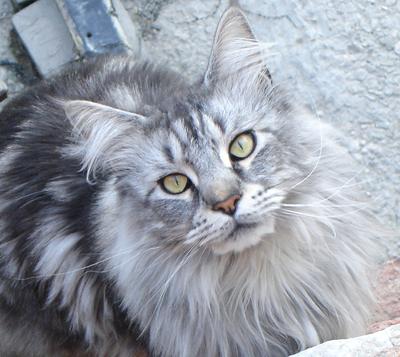 Jean in Venezia, Italy tells us about this magnificent Venice Cat, "This is not my cat, but one I often see him in the Cannaregio area of Venice, Italy."
With eyes like that, I'm sure he has a doting family somewhere!
---

Lady Gala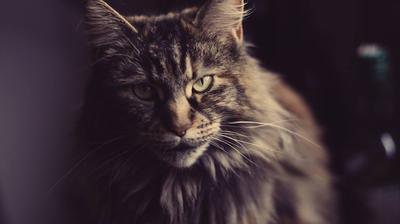 Lady Gala has the kind of eyes that see into the soul.
This Brown Tortie was shared with us by Marc in Lille, France. Magnifique!
---

Surfer Dude
Wow, it's not every day we see a color combination like Surfer Dude's! Meryl in Cary, NC, tells us more about him: 
"Surfer Dude is a purebred Maine Coon who was "shown" by his breeder as a kitten and disqualified for having a "locket", in other words, a small piece of white fur on his ruff.
The comments were that he could have been a grand champion except for that imperfection.
Can you imagine a cat this beautiful not being completely perfect in every way possible? Well, the breeder was the vet of my beloved 20-year old cat who had died 6 months before and she thought I'd be a great kitty mom for Dude. So our special relationship was born.
Dude is going to be 12 in a few weeks. He has some arthritis and has had his thyroid irradiated, but is otherwise in good health. He is the best companion, a big playful goofball, and very intelligent. A classic Maine Coon personality.
He follows me all around the house, will curl up on my lap especially in the winter, and plays fetch. He will also sit up and beg on command.
I love my boy, he brings so much joy into my life! I live to serve his royal highness. :-)"
Maine Coon Cats are described as having wide set, large, expressive eyes with an oval shape, and an intelligent expression. As you can see, those words hardly do them justice!
These ten beauties really show what variety exists both in color contrast, shape, and also expression. One of my favorite Maine Coon traits is the fact that no two are exactly alike!
Disclaimer: When you buy through links on our site, we may earn a small commission. 
As an Amazon Associate I earn from qualifying purchases.
Most popular among Coonie parents:
Potaroma Flopping Fish
4.1 stars; 43k+ ratings
Smartcat Ultimate Scratching Post
4.7 stars; 23k+ ratings
Pureness Giant High Sides Litter Pan
4.7 stars; 7.8k+ ratings
Sep 24, 23 09:30 AM

New today:

Chubbs

is our newest addition to our Maybe Coonie Photo Album. What do you think? TJ shares, "Our male kitten, Biggerton Chubberton, or "Chubbs" for short, is a tuxedo kitten.. Chubbs is di…

Sep 20, 23 03:16 PM

Freshly updated: Our

Royal Canin cat food review

looks closely at their formula marketed toward Maine Coon owners. What makes it a breed-specific food? Here, we examine it's ingredients and what it of…

Sep 15, 23 06:35 PM

New today: Meet Leigh-Anne's fluffy girl,

Ruby!

She wonders if she has some Maine Coon in her.. ⬇️