Meet Georgina
Meet Georgina, a gorgeous Maine Coon from Perth, Australia. What a lady, and what amazing coloring!
Falling In Love With Georgina
by Eleanor Keane
(Perth Western Australia)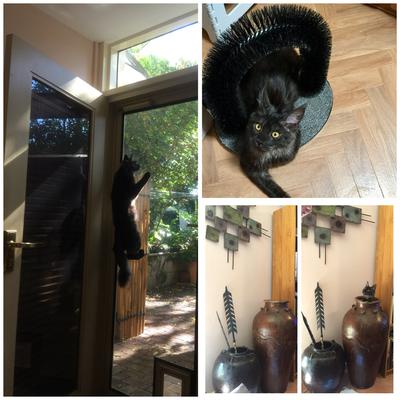 Adventure in an antique vase
Georgina is a full blooded Maine Coon girl, She arrived into this world 23 March 2018 so she is closing in on her first year.
| | |
| --- | --- |
| Home away from home Caravan en-suite | Georgina at 2 months |
She joined our family in June 2018, a little early to leave her Birth Mum but for health reasons her Breeder Mum could not keep her longer and was going to send her to carers.
We didn't want that so all agreed that she could come home with us provided we arranged for her to have the 'snip' when she reached 6 months.
All that is history now and she has become ruler of the castle - yes your highness Princess Georgina!

Georgie is of course gorgeous - she started out mainly black in colour - the name given to her was Black Magic - but gradually her magnificent silky fur coat has grown a grey/white underside.

When brushed and groomed - not as often as I would like - she is a tomboy and prefers the shabby chic look or scruffy as some unkind sorts would call it, her coat is very black, especially when she closes her eyes.

Her eyes are a piercing golden/topaz colour. When reading other Maine Coon stories I can see that Georgie is following form.

She loves playing with any object that can be moved, generally with a sweep of her paw or tail, every ornament had to be moved to another place, higher ground would not do.
There is no limit to the height she can get to and to watch her jump from the top shelf of her climbing tree to a bench top and jump back up there is 'poetry in motion' and when she suddenly takes off madly racing up and down our steps and corridor we call it her having a 'maddie'.

Like some other readers we have had to deal with the obsession with plastic, bags, Gladwrap and phone charging cables - she just loves them.

But after all the fun and games she just loves to cuddle up and starts her purring engine. I had read that Coons or maybe cats in general lose their purring ability after being spayed - well not in Georgie's case, she is louder than ever and we love her for it

She loves caravanning and comes with us on our monthly Club Rallies.
Bye for now
Eleanor😻😻
Perth
Western Australia
---
'Princess' GEORGINA from Perth Western Australia
Georgina started life with her brothers and sisters in the home of Anne who breeds Maine Coons.
The name given to her by Anne was Black Magic and she was a magical little black MAINE COON when we first saw her.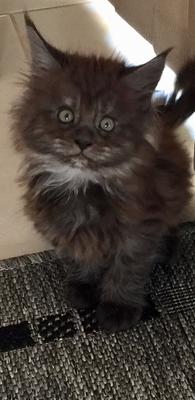 Georgina at 2 months
Immediate love on our part. As she was only a couple of months old we reluctantly had to leave with her Mum and family but ensured that she would be ours and ours alone!

Sadly before Black Magic was 6 months old and of an age that she could come to us, her adoptive family, Anne became very ill and needed Medical treatment which prohibited her from tending to young playful kittens with sharp claws and teeth.

Anne agreed to let Black Magic come to our home when she was three months old rather than being farmed out to people Anne knew who were going to look after her brood until her treatment was completed..
Anne agreed to let us change Black Magic's name to Georgina a name we choose in honour of our last cat George who had gone over the Rainbow Bridge some months ago after a happy 16 year sojourn with us.

After a few weeks with us Georgina became Princess Georgina because she was obviously of Royal Blood.
We are more than happy to be her loyal and devoted subjects. Georgie (inevitably a nickname) is now 7 months old and her long silky fur coat has added a smoky grey and white sheen.

Marvel at her antics each day - she has an Olympian ability to speed run, high jump and seemingly effortlessly float through the air from high to low to high platforms, we have had to extend in height and width her 'scratching tree'.
Eleanor💕💕😻😻
---
Georgina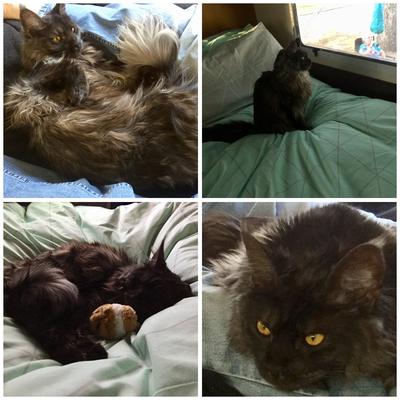 Georgina, or Princess Georgina as she likes to be addressed is just 2 years old. She is adored by everyone who come in contact with her.
She can be choosy and will put on quite an act for the people she likes best!
One of her favourite pastimes is to climb up and lie between me and my iPad, sometimes even standing up to ensure that I cannot use the Pad!

She demands my undivided attention - which is only her right.
We bought her a climbing tree which has had to be added to as she grew, it's now at ceiling height so?
Unlike most Maine Coons I read about, she hates being groomed but luckily she is an indoor cat only so she does not get any garden debris stuck in her magnificent coat.

She loves me just 'grooming' her by combing her with my fingers and nails.
I do also brush her mane but it's a constant battle for possession of the hairbrush, in fact I use two brushes one for her to play with and chew and the other to brush her.

She was almost pure black when got her but her coat is getting progressively highlighted with silver and some white. This transformation doesn't make her any less beautiful.

By the way she is keeping an eye on what I am writing about her.
---
Georgina Update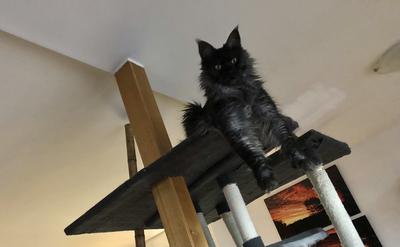 Georgie on her climbing tree, she likes to sit with her front paws hanging over the side
| | |
| --- | --- |
| In our/her caravan | Just keeping an eye on things |
Georgina on her climbing tree, she likes to sit it's her front paws hanging over the side
comments:

Georgina
by: Anonymous
She was stunning as a kitten and continues to follow in the light.....she is gorgeous....a very special little lady
---
(note: comments are closed in this archived album entry)
Return to Top of Georgina's Page