The Coffee Shop
Come On In & Say Hello to Other Maine Coon Cat Fans!

---

Maine Coon Cat Lovers from all over the world are meeting and greeting each other on the pages of Maine Coon Cat Nation.
So, it's only fitting that we add this page just for meeting other Maine Coon cat fans!
Come on in, say hello, welcome others, and just hang out!
---
Ask A Question; Answer A Question!

Maine Coon Cat Fans want the best for their cats, and that translates into lots of questions!
From behavior and nutrition, to grooming or introducing a new kitten, there are lots of cat questions for you to browse, and perhaps leave your comment on.
---

This is a place for visitors to share all their favorite 'stuff.' What are your faves for these big cats?
Maybe you have a great water dish that your Coonie doesn't dump out, or a homemade tip or trick?
Here, we get together and share as Maine Coon Community!
---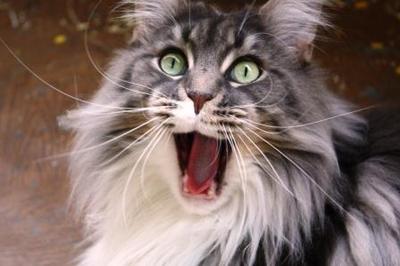 Your funny cat stories are here! What silly antics does your cat do? Share your story, or comment on others. 

---
Maybe Maine Coon, Maine Coon Mix?


Many visitors find their way to this site during their research of Maine Coon characteristics.
They are trying to decide if their cat is a Maine Coon Cat. Although a purebred Maine Coon kitten always comes from a breeder, many of these rescue kitties have unknown parents.
Have a look at some pictures, and tell these cat owners what you think. Is their cat a Maine Coon or Maine Coon mix?
---
Thankful Coonies 2022:  Here is the place to see and share what our fur-friends are most grateful for!

It's a fun way to celebrate Thanksgiving together, or just to practice the power of gratitude and celebrate our feline family members. 
Add yours on this page and be part of our Thanksgiving morning celebration where we will post and announce it on our FaceBook Page (Twitter and Instagram, too) and send out an email to our email subscribers.!

Even if you don't celebrate Thanksgiving, this is a great way to celebrate our community and spread that wonderful feeling of gratitude. 
And if that's not enough, visit our first Thanksgiving page from all the way back in 2011, Thanksgiving Cat Thoughts, for even more.

---
A visit to Maine Coon Cat Nation would never be complete without checking in on the photo gallery!
It is growing fast! There are new updates daily. To see the very latest, scroll down past the pictures. Every new addition is listed just below the invitation to upload, newest at top of the list.
Comment on a cat or kitten, and don't forget to add your Maine Coon if you haven't yet!
---
PAWSitive Passages is our newsletter, and it's a great way for us to keep in touch! Get caught up with what's new on the site, fresh tips & special articles.
There are other places to share, too. Invitations are sprinkled throughout the site, so you can have your say.
So have fun exploring! It's almost a Maine Coon Cat forum, but better. No registration, just a free Maine Coon Cat Community.