Top Pet Flea Products
When Only The Best Will Do!
Looking for the top pet flea products on the market? Here you'll find carefully selected flea medication and the perfect flea treatment for cats and dogs.
These are our Top Picks for pet flea treatment for cats and dogs. These products have been carefully chosen for their superior performance, and many have been used by us personally.
This page is currently being rebuilt while we update it to reflect the best prices on the best pet flea products that we've found. Our links will soon be active again. Until then, here are some Top Picks:
Frontline Plus Flea & Tick Control

For many, Frontline is the gold standard when it comes to pet flea treatment. We used it it successfully for many years, and still use it in our home. This is a best seller.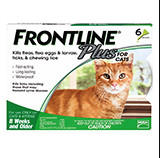 Advantage, for Cats Over 9 pounds
Last summer we switched to Advantage for our cats, and are very pleased with it's performance. It acts powerfully and quickly, and has a pleasant smell. With this formula for big cats, I feel confident that Leo is properly protected.

Advantage, for Cats 9 pounds and Under
This is the formula we use on petite Alice. She's only 8 pounds, and doesn't need as much flea medication as her big brother.