June '22 Featured Coonies
Boris, Zephyr, Cali, Maddy and her baby, a beautiful trio, Leo and more are kicking off this month's brand new album!

Maine Coon Queens
by Kathleen Joseph
(Somers, NY, USA)
| | |
| --- | --- |
| Violet and Khaleesi | Violet and Khaleesi |
| | |
| --- | --- |
| Khaleesi Pearl | Violet Grey |
My girls are litter sisters. And they love to be outside safely of course. Here some pics.
Comments:
?? Harness ~ best ??
by: Lina
What is the best harness for a Maine Coon??
---

Maddy and Her Baby Boy
by Chrissie Smith
(Suffolk UK)
| | |
| --- | --- |
| Our girl Maddy | Maddy relaxing |
We are Registered breeders of beautiful big healthy Maine Coons. Here is Maddy one of our beautiful girls with one of her boys. She is absolutely adorable and loves everyone.

She loves her cuddles also play time, her favourite game is fetch where I have to throw her toy mouse and she brings it right back.

Maddy makes me so happy and know when I feel under stress she will sit on my lap.. it's the best medication anyone can have.. I love her so much.
---

Boris
by Felecia Davenport
(Denver, Colorado)
Boris is from Minsk, Belarus. He currently lives in Denver, Colorado. He is a happy big boy of four years.
Comments:
Boris
Boris looks just like our Aslan. They could be twins!
---

24 Karrot Orange Crush
by Truly Grace
(Minden NV USA)
| | |
| --- | --- |
| So content | Younger photo |
| | |
| --- | --- |
| Loves be with one of our goldens | Cat in a backwards hat |
He is our Karrot Kat. He is extremely rambunctious and full of love. Every morning he greets me by coming into the bedroom, jumps on the bed and lays on my chest while he chirps.

I love his greeting. Then he wants his head petted and his ears rubbed. He's very out going and loves talking to us. He is a year young at 1year and 2 months. Born April 7 of 21.

Our two Goldens love him but are very jealous of him. He wants to be close to them but poppy and Sadie are very cautious of him.

Hopefully they will be best friends some day soon. This is our first Coonie and have had other cats but he is our love.

So thankful I picked a Maine coon this time. Definitely a different kind of cat. Very glad we picked him and hopefully we have him longer than our last cat of 20 years (Katy was the love of my life). Thank you
---

3 in a Row
by Loontiens Annette
(Belgium)
3 Maine Coons in the garden. in total I have 4 mc I love them with all my heart!!!
---

Leo's 1st Birthday
by Lisa Roderick
(Florida)
Leo just celebrated his 1st birthday with a new bed for his favorite nap spot in the living room.

Leo LOVES his cat tree and his chirping bird toys. He's also a prankster and loves to jump out and scare his daddy every night at bed time.
---

Porcha Cat
by Dee Weaver
(England West Midlands)
| | | |
| --- | --- | --- |
| Helping me at work | | |
My beautiful Porcha, 8 years old, she is the most divine cat I have ever owned, I'm so lucky; she follows me everywhere, loves to play football and can't get enough fuss.
---

My Little Princess
by Rhonda
(Wadsworth, Ohio)
Cali is 7 years old and loves to snuggle and sleep in bed. She's a very independent girl so it has to be her idea.
She is also a quirky girl who loves to play with the stick end of toys instead of the feather end.
---

Zephyr
by Barbara and Bruce
(California)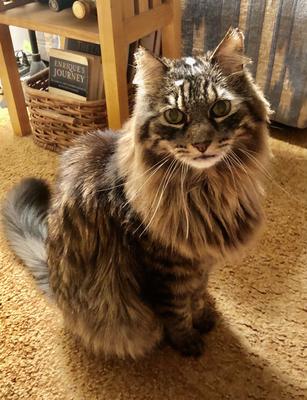 Zephyr ♥️
Zephyr adopted us when he grew tired of scavenging our beach neighborhood for free tuna.

Everyone knows his name and his reputation for being a bit on the socially talkative side. 😸

He has survived some close calls and after our vet saved him from a big one, we deemed him a forever inside buddy.

He finds ways to amuse himself, and us. We love him so much. He is a daily delight! At night, not so much. 😂😂😂
Comments:
Is he or isn't he a MC
by: Karen
I think this beauty has some Maine Coon in him, especially around his ruff. His ears not so much. Don't think he's a Weggie. He's beautiful.
Coonies
I had a Maine Coon that looked just like Zephyr for 17 years.

He was the sweetest big guy
I miss him so much even though he has been gone for two years now.
Our Coonies!
What a beauty! What is it with the late nite and very early chirping every late nite and early am? It's your thing! Do what u want to do
---

Coonie or Weegie? Andy
by Barbara
(Victoria, Canada)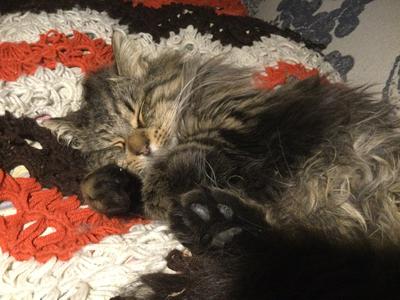 the paws!
| | |
| --- | --- |
| Andy on the first day | Don't close the drawer! |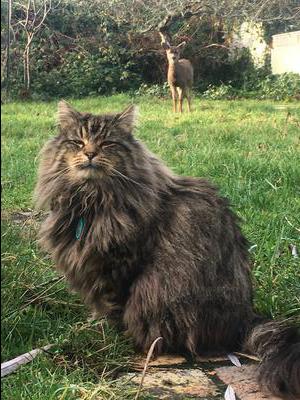 Andy in the back yard with friend
Andy is a rescue cat, reportedly found as a stray, tattooed and chipped, then given to the shelter for showing "signs of stress."

Not sure what they were, as he moved into our house with complete confidence. He's only about 12 lb, but his multiple layers of fluff make him seem much larger, and his paws are so big he looks like a polydactyl.

The shelter thought he might be 3 years old, but from the progress of his fur growth since he came I think he was only 1 year old.

He has all the trill noises, likes to tell us when he's come downstairs and visit his people for a quick skritch. Not a lap cat (unless the weather is really cold), but will happily sit beside you or sleep by your feet.

He doesn't play with water, but he likes to have treats tossed for him, and will bat them out of the air if he can.
Shoelaces and long pieces of grass are his natural prey. Any pile of towels or open clothes drawer is his natural bed.
Comments:
Karrot the cats mom
Can we please hear positive feed back. If you haven't got something nice to say then don't say anything at all. BTW your kitty is most beautiful!
What difference
What difference does it make? All that really matters is he is adorable! I love his name 😆
Response to not a Maine Coon.
And you're an authority-how?
Nope! Not MC
Sorry but this is not a Maine Coon. Looks nothing like one. Domestic long hair. Nice looking cat, though!
---

Our wonderful cat Lacey … she has the look!
by: Diane
(N.S. Canada)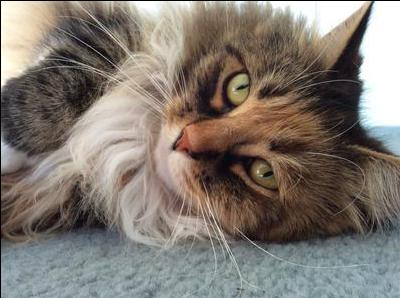 Lacey is 10 years old and is a rescue cat. She has all the characteristics of a Maine coon except she is not interested in water and doesn't make any chirping sounds

When we first saw her she was in a very poor environment looking thin and not much fur covering her little body.
We couldn't leave her there so she came home with us. Three years later we have a very fluffy cat and everyone who saw her kept telling us she was a Maine Coon.

She is very laidback, likes being centre of attention and has made our lives so enjoyable. We can't think of being without her.

She knows she is very important to us and every night when husband and I go downstairs to watch TV she comes with us and doesn't go to bed until we do.

She loves to spread out on my lap whenever I sit in my easy boy chair. Lacey is a big girl approximately 15 lbs not fat but very long and heavy to carry around.

She is very smart and so different than any other cat we have had.

Lacey is our baby and we so fortunate to have her.
(note: comments are closed in this archived photo album)
Return to Top of June 2022 Album
Sep 24, 23 09:30 AM

New today:

Chubbs

is our newest addition to our Maybe Coonie Photo Album. What do you think? TJ shares, "Our male kitten, Biggerton Chubberton, or "Chubbs" for short, is a tuxedo kitten.. Chubbs is di…

Sep 20, 23 03:16 PM

Freshly updated: Our

Royal Canin cat food review

looks closely at their formula marketed toward Maine Coon owners. What makes it a breed-specific food? Here, we examine it's ingredients and what it of…

Sep 15, 23 06:35 PM

New today: Meet Leigh-Anne's fluffy girl,

Ruby!

She wonders if she has some Maine Coon in her.. ⬇️