December 2021 Album
The December Album is here! Max and Luka are starting it off, and also meet Bertie, Finnegan, Luigi, and so many more. These beauties know how to keep warm and cozy in winter!

Royalty Luigi
by Thilda Rademan
(Durban, South Africa)
My special "Velcro" boy. Luigi's a loving clingy Black Van MC that loves being around people. A true social butterfly
---

Quincy and Franklin
by Allison
(Parish NY)
| | |
| --- | --- |
| Franklin | Quincy |
Quincy (tabby) is 5 yrd old and 21 lbs. Franklin (cream cameo) is 9 mos old and already 14 lbs.

They are half-brothers, sharing their dad. They allow me to live in their house in Upstate NY.
---

Holly
Angela
(England)
Holly is 9 years old, she has a few health problems but is the funniest, sweetest cat I've ever had, love her loads.
---

Cool Beans
Jessica
(Newark, DE, USA)
This is Jackson! Also known as Jilly Beam (a cute take on jellybean) he is. Of course my handsome little stuffalupicous. Look how chill he is. He's a cool bean.
---

Finnegan
Patty
(Toledo, WA)
Finnegan the Quilt inspector
| | |
| --- | --- |
| Finnegan Wishing everyone a happy holiday season | Finnegan surveying the land |
Finnegan will be 6 months old in December. He already weighs in at 10 lbs.

He is a chatterbox with lots of chirps and trills. He is silly and plays and plays by himself with what ever he finds, usually a paper clip or a tissue or? Rarely a purchased toy.

He also is slowly winning over the resident girls Tilly, Poppy and Hadley. He's a handsome boy and a sweetheart. We all enjoy his company and super sweet nature.
---

3 year old Luka
by Tammy Seann
(Niagara Falls, NY USA)
| | |
| --- | --- |
| Tough guy | Catio Time with siblings |
| | |
| --- | --- |
| Mom closes the lid now. She's mean | Tolerating my beautiful sister |
Luka is our 3 year old boisterous sometimes bossy boy.

He's affectionate and clingy but wouldn't change it for the world. He escaped earlier in the year and was gone for three long devastating nights.

A long story but so happy he found his way back to us. We built a catio for or crew and they love it and gives peace of mind.

He's a bit territorial with his half sister Trixie, our beautiful Tortie smoke but she's learning to deal with him. 😉
Comments:

They are beautiful
by: Allison
They are beautiful, and look at those attitudes!

---

Let it snow
by Gloria
(Kent)
| | |
| --- | --- |
| Curlywhirly | What a tail! |
Let it snow
Bertie is adorable! He watches me and if he thinks I'm struggling he walks with me gently nudging my hand along the rail. He waits for me and walks me back to bed.

He is so handsome and such a gentleman to his sister. If she wants what he has he steps back and let's her have it.

He waits for the mail to be collected sitting beside it all the time. He can leap high into the air from standing and is so light on his feet.

When he wants a treat he sits then looks at the pots tapping the one he would like.He then gives his paw and takes the biscuit so gently from between my fingers.

He loves to go outside and explore and enjoys the rain and snow. His fur is so soft and long that it hides his Christmas bow. His tail is a feather duster and collects leaves and twigs.

I call him Bert monkey from the Enid Blyton stories as his tail is so long it's always I to trouble. He is 4 yrs old and weighs 6.35 k
---

Lola
by Jo McDonald
(Vancouver)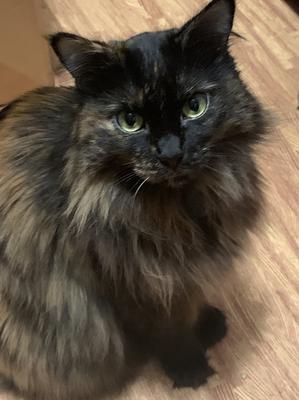 Lola is our 3yr old Maine Coon who adores playing with her glitter balls, especially fetch
---

Suzanne
by J Sibilia
(Spring Hill, FL)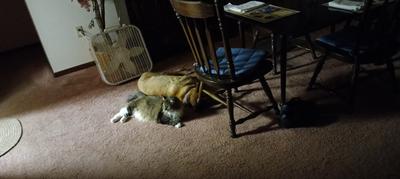 Suzanne was a rescue cat that was boarded with a group of rescue dogs.

When we first got her 6 years ago, She was quite shaggy and unkempt.
She had an instant bond with our dog, Baker and they were great pals. Even slept next to each other.

She loves lap time and us very protective of us as her parents.
She never says a word but we always know what she wants. Suzanne us a gentle sweet lady, whom we dearly love.
Comments:
Cat eyes
by: Gianni
Love is a fourlegged word 😻
---

Little Tiger
by Robert K Tarquinio
(Santa Monica, California, USA)
My kitty Tiger passed away on 25 March 2015. He was Maine Coon.

On 3 Dec 2015 I adopted Little Tiger (aka Tiger III) when he was 3 months old. He is Maine Coon. He is so sweet and easy going. He is so smart and inquisitive. He talks a lot. He is my best fried. He is my feline little brother. He is following in the paw steps of Tiger. He is 6 years old.

He has two sisters which are not Maine Coons but domestic short hair. One is a Tabby, Missy (aka Missy III); she is 7; the other is a Black kitty, Kitty Meow; she is 5.

He has two older brothers which are domestic short hair Black and White Tuxedo, Blackie IV and Blackie V; they are 15. They lost their brother Tiger II who was a domestic short hair Tabby; he was 10 when he passed away in Jan 2017.

Tiger and Tiger II were preserved after they passed away. Little Tiger knows where they rest. Little Tiger grooms me the most. His favorite toy is the feather toy. He sleeps close to me when I'm in bed. And cuddles up to me when we nap.

He enjoys looking out windows to see what's going on outside. He is so adorable. He is amazing. He is my best friend for always like Tiger.
---

Karmie
by Joanie
(East Greenwich, RI)
I rescued Karmie when he was 4 yrs old, he is now 10. When we describe him to family and friends we call him CatDog.

He literally has the personality of a dog. He follows me everywhere and is the most loyal and lovable purrbabie I have ever owned!

He's my buddy and best friend, I honestly don't know what I'd do without him, he's always making me laugh, my world would be very sad without him in it. He's just the greatest!

If I fall asleep on the couch Karmie head butts me to go to bed and doesn't leave my side till I wake the next morning
---

Max
by Melody McCord
(The Plains, Ohio, USA)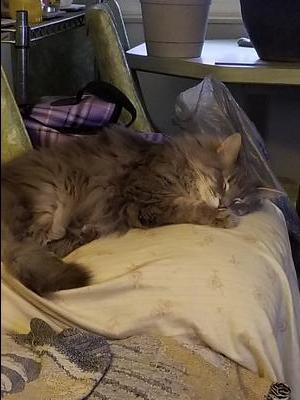 My Max is about 6 yrs old, big fluffy, fur ball!

He was my rescue cat. He rescued me, when my Misty passed.

He is very adventuress. Loves to talk....a lot! He has been sick this last month with gallbladder issues, really scared me. So sick, would not eat, would not play, or even speak. He is doing so much better. He is a joy, every day.

Melody
(note: comments are closed in this archived photo album)
Return to Top of Dec 2021 Album
Sep 24, 23 09:30 AM

New today:

Chubbs

is our newest addition to our Maybe Coonie Photo Album. What do you think? TJ shares, "Our male kitten, Biggerton Chubberton, or "Chubbs" for short, is a tuxedo kitten.. Chubbs is di…

Sep 20, 23 03:16 PM

Freshly updated: Our

Royal Canin cat food review

looks closely at their formula marketed toward Maine Coon owners. What makes it a breed-specific food? Here, we examine it's ingredients and what it of…

Sep 15, 23 06:35 PM

New today: Meet Leigh-Anne's fluffy girl,

Ruby!

She wonders if she has some Maine Coon in her.. ⬇️