January 2022 Album
Welcome to our January 2022 Album of Maine Coon Cats! Violet Grey, Khaleesi Pearl, Rascal and Trooper, The Boys and Bella Luna are kicking things off!

Violet Grey
by Kathleen J
(Somers, NY ,USA)
Violet is quiet and loving. She is 32 months old. Does light playing and not a fighter but a lover.
Comments:
Good Mom
by: Donna Riese
Violet is very Beautiful, love and cherish every minute you have with this fur baby and do not let her out of your sight. They give so much to us throughout their daily lives and will love you Forever!
Lucky you, Kathleen!
by: Jo
She is gorgeous! Lucky you Kathleen, you are owned by beautiful Violet! I am sure you will have a wonderful life together.
---

Khaleesi Pearl
by Kathleen J
(Somers, NY ,USA)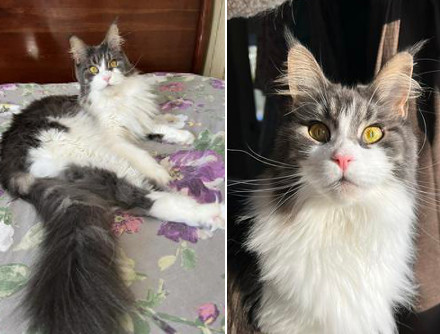 Khaleesi is a very independent kitty. Loving, sweet and on her own time. She is 32 mo old. Very curious!
---

Katori
by Jocelyn Chaparro
(Cape Ann, Massacusetts)
Katori (Tori for short) is a 5 and a half-year-old nearly 16 pound female. She lives in Massachusetts with her littermate sister, Awenita and human Mom, Lynn. Her hobbies include bird watching and listening to harp music.
Comments:
Beautiful!
by: Penny Alexander
Love her matching paws! Every Maine Coon is a work of art!!!!

---

Rascal and Trooper
by Vicky Ferrell
(Rock Hill, South Carolina)
| | |
| --- | --- |
| Trooper | Our boys |
| | |
| --- | --- |
| Our boys at 12 weeks | Rascal |
Rascal is a shy boy around people he don't know well. He is a lap warmer for sure. He is now 8 1/2 years old.

His brother Trooper is more adventurous. He doesn't mind company and loves to fetch. We are so lucky that these boys are part of our family.
We have had the pleasure of living with these two since they were 12 weeks old.
---

The Boys
by Kathleen Goad
(Kentucky)
| | |
| --- | --- |
| | "Squeaky" Gone to Rainbow Bridge. Miss her terribly. |
These are my two Maine Coon boys stepping outside for a minute to see the outdoors. They are such a joy to own. Love cuddling with them every evening watching tv.
Comments:
Cream/Red Coonies
by: Penny Alexander

Your cats' cream and red coloring is just like my Pinky! He is a rescue all the way from Kuwait. I adopted him from a Dallas rescue.
He is definitely Maine Coon but also part British Shorthair according to the vet. He has the small ears. Otherwise he's a big (16 lb) floofy cream/red boy… very independent, an elegant gentleman..

Love to all the kitties!❤️😺
Omg what a resemblance to mine😍
by: Lee Misiora

My Makita looks So much like yours😻
Lion caracteristics, very beautiful
---

Sweet and gentle kisses
by Linda B
(New Port Richey, FL)
Sweet Kisses and secret whispers
Cotee is my Classic Silver Tabby; 15 pounds of love. We do supervise interactions with Rocky, our 33+ year old Hispaniolan Conure. As you see, they are both enamored with each other and "chat" back and forth.
---

Contemplating sunrise in front of the fire
by Mary Reidy McMahon
(Lake Forest , Illinois)
Bella Luna 7 year old female
Tuxedo smoke
Comments:
Love the colors!
by: Kathleen
What a gorgeous girl! You must be very, very proud of her. I love her coloring!
---

Princess Pepper came to us via Chimney!
by Elena Bryant
(Albuquerque)
We've had our Peppermint (Pepper) for 5 years now. Her entrance into our home is one from a story.

It was in December that we heard a meow from our fireplace one evening. Thinking I was crazy I just moved on. For two more evenings I heard the same meow.

Finally, I stuck my head into the fireplace and sure enough, a gray face stared back at me! I pulled out some chicken from the fridge and with some help was able to coax her out.

We believed she was gray but later determined it was just soot as her beautiful colors appeared.

After taking her to the vet it was determined she was a stray and we kept our girl. Of course the family decided on Peppermint given she came during the Christmas holidays.
---

Ming The Elder
by Shari Taylor
(Louisiana, USA)
I adopted Ming when she was 10 years old. She was being passed over because "everyone wanted kittens".

She joined my pack of dogs and Swiper The Cat who has since passed away. The Princess enjoys hanging out in her kitty corner of cat trees.

She is joined now by my latest rescue Pawz that she tries to ignore. Ming meows when I enter the room and is insistent until I kiss her on the head and tell her I love her.
---

Makita
by Lee Misiora
(Belleville, Michigan)
Unbelievable personality
Comments:
A strong resemblance!
by: Kathleen G
Yes Makita! Ours do look so much alike! Yours is very beautiful! Are they not just the best thing in the world to own? I'm a very proud Maine Coon mama!
---

Karmie
by Joanie Anderson
(RI)
I rescued Karmie when he was 4 yrs old in 2014, he's 11 now & the most lovable purrbabie!

He follows me around everywhere & is such a loyal friend
(note: comments are closed in this archived photo album)
Return to Top of Jan 2022 Album
Sep 24, 23 09:30 AM

New today:

Chubbs

is our newest addition to our Maybe Coonie Photo Album. What do you think? TJ shares, "Our male kitten, Biggerton Chubberton, or "Chubbs" for short, is a tuxedo kitten.. Chubbs is di…

Sep 20, 23 03:16 PM

Freshly updated: Our

Royal Canin cat food review

looks closely at their formula marketed toward Maine Coon owners. What makes it a breed-specific food? Here, we examine it's ingredients and what it of…

Sep 15, 23 06:35 PM

New today: Meet Leigh-Anne's fluffy girl,

Ruby!

She wonders if she has some Maine Coon in her.. ⬇️