February 2022 Album
Welcome to our Winter Photo Album! Come meet these gorgeous Maine Coons featured on our site.. and leave a comment, too!clone

Pharaoh
by Brenda Blair
(Clarksville, TN, US)
Pharaoh is a 3 year old male Maine Coon that lives in Clarksville, TN. He was born in Moore, OK in 2019.
I inherited Pharaoh May 2022 from my uncle. He is the best cat ever. He's my gentle giant that continues to grow every day.

He's very smart, loving and loves to play! He's a great cuddle buddy and a great alarm clock!
Comments:
Pharaoh Boy
What a handsome guy you have. I know you are a proud parent. These gentle giants are so amazing.

My little guy, Sergiy is going to be 6 months old this month. And he is a wonderful addition to the family.
Stunning cat
by: Elizabeth Duncan
Your baby is stunning! I love the color coordinated features and that gorgeous mane!! It's no wonder you are so proud

---

Mozzarella
by Camille Re
(Newton NJ)
Our Mozzarella. aka Mutzzie, came to join our family

Mutzzie is our family pet and will also be a therapy cat for our son.

I'm a certified feline behaviorist and I needed a cat for my son, and also wanted to have him as my mascot for my business.

So Mutzzie will also be a service cat and a mascot for clinics that I teach. He is still only 4 months old but he is everything we were looking for.

Maine Coons have amazing personalities and Mutzzie does not disappoint. I can't wait to tell and show you how he is doing in the future months.

But for now he loves hanging out with us and our other cats and dogs. Nothing bothers him.

My son is on heaven and he even sleeps with him every night on his bed with him. He is a great cat and the Maine Coon an amazing breed. We are so happy with our choice.
Comments:
Mozzarella
First of all, I LOVE the name! I couldn't agree with you more. Maine Coon's are excellent companions. A super form of therapy without forking out a kabillion dollars! lol. And finally, what a great mascot. Everyone will love Mozzarella.
Mozzarella p
by: Lisa
I love his ears! They're great.
What a face!
by: Laurie
Mozzarella is going to win hearts everywhere. What aa great idea to have these beautiful cats as ttherapy cats. They are just so affectionate.
---

Aslan (The Lion God)
by Laurie Van Tuyl
(Ottawa, Ontario, Canada)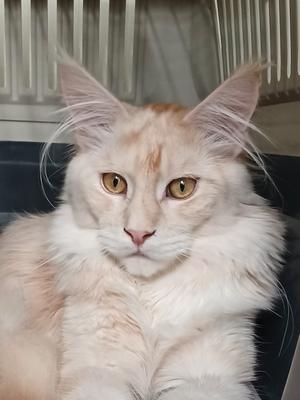 Where do I begin. Aslan is growing up quite fast! More to love!

He is 8 1/2 months old now, weighs in at 13.5 lbs, and 40 inches long. And apparently he is still a kitten?

He has suddenly developed a huge amount of energy. He also sleeps like a baby for soooooo long. To the point where I miss his company.

He is a very light color, so grooming is pretty important, but boy what a handsome fella.
Comments:
Beautiful boy
by: Camille re
I love his color. He looks amazing and for sure he is going to be a big boy
Enjoy him! I'm sure he is a lot of fun.
Getting ready for a kitten....
by: Sandra H.
He's gorgeous!!! Jealous!!I'm not having much luck w/adoptions of MCs (nobody wants to give them up!!)

So I've waited long enough & gonna get myself a kitten in next few mos. Love the breed, the personalities. All of it!!
🐈🐈‍⬛🐾🐾❤️❤️❤️
Adorable!
He looks exactly like my Bodhi who is 2 and weighs almost 20 pounds.
Gorgeous
Such a handsome boy. Love the color. He's going to be a big boy for sure!!
---

Not Happy When My Humans Are Late...
by Lisa Constant
(Stockton, California)
| | |
| --- | --- |
| You're Late... again | I'm sure the food's in here... |
Jojo (reg name is Joseph aka Goggles)
Jojo is an 11 Year old Maine Coon Cameo that hails from San Diego. He is 21 lbs and loves his humans.
Like most Maine Coons, he is smart, and impatient when he feels its time to eat.
He goes through the house opening doors to search for everything he has already seen.
We love him dearly.
Comments:
Cute baby
Such a beautiful baby!

---

Ludo
by Lorrie
(Westport Island, Maine US)
This is one of our kittens in his furever home. Ludo is 10 months old and loves spending time with his buddy.
Comments:
My Rum Tug Tugger
by: CarmenFernandez
He looks just like my Tug, that I had for 17 years.

What a love he was. Sure do miss him
Ludo is gorgeous
How much does Ludo weigh? He looks big at 10 mths.
---

Lucy
by Kathy Balch
(Rosharon, Texas USA)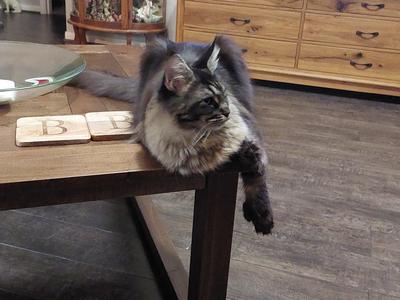 I'm Lucy and I'm 10 months old. I am also a poly. I love my new home. I love my new brother Rambo. My new Mom & Dad just love me.
---

Momo
by Michael
(Chesapeake)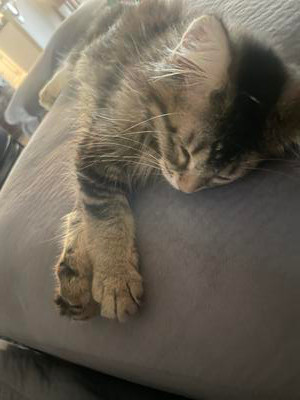 14 week old Momo taking a nap
---

Willow chilling after a morning using the house as obstacle course
by Darryl Parkinson
(Canterbury, Kent UK)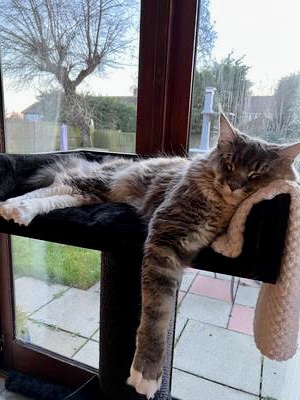 Willow is full of character and energy, mischievous and funny in his traits.
Comments:
Willow
by: Lisa
My kitty plays fetch to burn off her excess energy.

Every night I move the chest of drawers to get her toys. She will find her white "mouse". It has no nose, whiskers, eyes, ears or tail.

It's basically a hollow plastic teardrop covered with rabbit fur, but its still her favorite fetching toy. We play for about a half hour. Then she sleeps to recharge.

I know that she plays with many toys through the night because they are in different places by morning.

But she lets me get to sleep. I'm a sound sleeper. Once I nod off, she could drop a brick on my head & it wouldn't disturb me. I love her deeply.
Spent
by: Laurie
He totally looks spent. Absolutely beautiful. Love the sleeping quarters and so does he. He's out!
Time For Food
by Darryl Parkinson
(Canterbury, Kent UK)
Our Willow trying to tell us it's meal time.
Comments:
The name Darryl
by: Catherine C Nobles
Darryl is used in both sexes. I have female and male friends named Darryl

Over Grooming
I have a Maine Coon that used to be an over groomer when he was younger and was like that for several years.

We rescued him from a breeder that was going to put him down because he was sickly. He was the runt of the litter and is now going on 11 years old and weighing in at 12 lbs.
He has been our little terror and I think he has gone through at least 6 of his 9 lives, but the grooming has calmed down in the last 3 years I would say and he is such a sweet boy.
We used to call him no touch kitty because he was pretty feral I would say, but now he is a cuddler on his own terms of course.
Pure white with blue eyes and we love him dearly along with our other 2 rescue short hairs.
Willow
by: Darryl Parkinson
Willow is a boy, not a girl for information. I appreciate that in the USA it may predominantly be a female name however in the UK it is recognised as a name for either sex. Regards.
Over grooming
Hi I have a 6 year female Maine coon who is over grooming licking and pulling hair. Trying to figure out if allergies and or stress.
Has anyone had this issue and how did you resolve. First time but not last Maine Coon owner thank you also have any one of you had issues with Forta Flora
I'm ready for dinner, make it snappy!
by: Amy Matilda
What a perfect way to inform your human!

My Mapache would place himself neatly in the center of a dinner plate on the fully-set table.
Adorable!
---

Lazy day
by Suzanna
(Elk Grove, CA)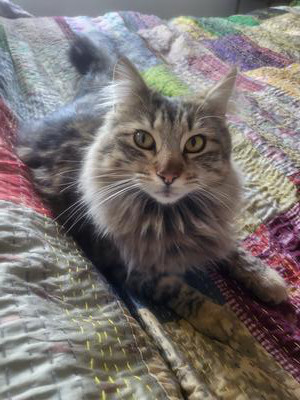 Sapphire is very talkative.

She tells on her brothers when they're eating her food or in her sleep spot. Lol!

She wakes me up in the morning if I'm in bed too long.

She's very friendly when people come over. She loves the attention. She purrs the entire time she lays next to me. I love this beauty.
---

Biscuit - the sweetest cat alive!
by Jeanne Legault
(Seattle WA USA)
| | |
| --- | --- |
| Nicky Biscuit | |
Biscuit (official name Nicky Biscuit) came to us as a very sick Maine Coon kitten - which is strange coming from a breeder.

We spent a lot of money trying to get him better and then after two years of thinking he would die from DCM - it turned out he was cured with extra Taurine! We couldn't have been more happier!

He watches over our other 3 cats and intervenes if there is fighting! At 2/1/2 he is already 26 pounds!

He is an absolute angel! He sticks by my side all day and there is no amount of petting (or treats!) that is too much for him! I love him with all my heart!
---

Aslan, the lion God!
by Laurie VanTuyl
(Ottawa Ontario, Canada)
| | |
| --- | --- |
| Totally relaxed | 4 mths. old: "Peek a Boo, I see you!" |
| | |
| --- | --- |
| Hiding | Loves TV |
Aslan (meaning lion God), is our very 1st Maine Coon. He is 7 months old and I have fallen in love all over again. He has such great character. Not to mention handsome! We're happy together.
---

Lucy
by Dianne Bos
(Netherlands)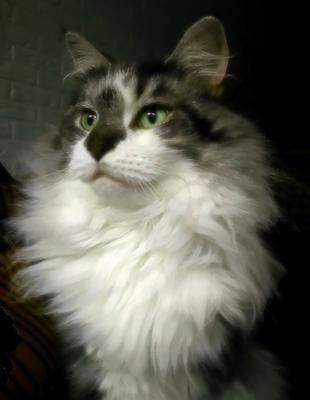 Lucy
Lucy is our Princess. We adopted her at the age of 3, leaving a cattery were she was bullied.
With us she changed in an adorable princess who gives the best kisses and paws.
---

24 Karrot Orange Crush
by Truly Grace
(Minden, NV. USA)
| | |
| --- | --- |
| Love my two dogs | I love the snow |
| | |
| --- | --- |
| On the bed | I love being out side only when I'm watched |
Hi my name is 24 Karrot Orange Crush.

My mom was going to name me Karrot but then she had to come up with a registered name. My dad was Orange Crush, so I ended up with 24 Karrot Orange Crush.

I am two years old now and still growing. I cause a lot of trouble around the house chewing and scratching things I am not supposed to.

I do love my two sisters (Goldens), but they are very jealous of me.

I love my mom and dad because they take very good care of me and give me lots of love. I purr non stop and love to cuddle with my mom.

I go to my moms bedroom and great her every morning by laying on top of the covers and on her chest.

I am glad I got into a loving caring home forever. Oh one last thing, I love chirping and meowing but don't like baths or being brushed even though they do it anyway.
---

Meet Miss Molly
by Alice
(Fountain, CO, USA)
Molly is a 17 month old Coonie with such a sweet personality. She's been in our family for two months now and is warming up to us more every day.

She is a constant companion at bedtime and claims her spot every night. She loves being groomed and will even roll from side to side so I don't miss any spots on her silky coat.

She purrs loudly when she's in her groove! She's energetic and loads of fun to interact with.

She is inquisitive and always willing to get into anything that is within her reach. There are very few dull moments with her!
---

There's No Weeping Willow Here!
by Shel Boyd
(Tucson Arizona)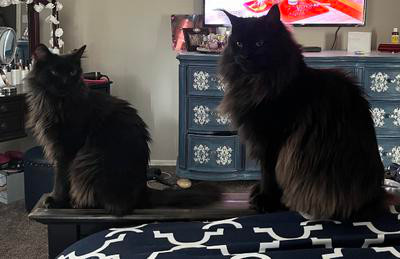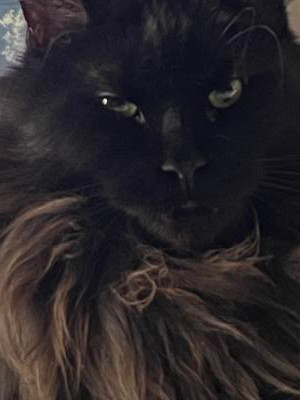 This is Willow! She is 1 year old, but one of 4 cats and 1 of 6 animals.

She is what we call our big beautiful mediator who keeps the calm in the household.
She loves to sit up high and watch everyone to make sure all is calm.

Her purr is like a soft soothing motor. My friends think she looks like a werewolf when she gives you a stern stare with her big strong muzzle looking directly at you.
---

My Babies
by Cathy H
(Cross Plains, IN)
I have two Maine Coons Boris is my male who is so sweet, loving, and loves cuddles. Grace is my female and she cuddles when she wants to and on her terms.
---

Nosey Cats
by Jean Bayus
(Colonia, NJ)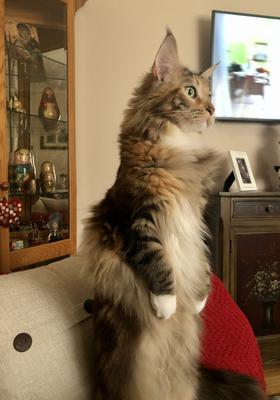 Laverne doesn't run to the window when she hears someone at the door, she just sits up and stretches to see. She is quite the character!
Comments:

Beautiful
by: Jay

Such a gorgeous girl and super sweet disposition to have.
Cheers Jay

---

Pandora
by Heather
(Eagan MN)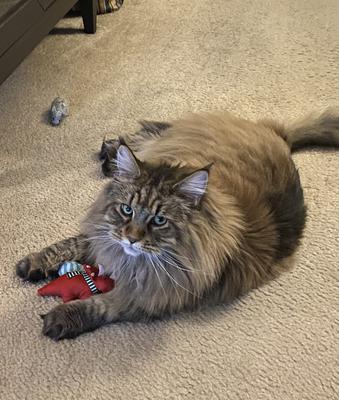 Pandora is just the most amazing little girl. She is 6 and loves to hoard her toys.
---

Meet Deme!
by Lyn
(Worcester, MA)
Deme is almost 2! She is from Cornerstone Maine Coons in Massachusetts. She is full of mischief.
---

Our Loosy
by Ann
(Bradenton, FL, USA)
She's 7 years old and loves to fetch. We live in Florida and she is always stalking for geckos.

We rescued her after we got the call that Mom and 8 kittens were left in a box at the veterinary clinic found when they opened in the morning.

She brought joy into our lives when life was pretty bleak.
---

Roscoe Bob
by Trish Rasmussen
(Ham Lake, MN USA)
Roscoe Bob is named after two of our Maine Coons who have gone ahead.

Roscoe Bob is the most energetic and most mischievous Maine Coon we have ever had. He gets out of trouble by tilting his head and giving us his sweet eyes and smile.

He's a complete snuggler and insists on his cuddle time. He's a personal assistant and insists on helping with everything in the house. He is a delightful addition to our "Cat House"!
---

My 5 month old Maine Coon - Sergiy
by Charles Dove
(San Antonio, Texas)
| | |
| --- | --- |
| Sergiy at 8 weeks | Sergiy at 4 weeks |
Sergiy at 5 months
Sergiy is a Ukranian name because his father was imported from Ukraine.
I had been looking at Maine Coon kittens for a long time. I've had many cats in my life time and all of them had their own unique personalities.
I found a breeder reasonably near me. I visited with the breeder and her 3 females and one male. She breeds only 2 times a year.
I first saw this little guy and all his brothers and sisters when they were 6 weeks old. I was invited to the house for the visit. A very nice clean environment.
I found the one that just spoke to me and I put a deposit on him. I picked him up at 12 weeks old.
What a sweet little guy. So affectionate and playful. He is now just under 6 months old - and I am amazed at his size.
A long furry tail and large paws. He's just so incredible. Maine Coons - just such amazing cats!
Comments:
Beautiful looks like my Rascal
by: Sherry C
We got Rascal at 8 weeks old hes now 8 months n looks identical to your boy. Hes not full mc but he has many traits n looks. I wish I could leave a pix for you.

Handsome Sergiy
by: Elizabeth D
He is stunning. Congratulations on such a regal boy. You must be proud. His stature really comes through in the photo

---

Prince Ryker
by Laura
(Gassville Arkansas)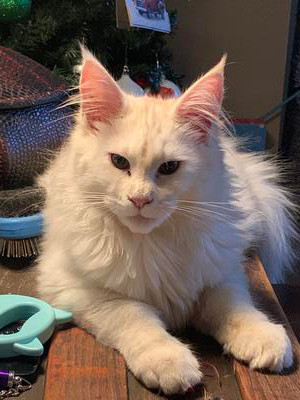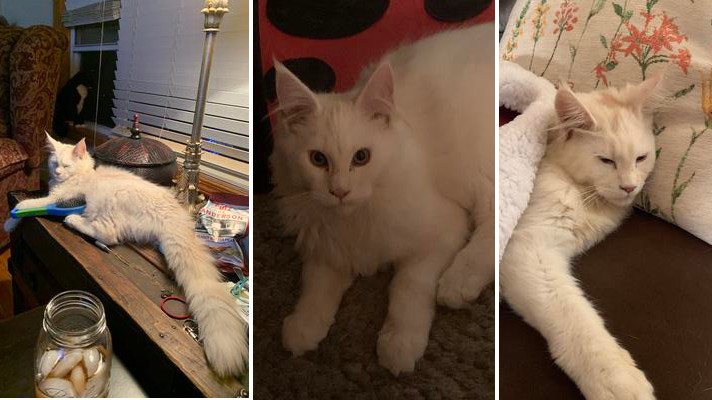 Ryker the Great
Ryker is 5 months old and from Gassville, Arkansas. He's so lovable and extremely gentle. His hobbies include playing, eating, playing, napping, playing and more playing.
Comments:
Smooches
by: Jerri
Ryker is my newest grandkitty. He is an AMAZINGLY beautiful, affectionate & mischievous boy who's growing like a weed!

His favorite buddies are my daughter's 2 lab mixes, Zeus a black giant & his slightly smaller blond brother, Aries. Ryker loves to play & nap with these guys & his "Mom", my daughter, Laura.
---

Rambo
by Kathy Balch
(Rosharon, Texas USA)
Rambo is 18 months old. He loves to play chase in the morning & will wake me up at 6:30 am if I'm not up to feed him. Rambo is also a talker. I just love this boy.
---

My Mia
by Jeralyn
(New Jersey)
| | |
| --- | --- |
| Mia posing! | Mia hogging the recliner! |
I adopted Mia from a wonderful foster group when I lived in Florida.

She was found in an abandoned shelter with a litter of kittens. At the time she wasn't even a year old.

After she nursed her kittens they found a litter of kittens without their mom and Mia nursed those kittens.

When I first met Mia her foster mom called her up on the couch and the first thing she did was roll on her back wanting me to rub her belly.

Her foster mom said she never did that for anyone so I guess she actually picked me to be her forever mom! I love my sweet girl who is about 7 years old now, she is truly an angel.
---

Fluffy Beard
by Jessica N
(VA)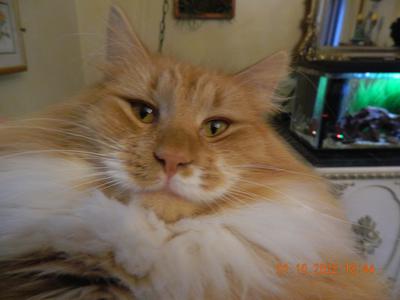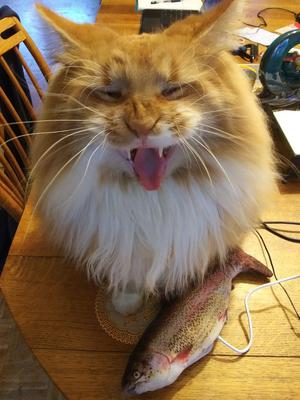 This is my rescue kitty who is now the king of the house!!!

I have had him since he was a kitten after being found deep in the woods. He is two years old now and with lots of loving, getting more and more acceptable of being cuddled and loved.

My daughter named him Pork Chop but I call him my Cinnamon Bear!
---

Frankie
by Victoria brown
(Winneconne, WI, USA)
Just a baby
My baby's name is Frankie. He's 5 years old, has beautiful white markings on face, he's sweet and goofy, I love him so much.
---

Itty Bitty Kitty
by Jaime Emero
(Dearborn Heights, MI)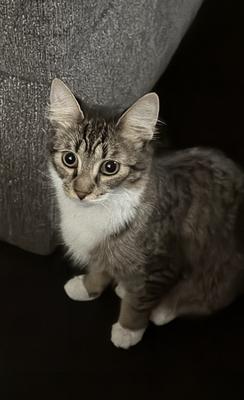 We rescued our baby from living outside in Detroit where the owner would not allow her female cat in the house with her babies.

She was just an itty bitty Kitty & that is what I always called her while we tried to name her.

We also thought she was a boy, so once we finally agreed on a boy name my friend said I think this is a girl & she was right lol.

By this time, she started answering to Itty Bitty so that's what her name is.

Now seeing how big she is getting and just her tail and the white chest etc, we think she is a mix of tabby and Maine Coon.
Comments:
My Itsy Bitsy Kitty
by: Pamela
My Maine Coon's name is Itsy Bitsy Kitty and looks just like Itty Bitty Kitty except Itsy has a white teardrop on the top of her nose. (And she's no longer itsy bitsy at 20 lbs.)
---

Dex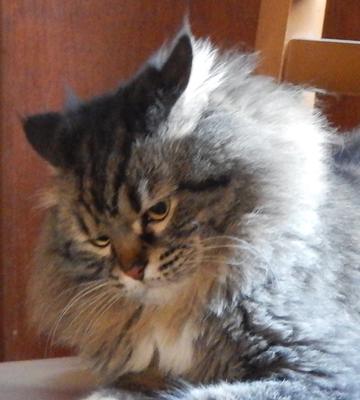 His original fam didn't want him after 18 months, and we got him. My husband called him Poindexter, but we call him Dex.
Comments:
Fluffy Dex
by: Lisa
I'm so glad that this fluffy cuddle waiting to happen has found his furever home with you. He's beautiful!
Tugger
by: CarmenFernandez
How could someone not want that cutie.

I had a Main coon for 17 years,who looked like Dex.

I would love another one.
---

Percy
by: Grace K.
Percy is our amazing 4 month old Maine Coon. He likes to annoy our Ragdoll female.
---
Deke says "Talk to the paws"
Pat Coyle
East Stroudsburg, PA, USA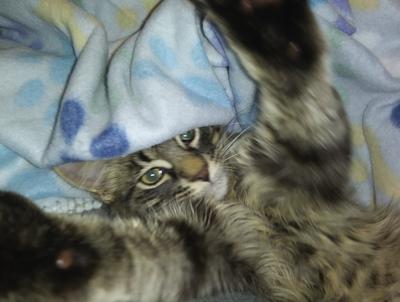 Enough, Momma!
We had lost our beloved Sully in January 2022 and although he can never be replaced, we were blessed to find a Maine Coon mixed kitten to help dry our tears.
This is Deke (short for Deacon) he is a rascal. He was tired of me taking his photo so he put out his paws and said in kitty language, "Enough!"
Comments:
24 Karrot orange crush. Karrot for short.
by: Truly grace
I know how you feel. My Katy Kat was my love, had him for 20 years, I still think of him every day.

Two years later I got my Maine Coon Karrot when he was 8 weeks old. He is now 2 and a terror, but love him so.

There's times I call him the devil 👿 cat because he has clawed and destroyed about 20 thousand $ dollars of things.

I love him anyway and wouldn't give him up for anything. I just wish he would quit destroying things.
Hello
by: Jan
Deke you are adorable! Thanks for bringing love and joy to your new forever family!

Deke Looks like our Rascal
by: sherryc
Our Rascal died the same time. He was a mix too. Our Herbie died a few yrs back n it took awhile to find a new baby.

(note: comments are closed in this archived photo album)
Return to Top of this Winter Album
Dec 10, 23 03:14 PM

New today: Meet

Ginny

from Lumacoon Maine Coon! Ajuna shares, "This is Ginny our three year old dramaqueen. She's a big softie once you get to know her, despite that look of doom in her eyes XD she wa…

Nov 10, 23 03:06 PM

New today: Meet adorable little

Juniper!

Nicole shares, "I went to the vet and they originally had her as domestic medium hair and once the vet saw her she said she has some Maine Coon in her because…

Nov 05, 23 08:36 AM

New today: Meet

Yellowstonecoon Tomboy Honey!

Jessica of Yellowstonecoon Cattery writes: "Hello, Maine Coon families! We are so tickled to share our beautiful Black Smoke baby girl with everyone! She…