November '21 Featured Coonies
The November 2021 Photo Album is here! Augustine, Bertie & Telulah, Luna, and Melville Red are just a few of the rock stars here. Come visit to read more!
Enzo
By: Amy in SC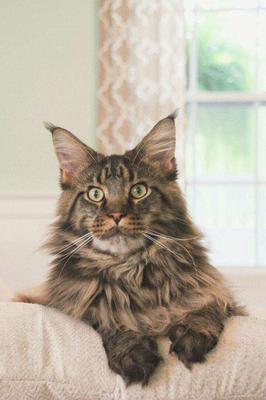 This is Enzo. He is 2 years old. He is such a sweet boy. He is my talkative one. He is always trilling. His most favorite thing to do is fetch the cat spring toys. He is obsessed with those.
---
Hunley
By: Amy in SC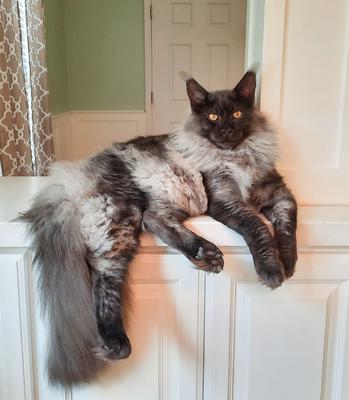 This is Hunley. He is a year old. He is a sweet but crazy boy. He is like having a 2 year old. He is always into something. He also has a weird obsession, our refrigerator. He is a silly boy!!
---
Georgina Keane-Anderson
By: Eleanor in Como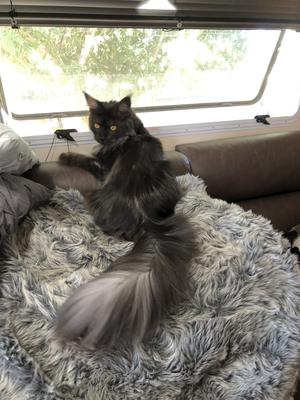 I'm Georgina! I was featured in your Gallery a few years ago, and I was very happy to be chosen.

I live with Mum in Como, Western Australia. We travel every month with our JAYBIRD ROADRUNNERS CARAVAN CLUB friends to a Rally.

Western Australia is a lovely State and the weather is always nice, even in Winter.

My Daddy/Uncle Neil built a terrific tree house for me which sits in the middle of our living room. I can go anywhere I want to in our apartment but Mum won't let me go outside, (I think it's because I am so beautiful, she thinks someone might take me away to live in their house).

I picked out a few photos so you can see what I mean😻
---
Romey.. Our Super Patriot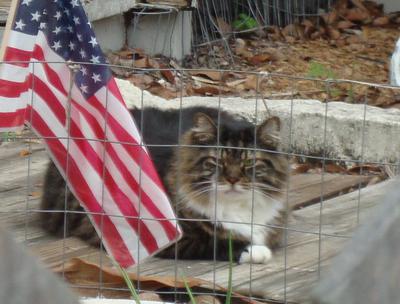 God Bless America
Old man who loves his flag.
---
Pandora
By: by Karen DeAguiar in Scotia, NY
My beautiful girl is an 8 year old silver smoke Maine Coon. She is such a love.
She is not a lap cat, she is a shoulder cat. She loves to perch on my chest and shoulder interrupting my TV watching.

Can't see past all that "floof. " At night she sleeps right up against my back. Best heating pad ever.
---
Puss
By: Jacqui in Sydney, Australia
| | |
| --- | --- |
| Puss in box | Back in my box |
| | |
| --- | --- |
| Resting | Listening to paper scrunching |
Puss loves boxes and bags. She doesn't know she is a big cat and tries her hardest to fit int the smallest box. She also likes to chew on crinkled paper.
---
Sadie 3 years old
By: Pam Cook in Tennessee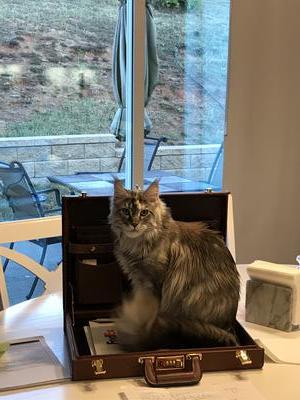 Daddy, can I go to work with you!?
Sadie is very sweet and very spoiled. She is very talkative and has no problem letting you know she wants something. If you don't go to her she will begin to howl as if she has been deserted lol!

She is also very lady like when she wants human food. She sits on a chair at the table and waits to be given a few bites. All in all I don't
know what I would do without her!
---
Augustine
By: Joanna Lambe in Belfast, Northern Ireland, United Kingdom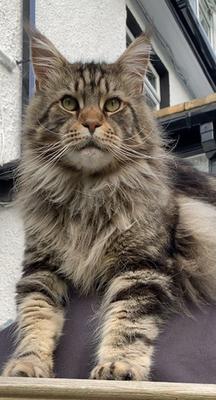 This is Augustine, my fourth Maine Coon, born on August 14th 2017, so he's just over four years old.

He weighs in at 22lbs and is a gentle giant. A very pampered kitty, who loves his heated throw, now that it's getting colder. We live in Northern Ireland.

I got my first two Maine Coon brown tabby brothers back in 1996, one of which lived till he was eighteen.

Took me a while after he passed away to come around to getting another, but Augustine, who usually answers to Buddy, is a very special boy!
comments:
Grand
by: Frank

What a grand beauty. He looks regal in his pose and posture. Coonies are the best! I'm glad you are keeping him warm.

---
Sheldon
Connie Giannetto in Baileyville, ME USA
Sheldon
Sheldon is a Maine coon cat who came as a stray to my mom's door and is now her beloved pet.
---
EZIO-Ruler of the House!
By: Debbie in New Hampshire
Ezio is my wonderful fur baby. He is extremely bonded to me. Where ever I am, he usually is.

Off to the side or smack in the middle of a project.

My life is full of chirps, trills and cuddles!
---
My Gentle Giant
By: Carol Hansenko in Westfield, MA USA
Micah is 5 yrs old and a love bug. She is not like a lot of Coonies, she hates water.

She has a very shy demeanor and hates loud noises, I am the only hooman she will be comfortable with. She hates her picture taken, she is not vain at all, lol :} ;
---
Jackie Ray
By: Laura C in Knoxville TN USA
| | |
| --- | --- |
| These are a few of my favorite things! | Ignoring the hummingbird above me |
| | |
| --- | --- |
| This bed is mine! | Keeping an eye on the neighborhood |
Jackie Ray is my best buddy! He owns the neighborhood. Loves to get on the rooftop and look at his domain. He's extremely smart. His favorite toys are tennis balls and tissue paper.
---
Cosmo
By: Connie Dubois in Tyngsboro, Ma., USA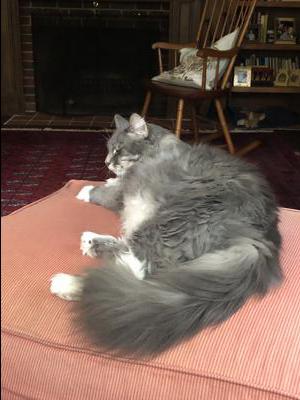 I've had three Maine Coons. I believe they were/are some sort of mix, but all have exhibited the Maine Coon personality.

The first two lived 20 years. So affectionate, smart and loving to the Orange tabbies they spent their lives with.

Currently, I've "got" the third. BTW, all my cats have come from shelters. Cosmo follows me and the family, greets strangers at the door, sleeps with me and NEVER wakes me up by sitting in my head or any other tactic. Love this fluffy, intelligent, beautiful breed.
---
Nico
By: Margaret Rosadini in Connecticut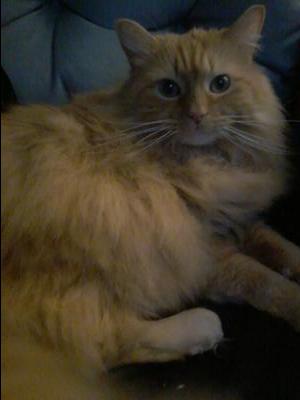 Nico is a seven year old Maine Coon mix who is very precocious.

He loves to wake me up at three in the morning by jumping on my head! After all, he is a hungry boy.

He will look me directly in the eye as he is swiping things off the counter. He knows how to open the closet door in the bedroom and close it behind him.

Next thing, I am frantically searching for him!

But, he is also my loving boy who stayed by my side while I dealt with breast cancer this past year. He is one smart, intuitive cat and I love him.
---
Kitty Kat
By: JoAnn in Tucson, Arizona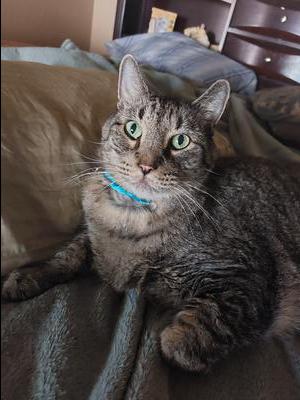 Kitty cat weighs 21 pounds his belly hangs and rubs on the carpet he is very playful and very lovable he sits on my lap to watch TV.
---
Luna
By: Carol in Alachua, FL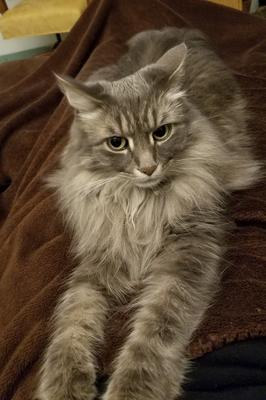 Like so many Coonies, she loves running water. Every morning she insists I turn on the faucet, cup my hand in the sink as she proceeds to stick her whole head under the stream in order to lap the water collecting in my palm!
---
Happy Birthday!!!
By: Lee Anne Ward in Evansville, IN, USA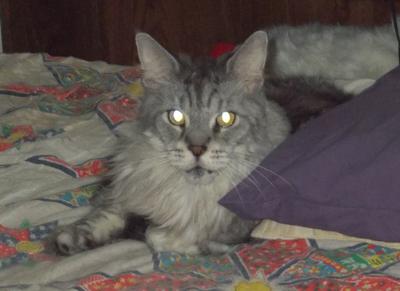 My Nubble was named after the famous Maine lighthouse. Today's his 13th birthday! 'Moving slower, like his Mom...
---
Off The Street
By: Sharon Orienter in Rochester, NY
His name is Melville Red, after the street where he was rescued.
comments:
Who's a Good Boy
by: Frank

What a sweet and beautiful kitty. I love his furry face. Happy he's off the street.

---
My Furry Friends
By: Gloria Brissenden in Deal Kent
| | | |
| --- | --- | --- |
| Bertie | Relaxing Telulah | Sitting together |
I have two Maine coon mix kitties. They are so different in temperament.

One sleeps lots and only goes out in my garden while the boy looks in all the gardens in the Close.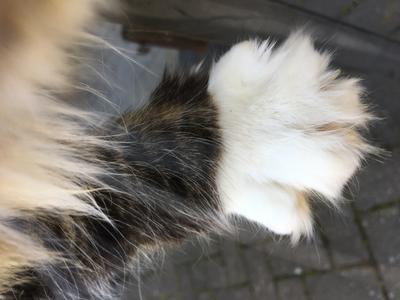 Tufted paws
Bertie thinks all animals are his friend and wants to play with them, while Telulah likes all humans to make a fuss of her and runs to meet the window cleaner, who she loves and follows around.


Bertie sits, gives his paw and then chooses a treat by tapping the box or packet. They both sit on command and both love running water to drink and play.

They both run to the door for mail, then sit next to it until it's collected. Bertie loves to be talked to and squirms into the most odd shapes with quivering paws.

He has the tiniest mew but makes beautiful pfennig noises to talk back to me. Telulah will catch a leaf and proudly bring it into the house for me. She is very sweet and pretty.

Bertie can jump high into the air from standing and loves to play with a feather on a stick. Bertie has a knitted king which he stole from the nativity display. He carries this around and often puts it in my bed.

They are the most delightful companions, who make me laugh every day.
---
(note: comments are closed in this archived photo album)
Dec 10, 23 03:14 PM

New today: Meet

Ginny

from Lumacoon Maine Coon! Ajuna shares, "This is Ginny our three year old dramaqueen. She's a big softie once you get to know her, despite that look of doom in her eyes XD she wa…

Nov 10, 23 03:06 PM

New today: Meet adorable little

Juniper!

Nicole shares, "I went to the vet and they originally had her as domestic medium hair and once the vet saw her she said she has some Maine Coon in her because…

Nov 05, 23 08:36 AM

New today: Meet

Yellowstonecoon Tomboy Honey!

Jessica of Yellowstonecoon Cattery writes: "Hello, Maine Coon families! We are so tickled to share our beautiful Black Smoke baby girl with everyone! She…