Fall Featured Coonies 2022
Welcome to our album of Fall Featured Coonies for 2022! Add your Maine Coon's picture for a feature on our social media, too!

LeeLoo and Tidus!!
by Stephanie Shae McMillan
(Virginia)
| | |
| --- | --- |
| Tidus and LeeLoo sharing the big cat tower | Tidus and LeeLoo posing for a picture. We don't often get them sitting so nicely like this. |
| | |
| --- | --- |
| Tidus hanging out in the sink. Lol! He thinks it was made for him | LeeLoo performing for her photoshoot! Silly girl. haha! |
I just joined Maine Coon Cat Nation and wanted to share our sweet girl, LeeLoo, and our handsome boy, Tidus.

LeeLoo is a two-year-old black silver torbie and white gorgeous girl with lots of spunk, energy, and loads of charm!
She is our precious girlie girl who loves spending time with us and being loved on.
Tidus just turned a year old, today, and is a handsome silver ticked tabby and white big boy!

He is a fiercely playful toy attacker who loves being my little entourage around the house as he supervises all of my daily tasks.
Both of our sweet MC kitties bring our family so much love and joy each day!
Tidus' birthday is 12/6/21 and LeeLoo's is 10/18/20. We are so in love with their sweet, unique personalities!
---

Think I need a bigger bed..
by Linda
(Tenants Harbor ME)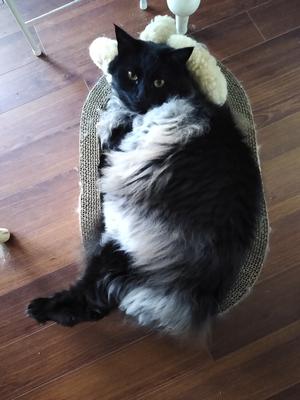 Poe joined our family in April. He got kicked out of college and ended up on the streets of Brunswick, Maine before being turned into a shelter.

He fell in love at first sight with 'mom', spent his first month in his own room before exploring the big old house and his doggy siblings.

He and his Keeshond brother Maestro are best friends now.
---

Sadie
by Pam Cook
(Tennessee)
Sadie is 4 years old Maine Coon and she is completely spoiled.

She is more quirky than any other cat we have had. She has a certain meow that announces when she is going to drink water and when she is going to the litter box.

Chicken that is roasted is her favorite food. She absolutely goes crazy meowing until I give a few bites. If I bring in store bought roasted chicken she knows as soon as I enter the house.

Some Coons trill more than others but Sadie constantly does. I love it.
Comments:
Sadie
by: Pam Cook
Sadie is a silver tabby I believe. We got her from Kanu Coons in Alabama. It seems to me that girls are just a little more independent than the boys, but so sweet and gentle.
We had a male Maine Coon , Samson that passed in July. Boys are so goofy and entertaining. We miss him so much. There is no other breed for me.
Sadie is Gorgeous
Thanks for sharing. Sadie is beautiful
and I love her attitude. I just got a new Maine Coon male kitten. He loves chicken too. He is also much more vocal than my Ragdoll.
What Type
by: Russ
I'm looking to get my first Maine Coon and she's beautiful. What type is she, and do you have info on where you got her?
---

Blaze the Magnificent
by Julie Koester
(Franklin, MA)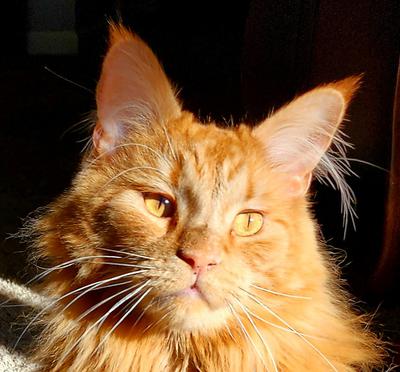 Blaze is a feisty, playful, big boy who loves to be around his humans.

He especially loves his daddy who he follows around like a puppy dog. He greets us at the door when we come home and likes to "wax" the table after we clean it.

He loves his food and treats. He loves to play with with water.
---

Simon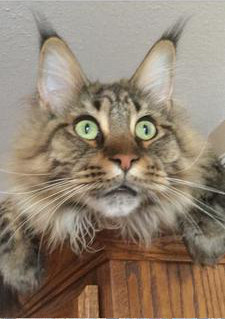 Big gentle giant
---

Sweetest Girl
by Julie Koester
(Franklin, MA)
Willow is a super sweet 2.5 years young coon.

She is so gentle when we play regardless of the damage she can do with those huge paws. She loves to snuggle.

She is so graceful, playful, and will jump inside a box the second it hits the floor. With her curious nature there is nothing off limits to this girl.
---

Jack enjoying the fall leaves
by Robert M Guzman
(Kent, NY)
Enjoying the Fall leaves
| | |
| --- | --- |
| | Baby Jack |
Jack is about three and a half years old and loves to go for walks outside. Jack was born in Maine and now lives in New York State.
---

Royce
by Martin
(Costa Rica, San Jose)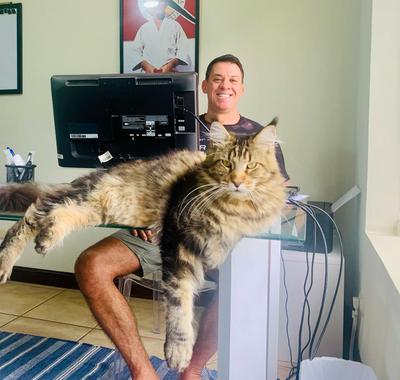 Royce is a male (neutered) Coon. At 20 months, he weighs almost 17 pounds - I actually keep a detailed record of his growth (see table).

As per the breeder, he is of Ukranian descent, with pretty large parents. I wonder if anyone here would be able to tell how big he can eventually get by age 4?

Royce spends the days outdoors (gated community) and does a lot of hunting (mice, voles, bats, birds, lizards) - we keep him indoors during the night, though we do let him wander one or two nights a month, he loves it.
---

US* YellowstoneCoon Lawless Angel 'Coyote'
by Jessica Zerr
(Sinking Spring, PA USA)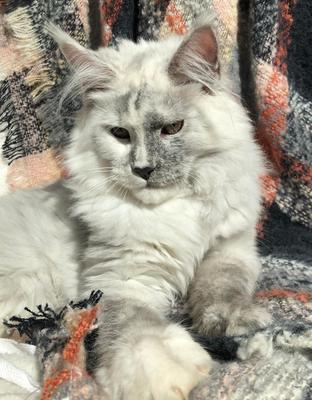 US* YellowstoneCoon Lawless Angel 'Coyote'
OUR BABY BOY IS GROWING SO BIG!
He is a High Blue Smoke, but is quite different for this color in the Maine Coons!

We are a small family cattery registered with TICA in Pennsylvania, USA. Our Maine Coon kittens are our pride, including their health, and each one is truly spoiled and loved while being raised here in our home.
Each of our breeding cats have Optimal Selection DNA testing done and are N/N (clear) for HCM, SMA, PKD, PKDeF, Negative for FIV / FeLV, seen for Hips and Heart Echocardiograms done and are Normal.
💛 https://www.facebook.com/YLLWSTNCN

---

Maine Coone Gardening
by Elizabeth Duncan
(Las Vegas NV)
| | |
| --- | --- |
| Gardening | Office work |
| | |
| --- | --- |
| Stretching after a long nap | Downright handsome |
Barron is 12 weeks old and full of energy. He is a pure breed Maine Coone tabby. He loves to cause mischief and mayhem while keeping older "sister" Summer on her toes.

He always settles down for a long nap besides his mommy while she works from home. My first Maine Coone has added so much joy and laughter to my life.
Comments:
Cutie!
by: Karen
What a cutie, makes me want to hug him!
---

My Big and Fluffy Kitten
by Michelle
(Maine)
| | |
| --- | --- |
| 5 months old and he's giant! | Guard kitty |
Please meet Falkor! He is a 5 month old kitty and he is growing fast!
He loves to wrestle with our other cats and dogs, especially our chihuahua since he already outweighs her!
| | |
| --- | --- |
| Sleepy kitty | Falkor at the vet |
---

Tink
by Sandy
(Picayune, MS, Pearl River)
| | |
| --- | --- |
| Tink relaxing | Tink posing |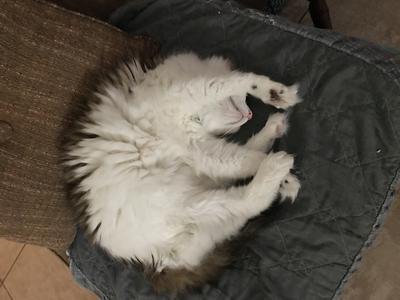 12 year old Main Coon. Rescued at 3 yrs. Full of energy.
Loves being rubbed on belly. Likes small toys like toothpaste caps.
Follows me everywhere. Loves being in open windows.
(note: comments are closed in this archived photo album)
Return to Top of Fall 2022 Album
Dec 10, 23 03:14 PM

New today: Meet

Ginny

from Lumacoon Maine Coon! Ajuna shares, "This is Ginny our three year old dramaqueen. She's a big softie once you get to know her, despite that look of doom in her eyes XD she wa…

Nov 10, 23 03:06 PM

New today: Meet adorable little

Juniper!

Nicole shares, "I went to the vet and they originally had her as domestic medium hair and once the vet saw her she said she has some Maine Coon in her because…

Nov 05, 23 08:36 AM

New today: Meet

Yellowstonecoon Tomboy Honey!

Jessica of Yellowstonecoon Cattery writes: "Hello, Maine Coon families! We are so tickled to share our beautiful Black Smoke baby girl with everyone! She…