March '22 Photo Gallery
Meet Mochi, Shirley, Bambi and Pumpkin, Bastet and Cali and more in our March '22 Photo Album of Featured Coonies!

Bodhi Boy
by Ayne
(Sebastopol, CA, USA)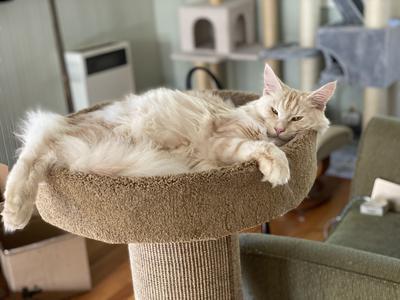 Bodhi is just over a year old. He's full of personality! He makes me laugh every day.

He would rather play in water than drink it. I'm bringing home another Maine Coon this month so he has a playmate.
You can see more of his antics on IG: @bodhi_the_maine_coon
Comments:
coloring
Very pretty fur coloring. Don't see many like that.
---

Mochi the Maine Coon
by Mija
(Houston)
Mochi is 4 years old. We adopted him last year to be friends with our mix mainecoon kitten.

These two are a hyper duo. Mochi talks all day, even though he is a huge cat, he is the sweetest guy around!

He loves cuddles on the sofa or bed, would eat all day if he was allowed to and has a quirky personality. He is so tolerate with attention and forced hugs from our kids.
---

Coonalley's Foolish Little Girl Shirley
by Jean Bayus
(Colonia, NJ)
Shirley is my first Maine Coon. She now has a little sister "Laverne".

Shirley is everything I had hope and wished for in this breed. She is gentle, affectionate and laid back. She is also very smart.

She is what they always say about Maine Coons……the dogs of the cat world.

She grew up with a Newfoundland dog around so she fit right in with her. She's my heart and soul!
Comments:
Gorgeous Shirley!
Gorgeous girl! Love that face!
Sweet
She has such a sweet face :)
---

Karrot
by Truly Grace
(Minden, NV. US)
24 Karrot Orange Crush is his registered name but we call him karrot. He's orange of course, and a fluff ball with a very strong personality.

April 7th he will be 1 year young. He is the softest kitty I have ever felt. He is very rambunctious and loves teasing our two English Creams.
He is our indoor cat but I let him go out as long as I am with him. Every morning while I have my coffee in bed he comes and lays on my chest and chirps good morning.

He thinks he is the king of our house and makes it clear he can go where ever he wants. He also loves to sit in my husbands out box in his office everyday as he is on the computer.

We love him very very much even though he likes to scratch on everything. Hopefully he grows out of that. He's a talker and loves to chirp at all he dogs.
---

March 25 is our 6th Birthday living in the US Virgin Islands
by Cindie Kennedy
(St Thomas US Virgin Islands)
| | |
| --- | --- |
| We are about 8 weeks old here | Grandma came to see us before we left on a plane to the islands |
| | |
| --- | --- |
| Buddy and Gretchen- Pals | Baby Natasha |
Natasha and Gretchen are celebrating their 6th birthday on March 25.... We love our girls. They follow me everywhere around the house.

Here are a couple of baby pictures and then some grown up pictures.
---

Double Trouble. Bambi and Pumpkin
by Lisa M
(Weymouth MA)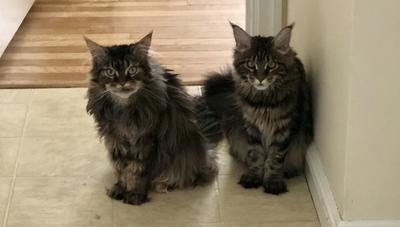 We rescued Bambi over a year ago. She is an older Maine Coon Cat. (on the left)

Pumpkin we got in November and she is 7 months old. Both are total love bugs.(on the right)

These two are best friends and love to cause trouble
---

Poco wearin' the Green
by Pam
(Michigan)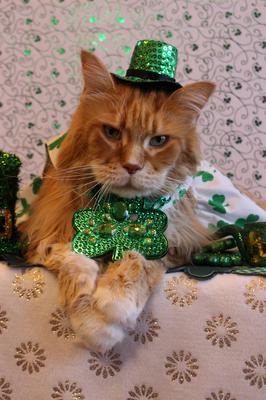 He loves dressing for holidays.
---

My Fabulous Narnia
by Debbie Clifford
(Northwich cheshire)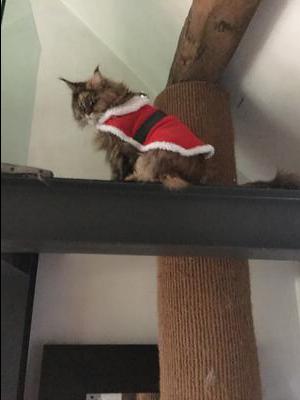 My amazing Narnia aka MaineNews Flavia who passed away last March. She was an amazing girl gone too soon.
Comments:
Foxy
by: Andy
Nice looking. Reminds me a lot of my old Maine Coon "Foxy" She was a treasure with character!
---

Leo The Lovable!
by Lisa Roderick
(North Florida)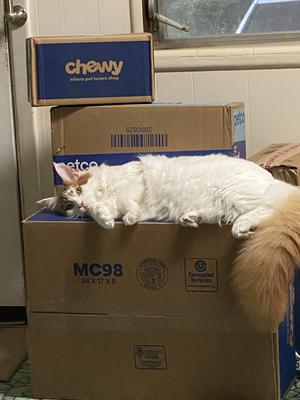 Leo is 9 months old, full of fun, smarts and love wrapped in a white and orange fluff.

He loves his doggie sister, Mia, but isn't a fan of his sister from another mother, Pickles. Leo loves his cat tree, playing fetch is also a favorite game.

However, he absolutely hates when mommy leaves the house (he will cry at me before I leave and then watch me sadly from the window. Yes, I feel awful for going to work).

I don't know if my heart could love his silly self more.
---

Presley Who Thinks He's The King
by Marsha Gutierrez
(Texas, USA)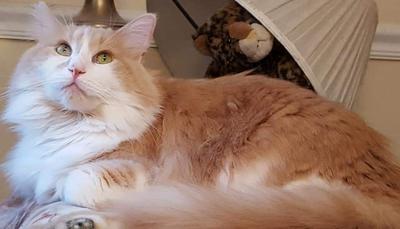 Presley the king of the house
| | |
| --- | --- |
| | I'm a big boy |
Presley was a rescue kitty at 7 weeks. His very asked us if we knew what kind of cat he was. We said we guessed an alley cat with a bushy tail.

The vet told us he was a Maine Coon and would get large. He's such a great cat. He's a diabetic and requires a daily insulin shot. He is so good to get his shot he will come in the kitchen meow at my daughter as if to say it's time and I'm here.

He's incredibly smart. Vocalizes different sounds to let us know what he wants. He has a very distinct yes, no, why, and will growl like a dog when a stranger comes to the door. He's very protective of his family.

He is 9 years old now. He brings us so much joy. We love his little quirky ways.

He has his own private little heater he lays in front because he gets cold after his insulin shot.

He loves to hit the water bowl to hear it bubble. He does so many things that make us laugh. One thing he does is to curl the corner of his top lip up like Elvis did.

I could go on an on about this wonderful boy named Presley. We sure do love this big boy.
---

Tori Love Bug
by Peggy
(Michigan)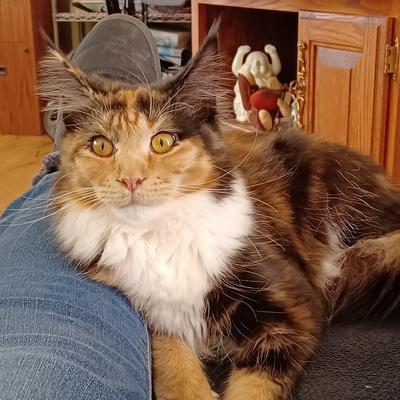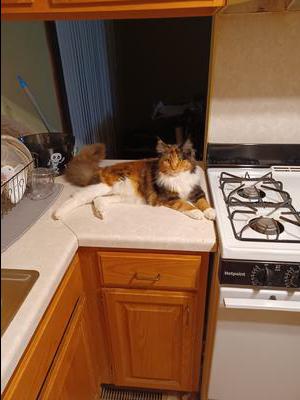 She is 10 months old and sassy. She loves to eat her fancy feast. She loves her springs. She plays with them non stop.
She bats them all over the house. She brings them to her humans and pushes them so we will throw them for her.

She is a love bug when she wants to be other wise She wants to be left alone while she looks out the window.
---

Max, Leaving Kyiv
by G
(Europe)
This is Max, on his way from Kyiv to Germany with Project Dynamo. He is 12 weeks old and the best of kittens.

Reply:
Oh, and a bright spot he is! I'm not sure if you are there with him or sharing for someone else, but either way I'm so glad he and you are safe.

Thank you for sharing this, G. My heart goes out to everyone there.

Sending best wishes to you,
~ Carrie
Maine Coon Cat Nation

PS To our readers, Project Dynamo is a Tampa-based non-profit organization that rescues Americans and allies from hostile regions of the world

I invite our tribe to share your well-wishes with G, although I'm not sure when he will see them, as well as any personal stories, any rescue organizations you recommend for donations (I have donated to UNICEF today), or just your thoughts and concerns for the safety of the people and pets affected.
Comments:
Prayers for safe travels
by: Janice
So glad you & your baby are heading to safety. Hope you both will arrive somewhere warm & safe.
I've contributed to charities helping animals & people in Ukraine. Hope they help. Safe travels.
True animals
by: Gianni
True animals are human beings. I beg pardon to our fourlegged Fiends.
💜💚💛💙❤️
---

Anouck
by Dianne
(Netherlands)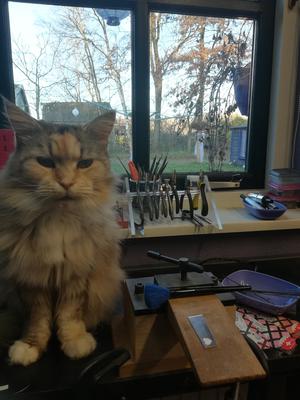 So lazy
Anouck is 13 years old queen, she talks a lot, and is very cuddly.
I used to live at a farmhouse, she was always outside, chasing mice and catch them.

After we moved she has to stay in the house and every morning she is like a grumpy old lady telling me she wants to go out without a harness.
Slowly she gets used to the stupid human invention harness:)
---

Bastet
by Kathy
(Richmond, VA, US)
Bastet
We don't actually know her genetic background. But based on her fur, her facial features, and the sound she makes ("mmrrrp!") we think she must be part Maine Coon.
---

Pounce The Big Guy
by Ashley
(Michigan)
| | |
| --- | --- |
| Maine Coon coat! | Catch of the day! |
Curious about the toilet
Pounce is a 10 year old Coon! He loves to play outside in the summer.
He hates the snow! Loves bird watching, catching birds, and making bird sounds.

He cries for his fancy feast. He loves to play, he's got a pretty good swat. He goes crazy for about 3 minutes after going #2.
He does not like dogs, he will swat and hiss when they come near him.
---

Lil Mama
by Jess P.
(Tennessee)
My Coonie baby is a bundle of curiosity and affection.

She loves to strut her stuff showcasing her strikingly gorgeous and ever so soft coat and full mane before she comes close enough to knead my legs and chest while mesmerizing me with her eyes of emerald all in preparation to share some cuddles.

I love my Maine Coon cat!
---

Our Rescue Cali ❤️
by Terry
(Louisiana)
Cali was up for adoption at Petco for 4 months! I volunteered taking care of the shelter cats.

I used to walk with her around the store before it opened, just like a dog! She was the only cat left for a week, I knew she was the one for us ❤️
---

Binx
by Dan Leebold
(Mendon, IL)
He's our shadow. Life wouldn't be the same without him. When my wife or I go outside, he cries for awhile until we come back in. Love love love the company.
---

Fuzzball
by Sam
(Manchester UK)
| | |
| --- | --- |
| Floof! | Lazy girl |
This is Fuzzball (named by my son) she definitely isn't a pure Maine but we can definitely see that she is part breed.

She is loyal and sweet but also can be a little diva as well! We have had her since she was a kitten and wouldn't change her for the world!
Loving and loyal and a little crazy! Don't let that look deceive you!
(note: comments are closed in this archived photo album)
Return to Top of March 2022 Album
Sep 24, 23 09:30 AM

New today:

Chubbs

is our newest addition to our Maybe Coonie Photo Album. What do you think? TJ shares, "Our male kitten, Biggerton Chubberton, or "Chubbs" for short, is a tuxedo kitten.. Chubbs is di…

Sep 20, 23 03:16 PM

Freshly updated: Our

Royal Canin cat food review

looks closely at their formula marketed toward Maine Coon owners. What makes it a breed-specific food? Here, we examine it's ingredients and what it of…

Sep 15, 23 06:35 PM

New today: Meet Leigh-Anne's fluffy girl,

Ruby!

She wonders if she has some Maine Coon in her.. ⬇️