Maine Coon Cat Adoption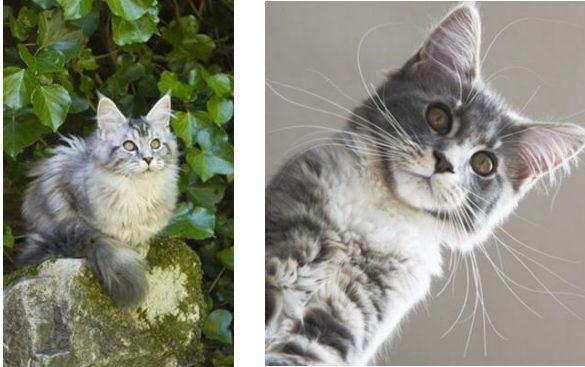 Meet Kali and Chloe, today's Throwback Featured Coonies!   Rosie says, "These are my beautiful girls. They live in the UK with me and are sisters. They'll be 1 year old on 9th January 2011.
The silver is Kali and the blue tabby with the white bib is Chloe." ...See more of Kali and Chloe in our 2010 Album!
Interested in Maine Coon cat adoption? It's easy to see why, they are amazing family pets!

If you want to adopt a Maine Coon cat or kitten and you're not sure where to start, read on. There are a few ways to come by a Maine Coon cat of your own.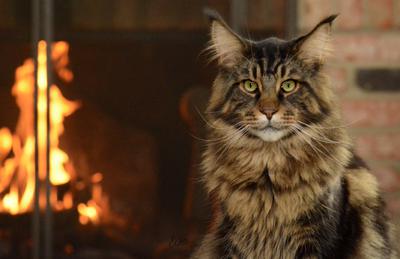 This section is all about Maine Coon Breeders, Rescue, Maine Coon Clubs, finding Maine Coon Kittens For Sale, and things to think about when adopting a cat or kitten.
Maine Coon Cat Breeders
For those who are ready for a Maine Coon kitten, it may be time to contact a Maine Coon cat breeder. This section is all about what to look for at the cattery. There are lots of Maine Coon breeders out there, and your job is to choose a great one!
What questions should you ask your breeder? What organizations or Maine Coon Clubs should a breeder be a member of? And, what should the Maine Coons at the cattery be like?
When you are ready to find Maine Coon cats for sale near you, visit our extensive Maine Coon Cat Breeders Directory.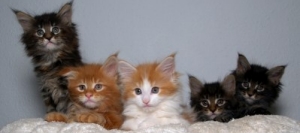 Rescuing a Coonie:
Maine Coon Cat adoption & rescue are such great options. There are many cats who have lost their home or family for any number of reasons.
Some owners are unable to keep their cat due to moving, aging, or illness. Through no fault of their own, these loving pets are left waiting for a family. Wouldn't it be great if every pet in the world who needed a home could be placed in one?
When you visit a shelter or rescue group, you'll meet people devoted to Maine Coon cat adoption, who sacrifice their time and so much more. And, you might just meet an awesome cat who will steal your heart!
Ready For Maine Coon Cat Adoption?
This section dives a little deeper into what it's like to have a Maine Coon. Are you wondering if a Maine Coon kitten will fit in with your family or lifestyle? Then you should read on to see if you should adopt a Maine Coon.
Every cat breed has it's own "ways" and Maine Coons are no exception. Although they are very adaptable, it's always good to make sure you're ready for Maine Coon cat adoption.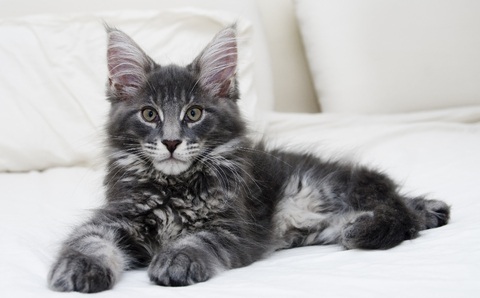 Finding Low Cost or Free Maine Coon Kittens:
The price to purchase a new kitten can be high. Maine Coon cat adoption is a great choice!
For those who are willing to be patient and creative, there are ways to find low cost or free Maine Coon kittens or cats.