Adopt A Cat Month Is Here!
There Is A Maine Coon Cat Waiting For You
Adopt A Cat Month is here! If you've been on the fence about Maine Coon cat rescue, or adopting a cat of any breed, there is no time like the present.

This month, there is an increased awareness of all the cats and kittens just waiting to go home.
According to the American Humane Society's website, "Approximately 4 million cats end up in shelters every year, including thousands born every spring and summer during "kitten season."
To help promote adoptions of these fun, affectionate animals, American Humane celebrates Adopt A Cat Month each June."
Why is Adopt A Cat Month in June? During the spring, shelters are brimming with cats and kittens of every age. Unfortunately, there are often more cats in a given shelter than they can handle.
This overpopulation causes millions of perfectly healthy, loveable and adoptable kittens and cats to be euthanized every year.
To help combat this tragedy, cat lovers everywhere are bringing awareness to this during adopt a cat month. For folks who are ready to adopt a kitten or cat, this is the time! Ever wanted to adopt a Maine Coon?
Cats make awesome pets! They have great qualities that make them perfect pets for all kinds of families, such as:
They are affectionate and cuddly
They are playful, funny and entertaining
They come box-trained, no need to housebreak them
They are perfectly suited for any size home, from the extra large to the small apartment
You can leave them to go to work during the day, they will be fine left alone
Cats don't need excessive exercise. Just 15 minutes of playtime with you will satisfy her
Kittens and cats are perfect pets for children. Kids learn so much from caring for a cat!

Some things to keep in mind during Adopt A Cat Month:
Many cats are social animals and really appreciate the company of a good friend during the day. Consider welcoming two loveable kitties!
Ready to adopt a kitten? Homes with very young children may be better suited for an older cat. Kittens are delicate and require adult (or big kid) handling.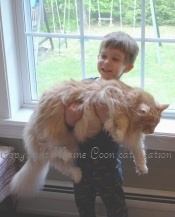 Don't forget to spay or neuter your new friend(s), if it isn't already done! And also get a pet microchip for his or her safety. These are so helpful in reuniting lost pets.
Ready? Great! Run on out to your local shelter and see who steals your heart! There are kittens and cats of every color, personality, and even breed at your local shelter. Or, use one of these Maine Coon cat adoption links to find a cat near you:
The Adoptable Cat tool is so great! Just input your zip code (and choose a breed), and it will display all the cats and kittens, from various shelters or groups (including Maine Coon Cat Rescue), within your area. You may also want to call some of those locations, since they may have recent arrivals who are not yet listed on Petfinder.
Many of us tend to think of shelter cats as being of the Domestic Housecat variety. And although most of them are, there are also many purebred cats who have become homeless as well. Purebred cat rescue is also an important option.
This Adopt A Cat Month, lets do what we can to make a difference in the lives of some wonderful homeless pets!