How to Adopt a Maine Coon
Finding Your New Coonie
Do you want to adopt a Maine Coon? If so, that's great! There are always kitties for sale or waiting for a loving home. Adoption can refer to a few different things to different folks.
You can adopt a cat by looking into a shelter or rescue organization. 
Adoption can also refer to adopting a kitty from a friend, neighbor or acquaintance.

Either way, we've got you covered!
This breed, like all breeds, has its own unique traits.
Let's talk about their amazing personality and how they will fit in with your family.
First, this breed is not particularly independent. They are about as dog-like as they can be, while still being a cat! 

It's no wonder they're often referred to as the dogs of the cat world!
A Coonie will likely greet you in the morning and greet you at the door after work.

He won't love being alone all day. If this is the plan, he would appreciate the company of another pet.
Maine Coon cat adoption is not for every home.
They are absolutely wonderful household pets. They deserve and need lots of human attention and affection.

This is a loving kitty who will follow you from room to room, nap with you, and spend every evening with you. He or she will most likely be a lap cat!
When you are busy around the house with chores and projects, expect your boy or girl to be close by, "helping".

Some even enjoy a walk on a harness and leash, and a leisurely car ride!

Is The Timing Right To Adopt a Maine Coon?
Winston is an adopted mixed breed kitty
Are you ready? It's helpful if your family life is stable.
Is there a move, a new baby, a change of job, etc. on the horizon? If so, it might be better to wait before adding a new pet to the mix.
Since there is usually a waiting period when looking for purebred kittens, contact local breeders in advance.

That way your kitten will be ready when you are. This will help things to run smoothly when introducing a brand-new kitten to their new home.


Family Life Considerations: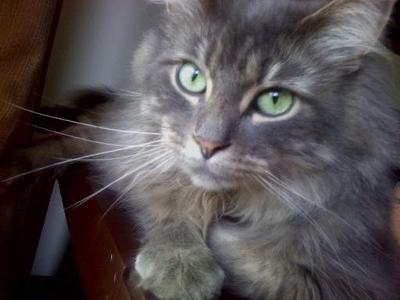 It's time to be really honest. Are all members of your family gentle with pets? Yes, we're talking about young children.
Many children are gentle, calm and mature. And of course age makes a difference.

Only you know if your home would be the most suitable, safest and most loving place for a delicate kitten.
In some situations, it might be a better alternative to adopt a Maine Coon who's older. And so many older felines need a home.

Other Pets: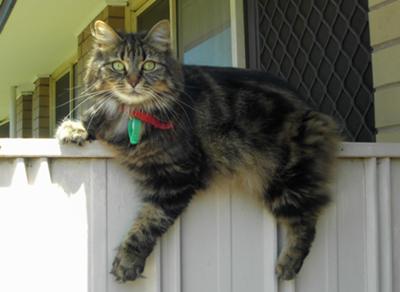 You're ready to adopt a Maine Coon if your other pet or pets are friendly and well-adjusted.
This breed is particularly friendly, gregarious, and laid-back.
They are generally not phased by a well-mannered dog or two.
It is imperative that your new cat or kitten is comfortable in the house. She should never be chased or handled rough, of course.


Care and Grooming: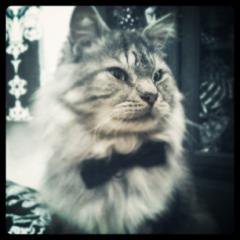 Responsible breeders will expect you to agree, in writing, to keep your Coonie indoors.
They will also expect you to agree, in writing, never to have cat declawing performed.
Don't adopt a Maine Coon cat if you feel that you can't follow through with the agreement.
The breeder has the welfare of the animal in mind, and will be happy to discuss the reasons with you.
Their coat doesn't need as much maintenance as you might think. But you'll still need to brush your Coon at least weekly, perhaps more.
If mats develop, they can be very uncomfortable, pulling on the skin. For more information, check out our care guide.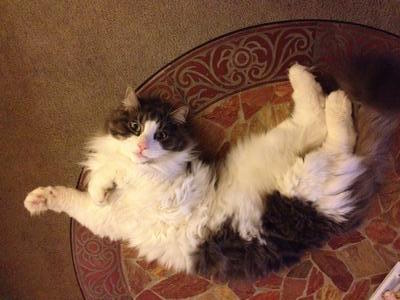 Longhaired kitties sometimes need to be bathed. This is not as difficult as it sounds. Be prepared to start young and commit to the occasional bath.

Also, expect more hairballs than with a short-haired breed. There is no way around it. Coonies groom themselves regularly.
They have no choice but to swallow the fur on their tongues. They can't spit it out. This is another reason to brush often.

Ready?
Does all this sound like something you can handle? Great! You are ready to adopt a Maine Coon!

Shelter or Rescue Adoption Process:
It is possible to adopt a gorgeous cat with Coonie traits and characteristics from a shelter or rescue.
Rescue cats can be absolutely amazing family pets. My first kitty, Nettie, was a rescue.
I share a sentiment with many others - I believe she knew she was rescued, and appreciated her loving home.

A good place to start is by visiting a shelter online or in person to see their adoptable cats and kittens.

You can fill out an adoption application as you go about your decision-making process. Some of the animals may currently be placed in foster homes, so make sure to ask about them as well.

Giving a shelter pet a second chance is what most people mean by the term cat adoption.


Breeder Adoption:
For many, adoption also means buying kittens from reputable breeders.
This is a great way to find a new family member who is a perfect fit for you. He or she should have a predictable temperament and be in good health.
Most breeders are passionate and dedicated. They will likely have an adoption application for you to fill out.
They will want to know what kind of home their kittens are being sent to.
The cattery will likely have a limited number of kittens per year, so expect to join a waiting list.
Nowadays, many breeders have a closed cattery. This means that for the health and safety of their cats and kittens (and in the last few years of humans as well) they don't offer visits.

Everyone is different, so you may find someone who will offer one or two visits. We recommend trying to find your kitten locally.
It is much easier to find local, trustworthy references this way. Additionally, it avoids the stress of shipping a kitten.

Regarding Kitten Scams:
Unfortunately, scammers are everywhere. Real breeders won't just sell their beloved Maine Coons to anyone who comes along with money.
Beware of anyone who is eager to take your money. Expect the adoption process to feel a bit like a job interview.
Purebred kittens are not in abundant supply. No ethical breeder consistently happens to have 12-14 week old purebred kittens, unclaimed, needing homes (any home as long as you pay) and ready to ship.
Beware of anyone who says they do and wants you to transfer money using PayPal, Zelle, or the like. Visit our page on kitten scams for much more and for scam reports from our community members.
Frequently Asked Questions (FAQ'S):
Yes, you can find purebred Coonies available for adoption. It's uncommon, though. All purebred kittens will be purchased through a breeder.

There are occasions where someone can't keep their cat for a variety of reasons. This can happen to any breed.

Breeders usually include a clause in their contract that a cat will be returned to them if the owner can't keep him or her.

In this way, the animals' well-being is protected. They may become available, however, if this falls through.

Some scenarios where this happens include when an owner passes away, or if there is a big move.

Families may blend, separate, allergies are discovered, or other life events take place. Coonie owners tend to be very devoted. They usually succeed in rehoming a cat before ever needing to surrender it.
This depends on whether it's adopted from a shelter, or purchased from a breeder. Shelter cats, regardless of breed, have a reasonable adoption fee.

This fee includes the veterinary care they have received. It also includes services such as immunizations, spaying or neutering, and microchipping.

For a purebred Coonie, expect to pay in the thousands. It will vary based on a variety of factors. Contributing factors include location, pedigree, rareness of colors or features, and more. Visit our page on Coonie cost for more.
This is a hearty, healthy breed! They have not been bred to extremes. Genetic conditions are routinely tested for, so as not to pass them on.

You can expect as many happy healthy years with your Coonie as any other cat. 

Many live into their mid teens and beyond. In fact, many of our community members share photos of their cats who are in their late teens and twenties!

For much more on this, see our section about their lifespan.
Ready to adopt a Maine Coon? Our Adoption Section is a complete resource to finding your new fur-friend. We even have an extensive, exclusive breeder list.
The relationship between a Coonie and his or her family is a very rewarding one. Before long, you'll wonder how you ever lived without one! (or two, or three...)

Disclaimer: When you buy through links on our site, we may earn a small commission. As an Amazon Associate I earn from qualifying purchases.
Our Coonies like:
Greenies
4.8 stars; 38k+ ratings
Pureness Giant High Sided Litter Pan
4.7 stars; 7.8k+ ratings
Stainless Steel Water Fountain
4.3 stars; 11k+ ratings
Sep 24, 23 09:30 AM

New today:

Chubbs

is our newest addition to our Maybe Coonie Photo Album. What do you think? TJ shares, "Our male kitten, Biggerton Chubberton, or "Chubbs" for short, is a tuxedo kitten.. Chubbs is di…

Sep 20, 23 03:16 PM

Freshly updated: Our

Royal Canin cat food review

looks closely at their formula marketed toward Maine Coon owners. What makes it a breed-specific food? Here, we examine it's ingredients and what it of…

Sep 15, 23 06:35 PM

New today: Meet Leigh-Anne's fluffy girl,

Ruby!

She wonders if she has some Maine Coon in her.. ⬇️