Maine Coon Cat Breeders: How to Choose a Quality Cattery
"The first step is to find a trustworthy breeder"

Here are some things to know when talking about Maine Coon cat breeders. It's a smart idea to research the cattery when looking for available kittens!
Are you ready to add a Maine Coon kitten to your life? There are lots of Maine Coon breeders (see link below to our extensive directory).
The first step to buying a pedigreed kitten is to find a registered, reputable Maine Coon breeder.
The main goal of responsible breeders is to match you with the right kitten. This will ensure a perfect fit for your family, lifestyle and expectations.
Local or Not?
Not everyone lives near Maine Coon cat breeders. In those cases, many breeders will agree to ship your new kitten to you.
Although shipping kittens isn't ideal (and many breeders don't do it), young kittens are adaptable.
If you are getting two kittens, at least they will have each other on the trip. Don't forget to add the cost of shipping to your price.
It is always preferable to find a registered breeder near you. There are a couple of reasons for this. First, it is scary to be put in a carrier and sent away! Your kitten has never left the comfort of his home, mother, and siblings.
Also, part of choosing a breeder is visiting their home, or cattery, as it is called. A responsible breeder will expect you to check out the cattery as part of your research.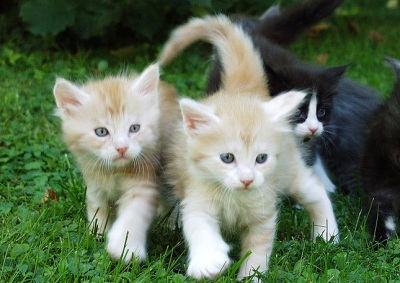 Some Things to Look for at the Cattery:
The cattery should be clean. This one is obvious. Make sure the breeder keeps the cats and kittens in a clean and healthy environment. Ask if the cattery is vet-inspected and registered with the CFA or TICA.
The cats and kittens should all appear healthy. Look for well-kept and well-adjusted pets.
The kittens should be energetic, playful, and engaging. Check out the parents while you are there. These are your examples of cats being produced.
The adults should be friendly, sociable, and happy to make your acquaintance. Make sure the kittens are being raised "under foot", never in isolation. In this way, they develop a bond with their humans.
Expect your pedigreed kitten to remain with the breeder until about twelve weeks of age. This is very standard.
This breed is slow to mature, and they need this time to develop proper human relationships. Be wary of any breeder who is willing to sell a kitten any younger.
While it used to be common practice to visit home catteries, times have changed!
While some catteries once again offer visits, others maintain a closed cattery policy. This protects the health of the animals and the people.
In this case, get to know your breeder and cattery through phone calls, video calls, and website visits.
Look for online testimonials, and local references from real people in your community. If you are concerned about kitten scams, drive by the home cattery to make sure it does indeed exist.
During your search for your new best friend, you may see the terms hobby breeder or small Maine Coon cattery.
This is great! It means they don't have a large operation running. They give individual attention and affection to each animal.
They likely only have a few litters per year, so expect to join a waiting list. Your perfect addition will be worth the wait.

About Your Breeder:
You can expect them to be pleasant. Responsible breeders of Maine Coon cats will be happy to answer any questions or concerns you may have.
They will be a wealth of information for you on all subjects. You'll see their strong devotion to their beloved cats.
You should feel comfortable talking to them. Reputable breeders will give you a sense that they will always be available for you.
If you get home and have any concerns about your kitten, you can give them a phone call or send an email.

Questions to Ask Maine Coon Cat Breeders:
Does the breeder show their cats? It's a positive sign if they do. This is their hobby, their passion. They are looking to better the breed with each litter they produce. What Maine Coon Clubs or Organizations are they registered with?
Some organizations that come to mind are:
CFA (Cat Fanciers Association)
TICA (The International Cat Association) and
MCBFA (Maine Coon Breeders and Fanciers Association)
Your breeder should belong to at least one of these. There may be local cat fancy organizations in your area as well.
There are a couple of health concerns to discuss. These are hip dysplasia, spinal muscular atrophy, and feline hypertrophic cardiomyopathy, or HCM.
HCM is an inherited heart condition that can be quite serious. Hip dysplasia can affect any cat breed.
Your breeder will be more than happy to discuss Maine Coon cat health concerns with you. They will want you to be well-educated on the subject.
They will tell you about any DNA tests and health screenings that have been done on their cats. One other condition you could ask about is Polycystic Kidney Disease, or PKD.
Backyard breeders may fail to answer your questions satisfactorily. Do not feel that you are overstepping by asking about health, genetic testing or registration in cat fancy organizations.
What are backyard breeders? They are people who happen to own a purebred animal, and have access to another.
They get the idea that they can make some money by breeding them.
They have no training, mentoring, or experience. They don't know about genetic health disorders or how to preserve the breed standard.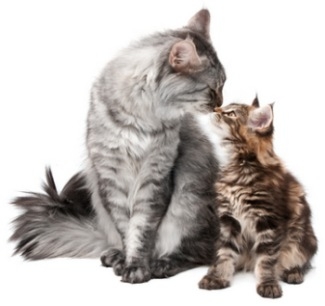 You can expect your purebred kitten to be vet checked, and have its first shots before coming home with you.
In some cases he or she may already be spayed or neutered. Ask also about any health or genetic guarantee the breeder may offer.
Expect the breeder to ask you for references. They won't sell a kitten to just anyone who can pay.
They want to know about the new homes their kittens will be sent off to. These are beloved pets, first and foremost.
You can provide the name of your vet, friends or family who know you as a pet owner, or past dog or cat breeders who know you.
In turn, any Maine Coon cat breeder will be happy to provide you with references. Don't be shy about asking. It shows responsibility on your part. If they have a website, there may be testimonials posted from past kitten owners.
Above all, use your sound judgment. Ethical Maine Coon cat breeders will be friendly, and happy to talk to you at length.
They will talk to you about breeding cats, breed standards, and their breeding program.
When talking with them, you will know they are open and honest. This will be a clear indicator that you have found the right breeder for you.

Find Maine Coon Cat Breeders Near You:
Are you ready? Great! Visit our extensive Maine Coon Cat Breeders List. This growing directory covers all of the United States, and it is expanding into other worldwide locations, too!
About Maine Coon Cats:
This majestic breed is consistently one of the most popular breeds in the world, and not without reason!
With their large size and shaggy coat they are spectacularly beautiful cats. Sometimes called the "Maine shag," they have unique, long toe tufts, bushy tails, and a long to medium length luxurious coat.
They are a perfect choice for almost any household and are amazing family members.
Known as the gentle giants of the cat world, these feline companions are an excellent choice for anyone looking for an affectionate cat.
They are gentle with other pets, small children, and many are 'certified lap cats!'
Frequently Asked Questions (FAQ's):
An obvious question for anyone with a budget! Purebred animals are expensive. You can expect to pay in the hundreds to thousands for your pedigreed kitten.

Price can vary depending on location, pedigree (does the kitten come from champion lines?), color (some colors, like black smokes, are stunning and rare) or other factors.

For example, polydactyl kittens will likely cost more. Visit our page on Maine Coon pricing for more information.
Unfortunately, when it comes to pedigreed, purebred pets, scams abound. We have a whole page about Maine Coon kitten scams with tips on what to look for.

You will find many community member comments warning of various scammers they have encountered.

The number one thing you can do to ensure you don't get scammed is to meet your breeder and see the cattery in person. Don't be impatient for your new kitten.

Scammers are eager to sell you a kitten, supposedly ready to ship. This is a big reason to avoid shipping kittens and buy from local Maine Coon Cat breeders.
Not at all! Like any long-haired cats, they require regular brushing to keep mats and hairballs at bay.

They are generally good-natured and enjoy bonding during this time. They are very friendly cats who bond easily with their families, so expect cuddles and companionship.
---
Finding a trustworthy, registered Maine Coon Cat breeder really is the only way to go when you are looking for a purebred Coonie. A new friend for life! 
Top of Maine Coon Cat Breeders
Disclaimer: When you buy through links on our site, we may earn a small commission. As an Amazon Associate I earn from qualifying purchases.
Our Coonies like:
Greenies
4.8 stars; 38k+ ratings
Pureness Giant High Sided Litter Pan
4.7 stars; 7.8k+ ratings
Stainless Steel Water Fountain
4.3 stars; 11k+ ratings
Sep 24, 23 09:30 AM

New today:

Chubbs

is our newest addition to our Maybe Coonie Photo Album. What do you think? TJ shares, "Our male kitten, Biggerton Chubberton, or "Chubbs" for short, is a tuxedo kitten.. Chubbs is di…

Sep 20, 23 03:16 PM

Freshly updated: Our

Royal Canin cat food review

looks closely at their formula marketed toward Maine Coon owners. What makes it a breed-specific food? Here, we examine it's ingredients and what it of…

Sep 15, 23 06:35 PM

New today: Meet Leigh-Anne's fluffy girl,

Ruby!

She wonders if she has some Maine Coon in her.. ⬇️