Maine Coon Cat Rescue
Are you interested in Maine Coon Cat Rescue? That's wonderful. There's nothing like being part of Maine Coon cat adoption through cat rescue.
When I was a young child, we got our first cat. Her name was Nettie, and she was a brown tabby rescue kitty. Nettie was devoted, loving, and ever patient (even when I dressed her in doll clothes!)
There is a special quality to the relationship with a rescued cat. I credit Nettie with sowing the seeds of my lifelong love of cats.
Maine Coon rescues and cat shelters need all the help they can get. There are so many cats in the world who need a good home.
A cat found through Maine Coon rescue will change your life for the better!
They may be Maine Coons, part-Coon, Maine-Coon look-a-like, or just a terrific cat needing some love! 

As cat lovers, we hate to think about gentle, loving cats being alone and waiting for their people to come for them. Kudos go to those people who devote their time and resources to this noble cause!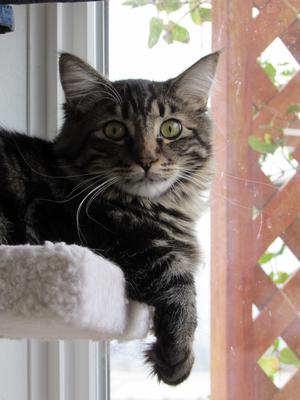 Are you unsure how to help? If you want to do something, but aren't ready for adoption, there are alternatives. Rescue leagues are dependent on donations.
To help support your local rescue chapter, you could donate just about any cat item. Some ideas would include blankets, beds, litter boxes, cat carriers, litter, food, etc.
Better yet, the local chapter can tell you what they need. Financial support is always appreciated. These Maine Coon rescue donations are tax-deductible, as well.
As a native New Englander (I'm in Maine), I like to follow Only Maine Rescue, located in New Jersey. If they aren't too far from you, check them out!
From their homepage: "We are a 100% volunteer-run/breed-specific rescue group that specializes in the Maine Coon Cat breed. We rescue Maine Coon Cat / Kitten mixes from shelters and unwanted situations. On occasion, we rescue purebred (PB) Maine Coon Cat / Kitten(s)."
One way I support them is by using the Amazon Smile link on their site. It's a handy and easy way to help!

Ready To Adopt?
Awesome! Here are a few things to remember if you are ready to adopt a Maine Coon. The cat you adopt will be yours, for life. Rescuing a cat carries the same responsibility as bringing home a new pet in any other way.
She needs love, patience as she adjusts, and more love. You are assuming responsibility for her veterinary care, feeding, health, and grooming from now on.

Look over the profiles of the available cats. Some are better than others with other pets, children, etc.
Find a cat who will be a great fit in your home. Although the Maine Coon personality is friendly, outgoing, and affectionate, your new rescue cat may need time to adjust.
Once the right match has been made, handle the introductions with care. That bond will come. Your new friend should soon become a secure well-adjusted family member.
By participating in Maine Coon Cat Rescue, you will feel great about making a difference in the life of an animal. More importantly, your new cat will really know and appreciate the fact that he or she has been rescued.

Maine Coon Cat Rescue - Searchable Database
Thanks to the selfless efforts of Maine Coon cat rescue organizations and compassionate pet lovers world-wide, cats are being adopted and saved every day!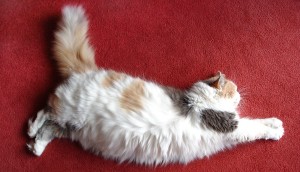 Disclaimer: When you buy through links on our site, we may earn a small commission. As an Amazon Associate I earn from qualifying purchases.
Our Coonies like:
Greenies
4.8 stars; 38k+ ratings
Pureness Giant High Sided Litter Pan
4.7 stars; 7.8k+ ratings
Stainless Steel Water Fountain
4.3 stars; 11k+ ratings
Sep 24, 23 09:30 AM

New today:

Chubbs

is our newest addition to our Maybe Coonie Photo Album. What do you think? TJ shares, "Our male kitten, Biggerton Chubberton, or "Chubbs" for short, is a tuxedo kitten.. Chubbs is di…

Sep 20, 23 03:16 PM

Freshly updated: Our

Royal Canin cat food review

looks closely at their formula marketed toward Maine Coon owners. What makes it a breed-specific food? Here, we examine it's ingredients and what it of…

Sep 15, 23 06:35 PM

New today: Meet Leigh-Anne's fluffy girl,

Ruby!

She wonders if she has some Maine Coon in her.. ⬇️