My Oliver
by Maddy Dowling in New London, CT
I adopted Oliver on 12/13/2010 - four days before his twelfth birthday. I had just had (Thanksgiving time) my fifteen-year-old kitty sent to the "great scratching post" in the sky. My heart was empty and sad. At the shelter, I saw a big black and white kitty in a cage.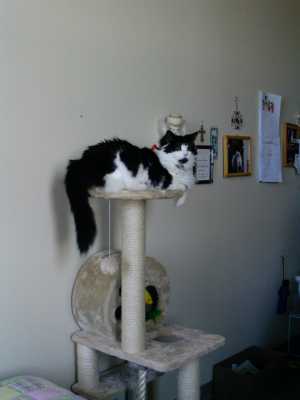 Oliver's Perch
When the door was opened, kitty flipped over onto his back.
Did I just get chosen?
Noticing his rather large paws and furry, furry paw pads, I asked: Is he a Maine Coon?
Probably a mix, was the answer.
He immediately filled the space in my heart. Oliver's post-adoption vet visit revealed a heart murmur and teeth in dire need of care! The dental procedure included the removal of ALL of his teeth! POOR OLIVER!
My income is considered in the LOW range, so I had to figure out what to do to be able to help him. Thanks to my previously good credit, I found out that a credit card would make it possible for me to get the best care for my sweetie!
He has since been diagnosed with "chronic constipation" and needs three different medications twice a day. It has been three months since his diagnosis, and he is being maintained very well!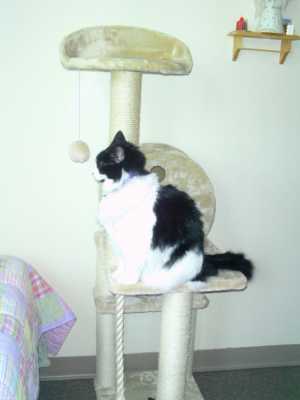 An abdominal ultrasound revealed that Oliver has a cyst on his liver that seems to be okay and does not need treatment. His heart ultrasound revealed that his murmur is not causing damage - much to my joy!
Oliver is definitely a lap cat or "head of the bed" cat. He comes when I invite him. He loves to eat his turkey and giblets (pate) with gravy. We play together with our laser light. He makes me laugh!
Since Oliver (originally "NoName") had been brought up in another home, I've kept myself alert to things that might make him uncomfortable and have tried to adjust my behaviors accordingly. I love him, and I hope I can help him feel joyful and content and comfortable for the rest of his life!
Oliver is black and white with a black patch on his chin. 
All For Oliver! - Update:
Oliver has learned to eat without teeth and even seems to like his medication . . . which I mix in about a tablespoon of his warmed-up food on a separate plate.
Oliver has "raised" food and water bowls to hopefully help with his digestion. He waits patiently for me to get his meals ready and always
eats them with enthusiasm!
In between breakfast and supper, he gets a "lunch" which includes about a tablespoon of his regular food and a teaspoon of raw pumpkin for some extra fiber . . .
He was with his first mom for nearly twelve years and with me for about seventeen months.
I hope with all my heart that he feels safe and content! He deserves all the best after having been through so much in his sweet little life.
Oliver - more (ful)filling than chips and dip . . .
My adoption story is out there, SOMEwhere, but I'm still trying to "figure it all out" so that I can make some sort of continuation . . .
I've been reading about how some Maine Coons might think like dogs (!!)

MY view is that Maine Coons (Coonies)
or Maine Coon mixes (?Moonies?)
are simply what every dog DREAMS to be!
Comments:
Oliver
by: Vicky Issott
God bless you for taking an older cat and helping him with all his issues! I'm sure he will bring you a lot of joy.
Our last MC mix had a heart murmur, but it never stopped him living his life to the full.
We have just adopted another MC mix around 6 years old and are hoping he will settle in OK with our normal cat. We lost our MC mix a few weeks ago and the house was sooooo empty. Good luck with everything you do!
You're Oliver's Angel on Earth!
by: Kerri
I applaud you for all you have done for this beautiful little creature named Oliver!
I have two rescue kitties of my own. One is a black smoke MC mix. She was in bad health at our local shelter. She too chose me. She waited patiently with her little paw hanging out of her cage until I spotted her.
It was love at 1st site!! She was listed as a short hair domestic. As I said, she was in bad health and her fur was almost gone.
At 4 months, she only weighed 4 lbs. Now, 7 months later and almost a year old, she is 11 lbs and the most beautiful little girl I have ever seen.
Her fur is like satin and is long and lustrous. She is a very happy girl. I love my Sable!
My Personal Thanks for this Rescue!
by: BJ of Catsrbetter
I have a 12 year old Coonie and it makes me physically sick to think about the nightmare of having to place her in a shelter!
*I* want to personally THANK YOU for giving Oliver a new, loving home and the medical care he so obviously needed.
He looks like he's feeling pretty fine now. Coonies ARE different and I know Oliver will not disappoint! :3
Dec 10, 23 03:14 PM

New today: Meet

Ginny

from Lumacoon Maine Coon! Ajuna shares, "This is Ginny our three year old dramaqueen. She's a big softie once you get to know her, despite that look of doom in her eyes XD she wa…

Nov 10, 23 03:06 PM

New today: Meet adorable little

Juniper!

Nicole shares, "I went to the vet and they originally had her as domestic medium hair and once the vet saw her she said she has some Maine Coon in her because…

Nov 05, 23 08:36 AM

New today: Meet

Yellowstonecoon Tomboy Honey!

Jessica of Yellowstonecoon Cattery writes: "Hello, Maine Coon families! We are so tickled to share our beautiful Black Smoke baby girl with everyone! She…