Merlin's Hope Texas Cat Rescue
Texas Cat Rescue
Merlin's Hope Ragdoll and Maine Coon Rescue
Are you interested in Texas cat rescue, cat rescue in Ft Worth Texas? Then you have got to check out Merlin's Hope Ragdoll and Maine Coon Rescue.
Jump down to view or post cats for adoption.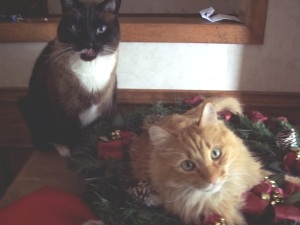 Ragdoll and Maine Coon cat adoption are only possible with the dedication and support of very special people.
If you are looking for a Maine Coon in Texas, consider Maine Coon cat rescue.
Here, MeLinda Hughes of Merlin's Hope: A Ragdoll and Maine Coon Rescue tells us about her Maine Coon cat rescue organization, and how she became involved with Texas cat rescue.

Texas Cat Rescue:
Merlin's Hope Ragdoll and Maine Coon Rescue
Rescue Name: Merlin's Hope Ragdoll and Maine Coon Rescue
Location: Ennis, Texas (just south of the Dallas Fort Worth area)
Merlin's Hope Ragdoll and Maine Coon Rescue's Mission: Rescue, rehabilitate, and rehome Maine Coon and Ragdolls (both purebred and mix). We want our cats to go into the best possible permanent homes that we can find for them. Our motto is "a home for every cat; a cat for every home."
How this Texas cat rescue got started: In 1998, I visited an animal shelter in Roswell, NM, with a friend. I had never had a cat, other than the barn cats my step-father kept on the farm.
At the shelter, a gorgeous DSH white cat with blue eyes reached out figuratively and literally and grabbed me.
I rescued her two weeks later on the day before she was to have been euthanized. Thanks to my Nimue and the fact I saw the shelter needed help, I kept going back (and adopting and rescuing cats, of course).
Nimue of Merlin's Hope Ragdoll and Maine Coon Rescue
In December of 1998, my Merlin (a gorgeous Seal Bi-Color Ragdoll mix), a 12 year old cat dumped at the shelter because of ongoing health issues, came into my life and convinced me that I needed to do more than just "helping."
I needed to do concerted rescue. In 1999, I bought a house and started doing in rescue. We moved back to Texas in 2002 into a small home without room for me to do rescue.
In November of that year, my much loved Merlin passed away. I decided then that I wanted to open Merlin's Hope Cat Rescue in memory of Merlin. In 2005, I purchased a large house in the country and the very next summer, we opened the doors to Merlin's Hope Cat Rescue.
Since then, we have decided to focus on Ragdolls and Maine Coons and currently work with shelters and rescues around the state of Texas and even into Oklahoma and Louisiana.
Tell us a little bit about the need for adoption and Texas cat rescue in this area: 
Rescue in Texas, like most other states, has been seriously affected by the economy.
Cats are being left in shelters because people are having to move in with relatives, friends and/or move into places that do not allow pets.
Others claim they just don't have the financial resources to continue to care for their pets.
I think the saddest rescue we have done this year was when a man who was living in his car (he had a job but was unable to afford a place to live) came to us to give up his cat, because he thought that it was the best thing for his cat.
How sad to have to give up the one thing that probably gave this poor man joy.
Tell us about your cats: 
I could talk about my awesome cats forever. Nimue, my first cat, is still with me and I am grateful to her everyday for giving me a mission in my life (although, honestly, she would be much happier to be an "only child.")
My Lady Lyonesse (Lyo) for short was actually in quarantine for biting a child (Lyo was a whole 8 weeks old) with a large X across her cage and a euthanization date.
She was so unfriendly, though cute as a button, that I had decided not to take her. We had a talk on her last night.
My words to her were: "If you aren't at the front of that cage tomorrow, I am going to let them do it."
The next morning, just before her time was up, I arrived to find this crazy kitten with paws outstretched waving madly at me.
Needless to say, the ACO and I had a long talk, but the result was my very special girl came home with me and is still with me.
I told you about my wonderful Merlin, who will always remain in my heart and soul.
My Taliesin, a fantastic mitted Snowshoe, came to my life as a four-week-old kitten found on the street.
He was put in a cage at the shelter with only dry food. I went in for the seven days that the shelter held a cat for an owner with canned food, only to be told that I didn't have "dibs" on him, even though I had already also taken him to the vet at my expense to care for his multitude of health problems.
On the day he was released, I was there 2 hours before the door opened so I could be first in line. He still bosses me around, by the way!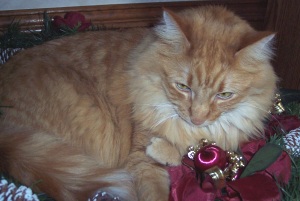 Aslan
My Aslan, my gorgeous Red Maine Coon, came to me in a somewhat similar manner, but since he had to leave me this summer and go on to the Rainbow Bridge without me, I just can't talk about him yet.
Gypsy Rose, a calico Maine Coon, came also as a four week old kitten when a box of kittens was dumped at the shelter and this weird red-black-white face popped up out the box.
All of my cats have special places in my heart, and I am fortunate that everyday they give me a reason to get out of bed and go to work (after all, I have to be able to pay for their special food, their particular treats, and their toys).
How and when can folks contact you: We really prefer e-mail contact, since it makes it much easier for us to contact back. You can e-mail us at:
melindahug65@wildblue.net.
Our phone number (preferably after 7 p.m. and before 10 p.m.) is 972-872-9346.
How and when to see cats & kittens up for adoption: www.merlinshope.petfinder.com
Anything else you'd like to add about Texas cat rescue: We are always looking for homes in the Texas/Louisiana/Oklahoma area for our wonderful cats. We also always look for people willing to transport cats from these areas to us.
Get involved in Texas cat rescue and adoption:

Adoptable Maine Coons
This is where anyone involved in Texas cat rescue can view or upload pictures of cats available for adoption and rescue.
See The Cats Available To Adopt
Click below to see pictures and profiles of cats in need of a good home...

Adoptable Coonies
Yeti is a neutered blue smoke poly Maine Coon who loves his family and fellow dog siblings. He was born in April 2022 and has registration papers, …
Disclaimer: When you buy through links on our site, we may earn a small commission. As an Amazon Associate I earn from qualifying purchases.
Our Coonies like:
Greenies
4.8 stars; 38k+ ratings
Pureness Giant High Sided Litter Pan
4.7 stars; 7.8k+ ratings
Stainless Steel Water Fountain
4.3 stars; 11k+ ratings
Sep 24, 23 09:30 AM

New today:

Chubbs

is our newest addition to our Maybe Coonie Photo Album. What do you think? TJ shares, "Our male kitten, Biggerton Chubberton, or "Chubbs" for short, is a tuxedo kitten.. Chubbs is di…

Sep 20, 23 03:16 PM

Freshly updated: Our

Royal Canin cat food review

looks closely at their formula marketed toward Maine Coon owners. What makes it a breed-specific food? Here, we examine it's ingredients and what it of…

Sep 15, 23 06:35 PM

New today: Meet Leigh-Anne's fluffy girl,

Ruby!

She wonders if she has some Maine Coon in her.. ⬇️