Free Maine Coon Kittens
"Is it possible to find a free or low cost Maine Coon?"
Looking for free Maine Coon Kittens? Wondering how to find an affordable or free Maine Coon cat? It's not easy, but there are ways.

New litters of pedigreed kittens are going to be for sale. But, if you're willing to be patient and get a little creative, you may be able to find a free Maine Coon kitten or cat for your family.
Maine Coon Cat Rescue
Maine Coon Cat rescue organizations work tirelessly to find loving homes for cats in need. You may fall in love with a rescue cat of any age.
Older kittens are sometimes available through rescue. So it is possible to find free Maine Coon kittens this way. Usually, though, most of the cats are full grown.
Pros:
This is probably the easiest way to find a free Maine Coon cat. The feeling that comes with rescuing a cat is wonderful. The relationship that develops can be unbelievably rewarding. It seems as if these cats know the were saved.
Cons:
A rescue cat sometimes needs a little extra patience with adjustment. Some might have had a tough life, or might not be able to handle a home with kids or dogs.
On the other hand, many rescued cats have been surrendered due to their owners aging, allergies, moving, etc. and they are already very loving, well-adjusted cats who are more than a bit confused as to why they aren't at home.

Consider a Mixed Breed Kitten
He may not be pure Maine Coon, but a mixed breed kitten will have many Coonie qualities.
Most breeders try to ensure that future owners of their kittens will spay or neuter them, but accidents do happen. These accidental kittens may be free to a good home.
---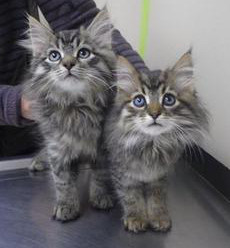 Free Maine Coon Kittens - almost! Luca and Beppino are so Coonie-like
Luca and Beppino are very Coonie-like rescue kittens!
Their mom found them through a cat rescue organization, a good way to find affordable kittens, or Maine Coon lookalike kittens who are free to a good home.
Sharon shares, "We also wanted two males and we hoped they would be Coonie-like, When these guys popped up in front of me on FaceBook we realized that the stars were aligned and we bit."
Note: When searching for free Maine Coon kittens, affordable Maine Coon kittens, or Maine Coons free to a good home, bear in mind the old adage - nothing in life is really free!
Rescue groups and shelters have adoption fees, and even if healthy, your new kitty will need veterinary care.

Consider A Retired Maine Coon Cat
Maine Coon Cat breeders specialize in breeding and showing their cats. The kittens will be for sale, but Maine Coon breeders sometimes have retired show cats or retired breeding cats who are ready for a new forever home.
Pros:
These are beautiful cats! Being retired doesn't mean they are old! A retired Maine Coon show cat is very well socialized, used to travel and being handled, and absolutely gorgeous.
This is a cat who will be a top-notch representation of the breed. He or she should acclimate nicely to a new family. Their personality will be established, and you'll know what you're getting.
Cons:
The isn't the way to find a young kitten. Also, a retired cat might be free to a good home or there may be a lowered cost involved.
---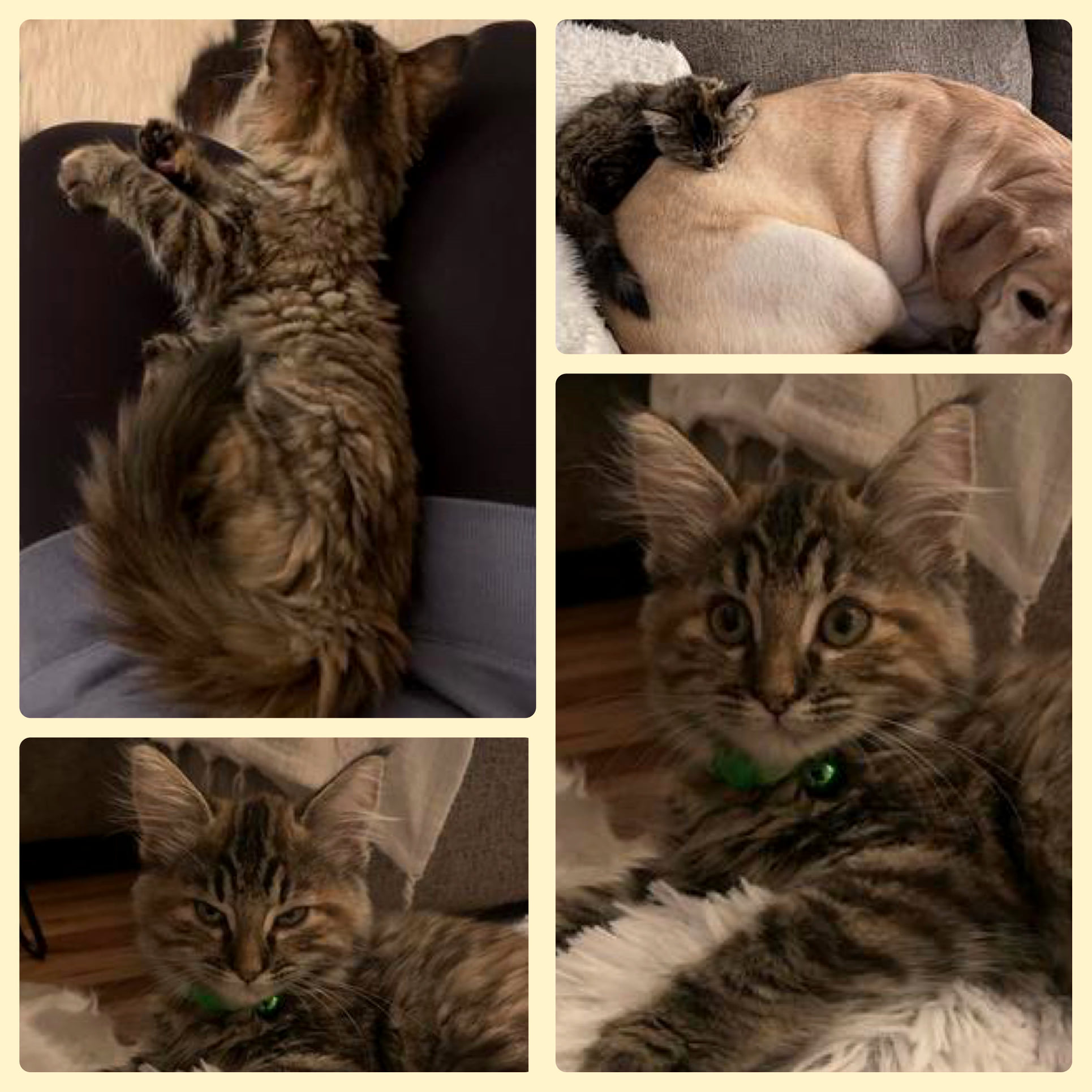 Sissy's story: Cassy shares,, "I stopped by our local rescue last weekend just to visit the lonely cats... I absolutely fell in love with Sissy and adopted her at 7 weeks old.
Now that she's home, she's unlike any cat I've ever owned."
---

Try a Shelter for Mixed Free Maine Coon Kittens
Consider Maine Coon Cat adoption through a shelter.
Some Maine Coon cats do end up in shelters. They could be free, or have a low cost for adoption. They could also be any age. There are numerous reasons people surrender their cat to a shelter.
Pros:
Similar to rescue, there is nothing better than to help a cat in need. These cats have no idea why they are not home, and they are just as deserving of a loving home as any other cat or kitten.
Cons:
Again, it can be a bit harder to find a free Maine Coon kitten for adoption this way since the cats in a shelter may be any age. There may be an adoption fee, as well. Although, it will be much less than the purchase price of a kitten.


Find a Maine Coon Rescue Organization or Shelter Near You:
Our Maine Coon Cat Rescue page includes a link to a comprehensive tool you can try.
Just enter your information and it will tell you all about the cats near you, both in need of adoption and rescue. It is near the bottom of the page.
Finding free Maine Coon kittens and cats takes a bit of resourcefulness, but it's well worth the effort.
For those who can't afford the cost of a Maine Coon kitten from a breeder, there are other ways.
Adopting a Maine Coon cat or kitten brings a rewarding relationship into your life, and theirs!
Top of Free Maine Coon Kittens
Disclaimer: When you buy through links on our site, we may earn a small commission. As an Amazon Associate I earn from qualifying purchases.
Our Coonies like:
Greenies
4.8 stars; 38k+ ratings
Pureness Giant High Sided Litter Pan
4.7 stars; 7.8k+ ratings
Stainless Steel Water Fountain
4.3 stars; 11k+ ratings
Sep 24, 23 09:30 AM

New today:

Chubbs

is our newest addition to our Maybe Coonie Photo Album. What do you think? TJ shares, "Our male kitten, Biggerton Chubberton, or "Chubbs" for short, is a tuxedo kitten.. Chubbs is di…

Sep 20, 23 03:16 PM

Freshly updated: Our

Royal Canin cat food review

looks closely at their formula marketed toward Maine Coon owners. What makes it a breed-specific food? Here, we examine it's ingredients and what it of…

Sep 15, 23 06:35 PM

New today: Meet Leigh-Anne's fluffy girl,

Ruby!

She wonders if she has some Maine Coon in her.. ⬇️