Marley, Arthur & Elliot
by Sharon Cousins Giannatto
(Brooklin, ME, USA)
Thornplum Marley
Marley is 4. He is the sweetest most loving cat; my constant companion. He is very vocal and still has a kitten voice and very much a kitten personality.
He loves the outdoors and is forever asking to go out in his pen, even in the winter!
Comments For

Thornplum Marley:
Pretty Kitty!
Wow, your cat is just majestic!Ii envy you that this cat keeps your company :)
So Beautiful!
by: Sharon
Your Marley is so beautiful! I have loved cats since I was a little farm girl in Iowa. Still love them and always will!!
OakBluff Elliot Blue Boy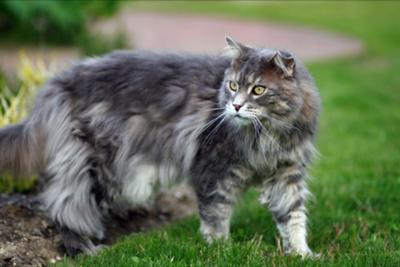 Elliot is 10 and a very sensitive soul. He is not a lap cat, but talks with you and is affectionate in his own way.
He is a water hound and drinks only from running water or by dragging his paw through the water then licking it.
Comments For
OakBluff Elliot Blue Boy:
Elliot
by: Judy
It's great to see a 10 yo MC that is enjoying life and he looks great. Lots of the photos that we see, interesting, funny and lovely that they are, there are less MC's in double figures.
Good work and hope Elliot continues in good health.
Handsome Boy
by: Frances
My
Oscar
only really likes to sit on me if I'm laying down ( more room ) but he talks a lot of garbage too!
Sir Arthur Brandybuck of Addison Downs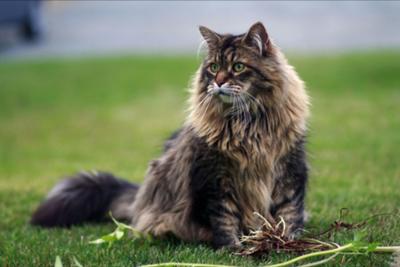 Arthur is 13 and weighs 20 Lbs.
He is a big boned boy but is missing the 'I'm full' gene so keeping him at 20 Lbs is a challenge!
He loves playtime on the lawn and leash walks through the woods.
Comments For
Sir Arthur Brandybuck of Addison Downs:
wow
by: Susan
Pretty kitty. Looks more like a norwegian forest cat or a siberian cat to me. But I'm sure there's some Maine Coon in him too. Definitely a gorgeous cat though. Wow.
So lovely...
I see Coonie in Arthur. One of mine doesn't have the big tippie ears.. while it's litter mates both have big tippie ears. No matter if he's a full fledged or not... you have yourself one gorgeous cat!!!
He's all coon!
by: Susan
This is one beautiful cat. How many do you have? I can't believe people think this is a forest cat.
Stunning Maine Coon....
by: Marg
Wow Sir Arthur is one stunning Maine Coon....... gorgeous cat especially given his age :-)
Arthur
by: Sharon
Arthur is a pedigreed ME Coon. He does not have Lynx tips and Lynx tips are desirable but not required in the standard.
Arthur
by: Sharon
Arthur is one of three. The other two n this site are Thornplum Marley and OakBluff Elliot Blue Boy
Wow
by: Dunja
How handsome is he!! Love his big ruff. Absolutely gorgeous cat.
2014 Update:
Sharon writes:
"As you know we lost our Coonie, Elliot, in July. Arthur and Marley are still doing fine!
We weren't sure we were ready just three months after Elliot's passing, but we knew wanted to adopt, not purchase, next time..."
Continue to Luca & Beppino's page!
comments:
Reply to Holly
by: Sharon
I remember Nutmeg - we looked at some of her kittens at the same time we looked at the Surabi/Magnus litter. Not sure who the sire was - the kittens had just been moved into a new room and were a bit traumatized so we couldn't get a good sense of their personality. But we fell in love with Marley our first visit.
Kittens
by: Holly
Hi there.. my cats parents were Nutmeg and Shiloh. Shiloh is silver and Nutmeg is brown tiger. My Bruno is 25 lbs and my Bella is 13. They are the sweetest cats ever.
Reply to Holly
by: Sharon
Correction, Marley's father's name is 'Beauridge Magnus'.
Reply to Holly
by: Sharon
Holly - yes Thornplum Cattery in Swanville. Don't think she is breeding much anymore. Marley is the best - beautiful to look at and a very sweet personality - Mamma's boy for sure :-) He was born Aug 2007 and his parents are Beauridge and Surabi. How old are yours and who were their parents?
THORNPLUM
by: HOLLY
Is your Thornplum kitty from Thornplum cattery in Maine ?? I have two Coons from there. She
breeds wonderful huge cats!
Condolences for your loss
by: Anne
So sorry for your loss- what a beautiful kitty! I too just lost a gorgeous 14 year old maine coon to cancer- a blue tabby that I adored. Wishing you comfort in your memories- they are such awesome cats and it is so hard when they leave us
So sorry for the loss of Elliot
by: Christy
I am so sorry for your loss. He was a gorgeous boy! I am sure you gave him a wonderful life filled with love. I understand your pain. Last December, I lost my 10 year old Maine Coon, Belle, to kidney failure. I gave her the best care possible and all the love I had. I miss my sweet girl everyday. I am just now am to a point where her memories bring a smile to my face. I now have three precious Maine Coon kittens. They can never replace Belle. Your heart just gets a little bigger! I will keep you and Elliot in my thoughts and prayers. Each day gets a little better. Hang in there!
RIP gorgeous boy
by: Julianne
I am so sorry to hear of Elliot's passing. We went through the exact same thing with our 11 year old Maine Coon Cleo; she starting having seizures one day out of the blue and would have one every couple of days; then after 15 days she too had one that the vet could not get under control; we were also told likely brain tumor.
It was a very sad day for us so I completely understand your pain and sadness; your wonderful memories of Elliot and his unique quirks will eventually turn your sadness into smiles.
Time does heal, and you also have the knowledge that he lived to a very respectful age and lived like a king while he was here on earth. I'm sure he knew and felt how much he was loved and was truly grateful for the time that you served him :-) RIP Dear Elliot.
Elliot has passed over the rainbow bridge
by: Sharon Cousins Giannatto
It is with great sadness that I tell you that Elliot passed on July 5th. He had been experiencing intermittent seizures for about 2 months likely due to a brain tumor.
We did not want to pursue diagnosis because of his age (almost 13) and his extreme sensitivity to stress. On the morning of July 5th he experienced a seizure that our vet could not get under control.
We are devastated of course, but so thankful that he had some of his best days since becoming ill just prior to his passing. He gave us immeasurable joy and we like to think we gave him the life of a King.
wow
by: anniebelle
he's purrrrrrrrrrrrrrrfect
To Nova
by: Sharon
Leonardo sounds beautiful. So wonderful you were able to rescue him! Scotland is on my bucket list of places to explore. Enjoy your Coonie!
BEAUTIFUL CATS
by: Nova
Just loved looking at your cat pictures. I have a tri-coloured tabby with a huge ruff. He looks like a lion. I have had him for 9 years. He is 13 and was rescued. He was running wild and needed a lot of fur shaved off. He looked so funny. He was so big I was a little bit scared of going in the cage to see him. His name is "Leonardo". He is like a baby and wants to be on your lap all of the time and always with you. He loves us dearly. We live in Scotland, so he is not too fond of going out in the cold or the snow!!
Pawitively Perfect
by: Nancy
What wonderful furballs you have there..I am so pleased to hear that not all MC's have tuffed ears. My Prince Charlie doesn't, but he sure has all the other characteristics of the breed...that includes his loving personality.
Maine Coons
by: Mary Wolfe
All three of your Maine Coons are beautiful. They are wonderful cats. I have a mix that I rescued almost 6 years ago. He is a delight.
Thanks.
by: Sharon
They are from three different breeders.
Stunning Cats
by: Anonymous
Wow, how fortunate you are to have 3 such gorgeous cats! Did you get them from the same breeder?