Marley, Arthur & Elliot
by Sharon Cousins Giannatto
(Brooklin, ME, USA)
Thornplum Marley
Marley is 4. He is the sweetest most loving cat; my constant companion. He is very vocal and still has a kitten voice and very much a kitten personality.
He loves the outdoors and is forever asking to go out in his pen, even in the winter!
Comments For

Thornplum Marley:
Pretty Kitty!
Wow, your cat is just majestic!Ii envy you that this cat keeps your company :)
So Beautiful!
by: Sharon
Your Marley is so beautiful! I have loved cats since I was a little farm girl in Iowa. Still love them and always will!!
OakBluff Elliot Blue Boy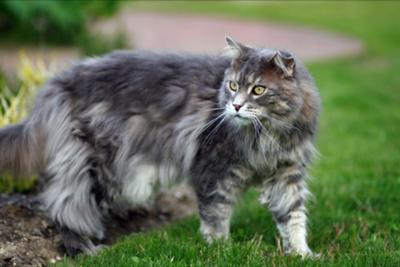 Elliot is 10 and a very sensitive soul. He is not a lap cat, but talks with you and is affectionate in his own way.
He is a water hound and drinks only from running water or by dragging his paw through the water then licking it.
Comments For
OakBluff Elliot Blue Boy:
Elliot
by: Judy
It's great to see a 10 yo MC that is enjoying life and he looks great. Lots of the photos that we see,interesting, funny and lovely that they are, there are less MC's in double figures.
Good work and hope Elliot continues in good health.
Handsome Boy
by: Frances
My
Oscar
only really likes to sit on me if I'm laying down ( more room ) but he talks a lot of garbage too!
Sir Arthur Brandybuck of Addison Downs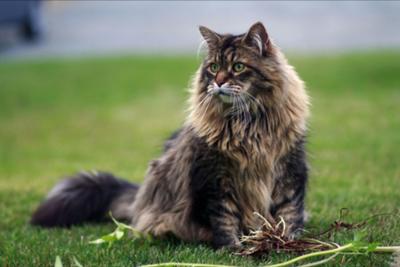 Arthur is 13 and weighs 20 Lbs.
He is a big boned boy but is missing the 'I'm full' gene so keeping him at 20 Lbs is a challenge!
He loves playtime on the lawn and leash walks through the woods.
Comments For
Sir Arthur Brandybuck of Addison Downs:
wow
by: Susan
Pretty kitty. Looks more like a norwegian forest cat or a siberian cat to me. But I'm sure there's some Maine Coon in him too. Definitely a gorgeous cat though. Wow.
So lovely...
I see Coonie in Arthur. One of mine doesn't have the big tippie ears.. while it's litter mates both have big tippie ears. No matter if he's a full fledged or not... you have yourself one gorgeous cat!!!
He's all coon!
by: Susan
This is one beautiful cat. How many do you have? I can't believe people think this is a forest cat.
Stunning Maine Coon....
by: Marg
Wow Sir Arthur is one stunning Maine Coon....... gorgeous cat especially given his age :-)
Arthur
by: Sharon
Arthur is a pedigreed ME Coon. He does not have Lynx tips and Lynx tips are desirable but not required in the standard.
Arthur
by: Sharon
Arthur is one of three. The other two n this site are Thornplum Marley and OakBluff Elliot Blue Boy
Wow
by: Dunja
How handsome is he!! Love his big ruff. Absolutely gorgeous cat.
2014 Update:
Sharon writes:
"As you know we lost our Coonie, Elliot, in July. Arthur and Marley are still doing fine!
We weren't sure we were ready just three months after Elliot's passing, but we knew wanted to adopt, not purchase, next time..."
Continue reading to meet kittens Luca & Beppino!
***ebookmiddlephotos.shtml***