Dr. Watson
by Dennis & Anita
(Colorado)
Carrie and Maine Coon Family,

Last month we told you about Sherlock the Maine Coon who adopted us! He is such a gentle giant - full of love and fun! Then, almost two weeks ago, we received a phone call and email regarding a kitten at the Cat Care Society (where we'd adopted Kato from 18+ years ago).
They had a rescue kitten that was done with nursing and foster care, that looks an awful lot like Kato did when she was a kitten. Would we be interested in coming to visit her for a possible adoption?

So we went to the CCS to visit and brought the little kitten home on June 30th. They're guessing that she's about 18 weeks old now.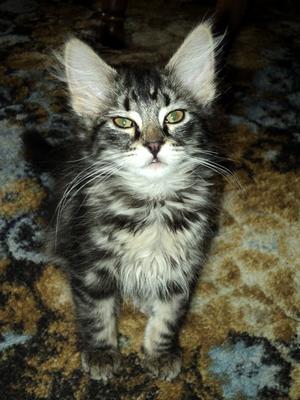 A lady in Denver was mowing her lawn only to see a little kitten fly out of her bushes - thought at first that she'd run over the kitten.
Caught her and found her to be very young but okay. Just scared. The lady looked high and low for a mama kitty and other kittens.
Nothing to be found, so turned the little tyke over to the CCS, who put her with a foster Mom, who was helping another mama kitty and kittens. The kitty Mom took our little tyke in and finished the required weeks of nursing, etc.
We heard from the CCS shortly after Dr. Watson was released from foster care.

We'd forgotten how much time and interaction a kitten takes! Play is important to develop motor skills, etc.
She plays a lot on her own and with Sherlock, but still likes and seeks out the human interaction! We are having so much fun with our new kitten Dr. Watson, the sidekick to Sherlock!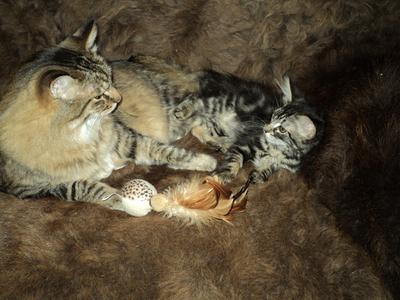 Here are pictures of our newest sweetheart and both sweethearts together. Dr. Watson is all of 3 pounds or so now. Sherlock is over 15 pounds and solidly built!

Both of us have always enjoyed the Sherlock Holmes adventures (books and movies). If one thinks that a Dr. Watson cannot be a female, check this out:

http://tvline.com/2012/02/27/lucy-liu-sherlock-holmes-elementary/

While Dr. Watson is certainly her own 'person' she has a lot of Kato-like characteristics! With her big ear feathers, big paws and little itty-bitty voice with eeks and squeaks, we are convinced that she also has Maine Coon blood.
It is so funny to see big Sherlock and little Dr. Watson chase each other, each kitty trilling and eeking as they go!

While Dr. Watson is still too little to have full run of the house, she enjoys her time in a blocked off portion of the house, with her buddy Sherlock.
And enjoys her safe nights (and day hours when we are at work) in her kitty corral from Dr. Fosters and Smith's online catalog. Sherlock stands vigilant 24-hours a day and runs to sit outside her corral if she cries from loneliness!

And we thought we were busy before...

Sherlock and Dr. Watson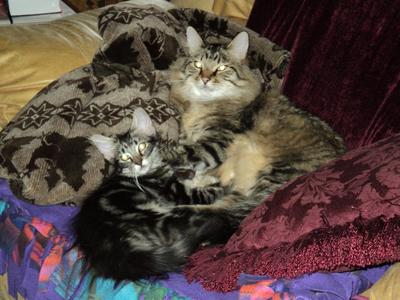 Someone is growing up fast!

Dennis & Anita

Comments:

WHAT A BLESSING!
by: Adirondack Judy

Thank you for sharing your story of Dr. Watson. You are so blessed to have two Coonies!
I rescued a Senior Cat that is part Maine Coon Cat...and I have just been blown away with the Coon Cat's personality!

In my apartment complex I am only allowed to have one pet, but if I could have more I would have at least one more Coonie.
E.N.J.O.Y.!
---
(note: comments are closed in this archived album entry)
Return to Top of Dr. Watson & Sherlock's Page
Sep 24, 23 09:30 AM

New today:

Chubbs

is our newest addition to our Maybe Coonie Photo Album. What do you think? TJ shares, "Our male kitten, Biggerton Chubberton, or "Chubbs" for short, is a tuxedo kitten.. Chubbs is di…

Sep 20, 23 03:16 PM

Freshly updated: Our

Royal Canin cat food review

looks closely at their formula marketed toward Maine Coon owners. What makes it a breed-specific food? Here, we examine it's ingredients and what it of…

Sep 15, 23 06:35 PM

New today: Meet Leigh-Anne's fluffy girl,

Ruby!

She wonders if she has some Maine Coon in her.. ⬇️