This is my cat Murphy. He's a purebred Maine Coon, classic silver tabby with white.
He is as sweet as can be, and a true mama's boy :) He enjoys time in their outdoor fenced-in yard, but also loves to go for walks on a leash with me.
He's a little on the small side for a Maine Coon male, weighing in at only 11 lbs, but he makes up for it in his big personality. I like to think he's my forever kitten :)
There is no greater joy in life than owning a Maine Coon!! <3

Comments:

Pretty
by: Shirley
Your Murphy is very beautiful..I wish you lots of
happy years with him.

Thanks
by: Dunja
Thank you! He is only 6 years old, so there are many many wonderful years ahead!

Just Lovely
by: Jenny
What a beautiful cat!! Thanks for sharing your photos.

Nice Pussycat!
by: Jackie
What a beautiful kitty cat! I love his coloring and the tufts on the top of his ears, and the way he sits so "neatly" just gorgeous.

OMG
by: Linz Michie
This has to be thee most stunning pic I dont have a Maine Coon yet but if I did this would be the one what a beautiful cat I would say pretty much a perfect example of the breed green with envy Somerset UK

Thank you!
by: Dunja
Thank you Linz for the nice comments! I hope you get your Maine Coon sometime soon :)

Me Again
by: Linz Michie
Every time I go on this web site I cant stop myself taking a quick peek at Murphy sorry it just has to be done envious of Somerset.

To Linz
by: Dunja
Thanks again! Murphy recently had an interview with Alice for Tattle Tails, so watch out for an upcoming feature with more pictures :)
I just got Candy about 2 weeks ago. She is a wonderfully sweet purebred silver patch tabby with white.
She loves her big brother Murphy and gets along really well with all my kitties.

I am very honored that the breeder entrusted us with her and am excited to spend many wonderful years with this cutie.
There is a picture of her at 4 months, and the others are recent. She is turned 1 on Oct 18, 2011.

Welcome sweet Candy :)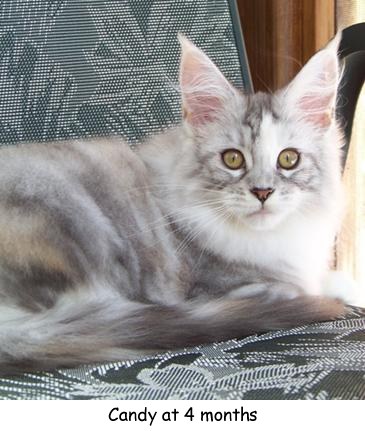 comments:
Candy
She's a beauty!!

Gorgeous!!
by: Lisa
Congrats on your new baby, she's gorgeous!!

Beautiful Cat
beautiful!

Gorgeous!
by: Jan
She is so beautiful!!!!!!!!!!!!!

Beautiful Cat
What a beautiful cat!!! I love her color and she just looks sooooo sweet!

Thank you!
by: Dunja

Thanks so much everyone! She truly is as sweet as she looks

To Deonia
by: Dunja
Your new kitty sounds wonderful.... thanks for giving her a good home. I am sure she will reward you with a lifetime of love and happy moments. Thanks for your nice words about my kitties :)

Awesomely beautiful!
by: Deonia
They are both sooo beautiful. I just adopted what is supposed to be a MC cat and she does have sll/most of the features of a Coonie, but if she is a mix it must be Rag Doll LOL her feet are humongous.
She was really emaciated when I got her but she gets lots of TLC and seems to be coming around in weight.

I'll be happy if she turns out to be just half as beautiful as either Murphy or Candy Cane. You really have two beauties there!!

Such beauties
by: Bev
OH my ! Your babies are just gorgeous !!

To Cori
by: Dunja
Facebook is messing up right now... I can't do anything there, and it's not updating new posts. Could be that. But Rita is active there, so write on her wall if you can and ask to join the group :) Can't wait to see your baby!

Yes I am
by: Dunja
Yes, I am friends with Rita. I will try her later, but there doesn't seem to be much updated on the fb page there. Or maybe I just didn't read it well.
Thank you, though. I will try again, lol.

Thanks, Dunja,
Cori

Cori
by: Dunja
I don't think you can friend that group, we have to add you. Are you friends with Rita? She can add you to the group. Or maybe I can. Friend me :)
https://www.facebook.com/dunja.hein
Awe, I hope you get a page on here as well! Would love to see her up here! Glad you're enjoying her so much! :)

reply to Dunja
by: Cori
Dunja,
I tried to friend Kelimcoons on fb...still haven't heard anything. I also have tried to put photos on here..twice, actually...but, so far, no pictures of my baby.
Anyhow, your Candy and McMurphy are very beautiful. Have many years of love from both. Bella seems like she has always been with us...so, I know the love too.
Take care,
Cori

To Debra in California
by: Dunja
Wow, that's so great! Congrats on your Silver MC girl! How wonderful, I bet she is a beauty! Is she here on MCCN? Would love to see a pic!

I've been Blessed Dunja!
by: Debra in Redding,CA
With my very own precious Maine Coon Silver Tabby sweet little baby girl! She's one of the most loving kitties I've ever been around, I foresee many years of happiness w/this little Kittytwo girl I have now!!

to Cori
by: Dunja
Wow, Cori! You have another Silver Patched Kelimcoon? Congrats to you, I bet she is wonderful and beautiful as well! You should ask to join out Kelimcoons group on Facebook....
https://www.facebook.com/groups/199391686738924/
We love to share pictures and show off our conies :)
Thanks for the nice words about Candy! She sure is a special lady :)

About Candy
by: Cori
Candy is so beautiful. I recently got my baby, Kelimcoons Bella from the same breeder, Kelimcoons in NH. She is just as beautiful, a silver patch tabby with white. They seem to be one of the most beautiful colorations of the Maine Coon spectrum.
The easy going nature is apparent also.
Sweetness in big fluff!!
Congratulations on your beautiful kitties!
So very sincerely,
Cori

Thanks Debra
by: Dunja
Awe, thanks so much for your nice comment about Candy Cane :) I hope you will find your perfect MC! Some breeders do ship, not all though. All the best!

Your two are such a joy to behold!
by: Debra, Calif.
They are both gorgeous-- but Candy takes my breath away... aptly named.. she makes me think of sweet pink cotton candy!! You are so fortunate!
I keep trying to find a Maine Coon & it is really hard to "catch one!" They are often snagged up even before they're born! I'll continue my quest though because there is no better Kitty to have around! Thanks for sharing your with all of us!

To Karen
by: Dunja
Thank you Karen! I hope you get your Maine Coon sometime soon :)

omg she'sbeautiful, to say the least.
by: Karen Christie
you have 2 beautiful maine coon cats. i wish they would offer me one, as i don't have one, but want one sooo much. must be a very happy home for you all.

Thank you!
by: Dunja
Thanks for your nice comments everyone! Maine Coon Cat lovers are the best :)

BEAUTIES
by: BARB
P. McMurphy is gorgeous and Candy Cane's a beauty too!
Enjoy them!!

so cute
by: Linda
So beautiful especially in the markings and coloring, they look as if you could scoop them up and cuddle with all day.

Beautiful Cats!
by: Kathy
Wow - two gorgeous kitties - precious!

Stunning!
by: Jenny
Both Murphy and Candy are simply stunning!!! I love their colors and markings. Coonies are such beautiful kitties - both inside and out!
I have 2 female kittens - Caoimhe, black classic tabby, 8 months, Maya, brown classic tabby w/white, 5 months - and they bring such a big level of joy with their curiosity, silly antics and play.
Life with a Maine Coon is a treat but 2 kittens is a fun but wild ride!

To Opal
by: Dunja
Horatio sounds wonderful!! I love how he lets you know when he wants to go potty... that's so cool! My kitties have an outdoor fenced-in yard, and Candy prefers to go outside as well.... but in the winter they all use the litterbox inside LOL.

Thanks for sharing your beautiful babies
by: Opal
We Maine Coon parents most certainly do love our cats. My boy, Horatio, is now seven years old. I love him so much and miss he and our Westie every time we go on vacation.

Horatio has a harness and long leash for outdoors. Instead of using his litter box, he goes to the back door throughout the day and does his unusual vocal sounds to say, "I want out. I want out now!"

Thank you for sharing your beautiful Coons and stories.

I fell in love with Murphy and Candy Cane
by: Heidi Mathias
How sweet they are! I loved the pictures.You are blessed for having those furry angels around you!!

To Thea
by: Dunja
Awe thanks! I hope you get your Coonie sometime. They are wonderful, you will be hooked :)

pretty kitties!
by: thea
Hi dunja!
U have some beautiful coonies! I myself have two part Maine-coons but I would love to have a full maine-coon someday as beautiful as yours!

Thanks
by: Dunja
Awe, thanks so much Sharon!!

Beautiful Candy
by: Sharon
What an absolutely gorgeous creature. From the tips of her ears, to the tip of her tail, she's so uniquely beautiful. Enjoy her, and her lovely, sweet-faced brother Murphy.