Pawstuctaway McMurphy & Kelimcoons Candy Cane
by Dunja
(Goffstown, NH)
My Sweet Pawstuctaway McMurphy
This is my cat Murphy. He's a purebred Maine Coon, classic silver tabby with white.
He is as sweet as can be, and a true mama's boy :) He enjoys time in their outdoor fenced-in yard, but also loves to go for walks on a leash with me.
He's a little on the small side for a Maine Coon male, weighing in at only 11 lbs, but he makes up for it in his big personality. I like to think he's my forever kitten :)
There is no greater joy in life than owning a Maine Coon!! <3
Comments For Murphy:

Pretty
by: Shirley
Your Murphy is very beautiful..I wish you lots of
happy years with him.
Thanks
by: Dunja
Thank you! He is only 6 years old, so there are many many wonderful years ahead!
Just Lovely
by: Jenny
What a beautiful cat!! Thanks for sharing your photos.
Nice Pussycat!
by: Jackie
What a beautiful kitty cat! I love his coloring and the tufts on the top of his ears, and the way he sits so "neatly" just gorgeous.
OMG
by: Linz Michie
This has to be thee most stunning pic I dont have a Maine Coon yet but if I did this would be the one what a beautiful cat I would say pretty much a perfect example of the breed green with envy Somerset UK
Thank you!
by: Dunja
Thank you Linz for the nice comments! I hope you get your Maine Coon sometime soon :)
Me Again
by: Linz Michie
Every time I go on this web site I cant stop myself taking a quick peek at Murphy sorry it just has to be done envious of Somerset.
To Linz
by: Dunja
Thanks again! Murphy recently had an interview with Alice for Tattle Tails, so watch out for an upcoming feature with more pictures :)
Kelimcoons Candy Cane
I just got Candy about 2 weeks ago. She is a wonderfully sweet purebred silver patch tabby with white. She loves her big brother Murphy and gets along really well with all my kitties.
I am very honored that the breeder entrusted us with her and am excited to spend many wonderful years with this cutie. There is a picture of her at 4 months, and the others are recent. She is turned 1 on Oct 18, 2011.
Welcome sweet Candy :)
Comments: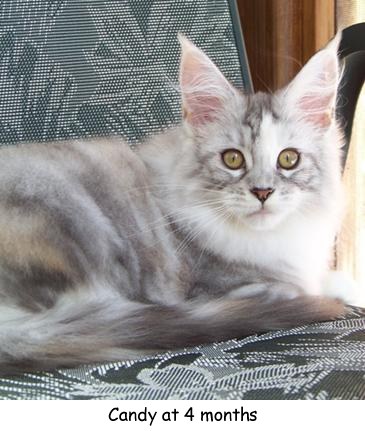 Candy
She's a beauty!!
Gorgeous!!
by: Lisa
Congrats on your new baby, shes gorgeous!!
Beautiful Cat
beautiful!
Gorgeous!
by: Jan
She is so beautiful!!!!!!!!!!!!!
Beautiful Cat
What a beautiful cat!!! I love her color and she just looks sooooo sweet!
Thank you!
by: Dunja
Thanks so much everyone! She truly is as sweet as she looks
If you have a Maine Coon, you know how unique and different they are. You know you have a special cat!
Our E-Guide, The Care and Keeping of Your Maine Coon Cat, is full of info custom tailored to Maine Coons. Feel free to take a look, and review the table of contents to see for yourself!