Maddie, Mininu & Friends from 2010
Are they Maine Coons? That is the question posed by the families of Maddie and two rescue kitties... Chime in!
Maddie Just Chillin
| | |
| --- | --- |
| Chillin | Sweet Maddie |
Maddie is a 4 month old rescue kitty. I don't know if she is a Maine Coon mix or not???

She is a real sweetie! She loves to play and she already comes when we call her (more than I can say for our dog Ha!)

She has even started to fetch her favorite toy!

We just love her!


comments:
I doubt it
by: Marty

Maddie is beautiful but I don't think she's Maine Coon or even part Maine Coon. No ear tufts, wrong face, kind of short haired. She's cute----but not a Maine Coon. (I have registered Maine Coons)

Sweet
by: Vicky

She looks so sweet hope you enjoy her!!

I Suspect My Cat Is A Maine Coon Mix
by Ara Schmaltz
(Houston, Tx)
| | |
| --- | --- |
| Mininu loves to pose for pictures | Cat nap |
Can You Please Help Me To Clarify If She Really Is?

I think my cat Mininu is a Maine Coon Mix. She is around 7 years old, she adopted us 5 years ago when we moved to our new house.

Immediately she stole our hearts because she is just a character, always looking for affection and of course, loving us the same way, later, after 3 months, she had a little kitten who ran away... learning that lesson, right after she had the second litter, we took her to the vet to have her fixed.

She is little, not a big cat, and very furry, sheds a lot during summer time and has this awesome winter coat. Loves to hunt and to bring us the preys to show to the porch before she takes them away to her favorite hiding place: under a tool shed in the back yard.

She is just adorable!

Is He A Maine Coon?
by Adonna
(Dallas, Texas)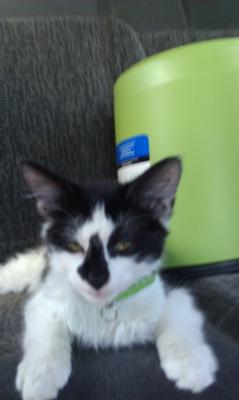 I rescued him from craigslist and they told me he is a Maine Coon.

What's ya'lls opinion?


comments:
thank you!
by: adonna

Thank you Linda! Yes he does need lots of love!
And I don't feel I was robbed because he was given to me for $35 with all his supplies because the young girls dad didn't let her keep it and he was living outside in the Texas heat! So I obviously wasn't a breeders price. But she was told he was a Maine Coon.

May not be a coon
by: Linda

Your boy may not be a coon but it is obvious he
is in much need of love and care. Shower him with all he needs and watch him bloom. You weren't robbed. He will be a huge blessing and give back more than you ever give.

MCC
by: Anonymous

No. Good Coon cats aren't to be found on Craigs List. He's a pretty cat, nonetheless. Get your vet to check him out since he isn't in good condition.

oreo
by: Anonymous

He is 5 months old supposedly but was an outside cat and I don't believe he was fed much because for the 3 days I've had him he has been eating and sleeping!

you got robbed
by: rich

I personally don't think he is a Maine Coon. Looks more like a tuxedo cat than a coon. Go to google images and type Maine Coon, thats what their supposed to look like, green eyes bushy tail and long fur.

Can You Tell If My Cat Is Part Maine Coon
by Cameron
(Oil City, PA)
OK, my cat is not common at all. She's a grey with a red-brown that you can only see in the light when she sits in a window; otherwise she's just a darkish grey.

Her eyes are a yellow and green near the black part of her eyes you know and shes long haired but does not shed or mat all that easy and has a curly furred belly.

She is really big for a girl cat I mean she scares my dogs some times. Her mom was a grey calico with a small frame and is short haired and dad was a pure black cat with a curly haired belly also and he is big and fat and long haired.

She not all that nice like she doesn't like to be cuddled or to be petted a lot but she loves her neck and head scratched. So what kind of cat do I have?


Reply:
Hi Cameron,

Did you try to add a picture? Let me know on my contact form if there are any pictures you need help with.

Based on your description, and the fact that you know your cats parents, I do think you have a domestic medium hair or domestic long haired cat on your hands.

I don't hear any similarities to the Maine Coon breed, other than fur length and size. Neither of her parents were Maine Coons, so she wouldn't be, either. Only about 3 percent of pet cats are purebred, and fewer will be Maine Coon.

I once had a beloved Red Tabby cat and I used to wonder if he was part Coon. He had all the right personality traits, and plenty of fur. And I'm in Maine :) But I knew it was unlikely.

Regardless of whether she has any particular breed in her or not, she sounds like a very pretty girl who is much loved! And that is the best part!

All The Best,
Carrie
Let's Connect!
Subscribe in a reader - Be notified of new posts!




Or, get The Daily Digest in your inbox:





Join our newsletter group by filling out the form to the right. From time to time I'll send out special tips, articles, news, deals and other free goodies!