2016-17 Winter Photo Album
Welcome to our 2016-17 winter photo album of Featured Coonies!
Azelin, the Jazzy Cat
By: Terri 
(Covington, LA USA)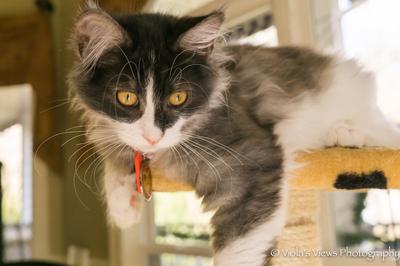 Azelin was born in September 2016 and purchased from a breeder in Alabama.
She made the journey by plane to our home. The transporter said she was a sweetheart the whole way. She is a sweet and loving kitty with a "big cat" personality.
When she arrived, she was terrified of her two dog siblings and the other cat. Our other cat, Elfie was not going to have anything to do with her and was so mad, she avoided us and the living room for a full week.
Guess she got lonely because she decided to come back to her family and her living room! Azelin learned that she had to hide behind Mom if she wanted protection from the original occupants of the house.
Actually, they were just curious. She thought they were going to eat her.
After about a week, she was just one of the gang. She's extremely smart, lightening fast and loves to play.
Our older kitten, Elfie doesn't know what she did before this younger cat came along. They play, rest, and then go again!
Azelin loves our three grandchildren and tolerates being carried over their shoulders. The dogs have their toy box and so do the cats.
Azelin has actually learned to jump in her toy box and knock the toys out with her paws and also has a unique way of jumping up straight in the air when she is playing. It's hilarious to watch.
We absolutely adore our Maine Coon. She's a joy to have around.

---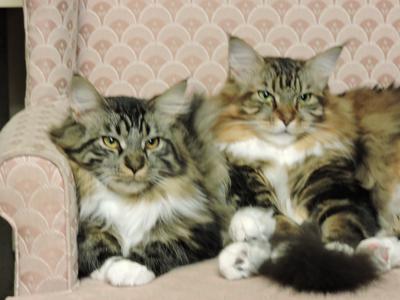 Best Friends
By: Marty
(Blacklick, Ohio)
We are owned by two Maine Coons.  Izzy the brown tabby and Ozzy the black and grey tabby. 
Izzy has owned us for almost three years now and we decided that she needed a companion.  Ten months ago we bought him from our breeder in Tennessee.
He was a tiny little fuzz ball and she hissed at him for two days and on the 3rd day became his adopted Mother, protector and best friend.  

They are just like two furry comedians.  Ozzy attacks Izzy until she has to give him a verbal warning (that he ignores)  Then the chase is on. 
And if any of you think that cats are quiet and stealthy creatures have never owned two large Maine Coons running up and down your stairs like water buffaloes.  

They both welcome anyone and their dogs into their home, but if a neighbor's cat comes on our deck, Izzy screams like a wildcat. 
Thank goodness there is a glass storm door between her and the trespasser or the fur would fly-------and at her size I think the intruder would have second thoughts about starting the fight.
I have had cats all of my life and they are all beautiful animals but I have concluded that there's nothing like a Maine Coon.    
---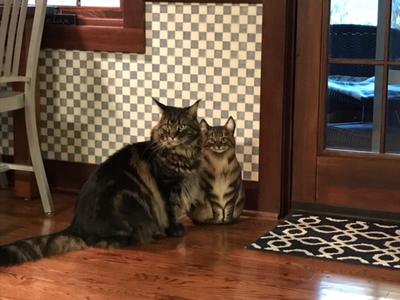 Which one is the doorstop?
Which One Is The Doorstop?
By: Norma Follstaedt
(Urbana, OH)
This is our 27 lb Maine Coon Ivan Der Riese with a new Maine Coon doorstop that my daughter gave me for my birthday.
At first he growled at it, but now he seems to realize it's just stuffed!
---
Beautiful Boy
My Beautiful Bear
By: Linda Potvin
(St George, Vermont)
Bear was kitten from a cat that I had. His mother was full or part Maine coon. 
He is very loving and is constantly looking for attention from me.  When I'm in my recliner he will curl up on my lap and stay there until I get up. 
At night time he will sleep on my side or at my feet.  He's my very precious boy!!

---
Our Maine Coon Mix Boys, Jesse and Toby!
By: Michelle H.
(Georgia, U.S.A.)

Toby (on left) and Jesse!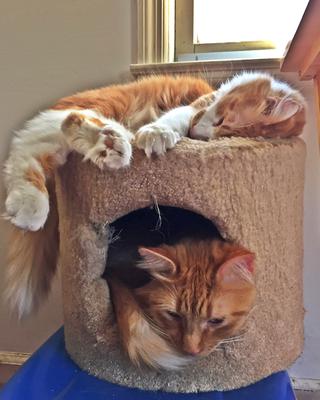 Time For A Nap!
This Just Ain't Right! (but the dog had help getting up there, lol!)
We rescued Jesse five years ago, when he was 1.5 years old, and he'll be turning 7 yrs. old near the end of this May.
He's a nice, hefty 14 pounds, and the most chilled out, laid-back cat I've ever seen! He's a real love, and puts up with quite a lot from our excitable Doxie, Pippin!
When Jesse rolls over on his back on the floor, I call him our "living area rug", lol!
Our new addition to the family is Toby, whom we just adopted from a different rescue place in January! He's now 8.5 months old, and we just had him weighed at the vet today - he's up to 9.5 pounds; I'm hoping he's gonna be another big boy, at least as big as Jesse, if not bigger!

The cats both get along pretty well - still working things out between them at times - and Toby's learning to put up with the dog's excitable personality too, lol!
They're both totally sweet, loving, friendly cats; they know their names and come when called, and will follow us around the house, getting under our feet continually!
They really are wonderful, and it's a hoot watching Toby's antics - that boy has so much energy, I wish I could bottle it and take a dose daily!
We've been told that they are both Maine Coon mixed with Domestic Long Hair, and that their dominant breed is Maine Coon.
They absolutely have Maine Coon characteristics, both in looks and personality, and I've decided that Maine Coons are just the best cats ever!
---
Baby Coon Kitten
By: Edward Wahl
(NJ)
Fell so in love with the breed that I drove from NJ to Maine to buy a kitten with high blood line. 
He's very cute and beautiful with such a sweet temperament.
He loves to be brushed. And very smart. He sleeps on top of my head every night.
Was told he would not be a monster but his father was a pretty big boy. This was the best thing I ever did.
---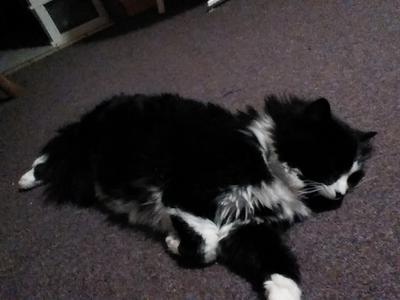 Spoiled Baby
By: Debbie
(Hancock New York)
This is my beautiful fur baby Oscar. He just turned a year old and weighs in at 12 pounds.
He's the most loved cat I have ever owned. He loves to play out in the snow when I'm shoveling. And he loves to be brushed every day.
But most of all he loves to hide in my walk in shower. And waits for me to walk by , so he can scare me. When he reaches out and smacks my leg. 

---
Chiron the Magnificent
By: Nannette Halliwell
(York PA USA)
We adopted Chiron on 8/19/2016 from the Lost Paws of Lancaster PA rescue. He was found in the country of Kuwait in March 2016.
A British Airways stewardess brought him back to the USA and turned him over to a rescue. When found he had a broken jaw that was healed but improperly. It was decided to allow it to remain as it was rather than rebreak it.
The vet in Kuwait neutered him, microchipped and gave him his shots. Chrion came to the USA in June 2016. 
On August 10, 2016 we lost our beloved dog of ten years, Grishmak. Both our children had moved out less than a month before to begin their adult lives. I felt I needed a companion but another dog was not possible due to my mobility issues.
My husband and I decided to adopt a cat, our first cat. After reading about different breeds, I settled on the Maine Coon as the best for us. Their size and intelligence were really the key. 
Chiron has done a fantastic job training us to be cat owners. Since the first night at home, he sleeps either in a wicker basket next to the bed or on the bed with us. He is loving and entertaining. We are very, very blessed to have found him.
---
Kool Katz!
By: Estes Slade, Jr.
(Greenville, SC)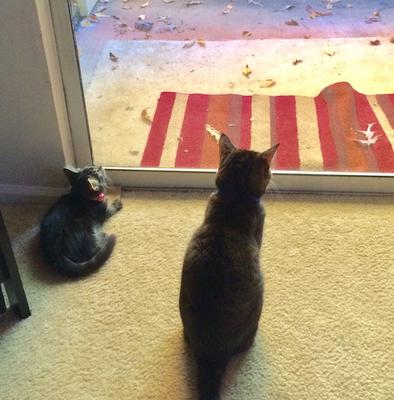 Nahla (left) and Zoey
The Queen Mum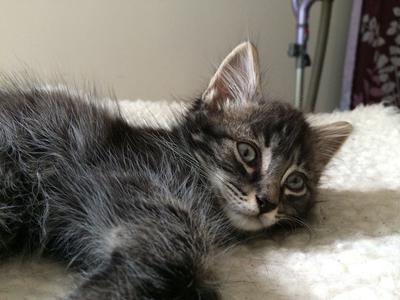 waiting for dinner
My girl is named Nahla; born on August 25, 2015. 
She was given to me in October to keep my other girl, Zoey (age 5), company while I prepared to enter the hospital for a 21-day stem cell transplant due to multiple myeloma, diagnosed in June. 
I didn't think there'd be too much of a problem since I just lost Rocky, my ten year-old that I had since he was six weeks old. He was my absolute favorite. 
I'm a wheelchair user due to spina bifida so we made a great duo. You could say Rocky was my Service Pet; although it's debatable who's serving who.
I read a lot about Maine Coons after the previous owner of Nahla said she was pretty sure she is part coon.  Check out the pictures and judge for yourself.
---
My baby boy Gus
By: Laura 
(Stoney Creek)
He is a crazy, loving, attention seeking little ball of fur I was told he was a mix between Maine coon and Himalayan.
But he really just looks like a Maine coon to me.

---
My Tabby Maine Coon Kitten Keegan
By: Krystle 
(Tobyhanna, Pennsylvania)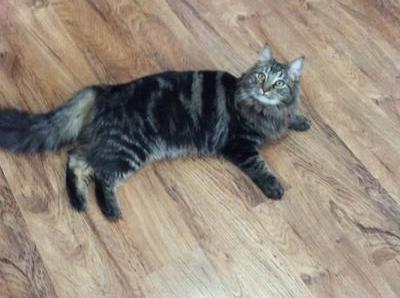 9 months old
9 months old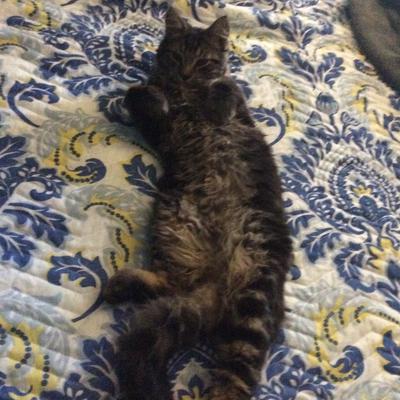 My 9 month old Maine Coon mix kitten Keegan is weighing in at 12 lbs. 2oz.and 28 1/2 inches.
We had him since birth and love watching how he has grown. He loves walking on a leash and following you around like a puppy.
He meets you at the door when you come in. He doesn't make meow sounds but more like a chirping sound. He is not a lap cat but loves to be close by where he can see you.
He is very playful and loves attention. Not sure how much bigger he will get for everybody already thinks he is about 2-3 years old.

---
Captain Jack Sparrow
By: Melissa
(Athens, GA)
We adopted Captain Jack Sparrow in July 2016, they said he was a female domestic short hair they named her Daisy.
When he picked us out and we agreed to adopt they said oh no, its a boy. We didn't mind we were already hooked and changed his name. We took him home and made him part of the family.
We noticed he acted like a dog more than a cat which was funny. He loves baths and playing in the water (he can turn on the faucets but doesn't know how to turn them off).
He plays fetch every chance he gets! 9 tosses across the living room are usually enough for him (on the 8th retrieval he's panting like a dog) he plays fetch 6 times a day. In Sept.
I went to Hawaii for 10 days and when I returned Jack was 3 times the size he was when I left. I asked my husband what he fed him and he said, just cat food lol.
When Thanksgiving arrived Jack was the size of a full grown cat and the ruff around his neck started to fill in like a lions mane.
This is when my daughter said Jack is as big as my Maine Coon Chewy (Chewy is 9 years old) are you sure this isn't a Maine Coon? So we started checking as Jack has continued to grow and show all the traits of a Maine Coon.
My family and friends think this is hilarious because I'm so OCD about animal hair an now...I have Jack (a hairy, fluffy and shedding like crazy lovable kitten). We are having Bamboo installed this weekend to make it easier to clean the hair. The things you do for the ones you LOVE!  

---
Benny & Woodsy
By: Jacky Rosrn
(Roscoe, NY)

| | |
| --- | --- |
| On Maria's windowsill. | Last day in crate |
| | |
| --- | --- |
| Big Benny with 40lb. Puggle for size comparison | Woodsy atop the cat tree |
I was fortunately chosen to be the adoptive parent for two (approximately)7 month old Maine Coon Cats that had been "dropped off" and abandoned when about 2 months of age.
They lived exclusively outside and came out of hiding for only 1 person, Maria, who became their caretaker.
She made sure there was food and water available to them and in return they eventually allowed her to pet them! With the mild weather we had last year Maria didn't think to contact a cat rescue group until the end of December when we had our 1st cold snap.
Benny & Woodsy were taken to a Veterinarian to be vaccinated, wormed, micro-chipped and "fixed".
They came to my house from the Vet's office and moved into a long crate made by connecting 2 large-breed dog crates attached front to back.
After 3 months in the crate I opened the front door allowing the cats access to my dining room which had been converted into a "cattery".
Since then hey have become the most loving and affectionate fur-babies.... but only toward me; they go into hiding as soon as they even hear someone else's voice!
Benny starts rubbing on my legs and likes to be stroked, petted, and tussled with.... as long as I don't try to pick him up!
Woodsy all but trips me when I go in with them and has become such a love bug; she'll jump into my lap, climb over my shoulder or beg for me to pick her up. Benny has grown into a VERY big and fluffy boy while Woodsy looks almost petite in comparison!
They both get along well with my dogs who accompany me into the room with the cats. As soon as I work out a way to keep the dogs from raiding the litter box the cattery will revert back into my dining room and the cats will have 3 floors of rooms to play in! 

---
Summer Oak
By: Lucinda
(Lucinda)

| | | |
| --- | --- | --- |
| Getting used to new surroundings | Lazy days | My beautiful green eyed beauty |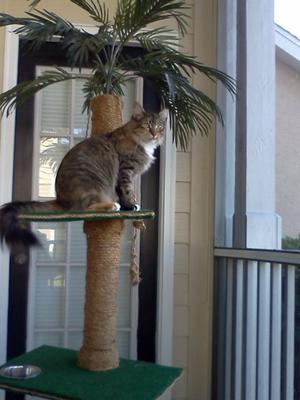 I love my palm tree stand
As a kid, I grew up in the country so we always had dogs and cats along with many other critters as pets.
Most often our pets came into our lives as castaways....beaten and dropped off along the country road to fend for themselves.
My sister and I always had the patience to regain their trust and within a short period of time they, for perhaps the first time in their lives had a safe and loving home. 
As an adult, having my own home and not being in the country anymore cats just didn't work out.
I rescued a couple but they just couldn't get the hang of a litter box, for whatever reason, so dogs became my choice of furry companions for the next 35 years.
Four years ago I found myself for the first time in my life on my own in an apartment without the company of a pet. 
I had given some thought to adopting a kitty as cats are much easier when living in an apartment but I had specific requirements.
I wanted a short haired cat, one that had a guarantee with it to ALWAYS use the litter box preferably female and had to be a lap cat, LOL!!!!  

This is where Summer Oak enters my life!!!!

I was awakened one night to a meowing outside my window and the rest is history!!  The good Lord sent me a Maine Coon!
She met my litter box requirement and was a female but not ever going to be a lap cat and oh golly the long hair is a nightmare but I have fallen totally in love with her and her Coonie antics!
It's like having a dog and a cat in one. She wants to be close but not to close, escapes to high places for her naps, drinks with her paw, plays fetch with her mouse and constantly makes me laugh.
She welcomes me home every evening chortling her hellos before laying down on the floor otter style wanting just a brief head scratch before letting me know it's time for her supper! She definitely is a bright spot in my life!

---
Cinder The Great!
By: Thomas lange
(Riverview Florida)
Cinder was abandoned by his mother at 9 days old. I became his surrogate mommy at that time.
Feeding a every two hours for a few months. He has grown from just a few ounces to over 24 pounds. He is more like a dog than a cat.
He loves dogs and isn't particularly fond of other cats. He is an incredible addition to our family. He's 3 years old and still growing!

---
Our Rescue Baby, Briskey
By: Gary and Tawana
(Johnson City, TN USA)

We got Brisket from the shelter 3 years ago. We were looking for a kitten but when my wife got him out of the cage he was immediately hugging and head butting her.
She handed him to me and he rolled upside down in my arms and proceeded to gently bite me. I told my wife he was the one.
We adopted him and have never looked back. He is the most loving cat I have ever seen. He will actually put his paws around your neck and hug you.
He loves cuddling and will press his face against yours. 

---
Maybe-Maine Coons:
Goofy Floofy Penny
By: Lotte T.
(Belgium)
Hi there! Two months ago we adopted our cat Penny from a shelter.
She immediately left an impression on us when we walked by her cage, and a week later she came home with us.
Penny is a goofy floofy cat. She is very vocal, but doesn't 'meow' normally. It sounds more like some kind of chirping (and it sounds very cute).
She is very sweet and likes hugs. When she wants attention she sits next to us, and after you pet her she will go lie on her back so we can rub her belly.
She likes lying on her scratching post, and when she wants attention she will look us in the eyes and she'll start talking/chirping.
Every morning at the same hour she jumps on the bed to tell us it's time to get up (with the cute chirping sound, again).
On the other side she's independent. She likes playing with us, but she plays on her own too. There are moment she lies for hours on her scratching post, on the bed,... without asking for our attention.
When you do something she doesn't like or when she had enough belly rubs, she pushes your hand away with her paw. 
We didn't pay attention to it earlier, but a few days ago our friend asked if she was a real Maine Coon or a mix. We looked up some physical traits, and we have to admit she has some 'Coone' over her.
What do you guys say? :) 
---
Harvey 
By: Adriel
(Cincinnati, Ohio)

This is our little guy Harvey. He is 6 months old and is a rescue. He was going to be euthanized when he was rescued from the shelter we got him from.
He is labeled as a Maine Coon mix. He is very affectionate and cuddly. He even likes having his belly rubbed.
He gets along well with our Boarder Collie/Chow mix. He likes to explore and is very playful. 
Does he look like a Maine Coon mix to you? If yes, how big do you think he'Lloyd get?
Grace Kelly
By: Renee
(Corpus Christi)

| | | |
| --- | --- | --- |
| Best Friends | Posing | Christmas |
Relaxing
Largest kitten I've ever had, she plays like a dog, likes you o herd the end of the stick instead of play with the toy attached to it.
She make a trill sound and has 6 toes on her front paws.
Grace Kelly also sits like a dog and also lays on her back too. She's so different than any other cat I've ever had. 

---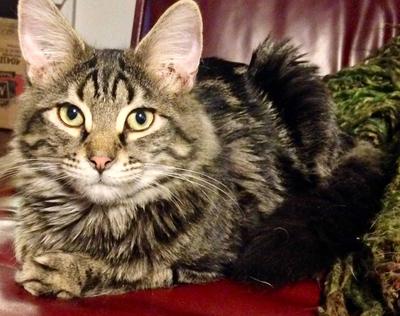 Wondering If My Tybalt Is Part Maine Coon
By: Andrea
(Winnipeg, MB, Canada)
Hi there, I found this site while researching Maine Coon mixes.  I adopted my kitten, Tybalt, from our local shelter almost 2 months ago. 
He was 6 months old at the time, and listed as a domestic short hair, but I already knew that wasn't accurate when I saw him, lol. 
His coat was on the short side, but still longer than most short haired cats I've seen, and he had the most gloriously long and floofy tail I'd ever seen on a cat that young. 
Straight off he was the most affectionate cat I've ever met, and that has only continued with time.  He follows me from room to room everywhere in my condo, he loves his wet food, but refuses to start eating it unless I stay in the room with him for a few minutes first, otherwise he just follows me around the condo. 
He learned to come when called almost immediately, and we're now working on learning to touch targets.
Physically, his fur has grown so much longer in the last 2 months, and with his latest picture, which I've attached, everyone who sees it has been asking if he's part Maine Coon, which is what has started my research into the breed. 
He has the tufts of fur between his toes, small tufts on his ear tips, and the gloriously long and floofy tail I mentioned above. 
His face and eye shape also seem to be quite similar to the pictures I see of Main Coons, and his ears and paws are still HUGE at 7.5 months old.  He's also the same size or slightly larger as my old cat was fully grown.  
I'd love to know what you think of him!  I don't have profile pics at the moment, as he's in constant motion when awake, lol, but hopefully the pic I have plus my description will be enough.

---
Stan the Man
By: Kathy Gereski
(Madison AL)

| | | |
| --- | --- | --- |
| Giving hugs | Mad At Us For Going On Vacation | Loungin' |
I adopted Stan at an ASPCA shelter in 2009 when we were living in CA. 
He did not really have any distinct features at the time except big paws and big ears.  As soon as I brought him home I knew I had a special cat- he was very friendly and vocal and loved jumping in boxes and being silly. 
About a month later I noticed his tail begin to get very fluffy and his fur began to fill out. 
At about six months old he killed an entire family of rats in our backyard in CA. Since we moved to Alabama he has brought many treats both dead and alive into the house! 
I researched the traits of the main coon and he seem to have most of them.  (Great hunting skills, chirp like meowing, very friendly, and very silly.). He has been the joy of my life for the past seven years!

---
7 Month Old Rescue Possible Maine Coon
By: Olivers Mum
(Tucson, AZ)

He was rescued from a neighbor argument on facebook about who was responsible for him.

A shelter person saw the argument and picked him up. He was neutered by them and 2 weeks later we adopted him.
The vet figures he is 7 months based on his teeth. He has to be Maine Coon, you think? He has a big fuzzy tail and long underbelly hair.
---
Nevaeh
By: Amber
(Middleburg, PA)
She is a calm, affectionate, relaxed cat. But does have a attitude towards other cats sometimes. She has sky blue eyes and has similarities of a Himalayan. Think she is mixed with Coon not quite sure. hoping to find out on here.

---
Tia
By: Nayola
(London, UK)

Tia is 5 months old. She is very loving, well mannered. Loves water and follows us around all the time.
She has the Maine Coon ears and tufts of fur on her paws but does not have the the 2 layered coats.
Her sister Xanthi also born on the same day looks like a typical Maine Coon. I sometimes wonder if Tia is a mix and is that possible in the same litter?

---
My Three Boys
By: Andria
(Sydney Australia )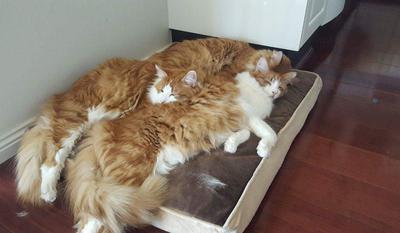 I have three!
We have mum who is a domestic short hair but we are sure dad must have had some Maine coon.
We rescued them at birth so we are unsure of dad.

---
Striker
By: Anna
(Upstate NY)

| | |
| --- | --- |
| This is Striker on the second day we had her, posing with her favorite playmate, Fluffy, my older cat. | Here she is today (currently 7 months old) |
Was out fishing with my friend and kept hearing a meowing from across the creek.
Walked across the bridge when the meowing finally got to us- then spent a half hour meowing and crawling through the thistles, waiting to hear the kitten call back.
Was about ninety degrees outside, and we finally managed to wrangle a small grey kitten with a belly full of worms.
She hissed and spit and bit when I first snatched her up- we live in farm country, so I doubt she'd ever seen a human before.
She was about a month old- got her taken to the vet, wormed, fixed- and she's now cat number three in our house. My mom has been bugging me to find out if she's part Maine Coon for several reasons;
1) Ear tufts. At first we thought her hairy ears were just an adaptation of a feral cat, but all the ear tufts look a LOT like those of a Maine Coon.
2) Tail. Her tail is absolutely EPIC. It was normal when she was a kitten, but as she grew it just bloomed- totally not like our other shelter cats.
3) Toe fur. She has an obscene amount of fur between her toes- I've literally never seen a cat with this much long fur between toes.
We've also trimmed her long fur several times, as she can get poop stuck in the fur on her back side and it's a lot for one small cat to groom!
4) Attitude. She absolutely LOVES to play, and has made our oldest cat, whose nearly 12, become a lot more active to play with her. Plus she'd just super rambunctious- we like to joke she's part mountain lion.
Thoughts?
---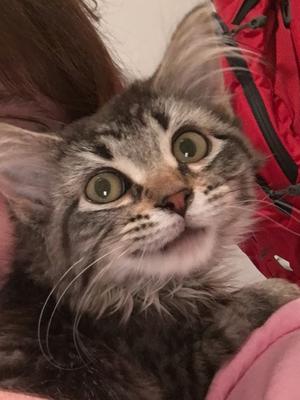 Possibly a Maine Coon?
By: Steph 
This little girl showed up on our doorstep over the weekend and went to the vet to start her shots today.
My son's roommate thinks she is a Maine Coon. She's adorable, very affectionate just over 3 pounds, the vet estimates she's about 3 months old. 

---
Fluffy Relaxing In The Kitchen
Fluffy - Visiting Feral Cat
By: Mike Cedeno
(Bay Shore, NY, USA)
I'm not sure if Fluffy is a Maine Coon but she appeared about a year ago. Apparently someone dropped her off in my neighborhood and I was amazed to see such a bushy, Tuxedo-type cat.
In feeding the other feral cats, Fluffy eventually came closer and closer until I could pet her. One day at feeding time she jumped into the house and now visits me every day for a few hours.
She is big, vocal and affectionate but I can't get her to stay overnight. She will make a sound by the front door that sounds like "Me out" just as I go to bed and start to doze off. I then have no choice but to get out of bed and let her out. She returns at 11 AM the next day.

Although she hangs around with a lovely tabby cat, I don't think she has ever mated. Since she probably had a home previously I suspect that she has already been spayed. However, who would dump such a beautiful cat?
---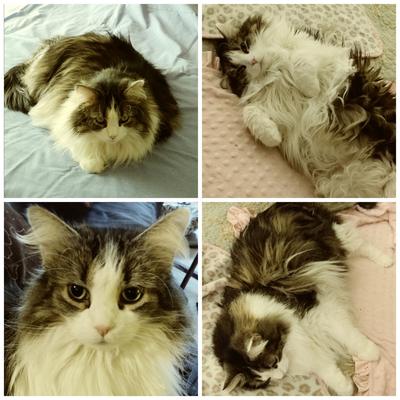 Am I a tiny bit Maine Coon?
By: Deb B
(PA)
Emma Lily was a rescue kitty, so we don't know what she is...we do know she's almost 20lbs of fur and sweetness! 
I have often suspected she may be part Maine Coon due to her coat, which consists of many layers, and her gentle demeanor. 
She's very dog-like (runs to greet us at the door, begs at the table like a dog - complete with whimpers!). 
At a year and a half, we thought she was full grown, but she continued to grow and fill out over the next 2 years to what she looks like today.  No matter if she's part coon or not, we love our big beautiful girl!!

---
Oz the great and powerful
By: Mike Riter

Cute, cuddly, and getting bigger all the time.  He loves to be involved in everything!

---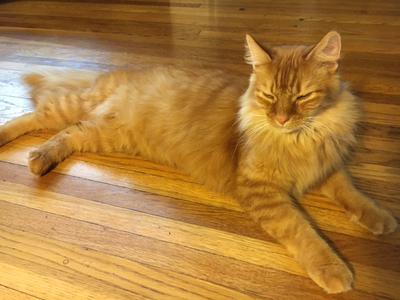 Pip
By: Amanda Martin
(Cincinnati, OH)
Pip, I'm pretty sure, is a Maine Coon/orange tabby mix but part of me wants to make sure (mostly to satisfy my own curiosity). 

---
Luna- The Sleeper- Is she a Maine Coon Kitty?
By: Lindsey
(Fitchburg, MA)

Summer of 2016 we had an unexpected visitor show up that just never left. it was almost like she was watching our family from a distance for some time figuring out if it was the right family for her.
I heard my 7 year old yell, "mom theres a cat on my lap". Being the animal lovers that we are I quickly went out and sure enough he had the sweetest girl curled up on his lap purring away.
I had seen her about a month or two before but she wouldn't come near. we have a golden retriever and two other domestic cats. I had seen her fight with our boy cat Geo before, so I knew they didn't really get along so I was hesitant.
After about a week or two went by the more she would be in the yard. as soon as somebody went out side she would run to them. Finally she tried to come in the house showing no fear at all.
We decided to give it a try and take her in. Immediately she made herself right at home. She loves to sleeps, and does so most of the time.

One of her favorite spots to lay down is on a persons chest/stomach. when she is being extremely affectionate she will climb up, lay down, and purr away in all different tones finally falling asleep. when I move her off she will curl up right next to me fall back to sleep.
Another one of her favorite spots is finding a dark spot in the linen closet or if somebody leaves a drawer open she will try to get in.
If she needs something she will climb up and just stare at you until you pay attention to what she needs, or will sit and just look at you without making any noise.
She does not like the outside especially if its snowing, raining, or cold. She would much rather be sound asleep in bed.
Her bathroom habits are like a dog and goes outside to do her business and then comes right back in. She hardly ever leaves my side.
She is nice to the entire family and is amazing with my 7 yr old son, but she also makes it very clear that I'm her owner and i'm her favorite.
She plays for short periods of time, and will even flatten her big body like a pancake to hide under the bed as if she was playing tag, its what we call "lunatic" mode, normally it starts when she finds a string of some sort. She also has a thing for shadows. She is so funny and has quite the personality when she does play.
She doesn't seem to care for water, which I had read Maine Coons love water play. she still doesn't get along with our other two cats, but normally they just keep their distance.
She doesn't mind our golden retriever though. She is quiet as a mouse unless she is purring, which is quite often and usually quite loud.
The only time I have heard her attempt to cry is when she is waiting for a treat, in which case her mouth opens but nothing comes out except for a tiny broken high pitch squeak.
I have had cats my whole life, but I have never had one this affectionately loyal before. We have had her for about 7 months now and in that time she has gotten quite a bit larger.
I am pretty sure she is a Maine Coon, but would love to get some feed back, as well as what type of coloring she has.
---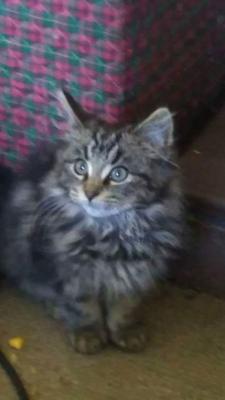 Fuzz Butt Maine Coon Cross?
By: Laura
(Pahiatua, New Zealand)
This little girl appeared at my window meowing. She was a wild little girl but is now the love of my love.
I was wondering if she could be as we caught another kitten a couple of years ago close to home that is a polydactyl
She is long in the body and heavy for her size with thick legs. 
---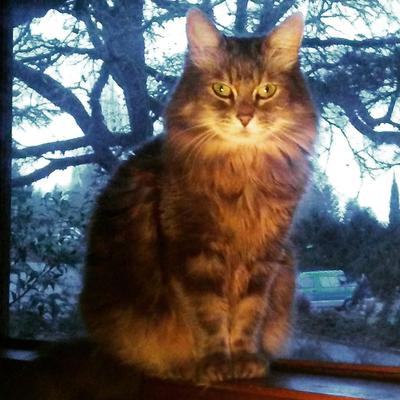 Lady Anne Boleyn 
By: Laura
(Corvallis, OR, USA)
She matches all the personality/character traits, especially the friendliness, affection, and vocalizations.
She has a yowly scratchy voice despite how pretty she is, and is very clowny and clumsy. She gets along great with everyone, including our lab puppy we got at 9 weeks old and has grown to 90 lbs while she is 7 lbs (5 years old).
She is a rescue from a nonprofit, and here in Oregon there is a lot of irresponsible backyard breeding of cats and dogs into mixed litters.
I see Nebelung (rare), Ragdoll and NF cat in her too. I call her my Little Breeding Experiment. Thanks!

---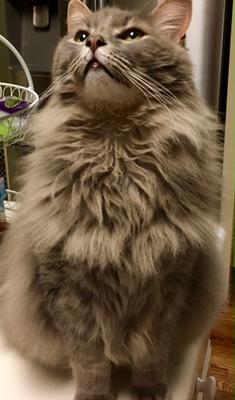 Smokey Joe
By: Nancy Q
(Belton SC)
Smokey just showed up in our yard one day and immediately jumped on the trampoline to play with our boys. 
Long story short, he stayed and we took him to our vet.  They did not venture a guess as to his breed, but we determined he was 10 lbs, neutered, no microchip and approximately 12 - 18 months old. 
We did not think about the possibly he might be a MC mix until he started growing.

I guess proper nutrition was what he needed.   Last check up he was 15 lbs and now looks like he is closer to 18 - 20.  He is about 36 in from nose to tail. 
He has a lot of same characteristics as a Maine Coon, but his personality with other animals is stand offish. However, we don't know what his previous home was like and if there was abuse, etc. 
Please look at his pictures and see what you think.  (By the way...he didn't start climbing on our counters until we got a tiny new puppy, of whom he is scared to death!)

---
Could I Be Part Maine Coon?
By: Courtney
(Canada)

Hi everyone my name is Poe. I am almost 3 months old. I am named after Edgar Allen Poe. My mommy purchased me from a seller on kijiji.
My fur mom is a torti Ragdoll, and my fur dad is a big 1/2 Ragdoll. Ever since the day I came home I have followed my mom around I love to snuggle so much. I sit on her, under her chin and jump on her shoulder.
Sometimes when I meow my mom says I sound like I'm chirping and some times I purr meow. I always have to be around my mom or I get lonely and meow I also like to walk right under my moms feet.
I was the runt of my litter and I did not look like my brothers and sister. I think my color might be Black Smoke but I'm not sure. My mom and I are just wondering if my grandma or grandpa could be part Maine Coon?
Thank you 
---
Chewbacca
This is Chewy! Loooooong bushy tail, tufted feet and ears, but no points
By: Dave
(Florida)
Got this little guy from an adoption place about a week ago.
I don't have a weight on him yet, but he's about 2/3 size of a regular cat. They said he is about 5 to 5 1/2mos old.
When we got him home and let him out of the carrier, I have never seen a kitten so comfortable in a new setting, as if he owned the place really, so much personality.
In the picture you can see the tufted feet, bushy tail, poofy ears, but no lynx points to the ears. We are beginning to think he is a bit younger than we were told, his meow is so kittenish, and how he plays, he just seems younger.
He eats sooooo much food, and just a laid back, playful, goofy little guy with a lot of love to give. Maine Coon or not, we love him so much. Don't have a weight on him yet, but he's about 2/3 size of a regular cat.

---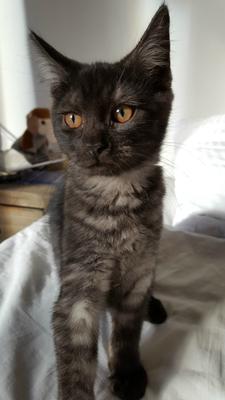 Miss Luna The Mystery Half Maine Coon
By: Adrienne
(Netherlands)
I have a Maine Coon mix.  I don't know what she is mixed with as the lady I bought her from, her cat escaped and went on a date with a random neighbourhood cat.
I definitely know she is part Maine Coon because of her noises, she chirps and trills.  She also has the belly pouch and 2x distinct stripes above her eyes.
What I don't know is what her other half is or how big she will get or how fluffy...
Is there a way to tell how big she will get if she is a mix?
Or is there a way to tell how fluffy she will get?
She is 5 months old now and doesn't have a beard yet, but has more fur between her toes than my cat growing up did.
---
Berlioz, Part Maine Coon?
By: Michaela
(Nebraska)

I adopted Berlioz from a shelter in February of 2016, he's currently a little over a year old, and lately I've been wondering if he's possibly part Maine Coon.
Physical traits: I'd say his fur is somewhere between long and medium, and it seems uneven, with longer tufts around his neck/ears. He has very large eyes, a square-ish snout, and small tufts of fur coming out of his ears.
Berlioz is longer and larger than I expected, although I don't have exact measurements at the moment. I think I would call his build rectangular, but I'm not sure. His paws are sizeable, with small tufts of fur between the toes.
Personality traits: Berlioz is extremely affectionate and playful, and often chatty. He's pretty independent, but fiercely loyal to me and occasionally my roommate, and very curious about visitors.
He loves to sleep on or near my chest/head, a habit I can't bare to break, even if he is a bit too large to fit comfortably sometimes. Berlioz seems to be cautiously curious about water.
He's vocal, and even squeaks when he stretches, but I haven't noticed any chirping. He also loves to fetch, I'm not sure where that comes from, but it's hilarious and fun for both of us.

Sorry about the novel! It's possible these are just unique aspects of his personality and/or representative of our connection.
But I am curious, because he's different from a lot of other cats that I've known and cats that I've cared for. I love him a lot, and I'd like to learn more about him!

---
Addicus
By: Shanno Carlton
(Ethridge, TN)

This is my cat Addicus, he is approximately 2 years old. My daughter found him at a nearby shelter where she was doing her rotations for vet tech program.
He was brought in by an elderly gentleman who was unable to care for him. Unsure where her got him from. He was in bad condition with ear mites So bad he had scratched holes in his ear.
I was able to adopt him before he was healthy enough to to be adopted out to the public, thanks to my daughter falling in love with him and knowing my love my siamese breeds.
He is the most affectionate, beautiful cat. He is unsure of strangers and will usually hide from anyone new.
He wakes me every morning by jumping in bed and lying next to me on the pillow and talking to me. He is very vocal when his needs are not met.
I have had several people ask when they meet him if he is a Maine Coon, so I began to research the bread and I do find lots of similarities in his looks and personality. Just curious what anyone else thought. 

---
Stella
By: Jerrod
(Texas, usa)

She watched one late night coming home from a music performance. She ran over and jumped on me as I sat down on my stairs.
I adopted her. She got big pretty fast and is only a year to two years old. She is very friendly and will often lay next to me as I watch a show.
When I took her to the vet a random person  was staring at her for awhile and said she is Maine Coon.
Also when I got her spayed the vet tech thought there was something wrong with my cat because she never meowed. I think she is more intelligent than other cats similar to my thai cat yet different.
My guess is she is mix but with some strong Maine Coon features such as big paws, larger frame (yet to be fully recognized) tuffs of hair in ears and geometry of head. I wish I knew for sure. I love her regardless.

---
We knew he was different when we had an 8 lb cat before he was 6 months old!
By: Candace Davis
(Scottsville, KY)

This is Puff. We got him from an old friend of mine who found him and his brother underneath a trailer out in Plano, KY.
When he was a kitten, I just thought he was a REALLY fluffy cat but after a few months, he was almost a ten lb cat and I knew he was different!
In prior years, I had a roommate that actually had a Maine Coon so as he got older I started noticing those same features. Of course I got on the internet and did some research and I know he isn't a purebred but I am pretty convinced he is a mix.
And not just because of his looks. Puff has the most relaxed, mellow personality and he is extremely entertaining and goofy!
He literally cracks me up the way this cat sleeps! I have never seen a cat sleep like he does! He doesn't curl up and sleep, he just sleeps a d in the weirdest positions!
Anyway, please give me your thoughts on what you think and I love to show him off bc he really is a magnificent beast!

---
Meet our little black "fox" Zorro.
Wondering if he has some Maine Coon in him
By: Irina
(Australia)

| | | |
| --- | --- | --- |
| 2.5 months old | Sleeping in the suitcase. And here you can see the black | |
He is 4 months old here next to my petite 3 year-old Siamese
Zorro is a rescue kitten with unknown ancestry. He is the most playful, cheeky cat I have ever seen.
With large paws and an insatiable appetite, he is growing fast. When my mum first suggested that he might be a Maine Coon mix, I laughed at her!
But now the more I read, the more I see that his stand-out personality sounds a lot like a Maine Coon!
His former foster carer referred to him as "a character" and he definitely is! Nothing stops him in his way - he doesn't jump off things, he flies off them without any fear, he is very curious, energetic and it is almost impossible to get a good photo of him as he won't stay still!
Not a lap cat (alas) but he does enjoy a belly rub and starts purring loudly as soon as you touch him (and even more so when it's time to eat!).
We have also recently found out that his colouring is a tuxedo pattern, but I've never seen another one with a black "goatee" as well! 
Of course, regardless of breed, we will still enjoy our unique rascal! 
---
New 4 Month Old Boy Was Told Purebred Maine Coon
By: Michelle Mantia
(VT USA)
He is now playing with my other older female kitten. And Maltese . When had him in the car, holding him he was very good. Calm I was surprised he was looking around. Wanted lots of attention
Was putting and very happy. Someone please tell me what you think!
---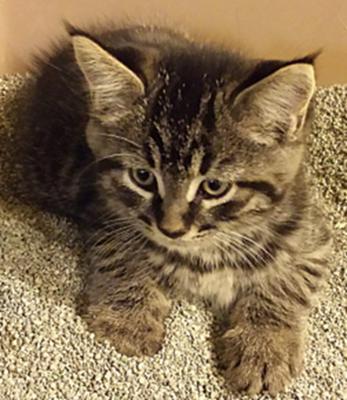 AJ
By: Joe
(Portland, Maine)
I had a mix before, who I named AJ as a kitten. We got his mother (a Maine Coon) from someone who bought her legitimately, and one day she got out and got pregnant.
So I kinda know what a mix looks and acts like. This time it's a little different though. This AJ's mother was a domestic short hair (she was like a witch's cat - pure black).
She also got out one day before we got her spayed and also got pregnant. I live in Portland, Maine by the way.
There was one kitten in particular that she had that looked very familiar to me. He was very big, rambunctious/playful and very smart. He was also very loving and would always be the first one of the litter to look to be pet or get attention from a human.
Anyways, I ended up taking him and his brother (who looks a lot like his mother).
I know cats can get inseminated by multiple males, so I was thinking it was possible that this AJ could be part Coon, even though the rest of the litter didn't look like Maine Coons.
I also know that there could be wild coons around where I live because I knew of a few that got loose.

---
Jackson the dog 
By: Marie Chapman
(Alicante Spain)

Jackson was found as a 2 week old kitten.  Myself and my friend hand reared him.
When I was working my friend had him and she has 2 dogs who took him under their wing/paws..now every dog/stray cat and child in the neighborhood he thinks is his friend.. his best friend is next doors dog who he calls on everyday and they love a game of fetch..
Jackson is fascinated by the toilet and the kitchen sink often find him in one or the other. I have always had cats but never one like Jackson. He makes me laugh by playing fetch, and panting like a dog.
I often have to apologize to people on his behalf because he thinks everyone is his friend and likes to help people/tradesmen in doing their jobs. He is only 6months old and is a lot bigger already than my fully grown cats and seems every week to get bigger and fluffier.
I have only just started reading about Maine Coon cats and shocked about how he has so many of their traits. He has only recently started making noises in answering back  certainly not a meow. But quite pathetic for his size. I thought most of the way he was was because of him being brought up with dogs. But now am beginning to wonder?

---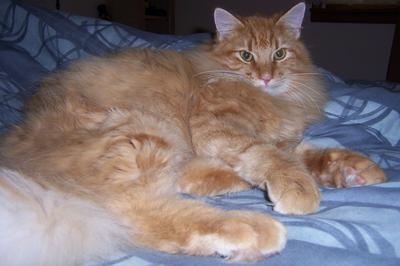 Orange Julius - our sweet lion!
Orange Julius (Jules) Our gentle 'Lion'
By: Judith B
(Southwest Missouri)
Jules is one of two cats we adopted from a stray, very small tortoise shell mama that adopted our son. 
He has a brother who is equal in size, but short-haired. Both are blessed with a very gentle, sweet personality and are a couple of clowns. 
Having shown Jules to friends, several have mentioned he probably has Maine Coon in him. 
I don't see short hairs listed in the info, so assume that Barney is not a mix?
Jules is only about 10 months old in the photos...  

---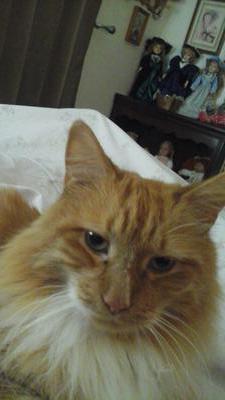 Tazz
I have a very fluffy orange tabby
By: Yvonne
(Hooksett, NH)
My cat is exceedingly fluffy and sheds everywhere. I  think he maybe part Maine Coon because he is exceedingly smart and acts more like a dog than a cat. He likes to play fetch.
Also, every time a stranger comes over like cable repair man he has to be all up in their business. He sniffs them and rubs up against them. He follows my husband around the house and he wants constant attention.
We take him for walks on a harness and my husband points to what direction he wants him to walk and he goes that way. At Christmas time he goes through the gifts under the tree looking for his gift like a child.
I have to hide his gift cause some how he knows! I got him when he was 6 months old from my son's friend. They live in northern NH. His name is Tazz after "razz ma tazz". I didn't name him. He is 8yrs old now.

---
Pumpkin the Rescue!
By: Maria
(Florida)
In September 2016, my roommate and I adopted two cats--Sisters! Two beautiful gingers! We had, initially, thought one was a boy and one was a girl.
The one was big, solid and looked more masculine, while the second was slim, slender and with much more delicate features. We brought the two girls home and immediately noted personality differences.
Pumpkin (the larger one), was like a brawler compared to Marmalade the Princess. Pumpkin was always out and about, social, she is very vocal, she played with toys much more, would give lots of love nips.
Marmalade was more reserved and enjoyed attention but at her own pace. A few weeks ago I started to suspect Pumpkin might be part Main Coon.
Marmalade and her are sisters but they have such different qualities and personalities, I thought perhaps Pumpkin had a different father--Potentially a Main Coon papa.
Pumpkin has thicker, longer fur around her neck (not as long as a pure breed Coon but definitely more than Marmalade who has a normal cat neck-fur). She has tufts of fur  in between her toes.
She is much wilder and unkempt looking compared to Marmalade (despite both grooming regularly) and as the Summer seems to be returning, Pumpkin has started shedding much more than Marmalade. She is much larger than her sister and heavier.
She has a solid build and you would never use the term "slender" or "feline" to describe her. She is very vocal, affectionate, playful, loves string toys a lot. She is constantly "bringing" me presents. Her toys, bits of plastic, a tissue--She leaves them in my room or leaves them on my bed. 
I do NOT think she is a pure breed by any stretch of the imagination but she just feels very Main Coon-ish. Any thoughts would be appreciated!

---
Arwen The Elf
By: Robin
(Kinderhook, Michigan)
We wonder if Arwen is a Main Coon mix since she is very large (19 inches from chest to tail base & 18 lbs), has very thick (but virtually non-matting) fur slightly longer on belly and hind legs as well as on her neck and chest.
Her tail is long and huge. She is calm, friendly, playful (loves all toys) excessively vocal - the regular voice is high pitched and diverse.
She also has a warbly sometimes very birdlike (we say she chirps) sound. She loves heartily (us and 2 other cats) and has a strong quick purr.

---
Kenzie
By: Anna
(Ohio)
| | |
| --- | --- |
| Kenzie (tabby) and our calico side-by-side | Belly rubs! |
| Long tail | He ruined my curtain, so I hung a towel in his favorite window |
Kenzie is 3 years old. We got him as a rescue when he was 7 weeks. He has matured slowly into the largest cat we've ever had.
He currently weighs 16 pounds, but he's not overweight. His body is very long and dense. Our 9-year old calico weighs 7 pounds and she is dwarfed by him when they lay together.
Kenzie's coat is smooth on the top, but longer, softer, and shaggy on the belly. He loves belly rubs! He is very vocal. He meows any time he sees us and any time he wants something.
We could hear his purring from across the room when he was a kitten. It's quieted a bit, but it's still very loud and almost constant while he's cuddling.
He loves to sleep either against me or on top of me. He's playful, affectionate, determined, and loyal. 

---
Kai
By: Stephanie
(California)

Is my cat a main coon mix? People always mention it. Thanks!

---
Thailand 
By: Stephanie Byers 
(North Bay Ontario, Canada)

We got him from a friend who's cat had two kittens.
They said the kittens were Persian and Silver Point Tabby, but when out kitten started to grow, we started to question he might be a Maine Coon mix.
He's very loving & trainable. Thai's personality is like a dog's. He was bigger than our other male cat which was 6yesterday old, at 7 months old. Now he's 2yrs old.
Thai is 7 months old in the picture with my husband. 

---
Leo
By: Mary
(Tulsa,OK, USA)

I got him from a friend a year ago. He is such a character at times.
He'll run down the hallway and jump on the wall as he's going. He loves to be brushed.
He'll let me lay my head on him and just purr away. I had sinus surgery last June, and whenever I got home, he wouldn't leave my side. Whenever he walks across me, he tries to be really gentle about it. 

---
Geordi
By: Courtney K
(Phoenix, AZ)

| | |
| --- | --- |
| This is Geordi's most recent picture at 7 months old | Him and his sister at around 4-5 months |
Him and his sister at around 4-5 months
My 7 month old kitty Geordi is such a silly and sweet boy! I got him and one of his sisters who were confiscated from a home with too many kitties.

I was just going to foster the two 5 week old kittens to help socialize my other cat but I ended up keeping them! His mother is a small orange tabby, who looks just like his sister Sansa.
But Geordi looks nothing like them. He is FAR bigger and super fluffy. He is always there at the door waiting to greet me when I come home. He makes the cutest chirping sounds when he comes up to you wanting attention. He is very playful and gets VERY into playing with his wand toys.
He will make little growling sounds as he is playing with it! He is very affectionate with his two sisters and loves to cuddle with them. As he's gotten bigger I really think he may have some Maine Coon in him! He has tons of fur coming out of his ears, tufts coming out between his paws and a beautiful mane like a lion!

---
Cropper
By: Amber Cropper
(Henderson, Kentucky, USA)

| | | |
| --- | --- | --- |
| Cookies being silly | Cookies in the sink | Cookies with his stuffed animals |
He has all the traits listed to be a Maine Coon mix plus he is way bigger than our other male.

---
Pumpkin
By: Marc
(Richmond VA)

Came from vet, 2 siblings look like short hair house cats, Pumpkin very affectionate, playful, after fourth day not as skittish, follows around, voice not really a meow. Pumpkin is approximately 9 mo.

---
Hitch
By: Sue
(Michigan)

Where my husband works they have a field behind them and see feral cats and kittens all the time.
One day he heard meowing from under his truck and he and some of the guys got on the ground and a little gray kitten jumped down from the spare tire that hangs under the truck.
They banged on the truck and on the tire but didn't see or hear any other kittens.

We found Hitch in our garage on August 7, 2015. We figured he was in the spare tire. My vet said his mother was in the process of either putting the kittens there or getting them down after she went to look for food.

He weighed 9.5 oz. and the vet hospital estimated his age to be 4 to 5 weeks.
We kept him and named him Hitch. He is the best cat! Very friendly and loves to greet people when they come over. And he is a lap cat.
---
Barnaby 
By: Christopher
(Corpus Christi, Tx, USA)

Barnaby is such a goofball and definitely the most mischievous of our bunch.
He loves being the center of attention and will most assuredly be the first to fall asleep, belly-up, in your lap.
He loves sunbathing on the patio and wrestling with his brother. He also loves playing tag with our two dogs.
He has long hair with a beautiful fluffy tail and mackerel tabby pattern. He almost looks like a gray tiger. 

---
Spruce aka Buddy
By: Rheen
(BC, Canada)

I adopted Spruce 3 weeks ago from the spca.  I named him for the big spruce trees in my yard, which he LOVES to hang around.  He is 6.5 years old. 
He was found outside, un-neutered, broken canine (ouch) and fending for himself, matted, worms etc etc. 
Now he is all sorted out and has an indoor outdoor home (I live rural and he wants and needs to go outside at least a couple of hours each day).
He is very friendly and sweet, not demanding, sometimes playful and goofy, loves to go outside and climb the woodpile, not very meow-y, weighs 12 pounds. 
As you can see, he has a lovely ruff, too.  He has a look of a main coon, with a tail big and fluffy with some raccoon like markings, big paws with tufts, big ears, big eyes and a sweet face.  He is not big enough to be a full Maine Coon, or is he?  

---
Jinx the "maybe" Maine Coon
By: Ashley
(Asheville, North Carolina)

Hi everyone! We adopted Jinx 4 months ago from a shelter and we are about 95% sure he is either full Maine Coon or a mix.
He has the shaggy hair, the tufts of fur coming out of his feet, long bushy tail, large green eyes and even the M on his forehead!
He's also very loving and social, not scared of strangers. when people come over, whether he knows them, or not he's right up in there laps wanting to be loved on!
He's also quit large for a 7 month old cat... What does everyone think?

---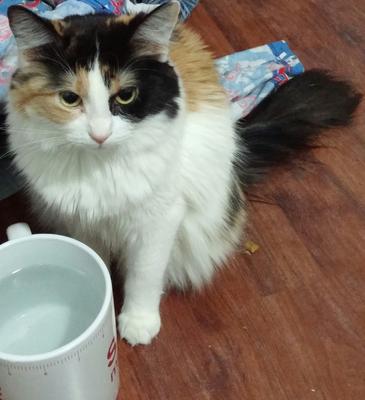 Is My Cat Part Maine Coon?
By: Linda
(Oshawa Ontario)
She is different from other cats I owned. She hates being picked up and is not a lap top. 
She likes drinking water and she extremely likes drinking from taps. I got her free online - they didn't say it was Maine Coon but I think maybe?
She sometimes very active and other days likes to hide and sleep. She is fixed and had shots. 
So if anyone can tell me if she is part Maine Coon or not it would be appreciated?

---
My Maybe Maine Coon Mix! 
By: Hilary
(Denham Springs,La USA)

Daisy Mae is what I had named her. I had adopted her from a local vet clinic. I was told that she was found in the middle in the road about 2 months ago.
She was very thin and was fighting a cold or something . She has a calico look and very pretty. The vet said she was about 3 months old, but if she is a coon mix she might be younger than that.
She does have to have me break up her kitty treats, but she can chew her hard kitten food. Maybe she is getting spoiled....LOL. She is a fluffy kitten.
Her personality is awesome and not like the other kittens that I've had. She chases my 63 pound Lab/Pitt around the apartment and my dog Duke Mitch loves to play with her.
She sleeps in the bed with us and is very playful with peoples feet. Daisy Mae plays with Duke Mitch's toys when you throw the toys she goes after it. She is very funny especially when she tackles your ankles.
She also loves to eat like crazy so she did gain some good weight to fit her. I also think the reason why she eats so much is because of her starving before so I think she is still emotionally reflecting what has happened to her.
I do leave food out for her constantly so she can get the idea that she will always have food and not go hungry. She has gotten better and slowing down on eating by doing that.
While I cook she comes in the kitchen and cries for food. I do give her meat, mainly chicken.   

---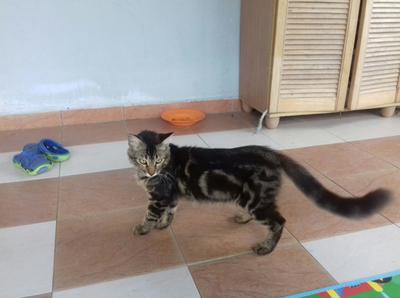 Minho
By: Zulkarnain
(Malaysia)
I can't verify my cat as for I adopted him from my friend that also don't know much about cat. Help please?

---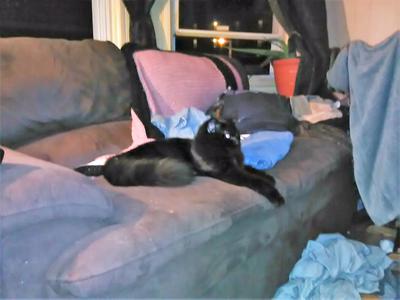 I Know He's 75% Maine Coon
By: Ginni
(New Hampshire)
I know he is 75 % Maine Coon due to seeing his mother and her papers, and the fact they had kept a male kitten of hers last year when she got outside.
But they did not realize that kitten could get her pregnant again at his age so her half breed 7 month old male kitten mated with his mother that is full Maine Coon .. plus the kitten I got has the personality plus all the traits minus the tuffs of fur on ears also he is jet black which is a bonus to me but yes I looked up everything I could on every site I could.
He's 9 months old now and already 10 pounds ! love his fur and tail his fur feels very different then any other cat I've owned so verrrrrrry thick almost a cotton feel and the way he acts and talks  - yes I said talks to me.
He doesn't meow and is oh so affectionate also likes to jump in shower with me lol. Anyways I had to share my story. Thanks all. 

---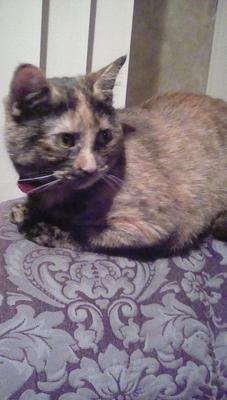 Miss Kitty Kardashian
We got her from the SPCA.  Very intelligent.  Acts more like a dog than a cat.  Watches any animal show on TV.  Has really furry paws.  Long fluffy hair on stomach.

Hair is fluffy not like regular cat hair.  Comes when We call her.  Carries her toys around in her mouth.
Never heard of a coon cat before but we knew she was different and tried to find out what breed she was. Also has pantaloons on her back legs.
She greets everyone who comes to our house and loves to play with children.  Begs for food standing up on her back legs.
---
Henry
By: Jamie
(Caro, MI)

I recently got Henry from a local pet rescue. They said he was Domestic Medium Hair and Maine Coon Mix. Just wondering if they were right or not. How can I tell?

---
Sammy
By: Adam
(Idaho)

I've had Sammy for about 3 and a half years, and he's about 4 years old now.
He weighs like 10 pounds I think. I got him from a shelter and the adoption papers list him as "domestic shorthair (Maine Coon)" but I'm not sure how accurate that is.
I don't know much about his history but I think he may have been a stray. He looks a lot like a Maine Coon to me except that he has short hair. Still, he seems really fluffy for being a shorthair.
He's really affectionate and attached to me. When I leave the apartment for a few hours he'll usually cry for a little, and then when I come back he's waiting by the door and starts meowing and rubbing against me.
He likes to sit in my lap a lot, and he always sleeps in the same room I'm in. He doesn't mind being picked up and he'll even let me lay him on his back and rub his belly.
He's also really friendly around strangers, he doesn't hide when there's new people around and more often than not he's usually curious about them.
His meow is also kind of weird because it's not exactly a meow, it's more like a high pitched chirp. He does this if I make eye contact with him for a few seconds, or sometimes just for no reason at all.
I actually don't know if I've ever heard him meow like a normal cat would. I've looked on youtube and I can't find any videos of a cat that makes noises like him.
He has this weird thing with water where he'll paw at his water bowl. He does the same thing with glasses and he'll even knock them over trying to poke at the water. He'll also jump up and stare at the water in the tub if I leave the door open when I take a bath.
He also stares at the toilet water when I flush it. I remember I used to try training him to not jump on my desk with a spray bottle but 90% of the time he just shrugged it off.
When he plays he usually flops around on the floor or he'll grab something and throw it in the air and try to catch it. He likes to wag his tail a lot, especially when I pet him, and he doesn't mind if I play with his tail. I don't know what else I can say but I'd be really surprised if he wasn't a mix.

---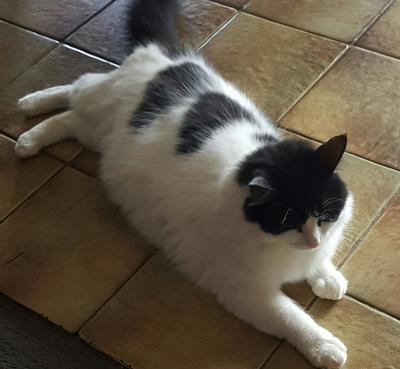 Moo
By: Glennis  Taylor
(Heathcote Victoria Australia)
I'm trying to find out if the cat I got from a rescue is a Mixed Coon Cat.  
He is lovable, follows me everywhere, won't sit on lap, stays close to me.  
He has hair coming of his ears. Not big yet.  He is fluffy and big. He has been fixed up. He weighs a lot - well to me he is big. 

Hubby says that too. He is black and white.  Hoping someone can help me. I live in Australia.

---
Baby
By: Deborah Joaquim
(Fair Haven VT)
Baby was born in the wild. She is about 6 months old, very smart and loves to play. She has come along way, for we  placed her in our home about a week ago and she seems to  get along with my other cat we love her.

---
Dee from CT

Rescued this beauty from a foster Monkeys Pack.. Had a coon mix before and wanted another. He is soooo Handsome.
And has that great personality. He was a owner surrender and was outside for 5 years, so sad and shame on you!!
He's in his forever home now. Hell be loved , cherished and be inside for the rest of his beautiful life. Thanks for making my house a home again. Wiskey... aka Winky

---
Esme
By: Rachel Emmett
(Kent)
Little Esme was found by a petrol station. She's thought  to be between 3 months and 5 months.
She is incredibly playful, and doesn't meow but makes funny little noises to get our attention. She is a little tabby fluff ball with white paws and a fluffy chest with pointy, fluffy ears. Could she be a Maine coon or Maine coon mix? 

---
Stripper the best cat ever
By:  Elizabeth Cryer
(Kerrville TX)
When he was born I thought he was not a very pretty cat..but boy was I wrong as he grew into a magnificent looking animal.
He first became my husbands lap cat but at Stripper 4 month birthday came my husband became very sick and spent many weeks in the hospital.
To make him happier during his long hospital stay I took a picture of Stripper in his lap to the hospital room and pinned it to his wall so he could see it.
When I brought my husband home weeks later Stripper only wanted to lay between Kens ankles and watch over him until he passed away a few weeks later.
Stripper was a great comfort to me as I began to greive, and is still always by my side 8 years later.

---
My Maine Coon (mix?)
By: Kathy McCabe 
(Sacto., CA 95833)
Hi, my beauutiful boy is named, Reeby. I named him 'Reba' for his color after Reba  McIntire the country singer.
He is the sweetest, funny, clown of a cat I've ever seen! He "found" us after a round of foreclosures in our neighborhood abt 4 yrs ago.
Well after deciding he "owns" us now after feeding & giving water, I took her to the vet to get vaccinated & spayed.
The vet called & said he couldn't spay her, because the was a 'he'. His name went from Reba to Rebel, but w/calling him along with kitty, kitty, he became 'Reeby'. He also doesn't have the ear tufts.
---
Kitty 
By: Matthew Long
(United Kingdom Rothwell)
This is kitty he's lovable on his terms only quite aggressive by nature but also playful he does have an odd fascination with water, ie. baths, paddling, pools and likes to not miss a thing but also quite a clever cat opening doors etc.
Disclaimer: When you buy through links on our site, we may earn a small commission.
As an Amazon Associate I earn from qualifying purchases.
Our Coonies use and love:
Greenies
4.7 stars; 3.6k ratings
Furminator for Longhaired Cats, Large
4.7 stars; 15k+ ratings
Double Layer Waterproof Cat Litter Trapping Mat
4.5 stars; 56k+ ratings