The Maine Coon Miracle
By: Juli Link
(Oregon)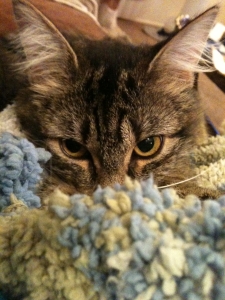 I lost my beloved Buffy Lou my Manx mix cat of 14 years Dec. 3rd 2010 from cancer. Exactly 30 days after that I lost my beloved Rottie mix rescue dog Gretchen who I rescued at age 5 and had for 7 wonderful years also had to be put to sleep from cancer. I was really sinking into a terrible grief.

Two weeks after Gretchens passing a little angel came into my life. It was January 21 2011. I went outside about 8 at night. It was freezing out. I heard a mewing under my deck. I couldn't see but ripped the fencing and debris to reach whoever was crying out to me.

When the hole was big enough I called out and she was still there. She jumped into my arms. Mind you I couldn't see her. I carried her into my house. She was shaking uncontrollably . I sat on the couch with her on my lap. She stared me right in the eyes and then she took her paw and touched my cheek. I've only had one other cat do that, Buffy.

Now it's been about a month and I've named her Maui for the trip my sister had taken me on right before I found her. I call it a miracle because she helped me through that grief. She has taken Buffy's spot on my lap and near my head when I sleep. I'm still amazed at her love of me even though I've never seen her before.

On top of that, I kind of thought she looked like a Maine Coon. She has the tufted ears the luxuriant coat bushy tail and neck ruff. I just researched the breed and am confidant she is. I've had no luck finding her own and have a suspicion she was dumped by a neighbor who moved out of our townhouses.

My other neighbors said they saw her for about two weeks running around outside and begging to be let in. How people can do this to pets makes me sick. Maui now has a forever home and she repays me daily with her love.




Comments:

awwww
by: Kim Sweet Brought tears to my eyes... and brought back all the memories of my King Lewie (profile here) and the new members (Makani and Ivan also here) of our family that have helped me through some rough days. Its amazing how things happen like that and even more amazing that THEY know. Enjoy the new family member and hope for many happy days and new memories to share with 'em.

Thank you
by: Juli Link Thank you Kim for your comment I appreciate it.

What a Lovely Story!
by: Jessy You weren't even looking for a cat, and she came to you. How wonderful!

Sometimes Cats Are Just Angels With Fur
Her colouring is very like our MC Theo. Fur does not look quite long enough in the photos, but she may well have MC in her background. The important thing is that she found you when you needed each other most. It's a wonderful story.

Maine coon "mix" update
by: Juli Link Well I think you're right she's probably a mix. That's ok. News flash: I thought she was gaining weight a little fast but now pretty sure she's pregnant. I felt movement and am really torn about having her spayed while preg. I don't want to bring more stray kittens in this world though and I can't afford nor does my place allow more cats than I already have. If I had it my way I'd let her have them and keep them all. She has an appt Friday and I'm very sad about the whole thing. Anyone have any advice?

Kittens!?!?
by: Maine Coon Cat Nation Oh Juli!
How hard for you! Poor Maui! Here is my two cents: Maui came to you for a reason. She's already expecting (you're sure?) and kittens are not all that hard to place. Maybe we can give them a fighting chance!

And, animals don't "show" for quite a while. So if you are feeling movement, they are really growing in there. She would be getting much more than spayed. I'm not sure what that involves as a procedure. Just a thought.

This didn't happen due to you being irresponsible. And you wouldn't be contributing to more strays in shelters if we were able to line up families. I'm going to spread the word.

What do you think? If you had families, would you be able to have some little ones for a while?
~Carrie

Thanks Carrie
by: Juli Link I've been crying and depressed all day til I got your message. Vets say its high risk and painful let alone what happens to the kittens. I look at how peaceful Maui is and it's breaking my heart to think of putting her through that. When Buffywas spayed ( from my original post) I almost lost her. And she wasn't pregnant. I think you're right. I'll keep you posted and will need help finding homes. Thank you so much.

Are you saying--?
by: Jessy . . .that the idea is to spay her and abort the kittens at the same time? I didn't know that could even be done. It sounds pretty risky to me. If at all possible, I'd let her have the kittens and then spay her.

I think long ago (we're talking maybe 55 years ago here) we had a young barn cat spayed in conjunction with a difficult delivery, but I don't remember the details. (Like humans, cats are capable of procreating well before they oughter.)

To Jessy
by: Juli Link Yes she's pregnant. I felt movement in her tiny belly this morning and my heart sank. I've been putting off going to the vet due to finances. I've had her for about 5 weeks and thought she was about 6 month to a year at most. When I took her in I wasn't thinking she may have Been bred.

I talked to vets today and my friend from our animal shelter and yes they do late term (spaying) a nice term for what it actually is. I also researched it on the web and when I was done I was sobbing. I just can't do this to Maui but what if I can't find good homes for the kittens? My manager won't allow more cats and it'd be hard to hide them.

My daughter just called while I was writing this and she said she got all her employees together told them our dilemma and we may already have a home for one kitten. Thank you for this venue to help me through this. I'll post pics of the babies and hopefully find loving homes for them

They know!!
by: Marti Many years ago I moved to a new town, to a rented duplex in a pretty run down part of town. It was all we could afford. I had 2 cats of my own but soon other cats started coming to my porch.....3 of them!! Abby a little tabby mix and Buddy a beautiful Russian Blue who had been badly burned but was healing well and O.C (outside cat). They were my little friends. My husband actually made them a little "cat House" for the porch so they could keep warm. My sister in law took Buddy and Abby and kept them forever. OC never came back one day. The point is that the furries KNOW when someone will be kind and loving to them. They give unconditional love. And maybe God figured that you and Maui would be a match, so he put you both in the right place at the right time. God Bless you and Maui!! Congrats on the new Family too!!

Thank you
by: Juli Link Thank you Marti thank God for people like you all

Sweet, sweet sweet
by: Joann & Bubba You and Maui are very lucky to have each other. What a sweet journey in life the two of you are going to have. Bubba & I also live in Oregon, where are you located maybe we could exchange emails, if we live close enough I may have friends interested in the kittens :) Enjoy your wonderful Maui and the journey that you are on.

Joann & Bubba too

where are you
by: Jill I will help you find homes for the kittens and do whatever I can to help. I have a face book page; my name is Jill Holsonback. My maine coon is named Molly.....she is a gift in so many ways. God knew exactly what I needed when He sent her. My email is (removed by editor)

May be able to help?
by: Porsche Hi - I have 2 Maine Coons (along with a Bengal and an Aby). I too live in Oregon, in Grants Pass. Whereabouts are you? I might be able to help find homes for the kittens if we are anywhere close to each other.

Location
by: Juli Link I live in Troutdale. About 4 hours from grants pass. I'm overwhelmed by your emails. I would be grateful for your help. These comments automatically notify my phone but after the event I'll contact everyone with details. Mahalo

If I Didn't Live in the Wrong Part of the Country
by: Jessy I'd be a potential customer!

Anyway, hold tight, everything's going to be all right. You have galvanized the community into action and you are repaying your kitty's trust in you. She came to you for help and she knew what she was about.

Maui just went to vet
by: Thanks Jessie Finally had exam and she's pregnant but not late stage. I just left the vets. I didn't sleep all night worrying about her. Shell be spayed vaccinated tested for felvirus and micro chipped. Sorry to worry all of you. I'll let you know later how she's doing.

Glad to Hear
So glad to hear this -- will keep thoughts going your way for Maui to come out of her surgery happy and healthy!
Portia

Maui is home
by: Juli Link What a week! I'm happy and relieved to say that the surgery went well. Maui is negative for the feline l virus, has her chip, license rabies etc. I officially adopted her as this was all done through the Mult. Co. Animal shelter. They did such a great job and Maui is doing so well I've decided to volunteer at the shelter through their adoption outreach program. They were more supportive than most vets I've used excluding my current vet. Thanks again for all of your kind words and support it really helped Maui and me.

Fabulous! What a great thing to hear! I volunteer at the Rogue Valley Humane Society here in Grants Pass and it is so rewarding. I always love to hear about good shelters - we have a very good one and obviously you do too!

Enjoy the volunteering -- I sure do!
Portia

So SWEET
My MC Bubba and I are very happy that you and Maui are doing so good. Wish we did not live so far down in southern Oregon, we would come have a play date :) Have a good weekend and journey thru life together, and please keep all of us informed of how things are going, I update about Bubba ever so often :) Joann & Bubba

Thank you and I will
by: Juli Link She goes to our regular vet for the free follow up. She's doing so much better than I expected. Honestly I don't think I couldve handled any bad outcome because I've grown so attached. My other two cats Lola and Maliika (adopted "chosen") are getting equal attention so they don't feel left out. I'll for sure be updating!

Maui & Juli update 2/2012
by: Juli This January 2012, as Maui sat purring in my lap, I reflected on the past year with her. I'm still amazed that she found me. My has she grown! Shes a big girl. She's also got a small following on YouTube. She's a comedienne and a lover. She's brought many days of happiness to me and I still call her a miracle. When I see pics of other Maine coons I see Maui in most of them.
I am so honored to have our story on this website thank you



The Maine Coon Miracle Update
This pic is the day of her surgery; the love in her eyes say it all
Maine coon miracle update. Such a treasure. Maui lights up my life every day.
I'm so blessed she walked into my life that cold January night. Alone cold and pregnant I brought her into my home.
She lifted me out of my depression and grief over just losing my cat Buffy of 14 Years and my dog Gretchen of seven years.
Someone dumped this lovely cat in our condo area on a 19 degree night. Who could do this!!? I wish I could save them all.
Juli
Comments:
:)
by: Su She's a beauty! My Maine Coon was like wise dropped at our condo.
So loving
by: Cory Thank God there are people like you. She was sent your way on purpose.
Stray cats
by: Helen When you allow God to pick the cat for you it will always be a winner! The cats that "found" me either had problems I could fix, were flea ridden to the point of anemia or starved. My vet asks everytime I go in, "Now what has found its way to your house this time?" We test them all for feleuk and the other kittie diseases, if positive, we kindly put them to sleep. We vaccinate the rest. Ever once in a while I'll be able to keep one, but not ofter. If they don't have kitty diseases we neuter/spay them and after a good bath they go up for adoption at the local Tri-City Shelter. They find homes quickly because their clean, vaccinated, spayed and ready for lovin'. TriCity keeps the adoption fee low so folks can afford to get a cat.
I can tell by the look in your kitty's eyes you will have a loving companion for a long, long, long time. Enjoy her, she is so pretty.
<<< Maine Coon Cat Nation Home