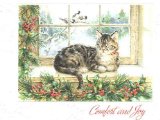 It's already that time of year - time to order holiday greeting cards! I always know the pet lovers by the type of cards they send.

These are our top picks for classy, classic cat Holiday Greeting Cards. They are sure to bring smiles and spread cheer far and wide!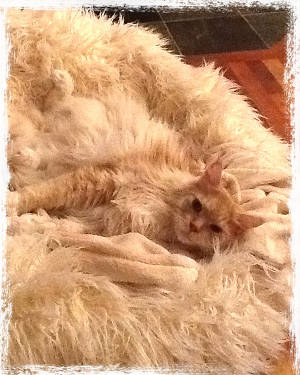 A Very Coonie Thanksgiving:
It's almost Thanksgiving, a time to count our blessings and appreciate what we have. On Thanksgiving morning, I will post a brand-new page.It will be full of your thankful thoughts! Use the form to share and be a part of this fun new page! And remember to come see it (and share it) on Thanksgiving!
To add your thoughts, please visit this page. Happy Thanksgiving!
I was adopted by Davina and Greg because my previous owners had to move. I am very happy here with lots of land to roam.
We have another cat here. Her name is Sasha but I dont think she likes me, so I try to bury my food so she can't have it... Hehe
I go out and hunt most days and I come in when I'm called or hungry. Then chill with Greg on the couch grooming myself to keep my good looks. I do this for like two hours straight!!!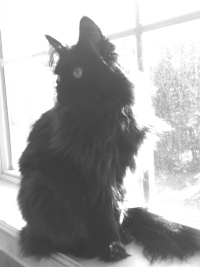 Toilet Training Cats, Part II:
Well, I promised an update on our cat toilet training experiment. Last month, I shared my early progress. It started with these concerns:
Would both cats catch on?


How will my somewhat clumsy Leo balance on the seat?


What if the system is expensive and it's a waste of money?


Will the training tray be strong enough for my hefty boy?


It seems unhygienic to share a toilet with a cat!
Maine Coons are so smart! Everything was going along very smoothly at first. The cats were using the CitiKitty Cat Toilet Training Kit right off the bat.
I cleaned it after every use. There were a couple of "mistakes," which I chalked up to my not having cleaned it between uses, or someone was in the bathroom.
Leo is really rather big for it. He has to sit "just right." I did remove the first "hole," and the cats didn't seem to notice.
Then things started to go downhill. I started finding "surprises" downstairs each morning. I think that was because I simply can't get up in the middle of the night to clean up after each use.
Never one to give up easily, I tried leaving the cats in the bathroom overnight. That helped, but the behavior returned as soon as we let them free in the house for the night. Then they started "doing it" whenever we left the house for a few hours.
So I had to decide - keep the cats in the bathroom for 8 hours a night, and sometimes 8 hours a day too, or let them have their box back. One day I came in to find yet another puddle dried up in the dining room and I decided that Alice and Leo had made their decision.
Since putting the litter box back out, there has not been one mishap, nor do I expect one. They've always been so reliable. I was worried that I had opened Pandora's Box with inviting new bad habits, but that was not a problem.
I've kept the CitiKitty Kit, in case I ever want to try with one cat, or with a future young cat or kitten. You never know!
I'm glad we tried it. I've wanted to try it for ages, and at least now I know how Alice and Leo feel about it. I can stop wondering.
In our case, I think we had a couple of contributing factors. The two cats didn't want to share that small of a space (they have no problem sharing our big box, which I highly recommend.)
I think Alice would have transitioned if she were an only cat. Also, Leo had some health issues crop up that left him feeling less-than-flexible to try new things.
All in all, I still recommend the product for anyone who has decided to give it a go. It's sturdy, easy to use, easy to clean, and comes with instructions plus a replacement tray for going back a step.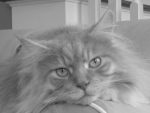 Leo's Health Tip:
"A few weeks ago I felt awful. My Mom took me to the vet, and it seems my kidneys aren't operating at 100%.
My vet says our breed is prone to kidney problems, and after some blood work, I'm now on some prescription food, an over-the-counter remedy, and being monitored. I'm feeling much better now. My vet said we caught this really early.
My Mom has learned more about our breed and health through all this, and she's including it in her eBook; The Care And Keeping Of Your Maine Coon Cat."