Write your own page here: Maybe Maine Coon? 2023.
8oz. Feral Runt to 11 lb. Beauty
by Renee Hoy
(Cleveland)
Day 1 after rescue
My husband discovered JuVi in the sub basement of an old juvenile jail in Cleveland.

8oz feral filthy helpless baby. And the rest is history. JuVi is the welcoming committee, he loves company, he loves our dogs, he's also the alpha bathing the other kittens we have rescued.

He's loves tunnels and toys and long naps. Loves food and snacks.

Never had any cat with eyes this color, they are super pale, silvery grey blue. His hair is short on the shoulders but his body hair is about 3".

Tail color would challenge any high lighting job done in a salon. Hair on his tail is 4.5" long. We love him !!
Maxwell...Maine Coon????
by Kathy
(Wisconsin, USA)
I got my furrever buddy from a Humane Society at 6 mos. He's 6 now.

He can be aggressive at times but I just give him a much love as he'll accept.

Wondering if he is a Maine Coon as I had one before him and see similarities. He loves attention, playtime, kisses in bed and follows me room- to- room.

No cuddles or holding allowed but I love him anyway!
Brooklyn
by Shaz
(Marietta Ga USA)
6 weeks old
She was a stray momma's baby and we adopted her when she was 6weeks.

Now she is 6 months and 8.2 lbs. Hardly ever meows but trills and purrs a lot. Loves to play and runs around wagging her tail. Loves to play with water too.
Write your own page here: Maybe Maine Coon? 2023.
Adorable Main Coon Mix rescue.
by Paula Harrigan
(Snohomish Wa USA)
Oliver was rescued from Paws Animal Shelter. He was caked with cement and he had to have a toe amputated and his fur shaved.

He was a scrawny 2 year old that had been living as a stray. I adopted him and never dreamed he would turn into such a handsome guy.

No one at the shelter identified him as a Maine Coon or part Maine Coon. He now weighs 19 pounds and has a beautiful coat. He is lovable and playful!

I have attached a picture from the day I brought him home as well as recent pictures.
Write your own page here: Maybe Maine Coon? 2023.
Maybe Maine Coon
by Tonya Criswell
(Snead, AL, United States)
Owen is a very big, fluffy and well mannered boy. He was born with a bob tail. Do you think he is Maine Coon?
Write your own page here: Maybe Maine Coon? 2023.
Maine Coon Mix Maybe?
by Dean Anderson
(Viola Illinois USA)
I just adopted my 12-week-old little boy Elmer from a no-kill shelter. Somebody surrendered him at 5 weeks old.

I found him accidentally the day he became available to adopt, and all the shelter workers were all talking about his personality.

He is very laid-back loves his tummy rubbed and is bigger than other kittens at the shelter that are the same age.

He has big furry Paws and fury tuffs in his ears similar to a Maine Coon. The ladies at the shelter believe he has some Maine Coon in him because he is so docile, loves to be around people and just seems like a very happy kitten.

My last kitten was a tortoise shell female cat. She was the exact opposite of all of these traits, so I was online researching and found this website.

I thought I would see what you guys think. Either way, if he is or isn't, he still going to have a wonderful life in his new home with me.
Write your own page here: Maybe Maine Coon? 2023.
Mixes and Maybes 2023
Milo
Milo Jasper Bialowas

Alexis Smith
Tallahassee, FL
So his mom was a stray living outside our house and we took her in and she had 5 kittens.
We gave them all away to good homes but I kept Milo aka Chonk as we called him bc he was the biggest and ate the most.
He is the only one that looks like this though. They all has different looks and colorings. He is a year and a half old. His bday is June 14th.
Everyone thinks he is a Maine Coon but I'm just not 100% convinced yet. I think he could potentially be a Coon-Somali mix. What do y'all think?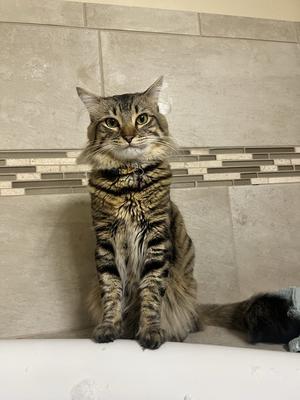 Write your own page here: Maybe Maine Coon? 2023.