Maine Coon Cat Products
Let's Share Our Favorites!
Maine Coon Cats have special needs. Our big girls and boys need Maine Coon Cat products.

Our Maine Coons have lots of quirks, like playing with water. What kind of water dish works best? They have magnificent coats, but which brush works for you? Have you found a food or supplement that helps with hairballs?
These large, frisky cats need a big scratching post, a very sturdy cat tree.
If you have a favorite 'find', you can help other Maine Coon Cat lovers who may be struggling to find the right item.
So, here we come together as a Maine Coon Cat Community to share our faves! I'll start, by sharing all the things we use:
---
I think my favorite pet purchase is this water fountain. OK, it's actually the cats' favorite! Maine Coons love water. This ceramic fountain is super quiet, and provides a nice steady flow of water.
It comes with a filter, and it comes in stainless steel for those who prefer.
Alice and Leo just love their fountain. They visit it every day, and get very excited when it gets washed and refilled! It was worth every penny!
---
This our favorite cat bed! As I write this, Alice is fast asleep on it right now. We bought it years ago for our Sheltie.
Now, it belongs to the cats. I can easily wash it, move it, and it has stood the test of time. Currently, we have a large one for our dogs, too. A winner!
---
Our favorite litter box is almost identical to this one. Leo loves how big it is, and I love how deep it is. It has a nice smooth bottom for easy scooping, too.
There is not much to say about this basic box. It is big enough for our big boy, the sides are high enough to keep litter from spilling out (much), and it does the job at a reasonable price.
---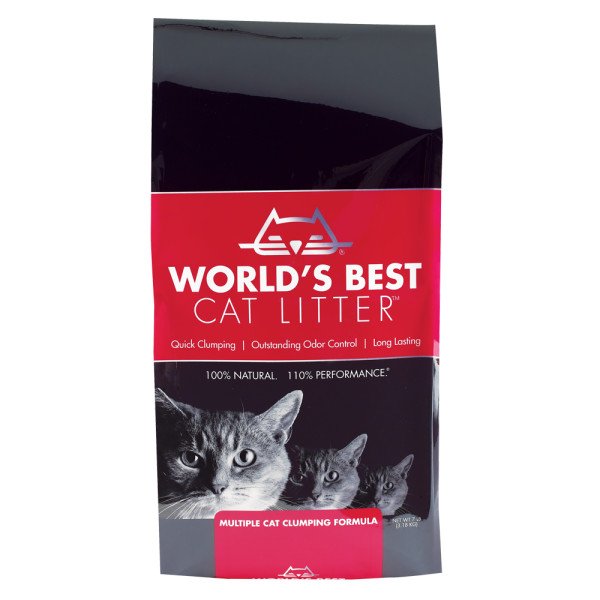 We are using World's Best Cat Litter at our house. The cats took right to it. It's all natural, healthy, and I will never go back to that yucky purfumed clay!
The smell is pleasant, the clumping action is great, and there is not much more to say about it! I scoop daily, and we have two very happy cats.
---
Holistic Select is our kibble of choice. As I'm home more, we will experiment with other brands a little, some different canned foods, and try out a raw diet, too!
---
When it comes to grooming time, to say I love my FURminator deShedding Tool would be an understatement. It's one of my favorite Maine Coon Cat products. It amazed me from day one!
I had fun deshedding all the pets, even my Mother's Golden Retriever. I lent it to my sister-in-law, who shared it with her neighbor! It really is that great.
We'll soon be dedicating a whole page to a review. For now, I'll just say that for Maine Coon cat fur, nothing compares (at least, for me!)
Share Your Favorite Maine Coon Stuff!
Do you have a great cat carrier, scratching post, water dish, or anything else that works well for you and your Maine Coon?

Help other Maine Coon Cat owners find the best stuff for these big cats.
Share your faves here!

PS- Add as much info as you can: brand name, model number, even a photo if possible so other Maine Coon owners can find the same one!
Faves of Other Maine Coon Cat Owners...
Click below to see contributions from other visitors to this page...

Reader Recommended Cat Trees Not rated yet
We live in a good sized one bedroom apartment, but their is no yard or outside area for the cats to run around in. So we wanted a large cat tree that would …