Maine Coon Cat Grooming Tools
The Top Products For Big, Furry Cats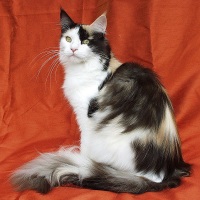 Welcome to our top picks for Maine Coon Cat grooming tools! Wondering what you need to keep your furry boy or girl looking gorgeous?
All shopping below is done with Amazon.com (or Amazon.uk), through their secure servers, so you can shop with confidence!
The following Maine Coon Cat grooming products are our top picks per customer reviews on Amazon.com and our own experiences trying to keep two furballs looking their best!
Top Maine Coon Cat Grooming Tools
As rated by buyers on Amazon.com...
Maine Coon Cat Grooming Tools #1:
Matbreaker Dematting Tool

A Maine Coon Cat owner recently emailed me with this recommendation. What a find! Here is what she had to say:
"Re Mats: There's a wonderful tool called a Matt Breaker that really does help remove mats faster and with less tugging. It has curved "fingers" so there's minimal chance of nipping the skin. I've been using it for years (on Bandit, my 18 year old Birman who is even woollier than my two 2-year-old Coonies) and if SHE's willing to put up with it on her tender skin just about any cat will cooperate! We got our "Matt Braker" at Petco and you can also get them on line. It's quite narrow, maybe 1-1/2 inches, so it can go into arm pits and other small areas.
I completely agree with doing a little bit at a time - our Coonies like to hang out on the bathroom sink while we're brushing teeth etc, so we have a couple of brushes in each bathroom and just do 2-3 minutes almost every night and morning. That way mats don't have time to build up. Since the Coonies both love water, the "reward" is for us to run the faucet on a fast drip for a couple of minutes after the brushing. They've pretty much figured it out and will now sit still for the brushing."
Thanks Margaret! I'll be getting this tool soon!
Amazon review comments:
"This comb will definitely remove any matts on your cat. It is far better than the matt rake that I already had as it is much easier to get under the matt (my cat has very long hair). "
"The Matbreaker Dematting Tool is the best tool we've found for breaking up mats in our five cats' fur and at a reasonable price. The blade end is small enough to get down to mats close to the skin, and the blade design protects the skin from accidental cuts. We purchased our first ones years ago. We have two Matbreakers, and because the blades are reversible, we have one "right-handed" and the other "left-handed." Well worth the money, and we are grateful these are still being made."
---
Maine Coon Cat Grooming Tools #2:
The FURminator
This FURminator is for large, long-haired cats: purrfect for Maine Coons!

There is no way around it. If you own a long haired cat, (or pet with any fur length) you need a FURminator! We have one at our house and we love it. I use it on the cats, and on our very furry Sheltie.
I have shared it with family members who have shared it with with their neighbors. It is always an instant hit, and definitely one of my favorite Maine Coon cat grooming tools. Rarely do you come across a product that meets or exceeds your expectations. The FURmintor delivers.
Note: There are quite a few different FURminators. We like the two on this page for cats, but you can follow this link to see the full line of FURminators for cats & dogs for multiple pet households.
With an average 5 star review, and 165 reviews so far, it's not hard to find a success story:
Amazon review comments:
"I have never seem so much hair come off of my Maine Coon - he is a shedding machine and this thing removes tons of hair. My cat likes it for the first minute or two, then I think he gets over stimulated and I have to stop using it.... I do recommend this brush if you have a high-shedding cat like me (though get the right one for your pet - the long hair one does nothing on my short hair cat)."
"Pricey but worth it....Amazon has the cheapest price on this. Buy it, it's worth it. The amount of hair you can get off a large, constantly shedding cat is amazing when the product is used correctly. Brush once a week at least to see a decrease in the hair around your house (and in your food! and on your clothes!). We recommend a bath first then use this."
"Incredible. Seriously. Buy this now: There's really not much more to be said. The Furminator does what it promises. I never imagined anything could pick up so much loose hair. The cleaning device itself (I'm not sure what to call it; it's certainly not a mere brush) admittedly looks a bit unfriendly -- sort of like the beard-trimmer on an electric shaver. But judging by her motor-like purring, my cat seems to enjoy it. Even I enjoy it. The handle has a comfortable grip, and there's something very satisfying in running this thing over my cat's back a few times and coming up with a big clump of hair.
As for the rather steep price -- I don't regret one single red cent. The Furminator really is a wonder. "
For our friends in the UK, follow the link below to see the full line of FURminators available to you:
---
Maine Coon Cat Grooming Tools #3:
Scaredy Cut ® Silent Clipper Home Pet Grooming - Cat Dog Horse
Also available in BLUE!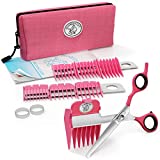 Even the most regular groomers among us know this: Maine Coons do get matted. From time to time, these little mats need to be snipped off, and it's a bit scary!
The Scaredy Cut Silent Clipper Sissors make it possible to cut mats without scaring your pet. Even better, they make it possible to get close without worrying about cutting the skin.
In addition, Maine Coon cats are notorious for getting the occasional "dingleberries," "dags," or just plain "doo-doo" stuck to their trouser-like rear end fur. Yuck! These safe clippers make quick work of removing that mess, giving them a spot on this page of Maine Coon cat grooming tools.
As another popular (95 reviews so far) and well-liked product (nearly 5 star average), we don't have to go far to read good things about them:
Amazon review comment:
"Easy to use: Scaredy Cut silent clipper was so easy to use on my skittish cat... With Scaredy Cut, my cat was easy to control while I cut his long Maine Coon hair off for the Summertime. I was able to get an even cut using the attached comb."
"I'm so glad I discovered the Scaredy Cut clipper on Amazon. I adopted a full grown Maine Coon cat from a shelter. He was so frightened of everything. I couldn't approach him with a scissor and couldn't take him to a groomer, but I needed to remove his matted hair. The Scaredy Cut clipper has changed our relationship.
...My cat is now a very happy guy. He purrs when I clip him and he is much healthier. Maine Coons have wonderful personalities, but long haired cats do require a little more maintenance. If your cat is having digestive problems, or you want to trim him for the summer, I recommend the Scaredy Cut clipper without hesitation. I got mine through Amazon and avoided shipping charges!"
For our friends in the UK, the Scaredy Cat clippers are available through Amazon.uk:
Scaredy Cut ® Silent Clipper Home Pet Grooming Kit in Pink for Cats or Dogs
---
Maine Coon Cat Grooming Tools #4:
Safari Professional Pet Nail Trimmer, Small/Medium

Since Maine Coon kittens are sold with a no-declawing stipulation, owners need to find other means of claw control. When our cats were kittens, they tore through the house like wild banshees, running and chasing each other. That didn't look very nice on the floors, so we quickly adapted to a regular nail trimming routine. These nail trimmers do the trick well.
Now that the cats are older (and lazier) I haven't clipped their nails in ages. But the clippers work just as well on our dog, and even the family guinea pig. Definitely a grooming must-have.
Amazon review comment:
"I use these clippers on my cat and they do the job well. The guard on the back is reassuring as it prevents you from cutting the nails back too far. However, because my cat is still a kitten, even if I cut to the guard it would still be too far. But regardless, the clippers are very sturdy and work really well. I am very pleased."
For our friends in the UK, these clippers are nearly identical to the ones we use:
---
Maine Coon Cat Grooming Tools #5:
Petrodex Cat Dental Care Kit, Malt Toothpaste, 2 Toothbrushes

Not all cat owners actually brush their cat's teeth, but this is an important one not to overlook. Gingivitis in cats can pose problems, and having your cat put under anesthesia to have their teeth cleaned is no fun, not to mention costly.
this convenient set has the toothpaste, a "regular" toothbrush, and a finger-puppet style toothbrush (which I have found success with).

Amazon review comment:
"This product is actually one tube of toothpaste, a traditional handle style toothbrush and a soft rubber tip that goes on your finger (kind of like a thimble) with gentle brushes to massage your cat's gums as you teach him how to get his teeth brushed...
...We have three cats and we brush their teeth every day. Every time we take them for their checkups, the vet remarks that their teeth are in excellent condition with little plaque or tartar buildup. And, as we all know, good dental health should help contribute to overall health and a long life."

For our friends in the UK, this is a very similar tooth-brushing kit:
---
Maine Coon Cat Grooming Tools #6:
Love Glove Grooming Mitt for Cats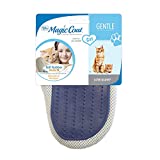 Does your cat hate being brushed? Some cats just won't tolerate it, especially cats who were adopted later in life and weren't trained as little kittens to accept grooming time. The Love Glove might be your answer.
Amazon review comment:
"I have a long-haired cat who gets a lot of mats and has constant hairballs, but he can't deal with brushing or combing of any kind. He gets overstimulated and goes into excited attack mode, usually leaving me with 3% less skin and blood than I had before grooming him.
I hesitantly bought this thinking he might tolerate it a bit better--I was right! He loves it! He goes into a full-on drooling trance and will stand there as long as I want to use it on him. In five minutes, I got enough hair off of him to make a second cat, and it even got rid of the matted area on his lower back that he wouldn't even let me touch before. Couldn't recommend this more highly!"
For our friends in the UK, the Mikki Grooming Smooth and Stroke Glove also gets great reviews:
---
Maine Coon Cat Grooming Tools #7:
FURminator Shampoo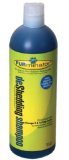 No page of cat grooming tools would be complete without shampoo! FURminator knows grooming. Their shampoo get high marks for smelling nice, conditioning your pet's skin, and leaving behing a nice shiny topcoat.
According to one reviewer, the FURminator shampoo is enriched with plant proteins, herbal extracts, Vitamin E, Omega 3 & 6 fatty acids, aloe vera and plant extracts. Yummy!
To read even more details about this shampoo, visit our review page dedicated to it:
FURminator Shampoo.
Amazon review comment:
"I recently purchased this shampoo & furminator brush combo, tried it on my three Maine Coon cats, it has made their fur very healthy looking, shiny and fluffy, and is pleasantly coconut scented. ...I found both products work really great for long haired cats, it definitely made a tremendous difference with them shedding now."
For our friends in the UK, the FURminator shampoo can be found here:
FURminator DeShedding Ultra Premium Shampoo for Dogs, 500ml
(It says for dogs, but seems to be the exact same product.
A UK reviwer has reviewed it well for use on cats as well.)
---
Grooming cats can be a challenge, especially when they have longer fur. Hopefully some of these Maine Coon cat grooming tools will get you on your way to having a beautiful, well-groomed cat!