FURminator Shampoo For Your Cat (or Dog!)
FURminator shampoo is made especially for reducing tangles, mats, and shedding in cats and dogs.
Do you have a FURminator DeShedding tool? If so, you know that this company delivers. This page is all about the FURminator shampoo.
There comes a time in every Maine Coon cats life when he or she must be bathed. No one actually likes to bathe a cat, but sometimes it must be done.
You just know when it's time for some FURminator Shampoo. Fluffy might have some cat mats, might have gotten into something, or may have been napping somewhere strange and come to you with a, shall we say, odd smell. All that cat fur really holds on to odors.
So it's best to choose the right cat shampoo right off the bat and get that job done.
FURminator Shampoo For Healthy Skin And Shiny Topcoat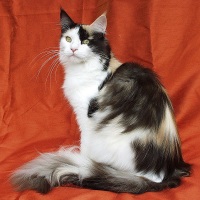 How does the FURminator shampoo help with shedding? According to the manufacturer, its hypoallergenic formula helps remove loose fur and strengthens the hair shaft.
It nourishes the hair shaft with Omega 3 and 6 fatty acids, delivering vitamins and proteins to the hair shafts. This in turn, prolongs the growth cycle and promotes a more natural process.
According to pet owners, it just works! It smells good, and leaves your pet with healthier skin, not to mention a nice, shiny topcoat! Perfect for smoothing out any tangles and cat mats.
What others have said:

I used the brush on them before shampooing, and was really shocked at the amount of fur that came off them, since my cats get brushed every other day. They were brushed again after shampooing, very little fur came off them, so I'm pleased with the shampoo also.
I found both products work really great for long haired cats, it definitely made a tremendous difference with them shedding now."
"The FURminator deShedding shampoo is unbelievable. It is a coconut base shampoo with plant proteins, herbal extracts, Vitamin E, Omega 3 & 6 fatty acids, aloe vera and plant extracts. From what I can tell, it seems to be formulated with all natural ingredients."
Let's Connect!
Subscribe in a reader - Be notified of new posts!




Or, get The Daily Digest in your inbox:





Join our newsletter group by filling out the form to the right. From time to time I'll send out special tips, articles, news, deals and other free goodies!