Cat Christmas Ornament Top Picks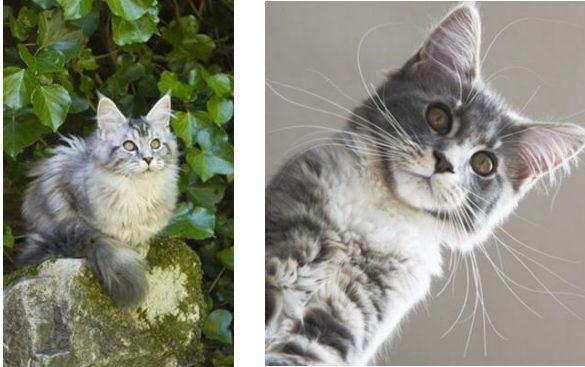 Meet Kali and Chloe, today's Throwback Featured Coonies!   Rosie says, "These are my beautiful girls. They live in the UK with me and are sisters. They'll be 1 year old on 9th January 2011.
The silver is Kali and the blue tabby with the white bib is Chloe." ...See more of Kali and Chloe in our 2010 Album!
These are our Cat Christmas Ornament Top Picks. A purrfect ornament is a must-have for any cat lover. And it makes a great gift, too!
Over the years, we've collected quite a few cat-themed tree decorations. From a cat painted ornament, to a black cat ornament, these Top Picks are just right for the cat lover with a taste for beauty and quality!
The following ornaments ship from Amazon, where we like to shop and find great prices.. Enjoy!
Cat Christmas Ornament #1:
Jim Shore Heartwood Creek White Cat with Quilt Pattern Hanging Cat Painted Ornament, 3-1/2 Inches
This Jim Shore cat painted ornament is elegant and beautiful. Jim Shore decorations are always popular, get great reviews. What's not to like?
This gorgeous light colored cat will contrast nicely against the backdrop of a green tree. You never know, she may be a Coonie, too, with the extra fur around her face, and the curly chest fur! Definitely a lovely gift for any cat lover.

Amazon reviewer comments:
"If you love Jim Shore and cats the way I do, you will be happy with this ornament!!! Love the detail in Jim Shore's work and the quilt pattern is cute."
"This ornament is adorable, good quality, priced right, and I LOVE IT! I am a big fan of Jim Shore, and I bought it as a gift. I can't wait to give it!"
---
Cat Christmas Ornament #2:
Hand Painted Glass Ornament, Cats at Play
A perfect combination of the classic ball shape with a cat theme, this lovely ornament will dress up any tree! It is hand painted, using a technique that has been refined over centuries - the artist places his or her brush inside the opening, painting in "reverse." The result is a stunning collectible piece.
It arrives in it's own padded red fabric box, great for gift giving and storage.
---
Cat Christmas Ornament #3:
Black Cat Ornament - Cat in Christmas Lights
This popular black cat ornament will resonate with many cat owners! They sure do love playing with the Christmas lights, don't they? Every time we bring them out, the cats seem to think we did it just for them!
If you are looking for a tree decoration that will capture memories of mischief and playfulness, this may be the one.
---
Cat Christmas Ornament #4:
Hawaiian Maneki Neko (Lucky Cat) Glass Ornament With Glitters - Japanese Beckoning Kitty
What a thoughtful gift idea! The Maneki Neko, literally "Beckoning Cat" in Japanese, is also known as Welcoming Cat, Lucky Cat, Money Cat or Fortune Cat. He is believed to bring good luck and fortune to the owner.
This Asian inspired, hand-painted, handblown glass ornament is about 2-1/4" x 3-1/2" and comes from Hawaii. It comes boxed in a see-through front & grey hibiscus design gift box.

Amazon reviewer comment:
"The Maneki Neko glass ornament is the closest to an original Japanese "Beckoning Kitty" with just a hint of Christmas to make it a precious ornament. The Aloha company folks are wonderful and dedicated to the complete satisfaction of their customers. Highly recommend this product and anything purchased from Aloha!"
---
Cat Christmas Ornament #5:
Loving Memory Cat Christmas Ornament Photo
This is the time of year we reflect, and sometimes miss our departed beloved pets. Even when they are gone they are never forgotten, so what better way to honor their memory at Christmas than with their own permanent place on the tree?

Amazon reviewer comment:
"This arrived fast and is very beautiful, such a nice tribute to my cat who passed away, looks so nice on the tree, make sure to have a light under it so it really shines."
---
A cat Christmas ornament really is the purrfect gift. It is thoughtful, and you really can't go wrong. Every cat lover appreciates a cat-themed gift, even if it's a gift for yourself!
You can even make it a tradition, adding one to the collection each year. You can never have too many!