Cat Christmas Stockings
Including Our Cats On Christmas Morning Is Easy!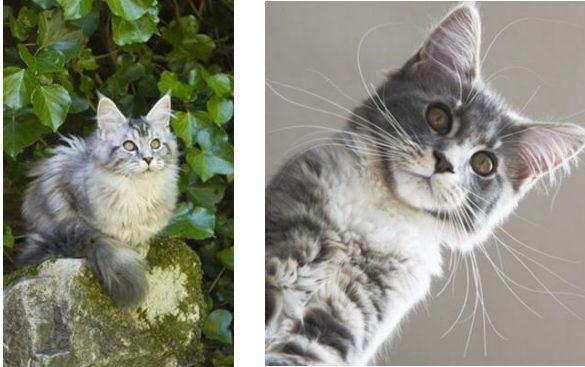 Meet Kali and Chloe, today's Throwback Featured Coonies!   Rosie says, "These are my beautiful girls. They live in the UK with me and are sisters. They'll be 1 year old on 9th January 2011.
The silver is Kali and the blue tabby with the white bib is Chloe." ...See more of Kali and Chloe in our 2010 Album!
Alice and Leo have been getting goodies in their Cat Christmas Stockings for years. Even the kids expect to see fun treats in those stockings (or on them - they often overflow!) on Christmas morning.

It's very sweet, and just one more way to include our pets on that special morning. Here are our Top Picks for Cat Holiday Stockings, straight from Amazon, where we personally shop and find great prices.. Enjoy!
Once you have the perfect stocking, check out our top picks for cat Christmas stocking stuffers - it's what your cat wants for Christmas!
Cat Christmas Stockings #1:
Pets Christmas Stocking Red and Green with Paws Dog and Cat
I love this stocking! It is so cute, and it has a clever phrase on the back. When you flip it over, it reads: "Dear Santa Paws - Leave The Gifts - Take The Dawg" I think my cats would agree!
You'll want to choose the red one, because the green one is for dogs and has a similar phrase about "the cat." Or if you have a dog, too, you might want one of each!
This stocking is 17inches in length, so that's plenty of room for stuffing.
---
Cat Christmas Stockings #2:
Sergeant's Holiday Cat Stocking
There is a lot to do this time of year, and for busy pet parents, a pre-filled stocking is the way to go. This one is practically a gift basket! It has a variety of nine toys, including catnip toys, balls, rattles and bells. A little bit of everything. At a very reasonable price, this is a good way to get the job done and make your cat happy.

Amazon reviewer comment:
"Makes a good holiday gift for my cats and those in my family with cats. Festively packaged with a good variety. Took away a star as they're not the highest quality toys but I would still buy again for a holiday gift."
---
Cat Christmas Stockings #3:
Pet Christmas Stocking Cat
This beautiful, well-made stocking is worthy of being used year after year. It is made from red velvet, with a white velvet cuff. It is over 21 inches long, and 6 inches wide. Lots of room for goodies! In addition to the decorative paw prints, there are detailed mice trimming the cuff. How cute!

Amazon reviewer comment:
"Very adorable addition to our family of stockings. Well made, reasonable price. Holds just enough treats. Cats really likes them too!"
*Note: Although shown personalized, personalization is not included (tip: personalize at local embroidery shop
---
Cat Christmas Stockings #4:
Zanies Holiday 13-1/2-Inch Stocking Cat Toy, 12-Pack, Green
We have to include a Zanies stocking! Zanies knows what cats like, and their catnip toys are always best sellers. This stocking is another pre-filled one, perfect for busy households. It is over 13 inches long, and comes in a variety of styles bells, balls, plush toys, mice toys and more.

Amazon reviewer comment:
"The product was shipped quickly and arrived in perfect condition. Thank you for the great customer service!"
---
Cat Christmas Stockings #5:
Kyjen Cat Christmas Stockings, Paw Shape
This popular stocking is very different! It is soft and roomy, and has quite a few great reviews. It's soft and plush, shaped like a paw in red, green and white, and comes in small or large size.

Amazon reviewer comment:
"Very cute stocking. The "small" size is really about the same length as a typical "human" stocking, so it looks great next to ours on the mantle. Perfect!"
"I ordered this stocking to replace a missing one for my cat. This is the PERFECT* size stocking. It's not over powering for a pet's stocking but it has a good amount of room to fill it with treats. I was able to fit a bag of treats, balls, a toy and a couple cans of fancy feast in it. It was tight but it fit. The paw shape is adorable. This is a well crafted stocking.
I was also impressed with the customer service. After ordering the stocking I, of course, found my cat's other stocking. I wrote to customer service about canceling my order and within 24 hours I got a response saying I could return the stocking as soon as I got it. Hassle free. Needless to say I loved the stocking so much I kept it, and stuck his other one back in the attic"
---
Do you get presents for your pets at Christmas? Curious cats love to be included in the family holiday festivities! These Cat Christmas Stockings are a great way to spread joy and decorate for the holidays.