Summer-Fall 2016 Featured Coonies
Welcome to our summer 2016 photo album of Featured Coonies! These loving family members are shining stars here, even on the cloudiest of days!

Lucca James 7 Weeks Old 
By: Denny
(Mohnton, PA USA)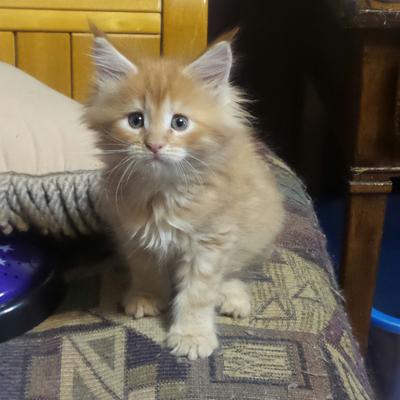 Lucca James 7 weeks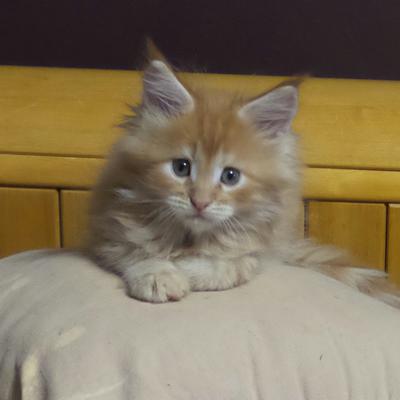 Lucca James 7 weeks
This is Lucca James at 7 weeks old. We expect to bring him home in about 5 weeks from his breeder Mary Miller at Mylancoon.
We recently lost our 13 year old Jimmy who also was a purebred Maine Coon that we adopted at 1 year old from Mary. We are heart broken, he was my best friend but we hope to mend our broken heart with this little, photogenic fella.
Mary tells me that he loves to pose for camera. Can't wait to get him home and to spoil him.
We named after one of our favorite cities that we visited in Italy and in memory of Jimmy who will always be with me.

---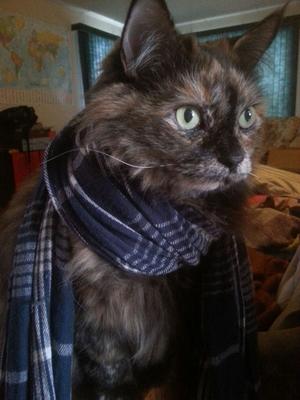 Nico
By: Lee Vilness
(Saskatoon, Saskatchewan)
September 2015 - July 2016

---
George (aka Georgie pie or Georgie porgie)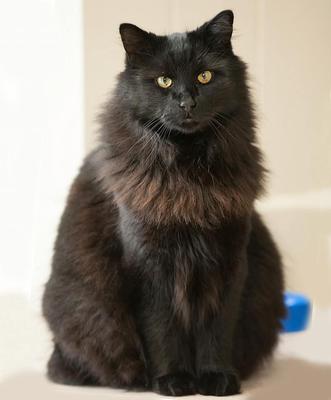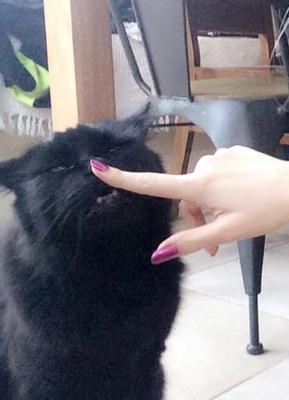 George was born on Christmas day and we got him free as the tiniest kitten from a local add in the paper. 
He immediately owned us and has grown to become my best friend.

Or though I know he was not a pure Maine Coon, Maine was clearly the over riding breed within him. He was huge (8.5kg's) and everything about him screamed Maine Coon.

He was super affectionate and literally cuddled in wrapping his paws over my shoulder.
He was always around! waiting in the morning for me to wake, and would wait for me to come home when I would go out, running to great me the minute I walked in the door. He would always be around to say goodnight in the evening also. 
He was social and liked to announce his presence when he came through the cat door, even when it was 3am in the morning hehehe...
Sadly he has recently passed away suddenly from cancer, just a month shy of his 11th birthday. 
He has left a massive void in our family and we are truly devastated. 
We were beyond blessed to have had such an amazing and absolutely beautiful cat!
---
Samson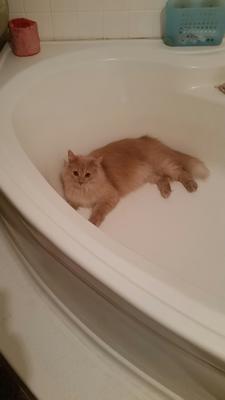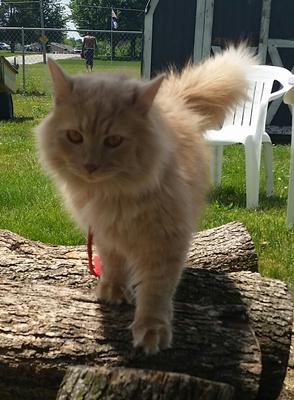 Sammy is almost 2 & a sweet ball of fluff! He has stolen my heart and won me over in a few short months! He is the most loyal and sweet ball of fluff I've ever seen!

Sam was loyal and loving to me immediately. He follows me around and knows when I pick up the leash, it's sheer excitement, we're going outside!
He loves to wander the garden and scratch his claws on the firewood!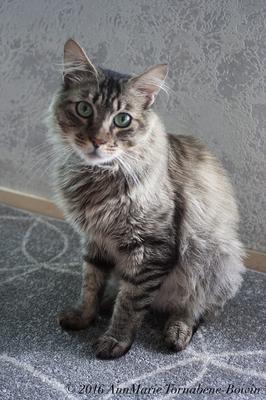 Finwë
Finwë
By: AnnMarie Tornabene-Boivin
(Massy, France)
My husband and I adopted Finwë (pronounced Feen-way) over a week ago from a cat rescue. 
He is about 2 1/2 years old and we were told he is a Maine Coon mix. 
I believe that to be true but you can be the judge. He is not AS big as a true Maine Coon, but he has the markings on his head, the body shape and the paw size (plus the cute little tufts of hair in his ears). 

He is calm and sweet and the bonding process has begun. He was abandoned, from what the head of the rescue association told us and I don't understand ANY animal abandoning, especially our sweet, beautiful boy.

---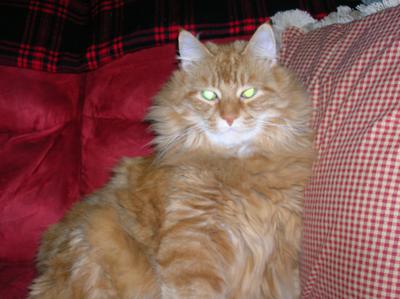 Tiger
By: Ruth Spedding
(Lockport NY)
My cat is a ginger Maine Coon. He's my pride and joy and would love you all to see him.
---
Miss Murphy
By: Rita
(Oklahoma)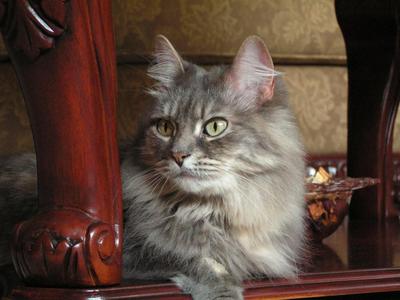 The Queen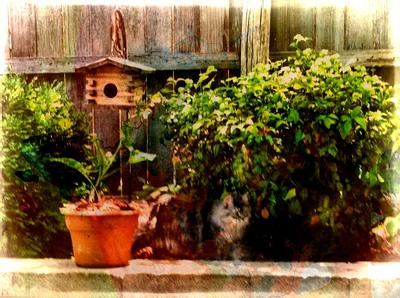 The Stalker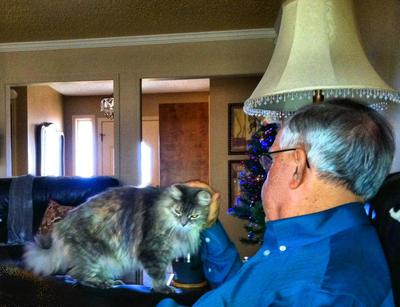 Daddy's Girl
We rescued our Maine Coon from behind a steakhouse in our home town one cold, dark February night in the year 2000. 
She was 4 months old and the most beautiful thing we'd ever seen. We'd just lost our 14 year old rescue cat to a stroke and were brokenhearted. 
We had no idea that February night that we'd be rescuing yet another kitten and that nearly 17 years later she'd be keeping us company in our "old age". 
The name of the steakhouse was "Murphy's" so we named our little girl Miss Murphy in honor of the occasion. 
She's never been sick, never cost us a red cent except for her food and shots and shampoo for the occasional bath which she loves. 

We love her as does everyone in our family and large group of friends she has accumulated over the years. She's just the best!
---
Santana and Magee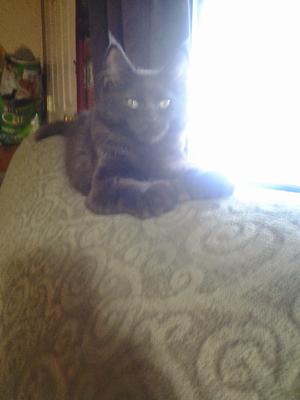 Tany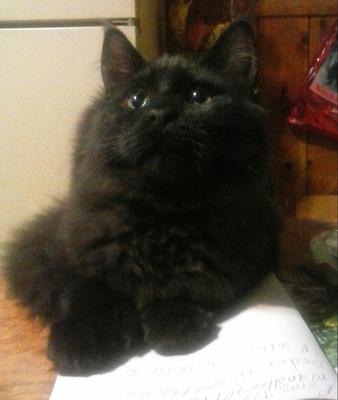 Tany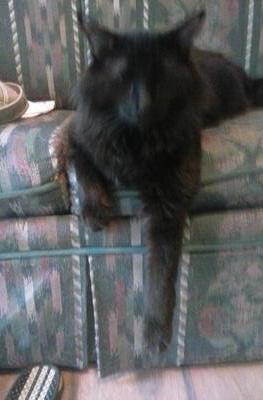 Magee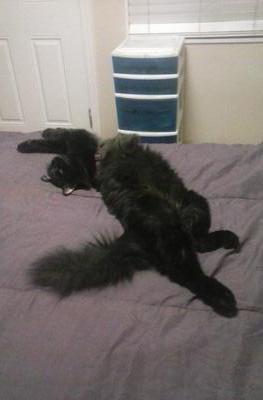 Magee
Santana is a sweet, caring, rambunctious 2 yr old Maine Coon who keeps us on our toes, as well as our other cat Magee who is 3. 
The two of them most enjoy chasing each other around the house right after the dogs come in or after Magee takes a walk. 
Santana or as we call him "Tany" is a very vocal young man, but also trills and does what I call a humming sound which is nothing like a purr along with other unique sounds. 
Tany's favorite thing is the water fountain where he uses his large polydactyl paws to drink with, which means I'm cleaning the motor out every few days. 
Magee on the other hand likes to drink the water flowing out of the fountain. Though I didn't know it at the time Magee ended up a rescue as he was way too young to have been taken from his mom, but with Vet's help he's grown to be a 20 lb healthy boy. 
I was told he was a domestic short hair/persian mix but what ever he is he's my boy and I love him just as much as Tany. 
They share the house with 2 mutt dogs who are also our loves, and about the same height though a little heavier. We are a happy family although sometimes very crazy. 
---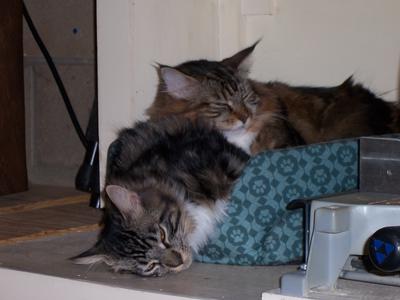 My Big Sister Protects Me
By: Marty
(Blacklick, Ohio)
I have two Maine Coons from Chasity Petersen, a breeder in Cleveland, TN.  
Izzy is a two year old female, and Ozzie is my recent adoption and 7 month old male.  
Izzy is abut 15 pounds and Ozzie is coming on fast.  When Izzy was 6 months old, she weighed 5.1 pounds.  At 6 months, Ozzie weighed 8 pounds!  
He is 8 pounds of energy and silliness.  He loves water and is fascinated by a running faucet.  
Izzy is more laid back and dignified.  They are the best of friends even though they play rough and the fur really flies.  
They are both such typical Maine Coons.  No fear of anyone and extremely friendly.  Not by any means are they lap cats, but they can be found once in awhile sharing the bed right behind you.  
Ozzie is a comedian and I have never enjoyed a pet as much as my beautiful Maine Coons.  
Once you own a Maine Coon you will be as sickening as me in your bragging and praise for this wonderful breed.
---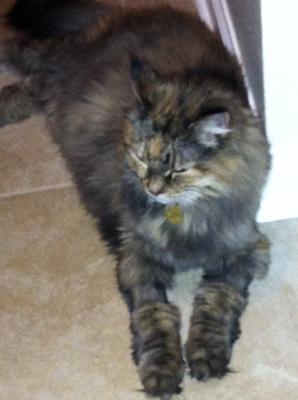 Cleopatra , my sweet companion, newly adopted, 12 year old, Maine Coon mix
By: Jennifer
(Littleton, CO)
In my prior life, we had adopted a Maine Coon and a Maine Coon mix, which were wonderful little guys. 
After the relationship with my partner ended, I felt it would be in the best interest of our pets  to continue their lives in the home they loved with my ex. 
After getting settled in my own home, in another state, my little grandson and I went to The Dumb Friends League in Denver, to adopt me a companion.
We decided on the sweetest little girl we could have possibly  found. Her prior owner had to surrender her, due to a life change, much as I had been through myself. 
My grandson held her in the box on the drive home. She didn't cry one time on the 45 minute drive home. 
When we opened the box, she walked the perimeter of the house, walked into the living room, and laid out in a full stretch on her back. No worries, relief! She was home. 
After some discussion, we decided to keep her name as the shelter had given us. She slept on my grandsons the first night and has been the most affectionate little friend I could hope for!! 
Cleopatra is the queen of the house and loves everyone. She chirps at me while she bumps my hands for affection. She is sleeping with her paw on me as I write.
Cleo loves to be brushed. She loves waiting on a treat, when I eat, she wraps her paw around my arm while I sit or lays on my lap, during quiet times. 
She is never more than a few steps away from me. I simply cannot imagine life without my sweet little girl. She even enjoys a little salad from time to time. Cleo has all of the traits of a Maine Coon except her legs are shorter than usual. 
I hope my content little girl lives 12 more years. She is the best companion ever !!
---
Adventures with Iyazi
By: David
(Oregon City Oregon)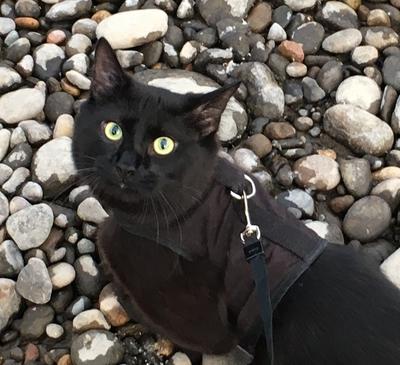 Iyazi walking by the river at 9 months old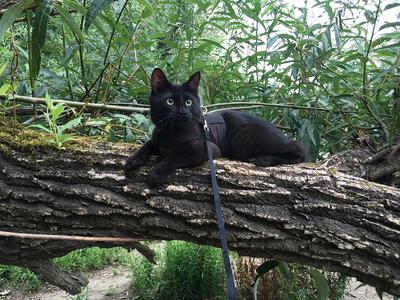 Iyazi 9 months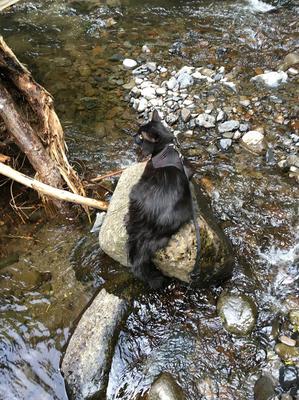 hiking to Elowah Falls at 11 months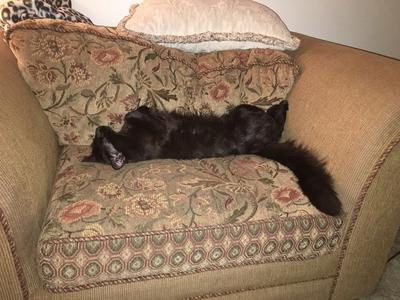 time for a well earned rest
I believe this guy is a Coon-Mix. My sister brought to me before taking to the inhumane society.  
He fit right in to our family and though he "hangs" with me most of the day it's my wife who gets all the cuddle time; ok most of it. 
Now I'm making plans to get a pure bred Female American Snowshoe (Maine Coon) so I have a cuddle buddy, lol 

---
Presley Update
By: Cathy
(Grand Rapids MI)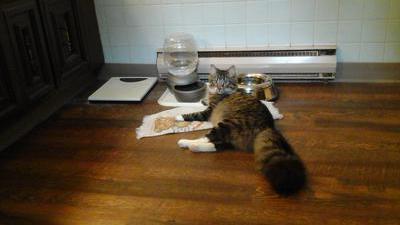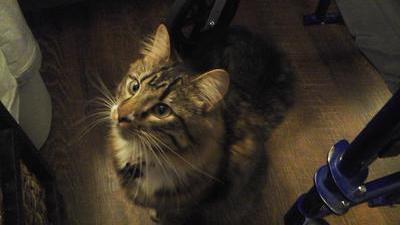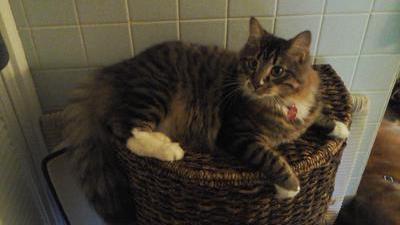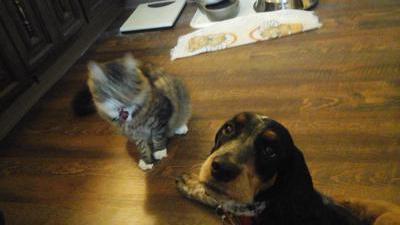 Presley has been a growing boy as you can see! He is about 11 lbs, and is 9 months old. We did not know he was part MCC until our vet told us. 
We got him from a friend who said he needed a home or would probably go to the pound or worse.  
He was the odd ball in the litter of 8 so of course I had to have him, all the rest were yellow and did not have the long ear and toe tusk, or the odd long scruffy tail.  He was a ugly duckling turned into the beautiful swan for sure. 
I didn't know what a Main Coon was until my vet recommended I Google it. What a good surprise for us! He plays with our two dogs, a 8 yr old Golden Retriever named Max, and our 1yr old Springer spaniel, Gracie. 
We also have a rescue 12 yr old tortoiseshell cat named Trouble.  Trouble who only likes me for some reason is just starting to accept Presley and I'm so glad because he is such a loving guy. 
He greets me at the door with the dogs when I get home from work and insist I give him some TLC before I do anything else. He is quite vocal and has a large vocabulary.  
Unlike my tortoiseshell he is not shy. He also feels he needs to check out any visitors and make his presence known.  
He is a joy to share our lives with. I have had many cats in my 60 years but nothing can compare to this MCC we consider ourselves so lucky to experience this breed.
---
New Rescue Kittens from the Shelter, see they can be found anywhere.
By: Laura 
(Clearwater, FL, USA)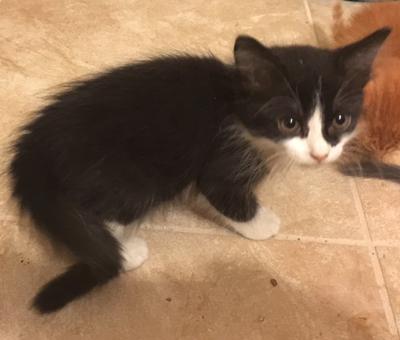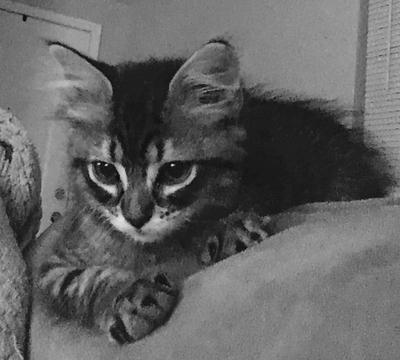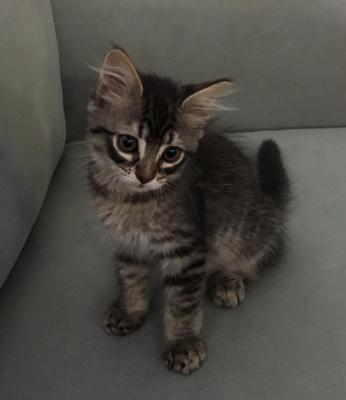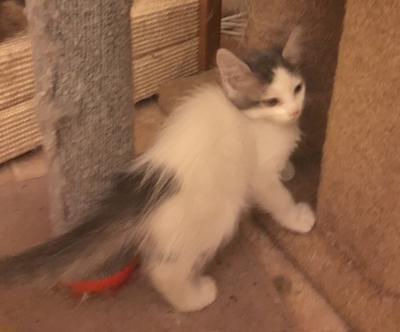 Check out these adorable foster kittens rescued from a kill shelter. They are gorgeous little Maine Coons. So sweet!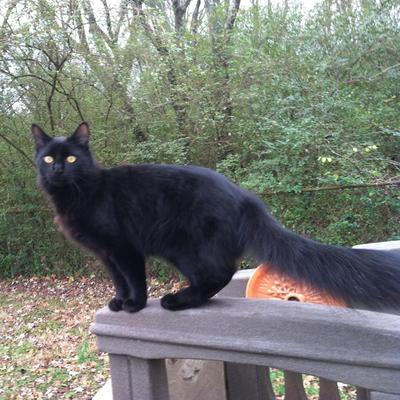 My Adorable & Smart Maine Coon, Jax

I also rescued 6 orphan Maine Coon Kittens from a high kill shelter here in Florida also. They were gorgeous!
Jax was rescued from a shelter in Florida also. He is extremely smart! He will fetch, walk on a leash.
Best of all, I love the way he chirps and coos...He has the best personalty and loves all animals and people!  He is really big too!
---
Brooks the Gentle Giant
By: Richard
(Del Mar, CA.)
Long story short, by virtue of a divorce, I became a first time "solo" cat owner: 2 two year old rescue Tabbies! 
I loved the little (then) guys so much, I knew after getting lots of advice from friends with cats, vets, Petco employees, I'd be a banner cat owner!

Fast forward to 2 weeks ago, they're now 5 years old. I love them both equally but I always knew there was something extraordinary about 'Brooks,' in the foreground of the photo.

After stumbling upon this site and having a vet tech. meet him, low and behold, I've got a full - Maine Coon on my hands!!! 
He fits all of the behavioral characteristics and as you can see, the physical ones as well. He's weighed in at 22lbs, and Not Fat!! Amazing.
His brother, Doot, in the background looks like a kitten compared to Brooks but he's no kitten, 13.8 lbs!
Just feel so fortunate. And from a rescue, no less!
---
Strider in his Rajah pose
By: Joyce P.
(St. Louis, MO)
I adopted Strider in July 2016 from The Animal Adoption Center where I have been a volunteer since 2013. Strider is the calmest cat! He has become quite affectionate.

---
Hershey - Our Maine Coon Surprise
By: Janell
(Marietta, GA)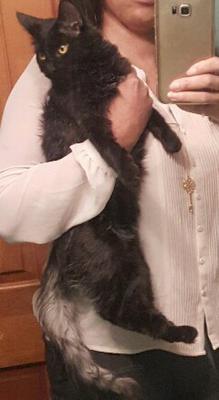 Kinda big for 4 months?
Scanning his kingdom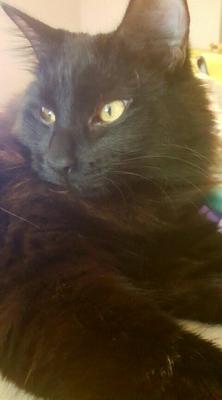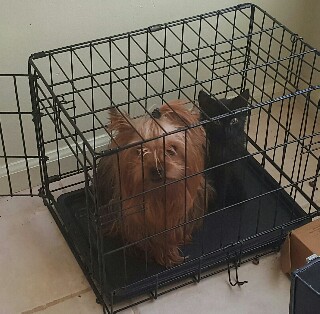 My daughter and I have a Yorkie (Coco) who needed a playmate.
Coco is getting older and doesn't like to be in the house by herself during the day. We decided to go to the shelter to adopt another small dog like Coco.
Well, once we arrived  at the shelter, it was a tiny black kitten, not a dog, who stole our hearts. He was so sweet. He had a brother and a sister, both being adopted that day.
He was listed as a Domestic Short Hair, though he had some straggly long hairs sticking out all over. We could tell they were strays. Well, Hershey cuddled up in my daughters arms and wouldn't move. Done deal!
We took him home, then to the vet. They guessed Hershey was around two months. He was skinny, had worms and needed antibiotics, but Coco loved him.   
Once he felt better, we noticed that he sure did eat a lot. Like three times a day! We thought it was because he was sick from the worms and an infected-looking wound on his paw.
We later noticed that his feet were huge, with fur growing between his toes, (never saw that before). He had big, fuzzy ears with a little point to them, and what was up with the big, long  bushy, grey and black raccoon-striped tail that grew out of nowhere!?
Hershey had a weird "meow". It sounded more like a chirp. We didn't know what the heck he was. By the time he was around four months, he looked like a full grown cat to me (see pic).
Hershey didn't act like a cat. He wanted love and attention constantly. We did some research, and it looks like we got a Coonie! We couldn't be happier!!

Mr Beau Jangles
By: Sharon Legg


Mr Beau Jangles is 8years old male Coonie, he is a red/cream tabby. 
He has a wonderful personality and is very affectionate. Loves cuddles and anyone's bed. He likes talking too. 
He gets on well with my other cats and loves giving them a wash with his big tongue. We've had him from a kitten and we've moved quite a lot over the years and he has always settled quickly. Everyone who meets him loves him. He is my gentle giant.

---
Sweet Puck
By: Peg
(Port McNeill  BC  Canada)
Puck is my first long haired baby.  He is just 2 yrs old.  
The tufts between his toes are so thick underneath that we call it his grinch slippers!  He loves water, his dog & quacking at the birds that come to the feeder at his favorite window perch.  
When I had him neutered I was upset that the vet had to trim his ear fluff in order to tattoo him, but it grew back quickly.  

I have had many cats over the years but there is something different about Puck.  I think he has a lot of characteristics of an MC but would appreciate feed back!  Not that it matters tho because my Pucklett isn't going anywhere but my lap!

---
Maybe-Maine Coons for Spring:
---
Baron Boy
By: Cassie
(Seattle, WA)
I just adopted this sweet boy last weekend.  
I've been reading up on the breed and think he may have some Coon in him. He's got the sweetest personality and those large "intelligent" eyes. 

The first day I thought he was just perpetually startled all the time but that's just his natural look.  My wide-eyed boy.  

Maine Coon mix maybe? What do you think?? He's about 11 weeks old in the attached pictures.
---
Is Steve a mix?
By: Nancy
(Park City, Utah)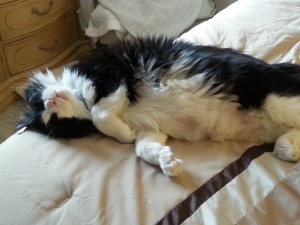 sleeping upside down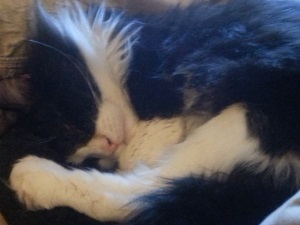 laying on husband's suitcase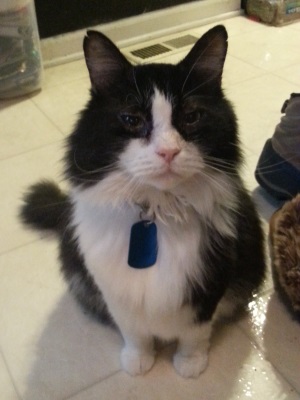 I have a HUGE cat that we took in after feeding him for a few years, and wondered if he was part Maine Coon. 
He was un-neutered and liked to go all around the neighborhood, getting in fights and impregnating the un-spayed females in the area. 
He looked terrible when we finally took him in, since it was obvious nobody else was caring for him.  We got him neutered and he became a great house cat...very vocal (he liked to go around the house calling out what sounded like, "Helloooo?" for the first several weeks), very cuddly, loves to eat (in fact, he's rather fat now), and sheds like crazy. 
He'll lay on just about anything, he puts up with my 9-year-old carrying him around, and he even tolerates baths.
Could he be part Maine Coon?  He weighs like 15 pounds.

---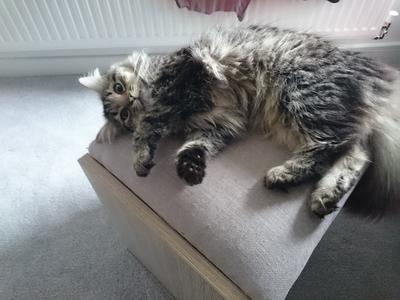 Our little Pixel :)
By: Mike
(Newcastle, England)
A little mew machine that always wants to be by your side, especially at 4AM it seems!
She's only 8 months old and already she's larger than her sister, another rescue cat of 3 years.
She's so vocal and affectionate, and has the classic size and fluffy looks we can't help but think she has some Coon in her heritage. What do you think?

---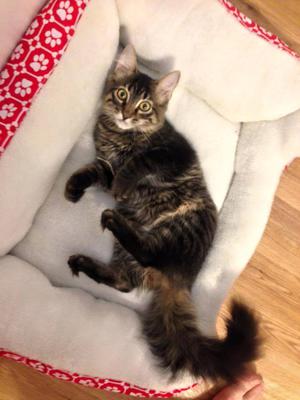 Possible Maine Coon Mix?
(Glen Carbon, Il)
We adopted Louie from a shelter.  The mom was a stray but got caught in a trap, they found her in a trap with the kittens all around her.  
The shelter assumed he may be a Maine Coon mix but unknown.  He's the sweetest and perhaps most needy cat ever but I love him.  
He's since gotten a bit fat and much bigger since this picture 

---
Tilly and Willow
By: Toni
(Isle of Wight)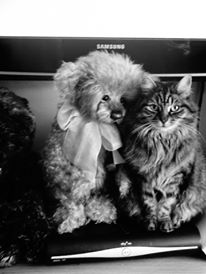 Tilly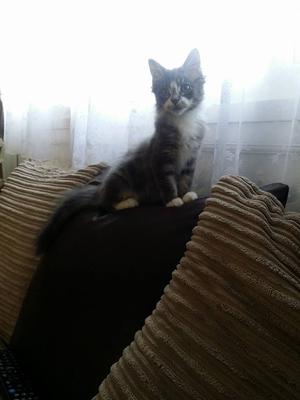 Willow
Willow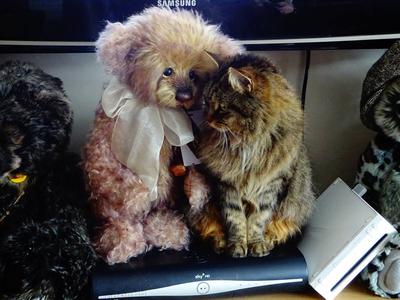 Tilly
Hi there.
I was wondering if my mother's cat Tilly and my new addition Willow could possibly be part Maine Coone? I'm personally not so sure, especially about my kitten Willow.
Firstly, so many people have mentioned that Tilly has certain characteristics of a Maine Coone.
For example; she has the most amazing tail. It's so fluffy and she's always grooming it so that it just looks amazing all the time...she sort of spreads it out like a peacock and just struts her stuff...she's been called majestic quite a few times!
She also doesn't really meow as such... she sort of trills and chirrups and she is so vocal... as soon as you talk to her she squeaks back at you (she really does squeak like a mouse, that's why we call her tilly mouse) and as soon as you call her she comes running and just loves to be fussed!! 
However I'm not totally convinced that she's not just a super fluffy moggy because why would someone breed such a beautiful cat just to sell it quickly and cheaply!
But she does definitely has lovely shaggy soft fur and almost has a sort of mane which is just so beautiful.
With regards to my new kitty Willow, she's a bit of a tricky one. I bought her at what I was told was 10 weeks old and it was all very strange...they drove her quite far to deliver her to me for free and tried to knock money off of her original price and I had her within less than 24 hours.
Then when I took her to get her vaccinations I was told that she was absolutely riddled with parasites and worms and she was so poorly that she couldn't get her jabs and we were very worried about her.
Then after 2 more weeks we went back to the vets and I was told that rather than being almost 14 weeks old she was only 8...making her only 4 weeks old when I got her...which explains why the original owners were ignoring my calls and emails!
Anyway sorry to go on! Because her breeders have been ignoring me i don't know what breed she is...all I know is that the father was a very large long haired cat and the mother was a blue and white tabby.
If I'd known they were just trying to sell as many kittens as they could then i would never have gotten involved as i'm so against breeders doing that... (that being said i do not regret buying Willow...i wouldn't be without her!). 
One of the assistants at the vets mentioned that she could be part Maine Coone because she has lovely long tufts of fur between her toes and her ears which are also quite big, (i'm not sure if you can really tell in the photos).
She also tends to trill and chirrup rather than meow. However, where she's so young it's quite hard to tell...she's started growing a lot of fur around her neck which is also so long..she seems to just be a really long, boxy cat!
Any help or suggestions on what breed these kitties might be would be really helpful!! Sorry for such a long description of them both!! Also the photos aren't brilliant so sorry if they're not very clear!
Many thanks,
Toni.
---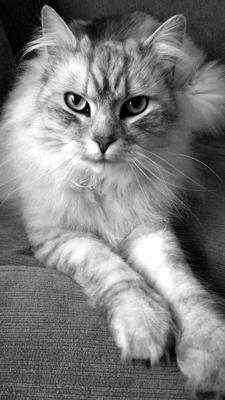 Is my cat Maine Coon Mix?
By: Lucy
(England)
Meet Athelstan. He is 5 years old. I got him from a cat rescue 2 months ago. 
He was advertised as a British Longhair, but after doing my research I noticed he looked more and more like a Maine Coon. 
I would like your opinions to see what you think? He is absolutely gorgeous and so affectionate. 
He was called Ruggles when I got him, but that's a rubbish name so I called him Athelstan! 
---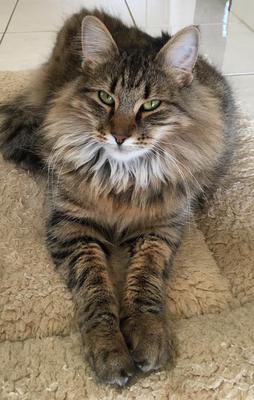 Zena the Beautiful
Is Zena a Maine Coon?
By: Sue Dalitz
(Christies Beach South Australia)
I got this 19 month old female from our local shelter as a companion for my 19 month old male tabby DSH. 
She was described as a DLH. In the 11 weeks which have passed since, she seems to be turning into a Coon. 
I certainly hope so. Everything I read about them fits. Foot hair, the ruff and mane (which have just appeared in the past few weeks,) the thick fur on the underside, the trousers and tail. 

She trills a LOT. She is currently 6 kilograms, was 5.5 when I got her. Your thoughts?

---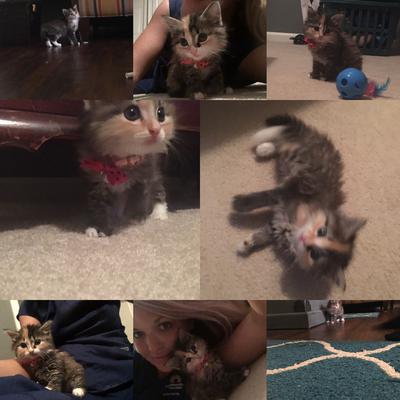 Is my Bella a Maine Coon?
By: Katie O.
(Greenville SC)
I recently got her at the humane society. She is 5 weeks old she is very sweet but playful.
I wanted a long haired kitten but my friend has a main coon (I thought it was just a long haired cat) and she insists that Bella is.
This is my first cat and I just thought there were long haired and short haired cats but my friend is insistent I am the luckiest person alive because she drove 8 hours and spent 500 for her cat 5 years ago.
Either way I love my new kitten. 

---
Rescue to Regal...Ming
By: Shari
(Kinder, La. USA)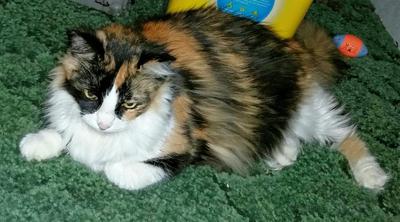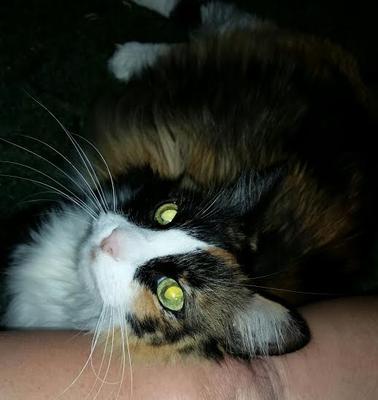 After 11 years with me, Swiper, my rescue cat went blind. 
So though he of course is still with me, I was looking for another. When I met Ming he had been in a cage for 3 months after an owner surrender.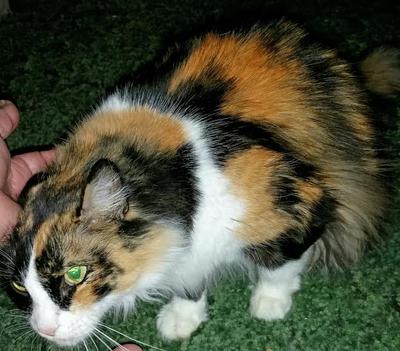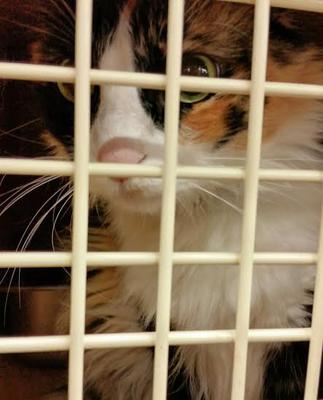 They told me no one wanted an old cat (10 years)! I adopted him that day. It's been a long slow process. It took me over a month for him to eat a treat from my hand. 

But now I get home to that beautiful meow and purring that I've waited to hear. 

He's still in a separate part of the house separated by a pet gate, by his own choosing, but we are making progress. I can't wait for him to come crawl in my lap!
---
Dalton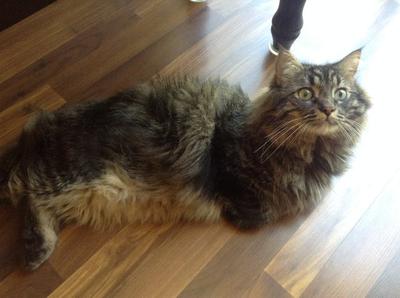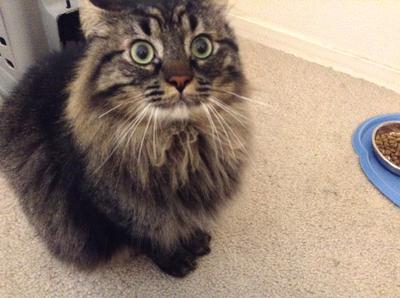 I adopted Dalton 6 months ago from a shelter...his description was 1-1/2 year old Maine Coon-looking tabby mix.  He will be 2 years old next month and weighs about 12 lbs. 
He is not a lap cat, but follows me everywhere...he sits right next to me on the couch.  He is very sweet and gentle...never bites nor shows any aggressive behavior.  He adores being brushed, even on his tummy. 
He enjoys having his face rubbed, too.  He is generally quiet, except for a few times throughout the day when he vocalizes.  I can't quite describe his vocalization...not a typical meow!
Dalton is definitely mellow.  He has a big, bushy tail and lots of fur on him tummy, between his toes, around his neck. He is not much of a jumper/climber.

Do you think he has any Maine Coon in him or is he a long-haired cat?

Thanks!
---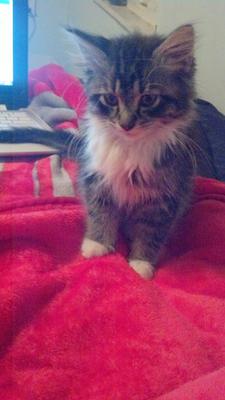 Luna
By: Samantha James
(Samantha James)
I think my Luna may be part Maine Coon?
He is precious though! 

---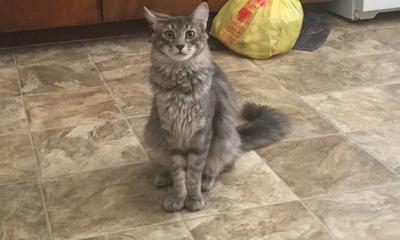 Is My Cat Maine Coon?

My girlfriend and I adopted two cats about a month ago. One of the cats is 8 month old. 
His name is Prince. We noticed his unique features right when we first laid our eyes on him and adopted him right away. 
I had no idea about Maine Coons before adopting him. Initially I thought he was Norwegian forest cat but after some research I found out that he might be closer to a Maine Coon than a Norwegian Forest cat. 

Someone told me he could be domestic long hair. I am more confused now more than before. I took a few pictures of him and would love to know your opinion on whether he is a Maine Coon or domestic long hair. Thank You

---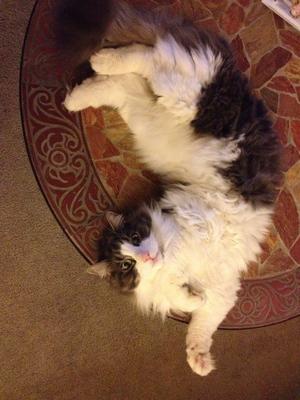 My Winston!
Is My Boy Part Maine Coon?
By: Rhoda
(Massachusetts)
Winston is such a love. He came in to my life in such a random way. I said to a lady at work that I would like my next car to be gray. 
She said she had just found two kittens on the side of the road and one was gray. It was love at first sight. 
Winston is such a ham. He loves to play fetch - non stop. If I have friends over and he knows them, first thing he does is find a toy mouse and drop it at their feet. 
He will head butt them until they play with him. He follows me every where in the house. I can't remember the last time I went to the bathroom by myself lol. 
If I'm holding something, he wants to know what it is. He needs to sniff it or touch it. My brother was doing some work around my condo. Winston followed him and had to "supervise" the whole time. 
He is super affectionate towards me. He is shy until he gets to know you though.  He doesn't have a mean bone in his body. I joke with my friends that I would marry him if I could. He is such a love.  
He has large feet with long fur between his toes. He has a huge fluffy tail that is always up. Very large head, broad shoulders and big boned but is lighter than he looks.  
He's 13 pounds but looks like more but there is a lot of fur. He has the mane around his neck and shoulders, heavier in the winter and he looks like he has pantaloons on. Let me know what you think!
---
Oliver
By: Sarah Saunders
(Fort Lauderdale)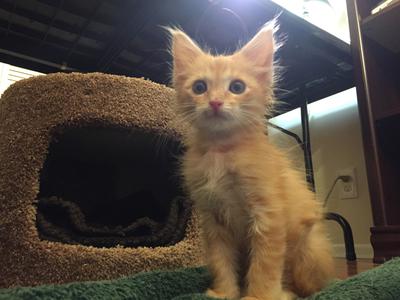 When we first got him around 8 weeks old before he grew into his fur!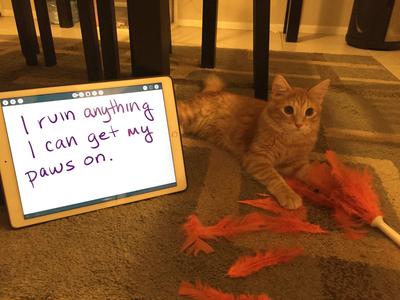 Always getting into things. Definitely need to keep him busy.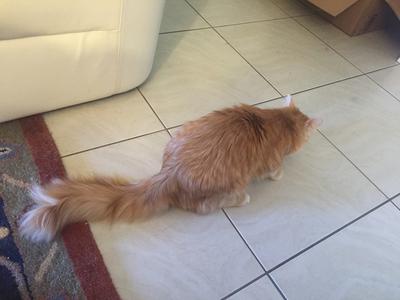 I like to call him my little Fluff Bottom. Love his tail.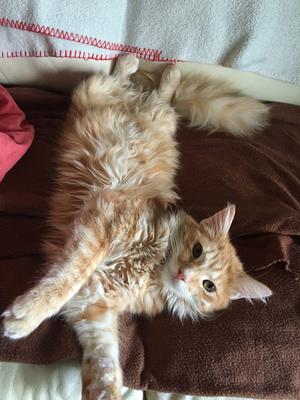 All that fur! His favorite sleeping position on the sofa.
We adopted Oliver from a local shelter and were under the assumption he was a domestic medium hair.
But as he grows we are realizing he is 'different' than our other cat. = ) In a good way of course.
He completely does the whole chattering thing and sometimes sounds like he is mumbling to himself. He is only 9 months old but is already the same size as our 9 year old domestic short hair!
After reading the traits and characteristics of the Maine Coon I'm convinced that he has some in him. I just wanted an Orange Tabby cat but ended up with quite a special guy!!!

---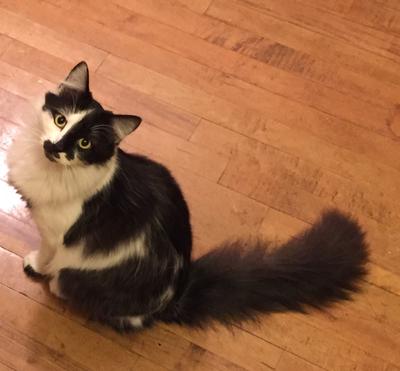 Harvey

My adopted boy Harvey "trills"  LOT!  loves being brushed and pet. He seems more dog than cat.
He fetches, wakes me up every morning with a massage, watches me in the window when I leave and greets me when I get home.
He eats veggies. Well, he'll eat anything any time, but veggies are the weirdest.
He tries to knock my cell phone out of my hand when I'm not paying attention to him. He stalks me and jumps at me with a light nibble to my leg or bum.
He chews on boxes and just last week ate a whole chicken wing, bone and all. When I'm getting my yoga pants on in the morning he will grab them in his teeth and run away with them.
He comes to work with me and plays with the owners dog and visits everyone in the office. He's my boy and I love him to pieces. 

---
Roger (Persian/Coon Mix?)
By: Lea S
(Essex, England)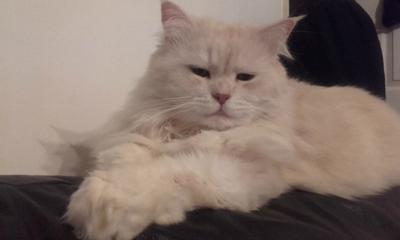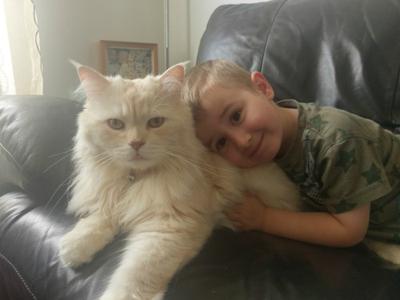 Roger cuddles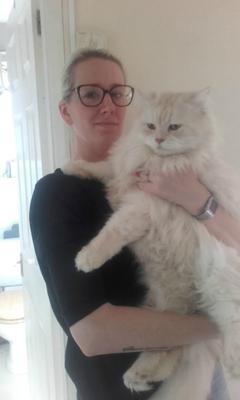 big cat
This is Roger, my gorgeous furbaby  <3
He came to me a rescue cat, having been found in the street in Cairo (Egypt), tied up with two broken legs, likely beaten and abandoned.
He was brought back to good health by the woman that found him and brought over to the UK for rehoming.
I was advised that he was a doll-faced Persian, however, some of the characteristics just do not fit with the Persian breed entirely.

I have no papers for him, other than veterinary paperwork for his journey to the UK, so I have no idea as to whether he is purebred Persian or a mix.
He is somewhere between 1.5 and 2.5 years old, and currently weighs approx. 10kg (22lbs). He is very long and tall, very stocky and incredibly fluffy!
He is a true family cat, and is inseparable with my 3-year-old son; they cuddle up and watch TV together and nap together etc.

He has so much personality... If he has been out exploring, when he re-enters the house, he will meow until someone calls out 'hello Roger' to acknowledge him and his presence! He behaves more like a dog than a cat, is incredibly playful (including playing 'fetch'!) and meeting you at the door on your return home.
He loves any form attention, whether that be a simple fuss to sitting on you whilst trying to use the loo! I swear that he has the loudest purr that I have ever heard, and just looking in his direction and catching his eye will set him off.
I have pointed out to many people that I think he may have some Maine Coon in him, but most have said that since Roger has come from Egypt, it is unlikely that he is a Coon mix.
Any thoughts?
Thanks,
Lea (and Roger)

---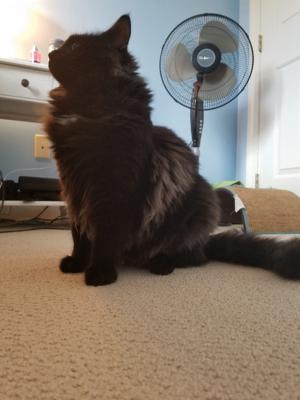 Hyde The Maine Coon??
By: Paige P
(Apex, North Carolina)
Hyde is a 9 month old boy that I found on the side of the road when he was approximately 6 weeks old. 
At 6 months old he started to grow drastically and is now 13 pounds and counting. 
He makes funny chirping noises and I have always thought that he acted more like a dog than a cat.  He is extremely affectionate and needy. 
He is also EXTREMELY playful and cannot be tamed when he is in the mood to play and run around.  He is about 15 inches long.

---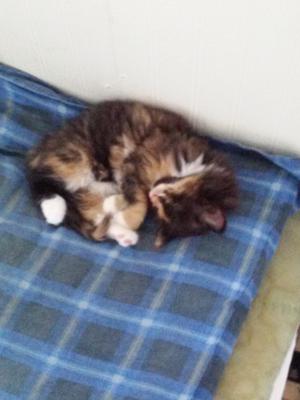 Brew, Coon x Calico
By: Sierra May
(Gastonia, NC, USA)
Had a purebred male Maine coon whom was not fixed. My mother gave me her calico thinking she was fixed because she never went into "heat".
Well some time later 4 cute and fuzzy kittens popped out. Two females with the Maine coon fur and the calico look, the two male have the Maine coon look but the calico fur.

---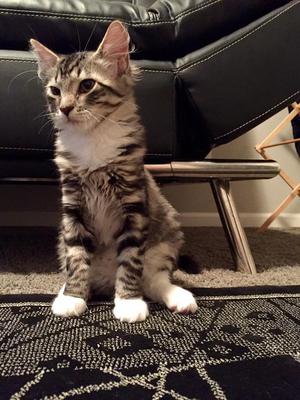 Maine Coon Mix?
By: Pete
(Shawnee, KS)
This is Fritz. We just adopted him from the humane society. He is 3 months old and EXTREMELY playful.  We are actually quite amazed how fast he has warmed up to our family and American bulldog in just 2 days. He's great with our kids too.  Very vocal as well.  
The employees at the Humane Society suspected he might be a Maine coon mix.  We would love to know.  What do you think?

---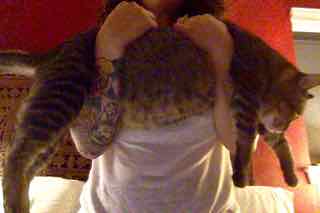 Nazzycat, snazzycat
By: Autumn
(Austin)
So my baby is a big baby with a LOT of personality. He's about 16.5-17 lbs and 34 inches from nose to tail, with a boxy body and large head.
I think he might think he's a dog. This boy always wants to be where the family is, I have never seen an animal so patient with a toddler in my life.
He spoons with me most nights and when I was pregnant he would wait for me to fall asleep until he would fall asleep holding my belly and would then wake with me and follow me if I needed to get up.
I trip on him almost daily because he lounges in the middle of the kitchen while I cook. He comes when I call and I swear one night he brought our other small and timid cat, who had been missing 24 hrs, home after I told him "Go find Mable and bring her back".
He greets everyone who enters the house and then proceeds to sit on their laps or on their feet. Last Easter we hosted a picnic lunch in our backyard with about 60 people he had never met. He went from blanket to blanket to spend time with as many people he could.
He is also incredibly loud, if he hasn't had his breakfast soon enough, he will tell you. And tell you again if you don't get on it. His purr is also very loud and readily given with a scratch to the belly. When I talk to him, it's like we're having a conversation. He looks me right in the eyes and it feels like he understands what I'm saying. 
He's a rescue cat, he was brought in to the vet clinic where my husband worked in college. While he fits the personality and size traits, he has short hair.
My guess is that maybe he had a grandparent that was Maine Coon, it seems like he'd have longer hair if one of his parents was a coon. OR maybe he's just a really large tabby who's a people person kind of cat.
Doesn't make a difference to me, I've always been curious though. 

---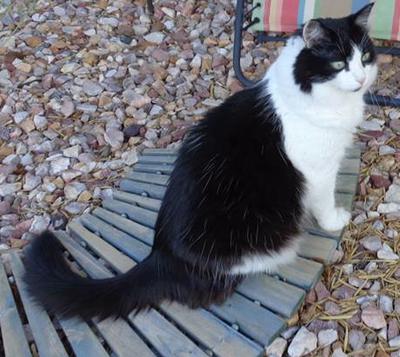 Billy (Goatee) the cat
By: Karen
(Mesquite, NV)
Billy is eight years old. We got him from a rescue organization, who got him from a shelter. I know nothing about his early history.
He's a big boy - about 15 pounds, with medium long hair, a long fluffy tail, and ear tufts.
He's very social, follows us around the house, and talks a lot - especially when he carries his favorite toy mouse around. He plays fetch.
His vet thought he might be part Maine coon because of his size and coat. He's a black-and-white bicolor (mask and mantel) with green eyes. And we love him. He is really a big boy.

---
Michi
By: Naomi
(Littlerock, California)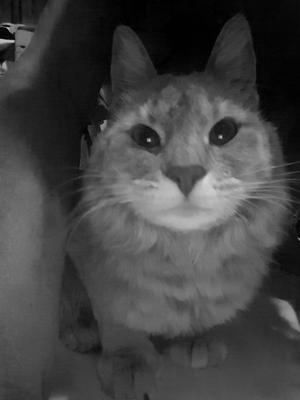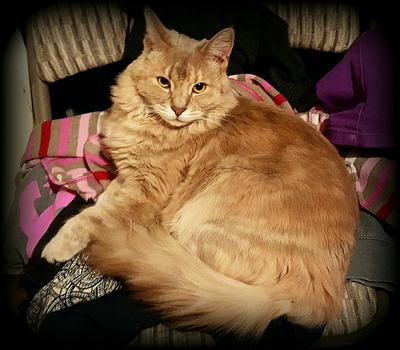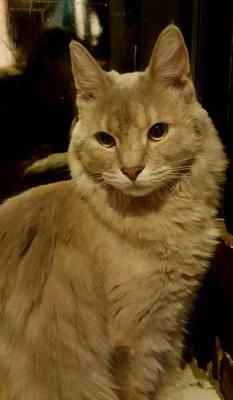 This is Michi and I've been trying to figure out what breed she is, from what I can tell, she seems to be Maine coon. 
We found her when she was approximately 2 months old in the hood of a car, we have no idea how she ended up there and put up flyers to see if there was a owner searching. When none came forward we called her our own.
When we found her, I noticed she's a polydactyl kitten, 3 paws have 6 toes one paw has 7. She has small tuffs on her ears and she has a bit of a mane, long very silky hair and a fluffy tail. She can be very vocal and loves to cuddle when it suits her.

As of now she is 10 pounds and about a year old and still seems to be growing. I'd love to know if she's Maine Coon or mix . I like to think that she is a Maine Coon. She resembles no strays around here

---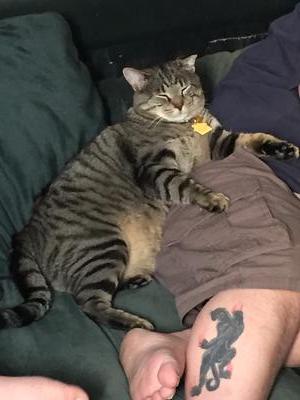 Franklin
By: Ann
(Kent, WA)
He is a rescue from Pennsylvania. What a snuggle kitty, and extremely tidy!
He has a very healthy appetite and has to be monitored closely or he will gorge.
Very affectionate! The only issue is that he will bite!
---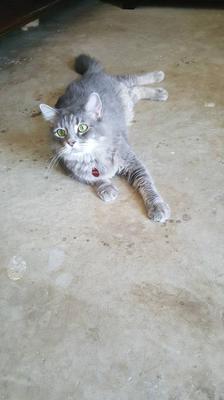 Jake Purralta
By: Eliza
(New Mexico)
We just got this lovable guy from someone off of Craigslist that developed allergies.
They told us simply that he was a long haired cat (this picture is after getting shaved and growing in a little, as we live in the desert).
It's only been about 15 hours but I am almost certain he is a Blue Classic Tabby Maine Coon. What do you think?

---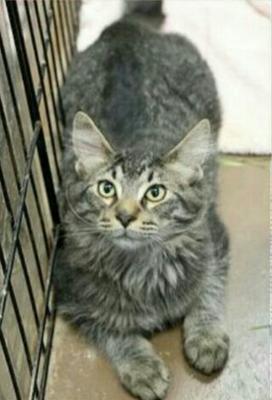 Maine Coon Kitten; Yes, no, or tabby mix?
I cannot say much about this kitten, since he isn't mine yet. I am adopting him from a shelter/rescue and they say he's full Maine Coon, but I'm not expert enough to be sure.
All I know is that they told me he's a boy and 16wks old.
My sister has a Maine Coon, but we got her as an adult so it was blatantly obvious what she was.
I love my sister's cat's temperament and want a Maine Coon for myself, so I don't want to be mislead. - I know any cat is worth adopting.
I just currently have a 3 year old orange tabby and want him to have a brother with the best temperament.
My boy gets along with all animals and people, so I want a cat breed (Maine Coon) that I know will share the same kindness and social-butterly-ness as my current little boy.
Please let me know if this kitten might be Full Maine Coon or mix, or not at all.

---
Sophie Bleu, 4 months old, a big kitten for her age
By: Mary and Ben 
(Pittsburgh, PA)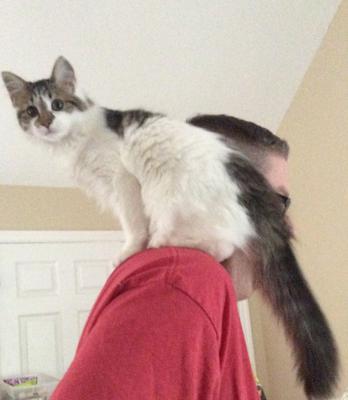 Sophie in full view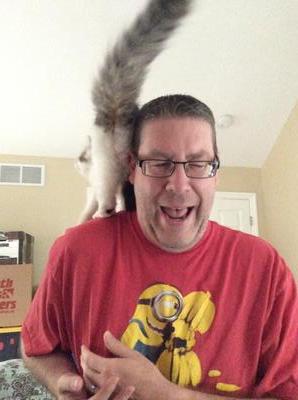 Oh the tail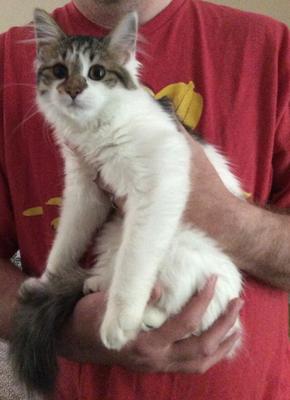 Just Sophie and her face
Mother was a beautiful stray almost all white with a few patches .  Sophie looked nothing like her litter mates.
Her ear tufts are starting to fill out, she has amazing copper eyes, very full rounded paws with long tufts, her tail is her signature. 
She is playful, loving, agile.  She loves tunneling in blankets and sleeping with us every night. 
She is so different from any cat we have ever had.  She loves talking to us, and interacting one on one.  She demands a spotless litter box and will sing and meow to us if it needs scooped....it's hilarious
---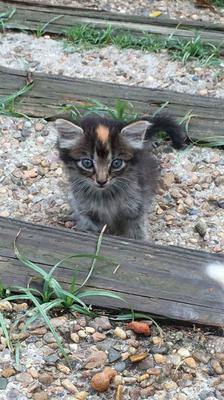 Nyx
By: Delaney
(Texas, US)
So this is Nyx, she is in fact Maine Coon mix. Her daddy is a Maine Coon and her Momma was a mix.
But boy is she beautiful. I just wanted to show her off and see if any of you thought about what she might look like when she gets older?
She's obviously fluffy and beyond adorable. But I'm wondering if she'll be big or just a normal fluffy house cat. She's tiny, but her paws are huge. So we have no idea yet. 

---
Sadie and Walter
By: Ami
(Dover, DE)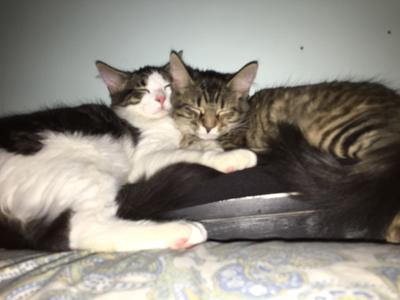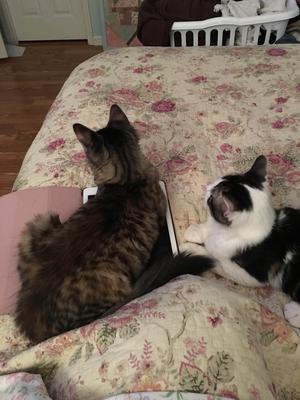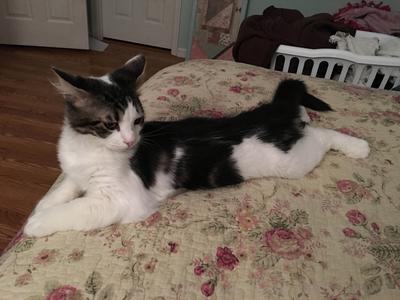 The vet thinks we may have Coon cats.  The mother was a calico - she was no large - she was short haired and did not have a bushy tails. 
I took a female and a male kitten - the male is more short haired than his sister but has a major bushy tail - his sister is fluffy all all over.  they are 18 weeks old - they are by no means overweight - Sade (F) weighs 5lbs but seems underweight - Walter (M) is 7lbs he is by no means overweight -and looks just big and muscular and he is VERY active. 
They are both friendly - Though Sadie seems to only like me and is skittish around my kids and our English Mastiff.  Walter would love to make friends with the Dog and everyone else - and he is Hilarious.

---
Rascal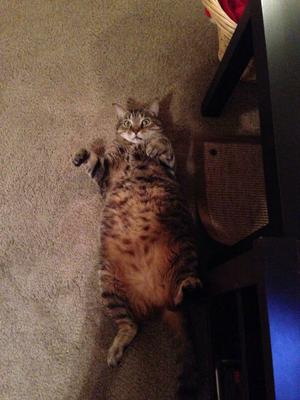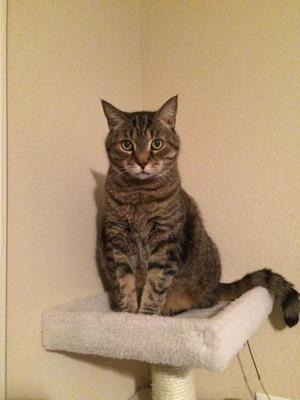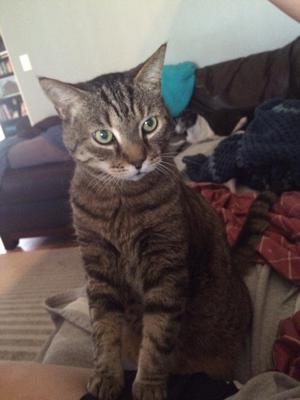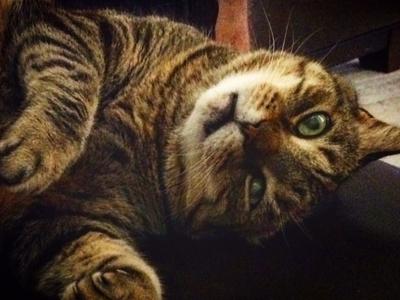 Rascal was the neighborhood cat that was notorious for her affectionate behavior towards all the residents in our apartment complex, and we met her while walking our dogs very soon after we moved in.
She would follow us while we would walk, rubbing against our legs and our dogs. She'd wait for us to go come outside and would follow us all the way back to our apartment.
Eventually, she started to just run into the house behind us, and gradually she'd spend more and more time indoors, until she became an indoor only cat.
Today, Rascal's a healthy, happy, 15lb girl! The more that I have read about Maine Coons, the more I am convinced that she might be part-Maine Coon.
Rascal is very vocal, loves lap time, greets us at the door daily when we get home from work, and is a total goofball! Many times we call her our "dog-cat", because she acts just like a dog. We feel very lucky to have been "chosen" by her!
---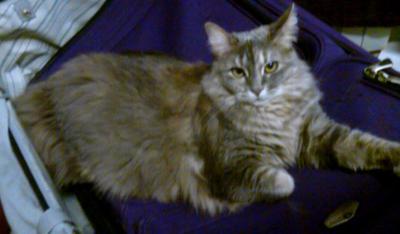 Morgan, Two Year Old Shelter Cat
By: Kayley
(Florida)
Morgan was rescued from a high-kill shelter when she was just seven weeks old.
Her eye had been scratched by one of her litter-mates, and was swollen shut the first time I saw her.
She was this big, fluffy kitten, who was just sitting in the litter-box, away from all the other kittens in the cage, and not making a single sound. I called to her, and when she looked up at me with those golden eyes, I knew she had to come home.
Morgan has never really been a "talkative" cat. She chirps when her "cat daddy" pets her (she adores him). She loves to be close to you, but not really a lap cat. She would much rather observe. Her claws are the sharpest I have ever felt in a cat her size; speaking of size, she has doubled in width and height since she turned two in June.
Her fur is extremely soft, she is a polydactyl (six-toed), and her tail was cut off by her previous "owner". It's short, but if you actually feel the end, the tail ends in a downwards hook underneath the fur, kind of like someone broke it off. She is unable to see out of her left eye, but does just as well as any other cat as far as playing.
She is not a very good hunter though, and she would prefer to stay on the ground. She also cannot jump as high as most cats can; she can only jump onto the arm of a sofa, and not any higher.

---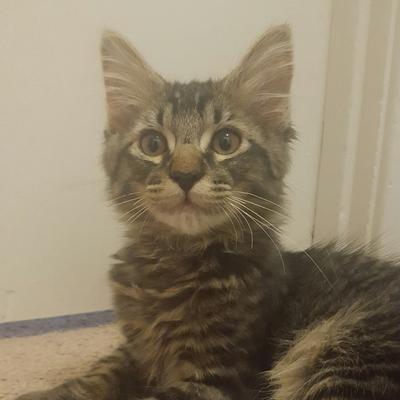 Mixed Maybe?
By: Ashlie
(Ponchatoula, Louisiana)
His name is Hemi. He can be quite mean and attack your leg while walking. other times he is real sweet. He likes me more than my son or husband which I think is because I take care of him.
He recently got neutered at 18 weeks and the vet said he was going to be huge that he looked the size of a 6 month old cat and his paws were very big. He is very fluffy and I can see him getting big.
I know nothing of the parents, I saw the mom when I got him but she didn't look real big. Oh and he likes water, he will run to the shower when you turn it on and will lay in it if you block direct water spray from him. And when u get out he will lay in it wet. Has fell in my son's bathwater lots of times.

---
Elmo
By: Chievlinder
(Indonesia)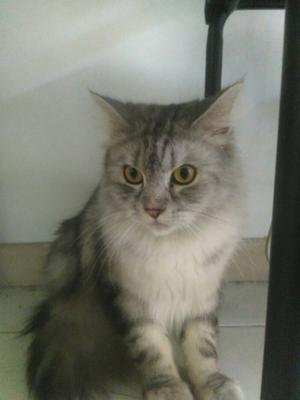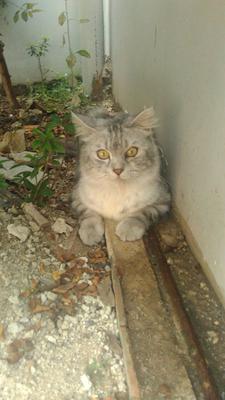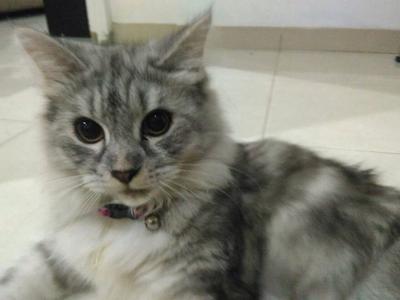 I have adopted Elmo from friend, but I'm not sure he is Maine Coon mix or not, even he has a big and strong bones. 
Could you help me? Because my friend doesn't know either what race Elmo is.
Thank you
---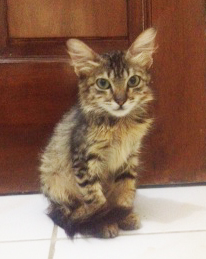 Mio
By: Izzy
(Jakarta, Indonesia)
Hi everyone, I just recently rescued this adorable kitten from the highway, and I just want to know if is she is part Maine Coon? She is 1.5 months (the doctor said) old, attractive, clown, and "silent" kitten. Let the pictures talk. Thank you for your help :)

---
Maine Coon?
By: Telma
(Reykjavík, Iceland)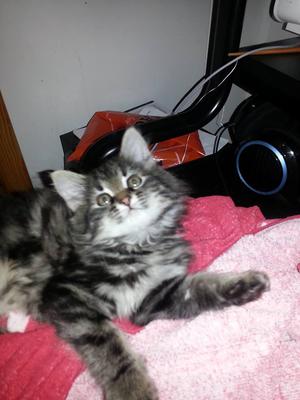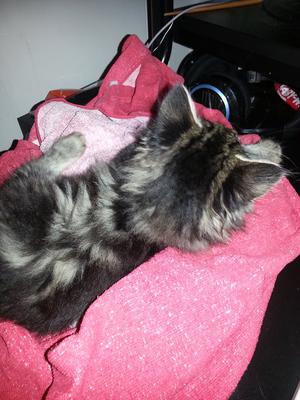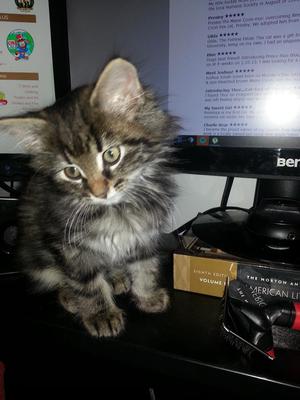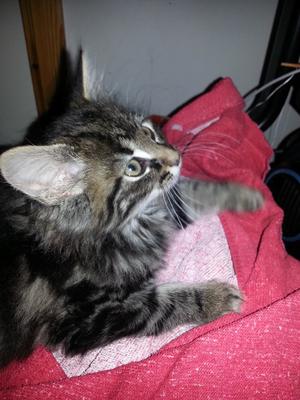 We got our new kitten, Patti, last week. He is about 8 or 9 weeks old. His litter mates and him were found orphaned in a warehouse in Iceland. And we got him through an organization that finds homes for feral cats.
He is very friendly and playful, loves to cuddle and is not very shy of new people. 
We simply googled 'long furred cat breed' to try and find out what breed he might be and we think he looks a lot like a Maine Coon kitten. 
---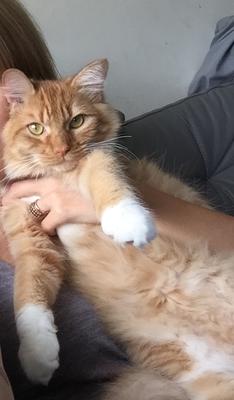 Fig, Is He Part Maine Coon??
By: Leah
(Los Angeles)
This is Fig, we got him from the shelter when he was 9 weeks old.
We met every single cat/kitten at the shelter because we have a 5 and 2 year old, so we wanted to make sure the kitten would be comfortable in a loud crazy environment.
Fig was the only one out of about 20 or so cats that didn't run or try look extremely scared.
He is very patient with my 2 year old which is so so so surprising because Fig isn't even a year old. He's also a giant beast!
Beautiful but much bigger than any cat I've ever owned at this young of an age. He's extremely playful, with a bit of a "I'm better than you" complex hahaha. He's also stubborn but very very smart and loving.
Oh and he holds grudges! He's definitely different but such a cool guy. I feel like he's mixed with something just because of his look, especially his size.
---
Evee and Ziggy
By: Donna
(Kentucky)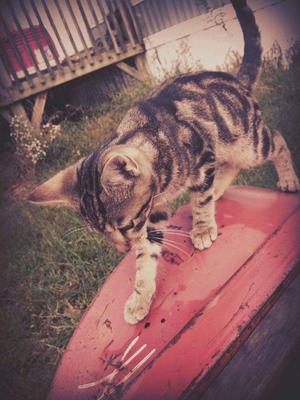 Ziggy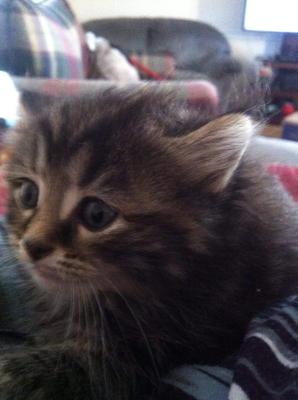 Evee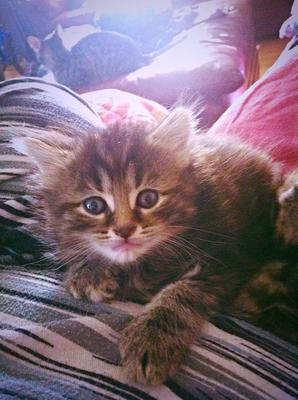 Evee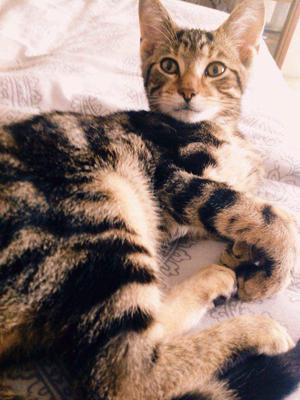 Ziggy
Evee's mom looks like a shorthair Maine Coon possibly Bengal mix. 
These two have the same mother who was abandoned.  Ziggy is from the first litter, and Evee from the second.  I took in the kittens and mom but she escaped outside and unfortunately got pregnant the second time. 
Both kittens head butt and have very similar personality traits of the Maine Coon.  What do you think? 
I've heard that the long hair can sometimes be recessive and that combined with the obvious tufted ears leads me to believe they could be Maine Coon.  

---
My cute kitty has some Maine Coon traits, but is she?
By: Clara
(Colorado Springs, CO)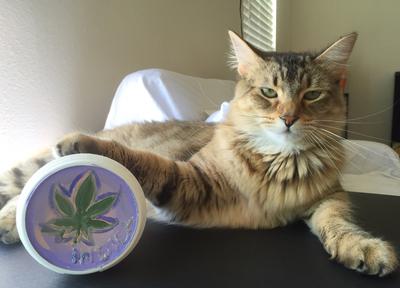 She looks cool as a cucumber!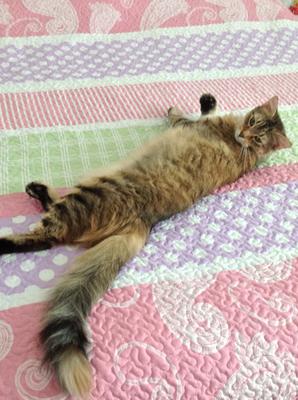 stretching out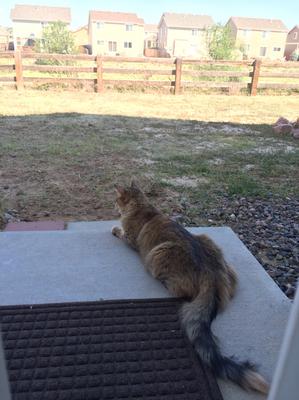 chilling in our backyard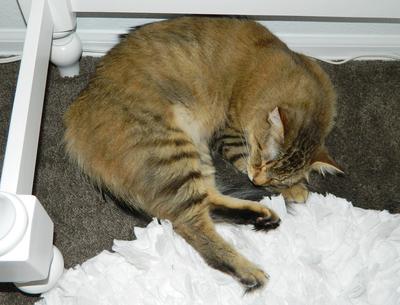 loves sleeping under my computer desk
My daughter boyfriend's mother found our kitty slightly over a year ago at her apartment complex, kitty was wondering around and she took her back. She has since become our beloved pet.
Over time, the kitty grew and she suspects this kitty is a Maine Coon, obviously we know she isn't a purebred but she does exhibit some Maine Coon traits. We surely hope she is part Maine Coon, but if she isn't, we all still love her dearly.
We would be very grateful if anyone out there who could kindly comment on our kitty photos and give us some insight as to what kind of breed our kitty is, that would be awesome. Thank you all in advance! 

---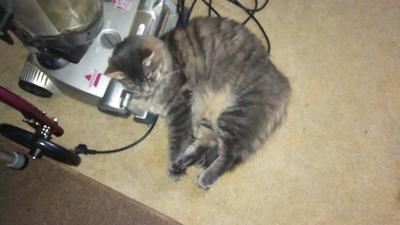 Beamer the Per-Coon
By: Tracy
(Florida)
Beamer is a rescue. On one if his visits to the vet I asked the tech if he may have Munchkin in him because his legs were so short.
She'd ask the vet. Vet came in and while she was stroking his tail, she said, "Pretty Persian tail. He has legs and tail if a Persian and the head and body if a Maine Coon."
Needless to say, he is a little funny looking with those short legs. He has snowshoes and ear tufts and happily trills to himself all through the house.
---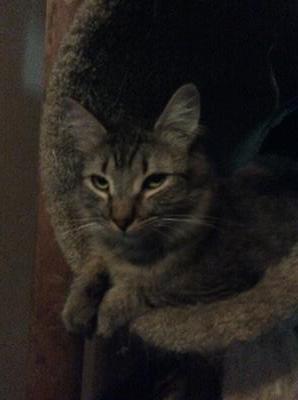 Handsome
By: Kendyl
(PA)
I got Handsome around two years ago while he was still a kitten I thought he was maybe 13 weeks old, and he has barley grown at all!
He has many Maine Coon features. This is him now.

---
Pip
By: Chloe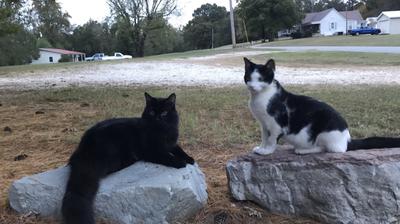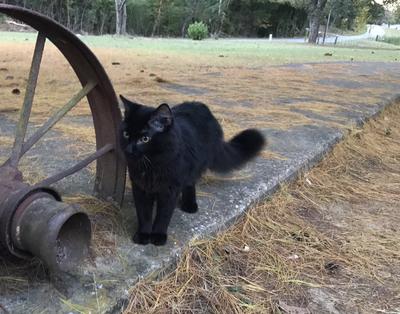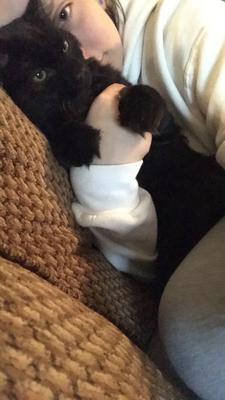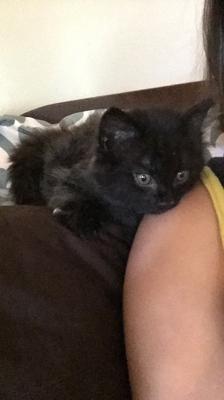 He's very vocal and very big. I adopted him from a liter my ex boyfriend had. He was very tiny and fuzzy then.
Now he's about 7 months he is huge. He's around 10 or 12 pounds. He's an active little thing. He makes his presence know. He's so fluffy. He has fur coming out of his toes and ears.
Most importantly he's my best friend. I think he has a little Maine Coon in his blood.

---
Misty!  Is She Or Is She Not Maine Coon?
By: Barbara Hughes
(Arlington, WA)
I adopted Misty from Noah's in Arlington Wa. September 14 2016.  She is now 5mos old and very active, curious and has bonded with myself and my husband.  
She seems to have a lot of the Coonie traits and the longer we have her the more that are showing up.  
This is the first of this kind (that is if she is Maine Coon)for us and we are loving her to pieces.  We have always had Siamese.  

Please check out her pictures and let us know if you can tell is she is or maybe mixed. 
Thank you,
Barb Hughes
---
Maybe Maine Coon?
By: Leigh
(Dorset, United Kingdom)
This is Clementine. She is a rescue cat and I've had her two years. I adopted her and her sister at the same time. 
Clementine's sister is nothing like Clementine, who is much bigger. Clementine is semi-long haired, has a beautiful bushy tail and is very intelligent. She will play "fetch" with toys with me. 
She has hairy tufts between her paw pads. She has a very quiet voice. I'm not sure if she has Maine Coon or Norwegian Forest features- what do you think?

---
Harley
By: Krystle
(United States)
Big fluffy. Sweet cuddly.