Summer 2011 Photo Album

It's our Summer of 2011 Photo Album! So many gorgeous Maine Coon cats and kittens to meet! Here, you can see Maine Coons and Maine Coon mixes 
of all colors. Enjoy!
Meet Chester!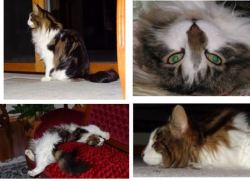 Chester has that classic Maine Coon look for sure! Susan has sent in lots of photos and updates over time, so Chester has his own page.
Hop on over to Meet Chester!
---
J. Paul Kitty Becomes Mr. Buster!
J. Paul Kitty will join his new family soon, and they can't wait! His name has changed to Mr. Buster!
So come Meet Mr. Buster!
---
Toulouse, My Happy Helper
By: Sarah G
(Mansfield, TX)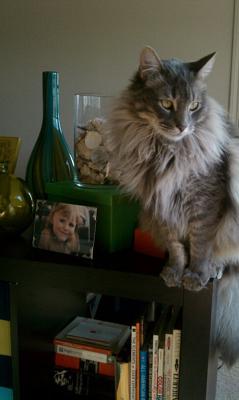 Well, after a friend suggested that my Toulouse may be a Maine Coon I found your lovely website and saw a lot of similarities.
Toulouse is big and fluffy and has a huge lion-like mane! He also loves to play fetch and is a HUGE people person. He is known for helping me wake the kids up! When I go in to wake them he jumps up on their beds and repeats my wakeup calls with a loud MEOW and some chatters!
I work from home and he beats me to the 'office' and lays on my keyboard until I have pet him enough. On deadline days I shoo him away and he pays me back by nipping at my toes. :D
When my girls are gone to their dad's house he keeps up with his talking to them and yips over the phone to their voices. He also pulls their toys out of the room and into the hallway!
He is super friendly, always greets us at the door and follows you into the bathroom. (I think he thinks the toilet is his 'pet-me' seat...)
I am guessing he is a mix as I got him from craigslist as a kitten (he is almost two years old now) and he doesn't have the lovely ear points. I'm pretty sure the giant mane and tail and his size- at 15 pounds or so via the bathroom scale- makes him a shoe-in for at least part Maine Coon!
What a loveable cat and an amazing website you have here!
Thanks, Sarah
Comments:
So Sweet
by: Lisa Jo
That is a really beautiful Kitty, he's just so sweet. you can tell by the look in his eyes he has a great personality. He is for sure Coon no matter in what percentage. I have a mix coon too. his name is Gus and he has such a big personality too. They are the most wonderfull cat breed I have ever come across. enjoy your sweetie! thanks for sharing!
Toulouse
Looks like a Coon to me!
---
Meet Merce
By: Joanna Ward
(England)
This is Merce - she is 13 weeks old..
We pick her up tomorrow and am so excited! Any tips for a new Maine coon owner?
Comments:
Congratulations!!
by: Tracy (Cornwall, England)
Awh, she is absolutely gorgeous. I bet you are excited.
Sure you will be fine, I got my first Maine Coon back in October, although have had cats before, and he settled in just fine. Infact much better than my other cats and I guess that is because he was 13 weeks old so more confident that the 8 week olds I had had previously. He is little Leo on the kitten page - although not so little anymore - and the picture of him sleeping in the basket was taken the day after we brought him home so that just proves how quickly he settled.
This site is great for advice and tips on cat care. Maine Coons are very different to other cats and I am sure you will soon be seeing those little quirky traits for yourself.
Good luck for tomorrow, I am excited for you as know just how you feel. And most importantly enjoy your new little addition.
Tracy
Listen and Learn...
by: Kim Sweet
My advice to you is learn how to trill as a Maine Coon does :) We have three Maine Coon guys, and we absolutely LOVE them. As I sit here, all three of them, Makani, Ivan and Tinker Taz are in arms reach of me sleeping and enjoying life. Get use to having to watch where you are going, as your new family member will follow you all over the house and want to know where you are going and what you are doing every second day or night. ENJOY !! :)
Congrats
by: Ana
Congrats!!! She is so sweet!!! You will be a very happy person having her around!!!
Advice
by: Yvonne
Be ready to give a good brushing everyday, I use the Furminator. It works great. Takes out a lot of loose hair. I also had to put mine on hairball formula food.
Cute Pointy Little Ears
Practically like Mr. Spock!
First night done
by: Joanna Ward
OMG I love Maine coons.. After the first few hours she was happy running around checking out her new home. And I can't believe how many things I have seen that are coon traits, she was sat like a meercat in front of the fish tank for around 5 mins. This morning I was woken at 6.30am with the weirdest cat cry I have ever heard.
Thanks so much for your words of wisdom and kind comments
Jo
All Eyes
by: Jessy
Black kittens photograph so "all-eyes." Cute.
---
Mogli
By: Blanca Q
(California)
Mogli - relaxing on his carpet!
What a handsome boy I have!
I was never a fan of cats, but Mogli has become my buddy and such a joy!
He was found on an embankment adjacent to the freeway, with four of his brothers and sisters just a few weeks old.
In an attempt to rescue all of them, he fled from his family, went under the fence and hid himself in the brush along the freeway. It was sure that he would be killed by the freeway traffic.
But my friend Bill, jumped over the fence and with much patience he managed to capture the beautiful, shaggy little Creature!
Oh, Mogli hissed and the hair raised on his back... even at a such a young age. The cats were brought into the office where Bill works and I was asked to come take a look....
One look at his big, bright eyes and that long fuzzy tail - and he won my heart! but I wasn't prepared to adopt him.
It was just a day or two later that coworkers were choosing from the bunch, and Bill decided to bring me the black ball of fluff. He says it was because he thought I wanted him. Well, I DID like him.... but what female doesn't like cute little kitties?
So I embraced the tiny animal that was no bigger than my hand, and held him to my chest, where he purred and adopted ME! It was an amazing moment! What peace and calm, and joy Mogli gave me in an instant!
I became the momma that he needed, and have raised him to be part of the family. He fits in perfectly with me and my 16 year old Teenager. We named him Mogli, like the Jungle Book boy, because of the parallel in their lives. Mogli is now almost two years old, and he creates so much entertainment. He thinks he's a dog sometimes.
He listens to my words, and he talks back when I scold him! He opens doors and cupboards, and pushes windows open. He sneaks out, but never far, and always comes when called. I call him "meow-meow", and it gets his attention every time... it's what he remembers me saying when he was a kitten, and he has learned to trust me.
Not only is he smarter than a dog, but he's the only cat I've ever known who loves to play in water, and sometimes invites himself into the shower with me.
He also has to have the cleanest set of teeth and the freshest breath of any cat, because when he sees me enter the bathroom to brush my teeth, he follows me in and nudges the drawer, and that's my cue to prepare HIS toothbrush too! Yup, I said HIS! With toothpaste and a little water.
We brush, I rinse, and he drinks from the faucet. It's so funny!!! I can go on and on about all the daily things he does, and all the "cat chatter" we do, but the main thing is , he gave me a newfound respect, admiration, and friendship that I had not anticipated.
Mogli is a beauty, inside and out! He's more than a "four legged pet", He's my "forever friend".
Comments:
Mogli
by: Turtles person What a handsome fellow indeed. You are very fortunate to have found each other.
---
Jack, Surely At Least 89% Maine Coon!
Emma, Jack's owner, has sent in quite a bit about him! So he has his own page; to get to know him, come visit Jack's Page!
---
May I Have My Stocking Now?
By: Regina
(Virginia)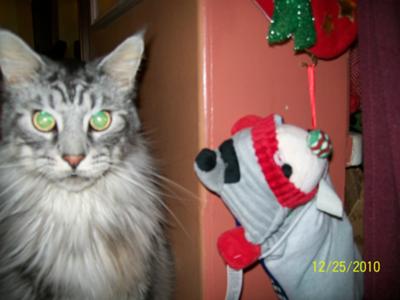 May I open my stocking now?
Georgie came from Makanacoon in Va Beach. He is my best friend (next to my husband, lol)
He walks on a leash and loves to jump in the shower with u. He had issues with bladder infections and crystals in his urine when he was younger and had to have surgery. I still hold my breath that he wont get another infection!
We also have a 17 year old Oriental Shorthair and a recently rescued calico (under a year old) George has just started playing with her. She chases him and its so funny to watch!
Comments:
How did you do that?
by: Linda
I am curious. How in the world did you train your George to walk on a leash? My husband would love to train, Buster our new kitten, that will be coming to live with us in about a month. BTW George is a beauty.
---
Mishka The Curious Coon
(Tampa, FL, USA)
Mishka being cute :)
Hi Everyone!
This is Mishka a Maine Coon mix kitten, we got her from the humane society of Tampa Bay. She is approximately 10 weeks old.
She is very playful, smart, and sweet! Me and my boyfriend love her personality so much, we had encountered other breeds of cats before but Mishka's personality truly stands out from all of them.
She definitely is our little bundle of joy, and we are very happy we adopted her.
Proud mommy,
Sai :)
Comments:
Adorable She's adorable
New Kitty
by: Helen
Just look at those stripes!!!!!!! I love tabby cats.
So sweet!
by: Gail (Quincy, MA, USA)
She is truly a bundle of joy. You can just tell by the photos. Congratulations!
---
Noushka aka 'Naughty Noushka'
By: Debra Wadsley
(Lincolsnhire UK)
Noushka's first day with us
Noushka does whatever she pleases, whenever she pleases.
Out all night mousing - yes, she can hear her name when we call her from the bottom of the garden, but somehow she doesn't listen. (Strangely though she can identify a can of tuna being opened through walls and across garden fences.)
Then she'll spend all day flaked out on our bed, and preferably under the duvet if she's in need of a warm up.
Every so often, she'll deign to sit on my lap - usually when I'm trying to read the newspaper - but mostly she's off searching out new adventures.
Can't help but love her to bits!
Comments:
Love the Gardening Photo!
by: Jessy My cats like those big pots too.
---
Marley at 14 weeks, loves to 'help'.
Marley Kitten: Youngest of our Coon trio, Marley, is now almost 4 and still acts and sounds like a kitten.
---
Toby and Vada
By: Samantha
(New Zealand)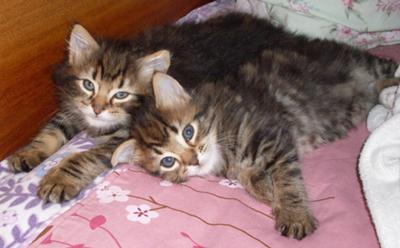 Toby and Vada (4 weeks)
Toby and Vada came about due to their mum sneaking out a small gap in the window one night as she was due to be fixed.
I had no idea how my life was about to change from that moment I caught Princess outside at 6.00am in the morning with the neighbours cat Jake.
Toby and Vada were delivered by caesarean section on Princess's first birthday after a long labour (we were very lucky to have them).
Toby and Vada are possible Maine Coon mixes. Sadly we suddenly lost Toby to cardiomyopthy earlier this year at only 1 year and just under one month of age.
Toby had all the typical Maine Coon behaviour traits. He was very affectionate and loved cuddles more than anything else. He would follow us around all day and even try get in the shower with us (he loved water. He was very laid back and we would find him sleeping anywhere and everywhere(even across toy boxes). He would walk around the house with his favourite toy in his mouth.
Toby and Vada also had a tendency to inspect everyone bags who came into the house often finding something they wanted to keep and add to their stash of treasures under the bed.
They had a wonderful relationship and Vada has just not been the same since losing Toby.
Vada is coming around in time and I have now got her two new friends, but it is just not the same, I don't think she will ever be the same. (Toby was truly one of a kind and very special). Vada was always more timid than Toby, but still beautiful in her own way.
---
Meet Otis and now his new little adopted brother, Oscar!
By: Sheila
(Englewood, FL)
Otis!
We adopted Otis in March 2011, we instantly found him to be a different cat. He "talks" by chirping, and I swear, its as if he is letting us know when he is going to eat, use the litter box, or go lay down.
He is always sitting outside the bathroom door while any of us takes a shower, which has made us dub him our guard kitty.
He even growls while talking to us. We love him no matter what breed of cat he is, but a friend mentioned that the "m" on his forehead is a dead give away that he is Maine coon.
However, he does lack the fluffy tale, but I believe he is at least a Maine Coon mix.
We also recently adopted an orange tabby kitten named Oscar (Otis is between 2-3 years) He also has an M on his forehead, and I read on line that is a tabby sign, so I'm convinced Otis is part Maine Coon, part grey tabby, maybe you guys can help you be the judge, and check out the pics I send!
Comments:
The M
Your friend is wrong about that; the M is just a sign of tabby. Happens the most common Maine Coon color/pattern is tabby.
re: anonymous
by: sheila j
I figured he was. Especially since our new kitten has a perfect m and he is most definitely an orange tabby. But by looking at the pictures, would you say he has maine coon in him?
Otis - MC mix or tabby?
by: Gail (Boston, USA)
Hi Sheila, I would suspect that your Otis is most likely a tabby, but he "may" have a smidge of MC in him with the chirping.
Aside from chirping and several other distinct meows, MC cats have huge tufts in the ears and on the ear tips (see the photo on the right under the title "Visit the Maine Coon Cat Store!"
Maine Coons also have a huge ring of fur around the neck, very thick. Their fur is usually 3 layers thick. They also have huge paws, with fur protruding between the "toes" like a snowshoe. Female MC usually weight upwards of 10 pounds, give or take and the males average around 13-14 pounds. MC cats are late bloomers, so depending on how old your Otis is, if there is MC in him, it will show itself as he matures.
Whatever breed he is, he's a keeper. Enjoy him...he sounds like a rascal!
Thanks
well the vet put him at under a year, but thats bologna. even though the kitten in him still comes out occasionally he acts leke an adult cat who is over the kid stuff. Its hard to see, but he does have the snow shoes feet. I think you are right about the Tabby part. He is just an Otis--lol. Its mainly the personality that has convinced me. he does have small tufts on his ears, I would have to get close to him with the camera, but they are definitely there. Even if it is just a smidge, trust me gail, if you met him, you'd say tabby looks- Maine Coon brain! lol! And now with oscar the kitten around, as soon as the initial jealousy waned, otis has really taken the role of big brother, it's adorable!
---
Rocky Ray - My Rescued Black Smoke MC
By: Tricia
(PA)
This absolutely gorgeous boy was 6 months when these pictures were taken.
I had just rescued him from the alley; a timid kitty who would ran from me for a month before he finally came to the door and the integration into the house began. Who could resist those eyes! Amber/Green/Yellow (they change all of the time) and that rare smokey silver ruff. His long black gleaming coat and seemingly translucent undercoat was mesmerizing.
When I took him to the vet to get his shots, dewormed, neutered, etc. the vet confirmed that with his coloring there was no doubt he was in fact a Maine Coon and a rarity at that.
He is one year old now. 14lbs of muscle and GROWING. Insatiable appetite and loves to drink and play in his water bowl and Mommy's cup.
Very low-key cat. Near silent "meh-ahh-s" unless he needs to get our attention then his voice is still a kitten's. Constantly purring, singing, and trilling up a storm.
Rocky loves to sneak up on us in the dark hit us on the leg with a paw and then run full speed to the other side of the apartment (studio flat) and sometimes does laps.
He's a trickster. His Daddy is his buddy and he comes to his Mommy for his affection - rare at first but getting noticeably needy for mommy love more now than when he was a kitten. I am domesticating and falling in love with him more and more everyday!
Comments:
Gorgeous
by: Joy
He is absolutely beautiful, his colouring is gorgeous, I am glad you stuck with him and rescued him you are so lucky to have found him. Muska's eyes appear to be different colours as well, sometimes yellow, golden or green- doesn't it just make you love them more. I love their playful nature, Muska runs really fast and is so amusing I have been so taken with her nature that I have decided to get a male kitten so she will have a playmate.
His face looks like my sweet Onyx boy!
by: Heidi in California
Onyx also like short bursts of running with me outside on his harness and leash! My Onyx does 6 tricks and high fives are my favorite. Onyx, unlike your kitty is very talkative..in fact he's talking right now..! I think he wants "loves". :)
1 year, and a regretful shave later...
by: Tricia
Hey Heidi! Thanks for the compliments. I've actually tried Rocky on a harness but since he is a rescue its hard for me to get him outside because of his fear of mostly everything. I also live in an iffy neighborhood and the people walking the streets scare me! Lots of patients with him, LOTS!
I've recently measured him as he's getting a bit long and paw to paw he is 29" (is that average, he seems so long!) and he's still growing! He's on the flabby side (he's chosen the sedentary lifestyle, think its a cross between the neuter, mild depression from wanting to be an outdoor cat and anxiety from his being afraid of everything). He plays when he wants. He just bursts out of nowhere with a high pitched trill and takes off through three rooms for no apparent reason at least five times a day. As far as tricks, when he was a thinner baby I had him doing backflips and playing fetch but now he's doing things one his terms. I think an extremely strict diet is in order.
Hes hardly recognizable anymore because we had to have him shaved. My boyfriend is severely allergic to him but the two of them are inseparable. I have ruined my boy's coat and now he's just a plain old black cat (I LOVE BLACK CATS THOUGH!). He's still remarkably beautiful, great facial structure, etc. but his undercoat is ruined. I love him just the same and he actually looks really cute with his little lion poof at the end of his tail. I'd post new pictures if I knew how. He looks like a mini black panther.
So that's the update on our Rocky. He's still adjusting to domestication and progressing. I adore him with all of my heart!
---
Puma Our Adorable Baby
By: Cheryl
(SA)
High up above ground
He loves water and only likes to drink from a running tap!
---
Jack
By: Pam
(Great Bend, Ks)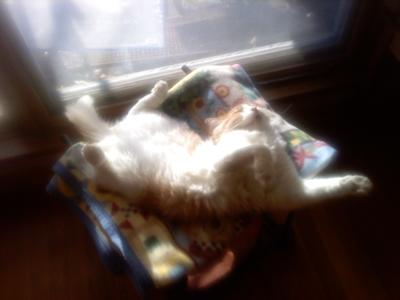 Jack doing what he does best
When I found Jack, he was starving and 5 lbs. He's a year old now and weighs 15 lbs.
I had not heard of Maine Coons but then found out a co worker had two and she told me what she thought he was.
He has tufts in the ears and between the toes, fetches and as you can see, sleeps on his back. He's a clown and I am so glad he adopted me!
Comments:
Just chillin'
by: Deborah, Winter Park
The picture of your cat just relaxing on his back reminds me of my cat! He lays on his back all the time - and we have to walk over him - he will not move!!!!
---
Adrenaline 10 Years Old
By: Christina
(Sullivan, IN)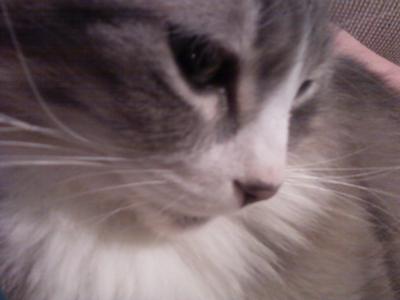 Pretty boy
This is my ten year old possible Maine coon mix.
I found him coming home from church at a house with a sign that said free kittens, he was the runt and not doing to well so I made arrangements with the owners to take him.
He came home with me and rapidly became well. He has such a personality to him. I love it when he is at the door sitting in his squirrel position.
I love how he knows just when I need the extra attention of his, I can tell him how bad my day was or how great and he seems to understand, he makes me laugh.
My friends who are not cat people love him too. His fun loving antics of making sure everyone knows where his treats are when they come in to stealing their hair ties. (oh I have to keep the treats in the microwave because he will get to them no matter what they are in and eat the whole bag.
Comments:
Great name!
by: Caroline (UK)
Beautiful pictures - and what a great name for a cat.
I've never heard of a cat called Adrenaline before! Sounds like he's a real character who lives up to his name.
Very funny
by: Gail (Quincy, MA, USA)
Adrenaline is a very beautiful cat. He looks like he's a handful - a real bundle of energy. He's named well. He looks like he's gone MC in him; his traits mimic the MC. Enjoy!
Beautiful cat, especially since...
by: Joan McArthur
...he looks just like ours!
cutie patooty
by: Lisa Jo
Oh he's so cute, and I know what ya mean by having such a great personality. my Gus is just the same he makes his presents known and does the same kind of shananagins. Don't ya just love their fuzzy bellies! Enjoy him as I do mine.
---
BoB
By: Samantha Blair
(USA Washington DC)
BoB is four months and he was given to me by my hubby for my birthday this year after giving away my Yorkiepoo, Coi.
I've always wanted a Coon , they're so big and pretty and then some. People see him in the window and say "Wow, he's so pretty!"
Comments:
Bob is fabulous
by: Gail (Quincy, MA, USA)
What an extraordinary kitten you've got there. Stay tuned...life is about to become very active and funny with this little one!
---
Meet Brady and Luna!
By: E. How
(Boston, MA, USA)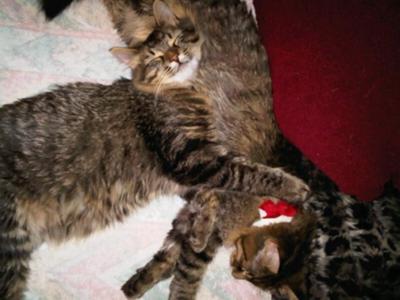 About a year ago, my father's co-worker approached him and asked if he wanted kittens.
At the time, I was looking for a new pet since my two beloved beagles had passed on a year and a half ago. My dad's co-worker said that her cat had mated with a stray cat and wanted to give them away or donate them to the local pet store or shelter.
My father agreed and I got Brady (Male on the right) and Luna (Female on the left). They were only 3-4 weeks old when I got them because she was eager to give them away.
At first I had no idea what breed of kittens Brady and Luna were. Then one day,as I was browsing Youtube (I have an affinity for looking up cute cat videos), I stumbled upon a video with Baby Maine Coon Cats and immediately saw the resemblance to my newly adopted kittens!
A year later they are now 10-20lbs. Brady is 23lbs and Luna is 10lbs. They are very close to one another and very kind to one another.
They like to share their toys and food with one another and are always playing. You can always find them sleeping next to each other--trying to look as cute as possible!
Comments:
Adorable
by: Linda
Adorable!
---
Marley
By: Mike
(South Carolina )
Marley loves to stroll on his leash
Marley is our 2 year old Maine Coon who loves to walk on his leash.
He loves to visit the Myrtle Beach area and walk on the boardwalk, beaches and public events and shops on the Coast of South Carolina....
He LOVES children, and has FUN whenever he's out and about !!!
Comments:
Mike and Marley
by: Judy UK
Mike
How do dogs react to him? More importantly, how does Marley behave toward them? Does he stand his ground?
Was he yawning in the photo or just practising a big yawn for a big dog?
He looks laid back. Are you're insurance premiums larger as he's out and very much about?
Can we see pics of Marley on the leash - mixing it up on the boardwalk? It would be coolio!
Handsome Dude
by: Debbie
My Max looks a lot like your Marley. Quite a furry handsome one you have there!! My Max is also 2 years old.
Marley the Cat
MARLEY has his own Facebook Page he's the only black Maine Coon in a rocking chair !!!
Thanks for the compliments
by: Marley's handler Mike J
Thanks to all for the compliments, and THANKS for MAINE COON CAT NATION for all that they do to promote good will......
Marley was yawing getting ready for bed.He does that after a long day strolling on his leash and meeting people. He has many albums of pictures on his Facebook Page If you get a chance please look him up and "Like" his page there....
it's: https://www.facebook.com/marleythecat
Thanks Everyone !!!!
---
Bailey Relaxin'
By: Lorrie
(Arizona)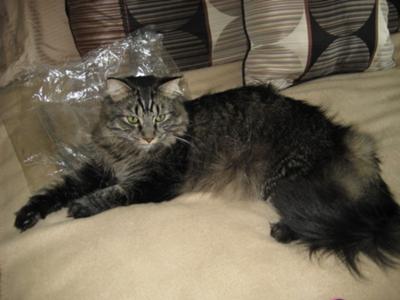 We adopted Bailey from a local Maine Coon Rescue on Mother's Day in 2010.
He is a joy to have in the house. He is extremely intelligent, follows me everywhere and sleeps with us at night.
He "assists" almost everything we do around the house, and always comes when you call him.
We always wanted a Maine Coon and I would highly recommend the breed to anyone.
Comments:
Bailey
by: Gail (Quincy, MA, USA)
Your sweet boy resembles my Abby, except she's got a bit of burnt orange color around the eyes, almost like eye shadow, LOL!
I bet he follows you everywhere and discusses everything you do as well, advising and cajoling, eh? They sure are smart!
Hello
by: Mike
Hi there Bailey looks almost identical to my cat his name is Crash he follows me all the time also just wondering if Bailey voices himself to you alot crash does and in different tones.
Twins!
by: Sharon - Clearwater, Florida
Your Bailey looks identical (!) to my little adoptee "Coon"...They could be twins! He is my first coonie and I have to say he has been a real joy...VERY smart (I'm actually teaching him to shake hands for his treats), follows me everywhere, is very social and affectionate. Oh and did I mention - gorgous!..Silky, shiney coat, beautiful color and markings...
---
Lily (Miss Mischevious)
By: Debbie
(Wood Village, OR)
Lily and her brother Max "adopted" me when they were my 5 month old rescue kittens. At 5 months she had huge feet and ears and looked like a furry bat -- very cute!! Now at age 2 she is starting to grow into her feet and ears.
She is very good at getting into anything and everything in the house (usually conspiring with her brother). After running around the house and playing she likes a good cuddle and ear scratch. She really annoys her brother when she tries to play with his tail.
Max
By: Debbie
(Wood Village, OR)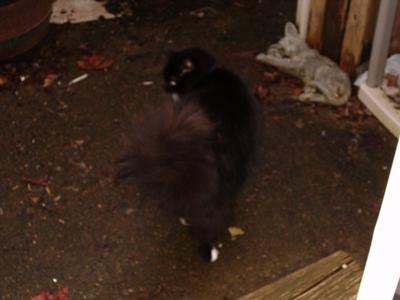 I was "adopted" by Max and his sister Lily when they were 5 months old (Feb 2010).
I got them as an rescue foster placement -- within days I decided they were not leaving my home.
My "little" Max is now 2 years old and quite a big boy (about 17 pounds?)and very sweet/ handsome -- he is my snugglebug.
Comments:
Max
by: Judy UK
Hi Debbie
What a magnificient tail Max has. Have you ever measured it's width sideways from the tip of his guard hairs on the left - to the right? It would be interesting to see if max's tail width was the one - to beat :)
He's gorgeous. Keep up the good work on them both!
---
Mylo The Maine Coon
By: Maia
(Wollongong, Australia)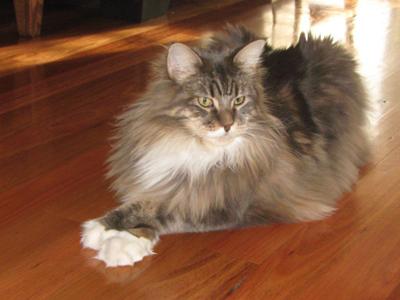 Here is my pure bred Maine Coon who's name is Mylo.
He is the most needy cat I have had and very vocal. When he can't see me he starts howling and screaming so loudly until he finds me.
Is this usual practice with male coons? I have had him for 3 years and he has only just started doing this.
Reply:
Hi Maia,
Wow, Mylo has that perfect male Maine Coon look! He is so handsome :)
Yes, it's common for these boys to be vocal to the point of practically yelling at you. Sometimes I think our Leo is getting louder every year.
He's just making himself known, and he wants to be in good company all the time. It's part of his social nature.
Thanks for sharing him!
Carrie
Comments:
Brown Classic Tabby
by: Helen
My very first MCC looked just like your Milo, even the white markings. Walter Cronkat lived for 17 years and was a wonderful CC, gentle, quite and shy.
Milo is what CC are all about. Enjoy him!
---
Kiki The Cat!
By: Jacqui
(Bath UK)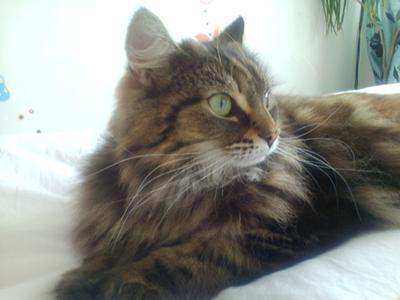 Kiki was rescued from the local cats and dogs home 2 years ago, she is now 4.
She has the gorgeous fluffy tail, chats alot and has tufty toes and huge whiskers - what do you think, could she be part Maine Coon?
---
Kona & Oscar
By: Tanya
(California)

They are the coolest cats!
Comments:
They're cute!
Tell us more about them.
---
Murphy
By: Catherine
(Kitchener, Canada)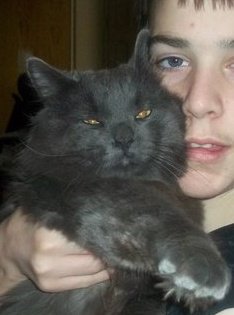 Murphy was found outside by my daughter in a crate in the middle of summer.
She is allergic to cats, so I am now the new proud Mommy to Murphy cat!
Best cat ever!
Comments:
Big Black
by: Helen
What a huge black cat and I just love his name. He looks like a big, burly Irishman named Murphy. You will a blast with you new found friend.
---
Molly....the sweetest cat
By: Jill
(Maryville, TN)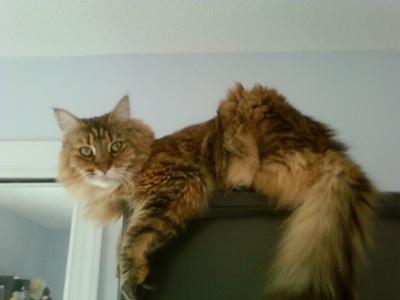 Molly came into my life shortly after the death of my 16 year old cat named Cody.
I missed Cody terribly and mom wanted me to go with her to a cat show they have in Knoxville every year.
I went....with a completely broken heart.....and saw a Maine Coon kitten there that looked very frightened. I held her and she put her head on my shoulder and it was instant love.
I had no idea what a Maine Coon was but I loved her instantly. She is the sweetest cat I have ever known; she chatters to me; follows me from room to room; waits at the door for me to come home; and sleeps with me every night.
She is truly a gift from God.
Comments:
Cody
by: Patti
You described every Maine Coon. They are the most loveable and devoted I think of all cats. We are so fortunate to have them in our lives. My Ruby is terrific as well, I'll never be without a Maine Coon.
How Lovely
by: Jessy
. . . that Molly came into your life at such a time.
You got to love Moms
by: Jack HanSounds like you have a loving mom. Event happen to us, when it suppose to happen, life funny that way. Your Molly, she is beautiful
---
Jimy Boy The Maine Coon From UK
By: Daniel
(Oxford,England)
Hi to all, I found Jimy on a website and I have been planning from long time to find a Maine Coon.
So he is an 11 month old tabby with great personality as most of the Maine Coons... soon will find him girlfriend and hope they will get together OK...
---
Tootsie
By: Cindy Harris
(Ohio)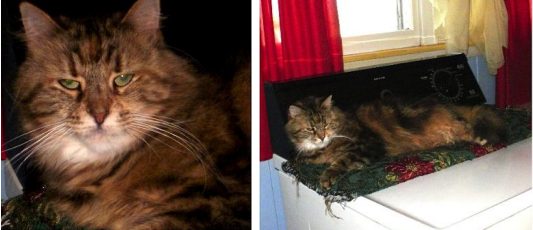 I found Tootsie under some bushes 5 years ago. She was around 3 months old. I rescued her.
She was matted very badly and wet from the cold wet Autumn we were having and she was so scared.
She is somewhat still skittish, but she is better than she use to be.
She is our delight and a joy for us. She's also very very smart. We love her so very much.
Comments:
Tootsie
by: Sue B.
What a beautiful girl! How fortunate for both of you that you found her. Maine Coons are so receptive to our love. What wonderful cats they are!!
---
Choochie
By: Markelle
(Charlotte, NC)
Choochie is a typcial Coon, he loves to be by your side all day long and has a loud singing purr.
I can get him to come to me from anywhere in the house if I sing his name, he's our dog 'dressed like a cat'.
He's 100% cool when I dress him in any attire, he is a frequent model of this Steeler jersey during football season.
Comments:
WINNING!
by: Aunt Danielle
Choochie is such a superfly cat with supercute looks!!!! As Charlie Sheen would say, he's WINNING!
Jackets for cats
by: Kim
Coons are well suited for cold weather. Cats decipate heat through their belly. Your cat is probably quite uncomfortable in that jacket even though he doesn't show it.
GOOO CHOOCHIE!!!
by: Aunt Andrea
Chooch is one gorgeous cat with a HUGE personality.
Love you dude,
Aunt A
Too Cute
by: Mary Barota
This winner is just too cute.... and sings too.. lol. Thanks for sharing.
---
Our Girl, Skitty.
By: Sue Baldwin
(Michigan)
Our girl came to us about 9 years ago as a stray. After we gained her trust we took her to the vet to make sure she was healthy.
The vet said she had the worst case of ear mites she'd ever seen. It took several combings and a few hair cuts to get her long thick coat to look like a normal cat.
We named her Skitty because she was very skittish around most anything and everyone. She's since calmed down a bit and certainly has the rule of the house. Everyone should have the experience of owning such a sweet loving cat like a Maine Coon.
Comments:
Beautiful Cat
by: Pat in Ocala
Your Skitty is beautiful and so lucky to be given a home by you. We raised our cat from a kitten and she will act skittish when the doorbell rings or she hears loud noises, but that is normal for her. She is a sweet companion and is with one of us most of the time.
May you and Skitty have many good years together.
---
Judas - 8 months old = Maine Coon Mix?
By: Chrissy
(Auckland, New Zealand)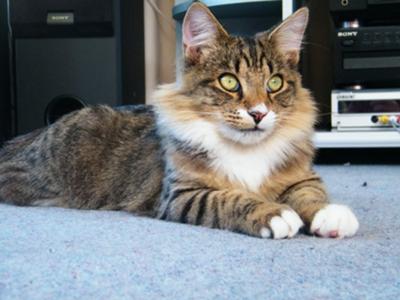 Judas - 7 months old
We adopted Judas when he was 6 weeks old, he has well an truly become part of our family and gives us hours of amusement.
He carries his toys around in his mouth, follows us around and "supervises" our activities, he prefers to sleep beside us or on the floor but at night will curl up on our pillows and put a paw on our faces.
At 8 months old he is already bigger than our 16 year old Persian cat. He has the physical characteristics of a Maine Coon and from what I have read a lot of the personality traits.
We adopted him from a friend and his mother didn't have any of the physical characteristics that Judas does.
---
Max, our Maine Coone Cross
By: Chiobhon Muller
(Johannesburg, SA)
This is our 7 month old Max.
This mother, a regular house breed, had an "affair" with the neighbourhood Maine Coone, and out he popped.. together with his MUCH smaller sister...
Abandoned as a kitten of probably 5 weeks, he started coming to our house to eat our cat's food.. which was on the porch.
Our toddler spotted him outside one day, and after a month of trying to get him to not be scared of us and come into our loving home (we LOVE cats!) he's finally domesticated!
And might I say what a dream come true he is!! Such a loving cat, with the warmest personality you can think of!
LONG LIVE THE COONES!!
(TOGETHER WITH THE MIXES, LIKE OUR (HUGE) LITTLE MAX)
Comments:
He is soooo beautiful!
How could anyone abandon such a lovely creature?!
thanks!!!
by: Chiobhon
He's the kitty love of our lives!!
---
Ruby
By: Lacey Myer
(Indiana, United States)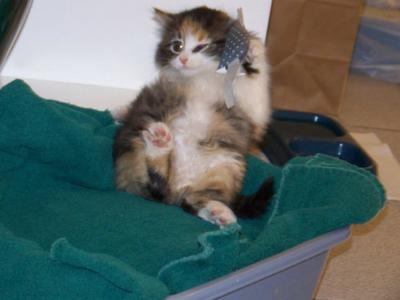 Little Ruby
She was the cutest kitten ever! She is a year old now, so is much bigger than this picture, but she is still just as adorable!
Not only is she cute, but she has the most wonderful personality! I am so lucky to be able to call her mine.
---
Casey
By: Erin
(USA)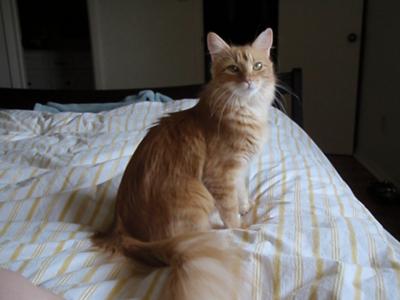 Casey
I got her from a humane society and she was in pretty bad shape. They had her listed as a Maine Coon, and I think they might be right. What do you think??
She's about 8 months old in these pics, but only about 6 pounds, which seems light. (My last cat was a Maine Coon, and I can't remember what age she really filled out, but she was a big girl- ~15 lbs.)
I love her coloring, and her sweetness, but she is very very shy around other people, which makes me think something might have happened to her when she was there.
Also, another quirky thing, Casey is totally not motivated by food. I try and give her wet food, she has 2-3 bites and then walks away... only the freshest 2 bites are good enough for her. The only thing she will come RUNNING for is yogurt (she gets the last lick of my spoon.) :)
Comments:
What a beauty
by: purpleangie28cats
She is totally adorable and looks so like our cat George...who we think may be part MC. he weighs 12lbs and is 1 year old.
She's adorable!
by: Toni Bondy
What a sweet kitty! Definitely looks to be part Maine Coon. I love love love her tail. Since Maine Coons grow for up to 3 years, your Casey may end up being as large as your other Maine Coon was. Or she might stay smaller. The average female Maine Coon weighs about 9-11 pounds.
I have a shelter cat who could be her brother! He's also 8 months old now and weighs about 12lbs.
He's super long and super skinny, but has the same traits that your cat has.
Here's some pics of him from the day after we rescued him at the shelter. Pardon the missing fur and the odd ears, he had a lot of medical problems and some surgery before we picked him up.:
Maxwell Fluffypants
---
Boris
By: Heather
(Adelaide South Australia)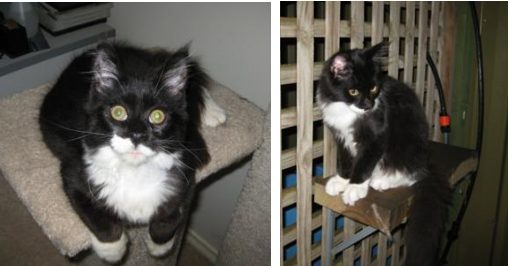 Boris is a black Bicolour boy that has joined my family to be with Sarah (MC), Zack (MC) and Timmy.
Comments:
Awwwww
by: Kathy
What a pretty boy!