Summer '22 Featured Coonies
Centauri Blu
by Bonnie Stearns
(Jenison, Michigan USA)
CENTAURI Blu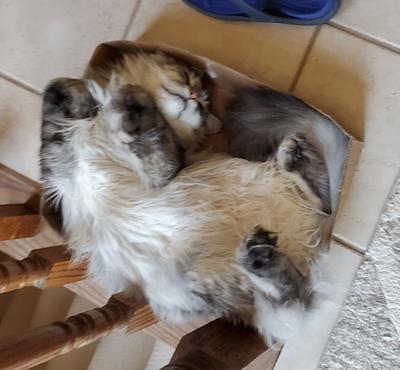 Centauri Blu won our hearts from day 1.. He arrived in our home and hearts 4 yrs ago.. We had picked him from the breeders at a day old so had a waiting period before he could come home with us..


He has filled our lives and hearts with so much love and affection... He's so intelligent and always wanting to learn.. He fetches, rolls over, does high five, knows many words, such as treat, cookie, bye bye, ni nite, drink your water etc...
We can't imagine this precious darling not in our lives...Love him to pieces!
Ernie and Frank
by Jessica
(Sheffield, England )
Ernie and Frank are best buds. They love cardboard boxes and plat fighting. They are the bosses in our house! The worst thing they have ever done was escaping out of the loft window onto the roof 🙈
Write your own page here: Photo Albums.
US* Yellowstonecoon Lawless Angel ' Coyote'
by Jessica Zerr
(Sinking Spring, PA USA)
We are so excited to see what next year brings for us from this unique and sweet baby boy of ours. He is a High Blue Smoke Maine Coon, and boy, oh boy is he ever handsome with those very special markings of his!

YELLOWSTONECOON is a TICA registered cattery here in Pennsylvania, USA. We take great pride in our Maine Coon kittens, including their health.

You can find us here on Maine Coon Cat Nation under their Featured cattery for Pennsylvania!
We also welcome you to our cattery page to watch these beautiful kittens grow along with us! https://www.facebook.com/YLLWSTNCN
Write your own page here: Photo Albums.
Shiloh from Ottawa, Canada
by Maureen
(Ottawa, Ontario, Canada)
Shiloh was born on July 1, 2021 in Russia. He travelled to Ottawa, Canada with the help of Nobel Maine Coon.

He came to his forever home shortly after Christmas 2021. Given the fact that he was born on Canada Day, he is now officially Canadian after recently celebrating his 1st birthday.

And you'll agree, he wears red, which is his favorite colour, quite well. At 14 lbs and still growing, he is so adorable and the sweetest, most gentle and social cat. I just love him to pieces.
Write your own page here: Photo Albums.
Summer '22 Featured Coonies
by Rachel
(Nebraska )
Lily (left) Loki (right)
Loki and Lily Take Over the World!
Loki and Lily are Maine Coon siblings born on 1/29/2022 from XL parents.
They have been such a blessing and beautiful addition to our family.
Loki is a polydactyl black smoke male and at his vet check up 2 weeks ago he already weighed a whopping 11 pounds! He is the biggest lover and enjoys snuggling on my chest. He's quite the talker too! Whenever he wants attention, which is all the time, he's not afraid to use his prettiest chirp to remind us of his presence.
Lily is a tabby female. She's much more independent than Loki is. Don't pick this girl up because she doesn't like being told what to do!
She comes to you on her terms and don't you forget it. That doesn't stop her from being the biggest sweetheart though. She takes great comfort in laying on our lap while she begins her full time job of making biscuits.
Lily and Loki currently have an Instagram account with 11k followers and they would love to see you take joy in their life and watch them grow!
I have a feeling that Loki is going to be extremely exotic looking once he hits his growth spurt. This page is solely pictures and videos of the coons and I do not allow promotional/spammy content.
Just_a_couple_of_coons
Write your own page here: Photo Albums.
Disclaimer: When you buy through links on our site, we may earn a small commission.
As an Amazon Associate I earn from qualifying purchases.
Our Coonies like:
Greenies
4.8 stars; 38k+ ratings
Pureness Giant High Sided Litter Pan
4.7 stars; 7.8k+ ratings
Stainless Steel Water Fountain
4.3 stars; 11k+ ratings