Spring Maine Coon Cat Photos
Spring 2016 Featured Coonies
Spring has sprung, and these beauties have a bounce in their step! Come see our Featured Coonies for this spring

Gryphon and Taun Taun
By: DeanAnn and Dave
(NY)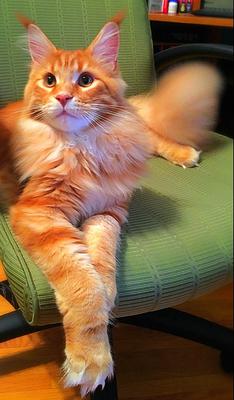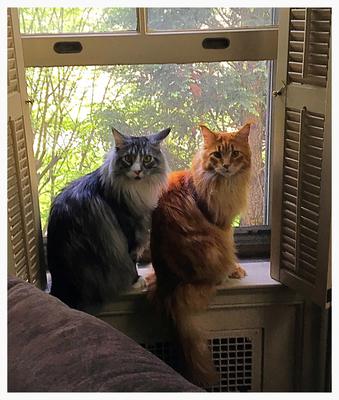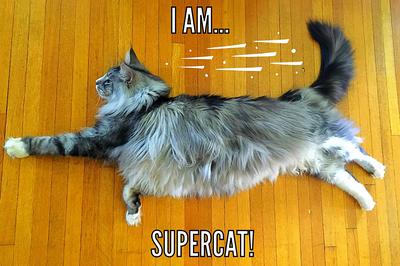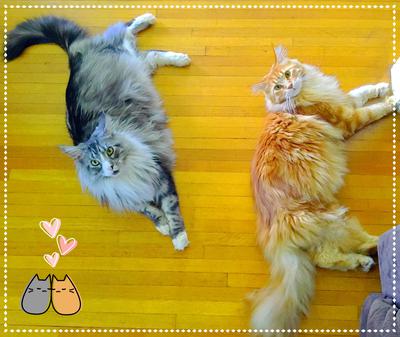 Gryphon is a  24 pound, 1.5 year old Silver Classic male tabby with white and Taun Taun is a 16 pound, 1 year old male Classic Red Tabby.
They act like brothers but are actually from different breeders. However, we found out they are cousins, as Taun Taun's grandfather is Gryphon's great-grandfather (a confusing surprise when we compared their pedigree!).
Gryphon "talks" all the time and doesn't like to be very far away from myself or my husband. As he gets older he is becoming more and more of a lap cat (or actually tries to sit as close to our face as possible).
He loves carrots, and can open door knobs with his paws. Taun Taun is "the teenager" of the house. He's always getting into things he shouldn't and often plays "tricks" on his brother (luring him into a pretend attack situation!).
He can catch toys with his paws and play fetch! They sometimes play the game "Who's That Cat", where they briefly have amnesia and freak out at the sight of one another.
Then just as quickly they realize,"Oh yeah, I know you...I see you everyday, all day long".
We love our Coonies and feel so blessed to have them in our lives. They have enriched our lives and provide daily laughter and joy.

---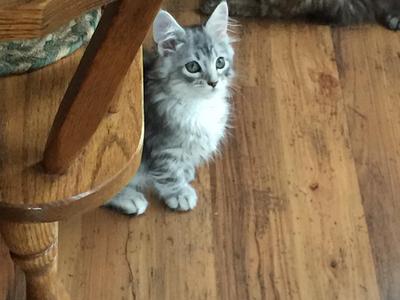 Our Little Guy
By: Linda LaBrake
(Elmira NY USA)
We got Samsun not too long ago, he is just a kitten. He has great personality. 

---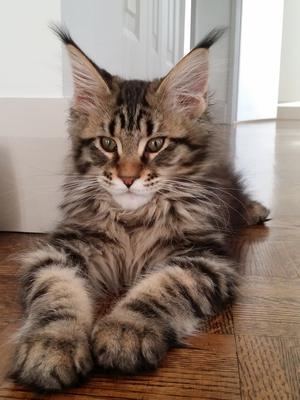 In the hallway
Montgomery
By: Patrick
(Ontario, Canada)
Montgomery is a purebred Maine Coon from the Lilicoon breeders in Quebec, Canada.  
He lives in Ottawa, Ontario, Canada.  He's currently 20 weeks  old and we picked him up at 12 weeks.  

He eats Orijen and Pets4Life raw or Tiki for wet food.  He has his own website at https://www.montysplace.ca, it has many pictures, food and weight trackers, and other tidbits from his daily life (one of his owners is a web developer and was bored one day).

He has been a little adorable fur ball from day one.  He sometimes crawls into bed, sleeps on his back with his head on the pillow.  This never fails to elicit a giggle from us.  He's definitely a clown. He can get a little overly rambunctious when he's playing/hunting, but that generally involves him rolling off the couch or some other bit of silliness.
He was named after the famous WWII allied general.
Your site has been a very handy reference for all aspects of raising a Maine Coon, thank you so much for running this site!
---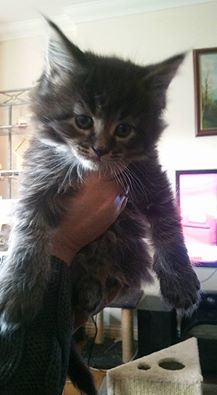 Billy~Blue - Our New Addition in June
By: Gordon Roy
(West Lothian Scotland)
Hi Gordon & Louise here.
Billy ~ Blue is the name of our baby Maine Coon who is just under 6 weeks old in the pic.
He is going to have plenty of fun playing with our 2 wolf dogs & 2 Ragdoll crosses.
Looking forward to posting updates as soon as we get him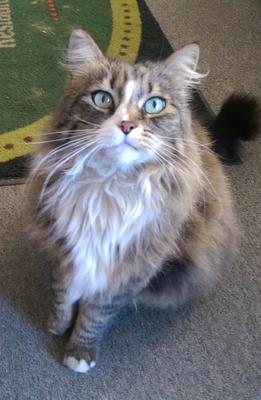 Riley
By: Patty
(Winters, CA)
Riley and Tucker lost their keeper when he passed away in a nursing home. He and the cats had only been there a short time. 
My daughter and I went to rescue the boys and brought them to our Towing business. An insurance adjuster came by recently and took his picture with Riley because he thought Riley might be a Maine Coon. 
I hadn't given it any thought. Here is the beautiful guy. He has a sweet little chatty voice. He jumps onto the counter and greets all the customers.

---
Happy Cat
By: Rachael Lokay
(Bethlehem, PA)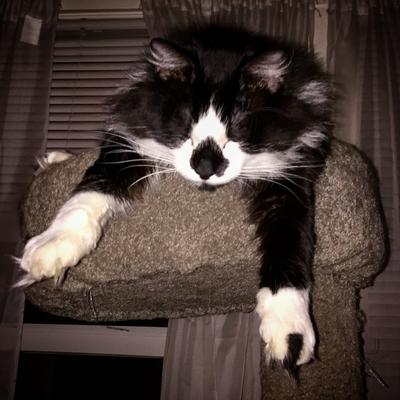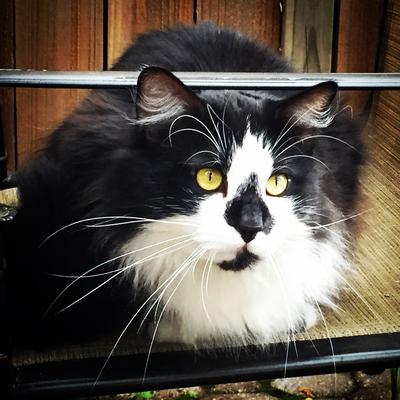 We found this guy as a stray over a year ago. He is a total clown!
I've had several Persian cats in my lifetime and he is nothing like them. He holds all the traits of a Maine coon.
The only thing missing is the more traditional "M" marking on his forehead. What do you guys think??

---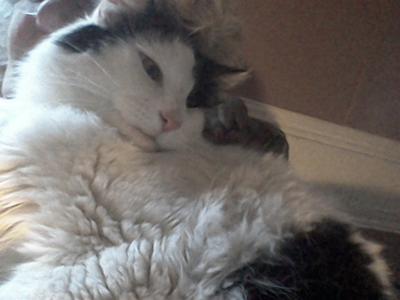 Sunny
By: Peg Rizzitano 
(Cherryfield, ME)
This is my gentler giant, Sunny Bunny.  He's one year old and is the love of my life!

---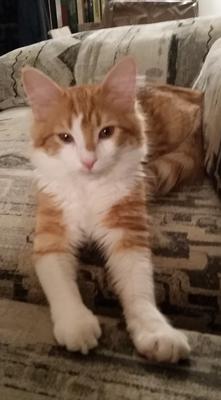 Introducing Our Loki!
By: Jenny W
(New Jersey)
After my beloved Gabriel died at 15 last March, I was determined to rescue another Maine Coon, and I wanted it to be a kitten. I saw this little guy on line at a shelter about 30 miles away, and when my husband and I went to see him I knew that he was the one. 
Right now, Loki is about 7 months old and a little over 7 pounds. He is a tumbly, energetic kitten who loves attacking hands and feet.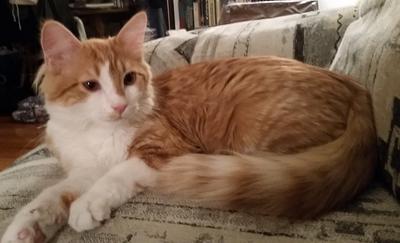 He meets us at the door, follows us around and keeps us company while nesting in the sink. The vet says that he will be a large, long cat, but right now he keeps us laughing with all his yummy, furry funniness.
---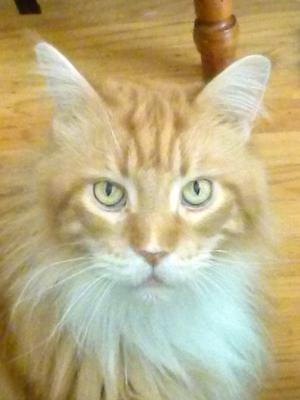 Joshua
By: Ellen 
(San Leandro, CA)
Loving, loyal, companion and protector of all female cats..... 

---
My Mr Muff
By: Kathi
(Muncie, IN)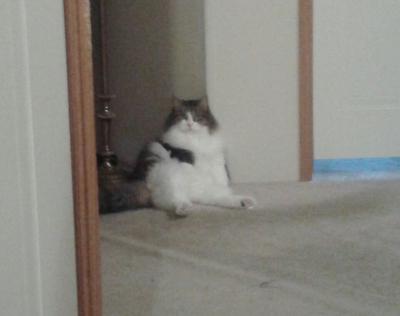 Just lounging around
Mr.Muff, He is like I've read here. 
More like a dog than a cat. Muff comes when called and jumps in my lap when I say meow. 
I don't know when this started but I'm sure glad I figured it out. He is full of fun and playfulness. 

He absolutely loves to be brushed, he'll grab the brush for more when I'm  pretty sure we are finished.  

He offers lots of love and he's a real good boy. 

---
Leo Pizio
By: Cynthia Haltom
(Maple Falls, WA, USA)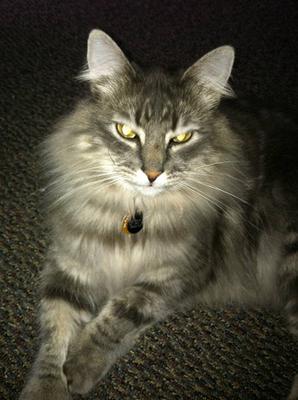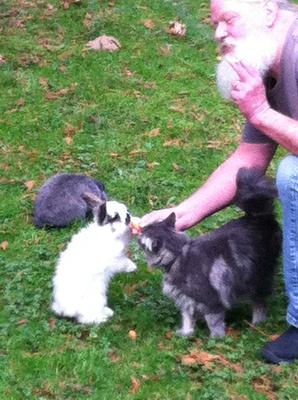 This fella has two main interests, climbing trees and running tree branches with his squirrel buddy and playing with the bunnies. 
He's out of control with the squirrel, he runs up the tree, across the branches, jumping from limb to limb and finally to the roof, where he sits or lays in the sun until he decides he doesn't want to play any longer. 
The bunnies are new born this winter and he treats them like they were his kids and this guy's only 1 3/4 years old.  He huddles over them and wraps his paws around them to protect them from intruders. 
When they eat he sits out in the yard and eats grass with them.  It's fun, amazing and kinda crazy.  We love him and can't want for the adventure that await us as we set out on new journeys this summer in our motor home.  I think it will be great fun.  Happy trails!!!!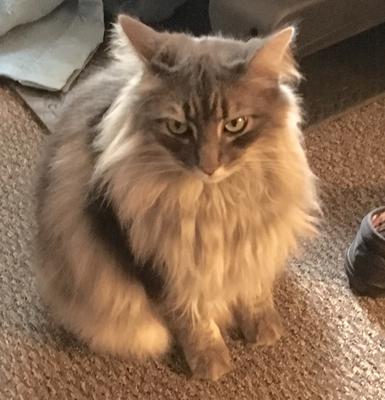 Leo's thinking of the Summer shedding process!
Update: Leo is a two year old Connie who has decided he is a squirrel, he climbs trees with the squirrels and walks along the limbs to get on the roof.
His best friend is q bunny whom Leo protects, eats grass with and sleeps in the rabbits den with them. He is amazing and when the rabbits aren't around Leo 'pouts' literally and just sits on the deck or looks out the window and whines.
We love Leo and are so glad he doesn't kill other animals., well except spiders, moths, flies and an occasional cricket.

---
Amber
By: Janice
(Toronto)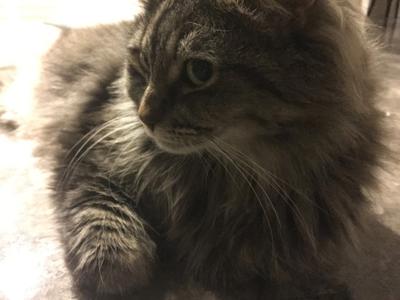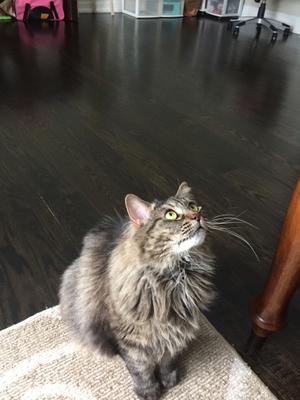 Amber is a cute little feisty cat.
She's only 2 and a half but she's getting quite big! She loves blankets and cuddles and warmth!
I live in Toronto, and needless to say, she's in love with snow.
She is a huge scaredy cat, in fact, she's even afraid of the birds!

---
Chevy the Maine Coon
By: Carmen
(Guyton, GA, USA)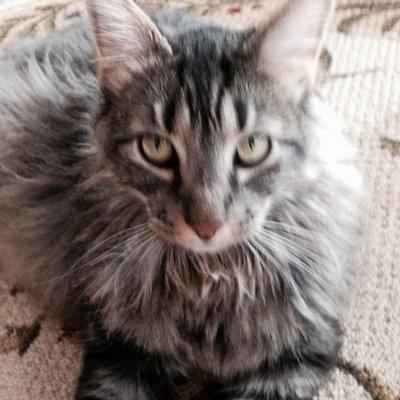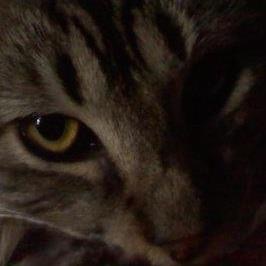 Chevy the Maine Coon weighs in at 27 pounds. He has no tail and the vet doesn't know what happened to it. I live out in the country where there are feral cats that show up starving and hungry quite often. 
Chevy wandered up to my front door with four other kittens and a mama cat about three years ago. I thought he was the father cat as he was so much bigger than even the mama cat. It was pouring down rain and all of them were soaking wet.
Because they were feral cats I fed them and made them a warm place on the front porch to rest. I have trapped, spayed and neutered several feral cats around my home, and returned them to their original environment.
Over the years I have brought in five of them to live in my house with me and my husband and two lab dogs.  According to my husband this is way over the limit. Lol.   
Chevy was having a rough time of it outside, as several cats were chasing him so I brought him inside. The following week I took him to the vet for the first time, I was shocked when the vet told me he was a kitten and not a full-grown cat.   
The vet also told me that he was called a Maine coon. That is when I started doing a lot of research about them and their special breed. He rules the roost over the other animals in our home and keeps peace between the females. 
Chevy loves to be brushed and loves attention.  He talks to me when I'm fixing his dinner.  He has his own personality and knows how to get his way.
He is very special to me. 

---
Tiger Lily Comes Home
By: JoAnn Meehan
(Toms River, NJ)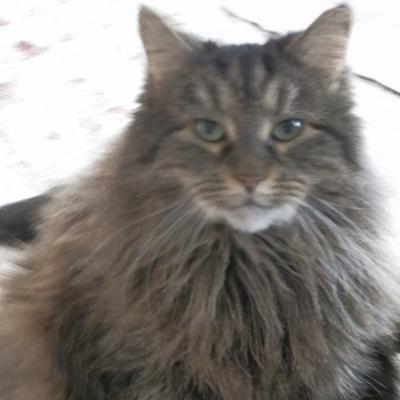 Tiger Lily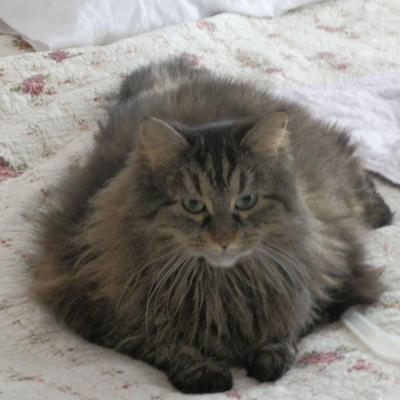 Tiger's favorite place to sit
Tiger Lily was born approx. 10 years ago. She was a faithful companion to a dear friend who recently passed away. 
We promised her owner that we would bring Tiger home to live with us again, and she has rejoined our family. 
She loves to play with her toys, and purr in you ears when she wants attention. Welcome home Tiger Lily.

---
My Two Kitties
By: Rich
(South Africa)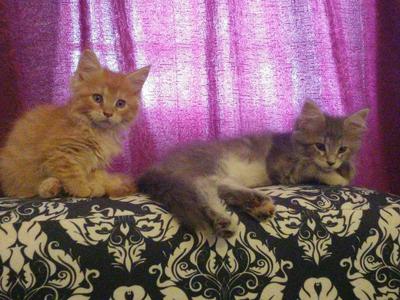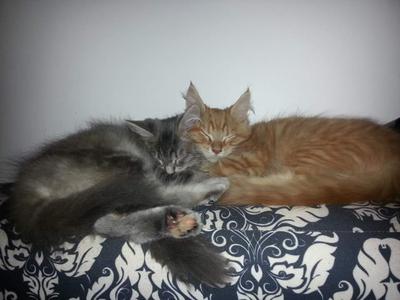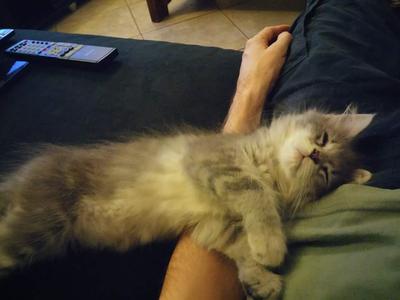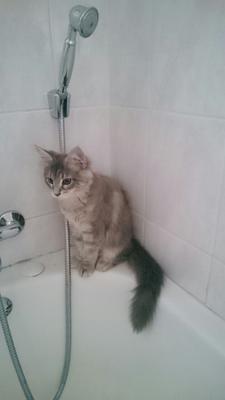 Here are my two Maine Coons...Harry (the ginger guy) and his sister Maggie.
Both are absolutely amazing cats and very active/playful and just all round great additions to the family.
These photos vary between when I got them to their current age of 4 months.

---
Kringer Part II
By: Soni
(Fort Lee, VA)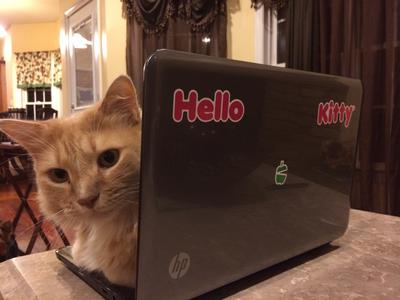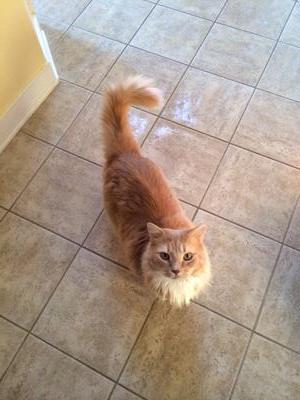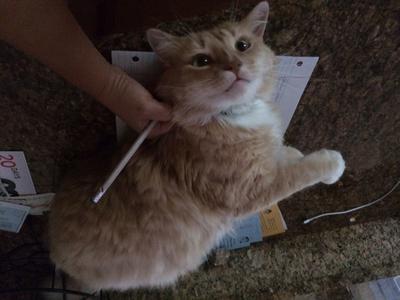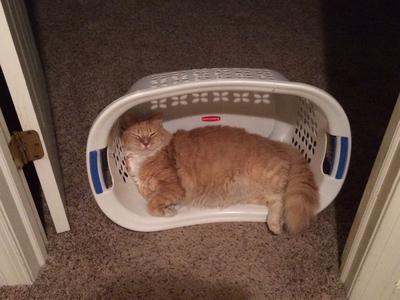 I'm convinced that Kringer is definitely a Coonie. 
Now fully grown, he weighs in at 20 lbs, though he's not fat, and when standing on his back feet, he can reach high enough to open doors (which he does all the time). 
He keeps us and the rest of the neighborhood entertained with his antics, not to mention he's a great hunter! 
He's brought home mice, birds, bugs, snakes, but the most impressive one is when he caught a falcon in mid air that swooped down to take his catch!  Here are a few more pics of our cat/dog! 

---
Our Baby Girl Josie! 5 Month's old!! Loves to play in Boxes!
By: Liz Jacot
(Naples, Florida, United States)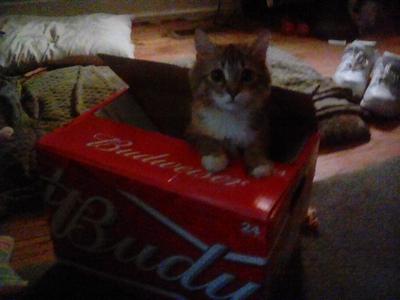 Josie loves boxes!!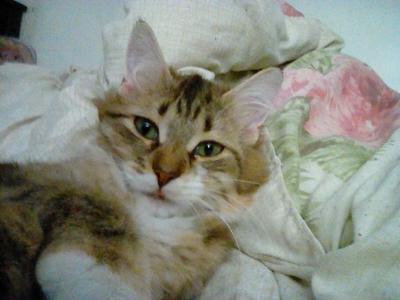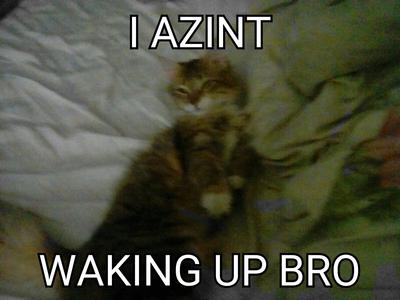 my grandson did this to Josie's picture! lol
Our First Feline. We rescued her.  No idea She was a Maine Coon! Or even what they were.
We already have Two Pekingese and Two Shitzu dogs. So we were worried how they would all get along.
The Truth about Cats and dogs? They Love each other!! We are so Blessed to have her. Our one Pekingese passed away suddenly in July and he was our baby of our Pekingese.
We did not want anymore pets. But a Shitzu needed a forever home so we took him and showered him with love. Then Josie Girl. AKA Thumper!! She Thump's.. Yes Thump's!Lol. Still a Kitten but what a Wonderful personality!

---
Baby Kitty at Rest
By: Sharon Krueger
(Camino, CA)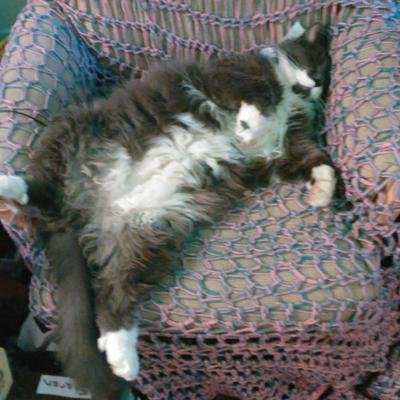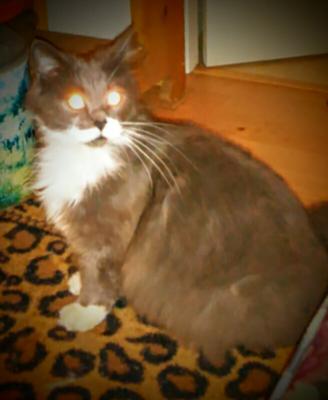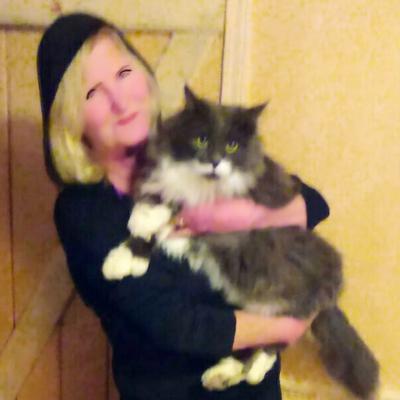 Baby Kitty is three and we have been together for eight months.  I have always loved cats and considered myself a bit of an expert until I met this Maine Coon cat. 
Baby weighs 25 lbs and has seven toes on both his front paws. The only thing baby about him is his name and his meow. His meow is almost delicate, nothing at all like his growl which made my hair stand on end the first time I heard it.
The family that had Baby gave him up due to their toddler tormenting him. I was thrilled, he is nothing like my former cats.
I got a quick schooling on what he found acceptable.  He can barely tolerate being pet, he hates hands.  When he is in a bad mood he is very vocal and he doesn't like anyone walking in front of him.
Thanks to common sense and Baby Kitty being able to learn new things we have come to some workable solutions regarding his behavior. He is a big-time biter.  With his dislike of hands I had to find a way to pet him and soothe him, I came across an old whisk broom with very soft bristles and he loves to be brushed, especially on the top of his head.
Quite by accident I got him to quit biting my ankles by walking behind him and telling him to go home. He has mastered two commands, Go home and Stay.  He is pretty amazing.

---
Nomad
By: Joid
(Prince George BC)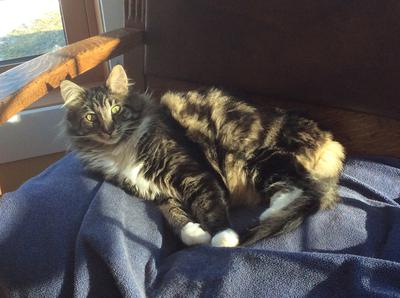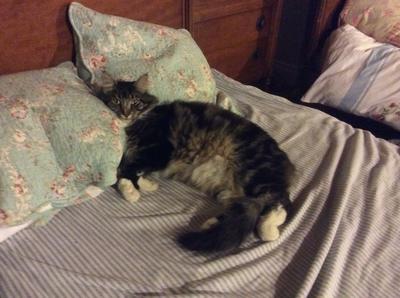 Nomad got his name as he was a homeless cat and came with the apartment my son and his girlfriend rented. We they moved out they brought him to his forever home

Peekaboo, Toady, Littlefoot and Yoshi
By: Roy
(UK)

Did you ever see such a happy cat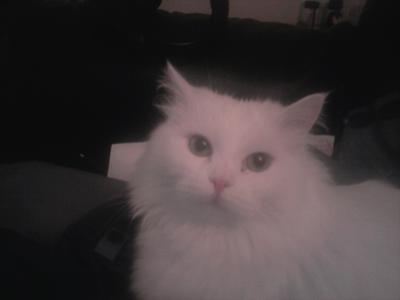 Just Littlefoot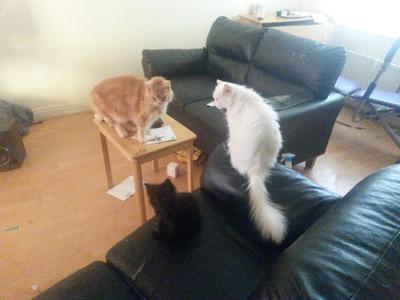 Only picture I have of all 3 of them together.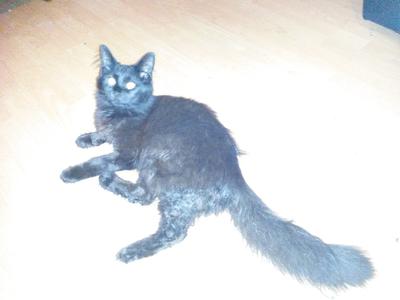 Them Eyes.
Peekaboo:
Peekaboo is a very loving cat with all the characteristic of a Maine Coon except he will come and sit on my lap for literally hours at a time.
He loves to just sit there and press the top of his head against my chin and with him being a fully grown 5 year old Maine Coon weighing at around 10 KG(22 pounds). He has no trouble sitting there he is actually a nice height for my chin to rest comfortably on his head.
He is a house cat but loves his time in the garden enjoying the sunshine and fresh air. He loves his water but he is very fussy about where he drinks from usually he will drink out of the bathroom sink so I put him fresh water in my spare bathroom 2/3 times a day depending on the weather.
He is very intelligent he will respond to key words I will ask him what he wants and he meows at me, I will then say garden, food or treats and he actually go to the back door, by his food bowls or on top of his cat tree where he knows he gets treats given to him.
Toady (rip)
Toady was peekaboos brother sadly he got run over about a month after I had him shipped over to the UK when I returned, he was pretty much the same as peekaboo but with his own personality traits, he was protective of myself if peekaboo and I were playing he would attack peekaboo he simply did not like anyone or anything  attacking me.
He was also the reason I got peekaboo, I had waited to settle into my home in Germany with my GF before I got another cat. About two weeks before Christmas she told me she had a surprise for me she then took me to see Toady. The moment we saw each other there was this connection.
He came running over to me and straight away it was like he was meant to be my pet, I spent a good 2 hours playing with him till his mother called him for dinner time, the only thing was that peekaboo had looked after Toady all the time they were growing up, peekaboo was the alpha of the litter and Toady was the runt but peekaboo would literally push the other kittens out of the way so toady could get in to feed.
So I decided I could not split them up so I ended up with both they were 2 peas in a pod it was amazing when they were together.
Littlefoot
Littlefoot is not a Maine Coon - she is a Persian, but as she is part of the family so she can't be left out. She is pure white, she seems to have a lot of the same traits as a Maine Coon except She hates water she only has to hear a tap turn on and she runs and hides.
She is not a social cat, well not towards people anyway, it takes her along time to trust people and even then the only person who can touch her is myself. Most of the time when people are over she hides up stairs or in her house in the cat tree.
She loves she is very loving to the other cats she will mother them all day if she had the chance.
Yoshi:
Yoshi is my latest edition to the pack he is the pure black one, he is Maine Coon through and through he loves water and I mean loves water, he will splash me when I am in the bath or when in the shower he will get under with me, he is only 12 months old at the moment but he is already as big as peekaboo and weights a little under 8 KG (just under 17 pounds).
I think he is going to be a big boy, he is very playful and loves to spend time in the garden with the other 2, however he is afraid of the grass he simple wont go on it, he even spits at it sometimes, I think he got stung or something when he first went out.
As with the other he is a house cat but I have to watch him when he goes out because he likes to hunt as cats do but he will hunt anything if it moves he will chase it.

---
Mortimer... Black Smoke Maine Coon
By: Kathryn Donaghy
(Gowen , MI)
Morti just turned a year old.  
He is a loving, intelligent clown.  He had a rough start with life saving intussuception surgery at about 12 weeks.  
He is my "dog cat",  follows me everywhere and if I don't pay attention he will reach up and grab me. He is not afraid of anything!  

He greets everyone and will let young children maul him, which surprised me, as our kids are grown.  He love our dogs, our rescue cat, water, leash walking and laying on the table next to me :)

He is the laughter in my life.
---

Maybe-Maine Coon and Mixes: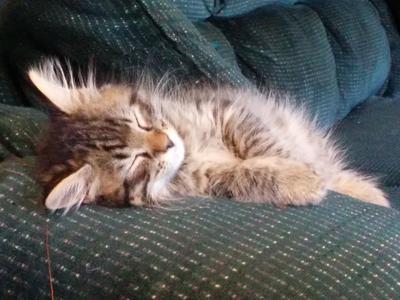 Artemis resting after a holiday weekend!
Artemis - Possibly A Mix?
By: Joan
(Dallas, Texas)
8-week old Artemis (named for the Greek goddess of the hunt) showed up on our curb in a rainstorm. 
Once she was dried off, we noticed her tufted ears, a ruff, and HUGE fuzzy paws. When she's in play mode, she is a wicked stalker and pouncer - very fierce! 
She's friendly and outgoing with visitors (and tries to eat their shoes). The only attribute she's missing is a big fluffy tail. 
We think she's a Maine Coon mix. What do you think?
---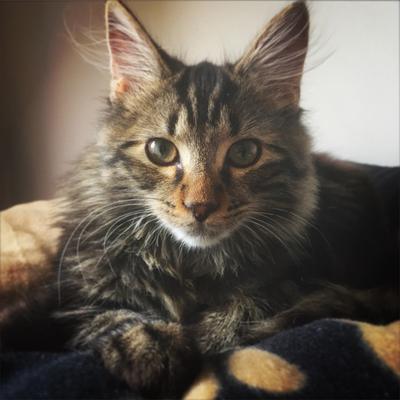 Mr Dalliard
By: Neurotic Cat Mamma
(Australia)
This little (hardly!) guy was found at 3 weeks old in a garage, and was fostered until he was old enough to be taken home. 
The first thing we noticed about him were his enormous paws - we thought he'd catch up to them, but they're growing along with him! - and after that, his fearless, extroverted personality right from the start. 
He's five months old now, already weighs over 4.8 kgs/9 pounds, is easily the size of a fully grown house cat and is just the sweetest, funniest, smartest boy. 

Super affectionate, wonderful with children and adores water - I'm always having to fish him out of the toilet and stand guard over glasses of water! 

A few friends have said they think he has some Coon in him. I am beginning to think they're right, although I was initially dubious because of how he was found. 

He does seem to have the personality, and the classic physical features - large oblong body, ear tufts, tufts between the toes, long fluffy tail etc. I guess we'll see how big he gets :)

---
Kiki
By: Kathy King
(Miami)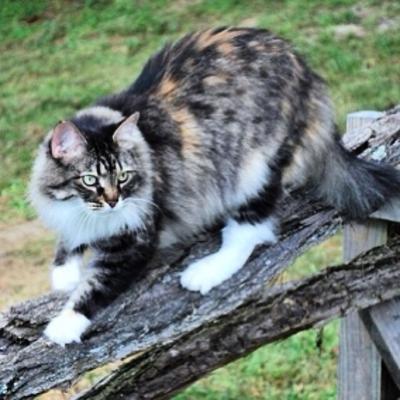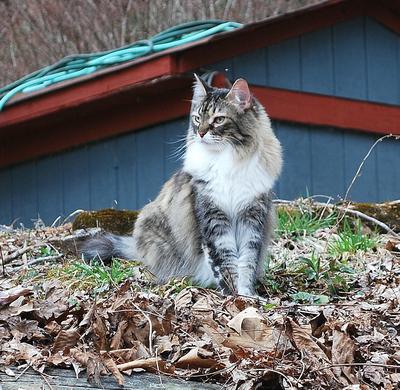 She has many Maine Coon traits. She has the look, the fur between her paws and the  M on her forehead. 
She hikes with me, sleeps with me and is always near me
---
Zoe
By: Tima
(South Africa)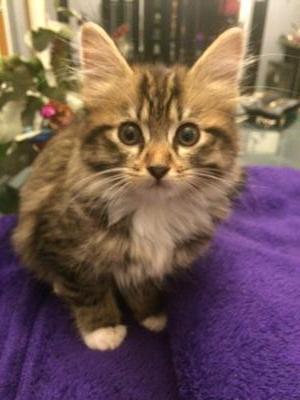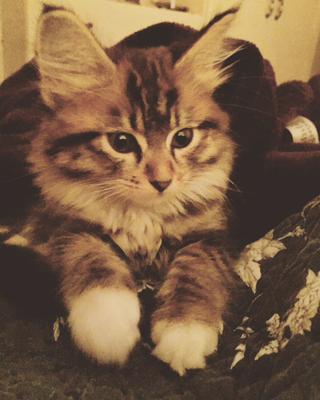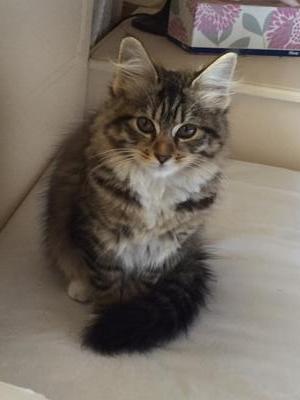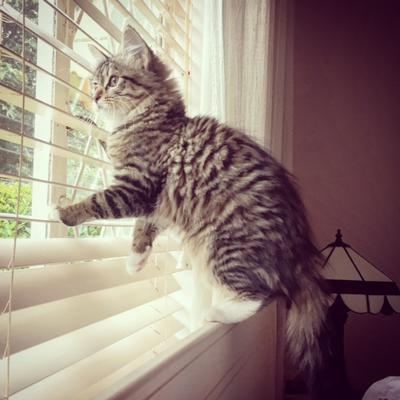 Zoe is almost 4 months old. She was bought from a classified advert online. 
I was told her father was a Maine Coon but I didn't see him. She is full of energy and spunk. 
Zoe is adorable regardless of heritage. I am just curious though so I can provide more specific care for her breed if she really is a Maine Coon.

---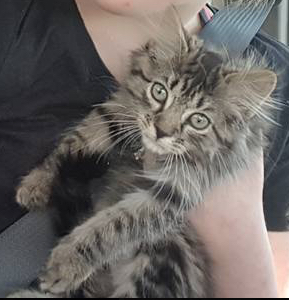 Caroline's Trip to her FURever Home!
"Mr. Catsby, The Great Catsby" turned "Caroline"
By: Stephanie S.
(Oakdale, CT, USA)
Meet Caroline, previously known as Mr. Catsby.
The shelter we got her from misgendered her, so when we took her to the vet we were surprised to learn that we had to rename he/r.
Anyways, Caroline is a rescue kitten. I got her when she was 8 weeks old (pictured) from a shelter that only housed cats. She chose me.
I never was a typical "cat person", but boy did she change my mind! She came up to me from the back corner of the room and just rubbed against my leg with her motor running (purring).
She was 1 of 3 of 9 cats (8 kittens and the mother cat) that were rescued from a meth lab; the mother and 5 kittens unfortunately did not make it.
Anyways, Caroline is my fiance and I's first cat EVER. Neither of our families ever had cats growing up. Her and my service dog are best of buds. They nap together, play together, etc.
She is very needy and consistently wants to be in your lap (even if that means laying on your laptop keyboard, knocking your book out of your hand, etc. [although, I do not really mind it :) ]). Anyways, not that it matters what-so-ever, but I was wondering if she was a Maine Coon or if she had some Maine Coon in her somewhere.
The receptionist at the vet said she looked very Maine Coon-ie. The vet said she is quite large for a kitten her age. Like I said, my fiance and I are very new to this whole cat thing so we don't have anything to compare her to unfortunately. 
All answers and tips are welcome... Thanks in advanced!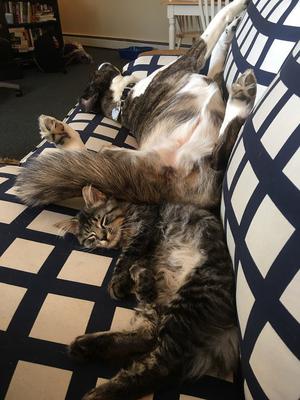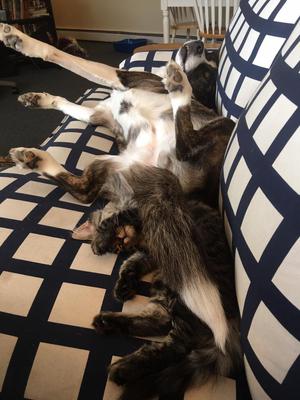 ---
Rag Doll X Maine Coon
By: Trudie
(Scotland)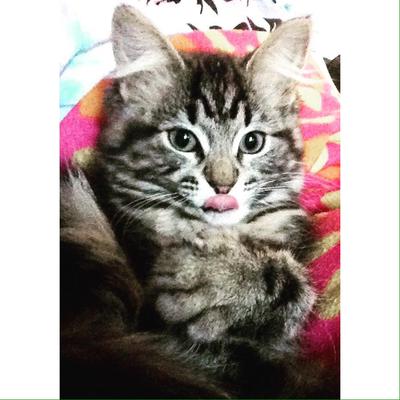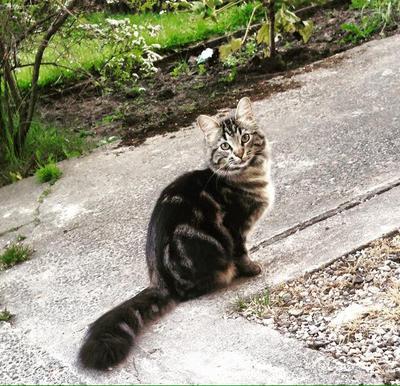 Got this special little girl in October last year, I think she is more Coon than Ragdoll, what do you guys think?

---
Do You Think Juli Has Maine Coon In Her?
By: Neina
(Auburn)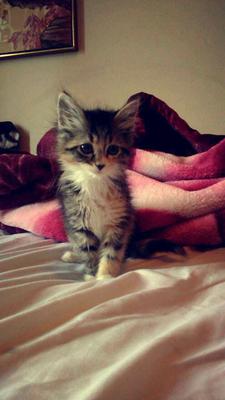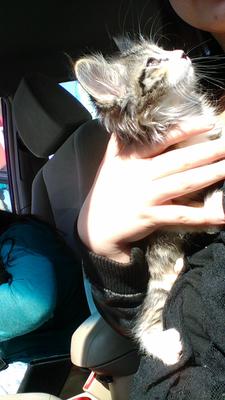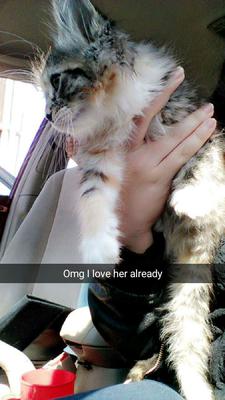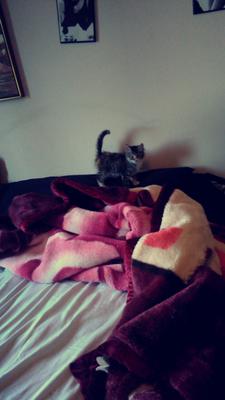 This is Juli without an E. She's 6 weeks old and we got her from a lady that was selling her accidental litter on a Facebook page. 
She's a huge love bug, very fluffy and sweet. We think she might be a Maine Coon mix because of her long fur and ear tufts. 

She has a lot of similarities to a Maine Coon and we get told this all the time. Her mother is a calico but the father is unknown. Give us your opinion if you think she might have some Maine Coon in her (:
---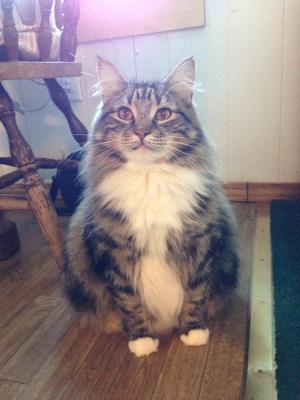 Mavis (a.k.a. Mavie-wavie)
By: Christina 
(Bloomville, NY)
We got her from my mother as a stray when she was a tiny kitten. She's now about 4 years old. 

---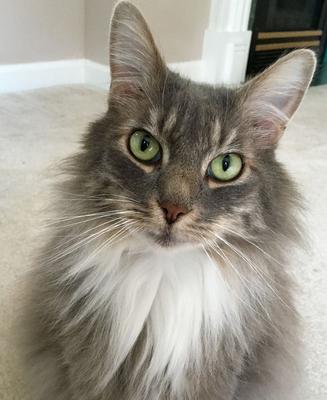 My mellow fellow
Sir Rory Longfellow
By: Rhonda Ewers
(Camano Island, Washington)
Rory LOVES water and is the mellowest cat I have ever experienced. 
He looks into your eyes to really get to know you...everyone who sees him says he is a Maine coon.  He weighs 15 pounds and does not have the lynx crosses at his ears,  What do you think? 
He was a rescue cat so no prior information...now he rules over our house and wins every heart with his gentle loving ways. 
It would be fun to know if he is a coon but we adore him just the same if he is not.
---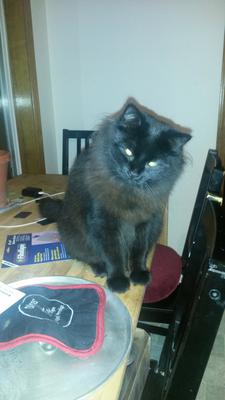 On the table
Haydiez
By: Bonnie
(Gladstone, OR)
He really is the sweetest cat, and at a year old is about 13 pounds. He hides from people though!!!
At home with my husband and I he is out and just loving, but then people he doesn't know come over and he will not come out.
But he really looks like a Maine Coon!He has a main around his neck, fluffy tail, tufts of hair between his toes. And even though he is named Haydiez, the vet called him an Angel.
But he is just scared with other people.

---
Hobie Cat
By: Krista M
(Baltimore, MD)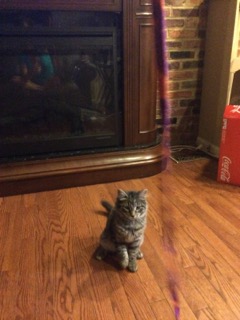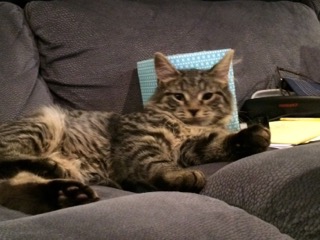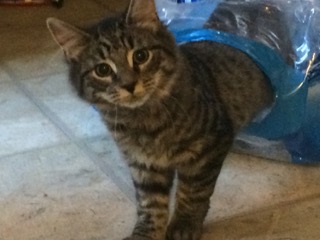 We just took in this little stray the other day.  
Think he's about 5 months old, headed to Vet tomorrow so will have more information.  Several people have said he looks like a Maine Coon.   
He's got the squarish face, bushy tail, medium hair and ear tufts.  Great personality, follows us around, playful, lap cat.  Was wondering what you all think?

---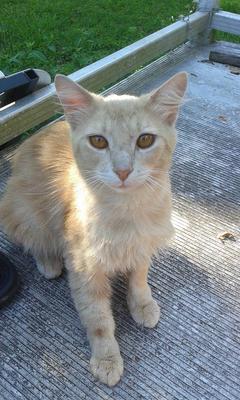 He's been being bullied by a stray cat and has a hurt paw, and has been loosing weight
Fat-Boy
By: Rebecca Rhiannon
(Lake Butler Florida)
He's so loving. He is an outside cat because my papa is allergic to cats but if i open the door he comes running, even if he's not in the yard.
Any time I'm in the yard he wants to be clung right to me and loves to meow so that i know he is around. If I touch him he almost instantly starts purring. His momma wandered into our yard and had patches of missing hair, and cuts on her.
She was pregnant and shortly later out popped 5 kittens. All five have these bright orange(copper) eyes, just like she did. They also all have the really long fluffy tails. (Fat-Boys sister princess Ginger likes to keep her tail laying flat on her back or straight in the air.)
They are about 13 months old. he has a really fluffy neck and chest bust wasn't well captured in the image.

---
Luna
By: Kaylie
(Ohio)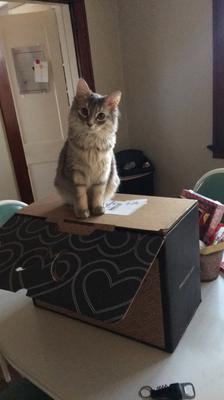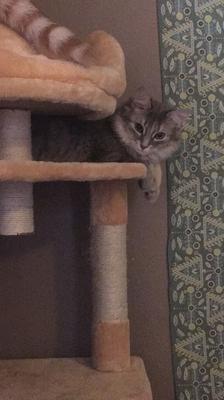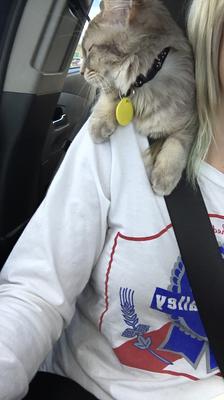 Luna is a spirited, fun loving 10 month old kitten.
After reading many forums I feel strongly that she is a Maine Coon mix. She is constantly talking back and forth with me.
She LOVES water so much that she tries to lay in her water bowl. She has a unique personality and I wonder if she even knows she is a cat.
She loves car rides and perching on my shoulder while I do house chores. One thing that is unique about Luna is she chatters ALL the time.
It could be at the pointer on my computer or a fur ball blowing across the ground. She definitely is Queen of the house. She has such a big personality she is like a child to me. 

---
Could be a coon mix I'm not sure that's why I'm here
By: Ellie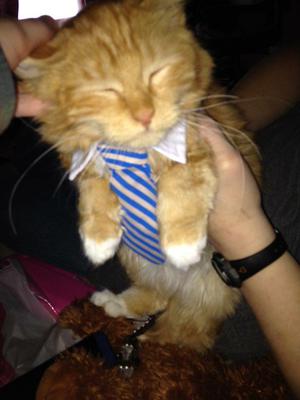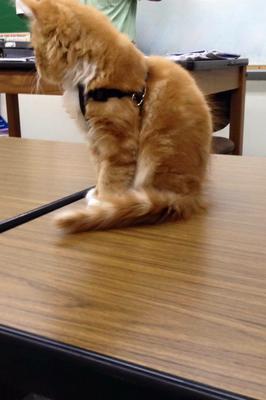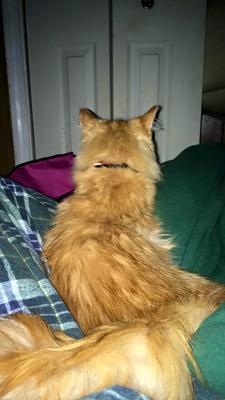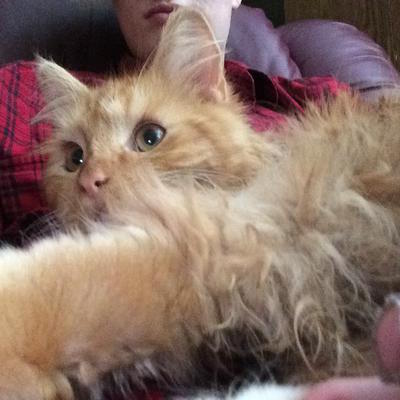 Meowmeow is so sweet and meows and most of the time he's trying to talk he says "yes, no, me, mom, stop, and okay"
He was born in our house and was different from the other five kittens and he was almost always twice as big as the other kittens (mostly because his mom kicked him out too early and I started feeding him) and babied his older brother who was a little handicapped.
He's the friendliest cat ever and loves being around other animals including rodents and birds and likes being on a leash and going for walks with me and sleeping with me. Um that's about it I guess. I forgot I treat him like my son and he calls me mom, or about as close as you can get with a meow

---
Olive
By: Pat Scrudato
(Westbury, NY)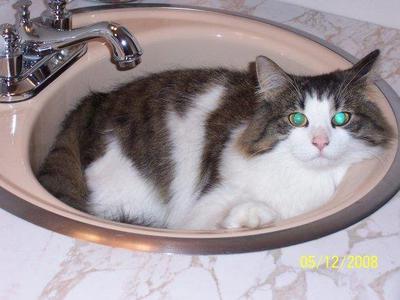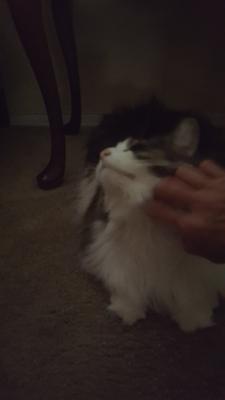 Olive is affectionate and loves attention, but on her terms.  
She wakes me up in the middle of the night to be scratched or sometimes I think she is just letting me know she is there.  
Olive is 10 years old and beautiful.  She greets me at the door when I come home and demands attention.
---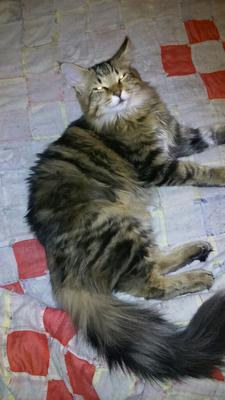 Chase Lukas
By: Kelly Cantrell
(Three Rivers, Michigan, USA)
My husband and I rescued two small kittens barely alive from under my brothers trailer. 
We bottle fed them, fell in love and have given them a furever home. 
The male, Chase aka "Brudder" looks and acts so much like a Maine coon, and I was hoping he is, or at least a mix. I love Maine Coons! 

The other kitten a female, Serenity aka "Sissy", we believe is his sister, has short hair and no similar traits other than her eyes and facial features to him. 

Chase loves eating, cuddling, being all up in your face, and purrs if you hug him. He and his sister always seem to be smiling and happy :)

---
Jasmine
By: Linda
(Pittsburgh)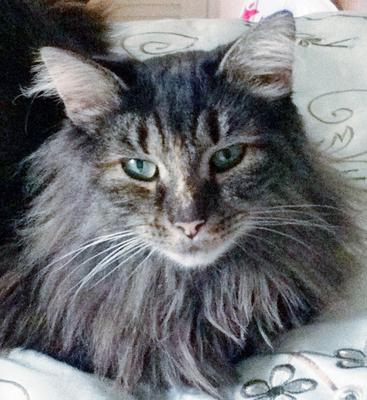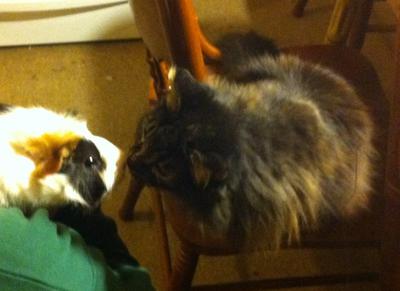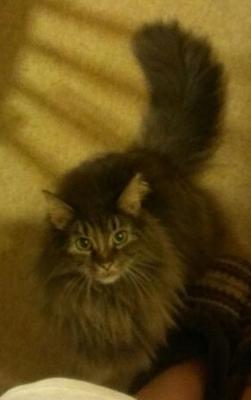 Jasmine is our 12 year old princess. We're not sure if she's a Coon kitty or a mix. 
We adopted her 4 years ago from a local shelter. She was picked up by a good samaritan and had been there for 8 months! 
We were told that no one wanted her because most people are looking for younger cats. She is chipped and her previous owners were contacted but refused to take her back because they got a puppy. Boy, did they do us a favor!
She is the sweetest kitty ever. She follows me everywhere just like my dogs used to. Her best friends are two guinea pigs. Watching them interact and hearing them "talk" to each other is adorable. 
Even though she's 12, she tears around the house like a kitten and loves to play. I'd be lost without this little shadow. She's such good company! 

---
Moe! Not sure if he's part Coon, or just big and fluffy!
By: Ashley
(Largo, FL)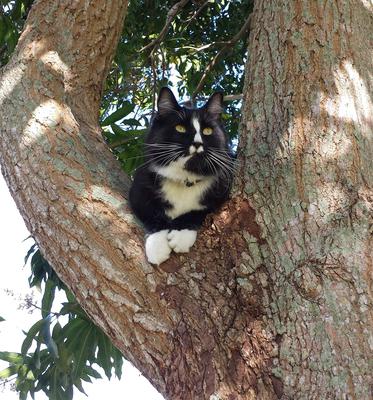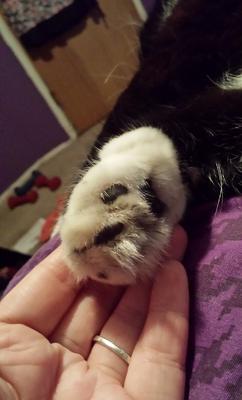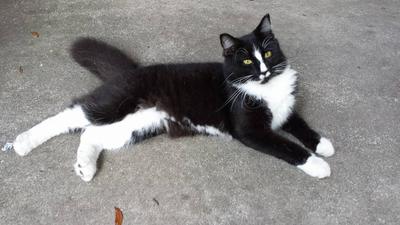 I read these articles and I'm still not sure. My cat Moe exhibits some of the features of a Coon, but not all of them. 
He is black and white, and very fluffy. He's almost a year old now and 12 lbs! 
My father found him as a tiny kitten, most likely abandoned by an owner or feral mama cat. He is very loving and needy (and kneady!). 
He absolutely hates to be left alone, and if he is left alone, as soon as someone comes home, he doesn't leave them alone! 
He meows and tells you how much he loves you as he rubs your legs, then jumps in your lap as soon as you sit down! 
When he wants attention, he will make sure you know! He likes to drink from the bathroom sink and he will tell you when he's thirsty, he meows all the way to the door. He's also very smart.
This is my first experience with a big fluffy cat, so I'm not sure where to start. My first instinct like many was "maybe he's part Maine Coon?" after reading this, I have some doubts, but maybe you can help me! 
He definitely has tufts of fur that come out from his paws/toes, but his ears aren't very lynx like. He's about 21 inches long right now, with about 9-10 extra inches for the tail (he is only a year old, so if he is part Maine Coon, he might get bigger!). 
He has some of the longest whiskers I've ever seen on a cat, and he's soft and fluffy all over. If he's not part Coon, maybe you can help me figure out what he is? I mean, he could just be a big, cuddly, domestic long hair.
---
Eve
By: Devon
(U.S.A)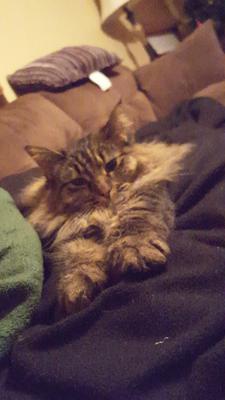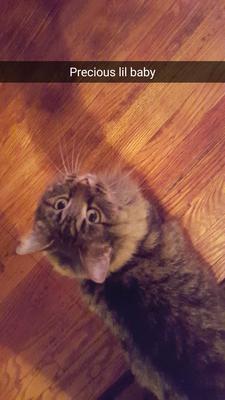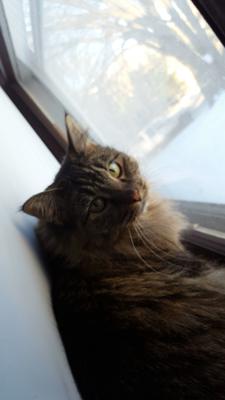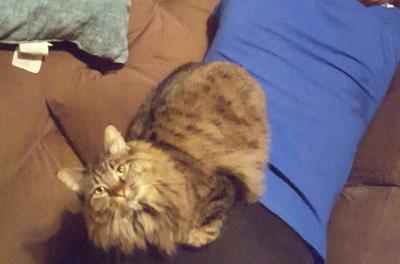 Eve (Evangeline) was found outside with a litter of kitties about a year ago. 
I happened to stop by the shelter a few months after moving out of my parent's because I love seeing all the cuties there. She caught my eye. Beautiful. Energetic. She demanded my attention. 
I realized she looked a lot like our old Maine Coon when I was younger. Little tufted ears. The "m"s above the eyes. The long coat. The massive size. The dog-like personality. 

What do you think? She currently weighs 11 pounds at almost 3 years old. 

---
Kensi (Maine Coon mix?)
By: Nina
(Wagga Wagga, NSW, Australia)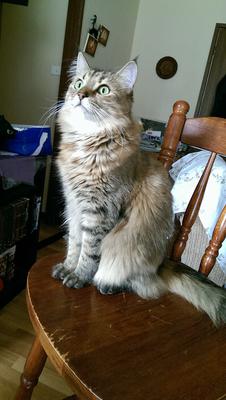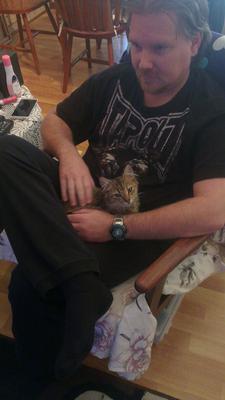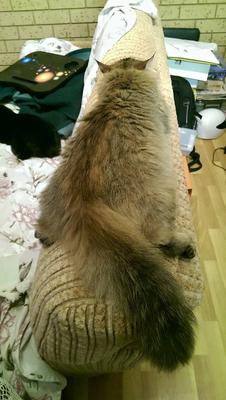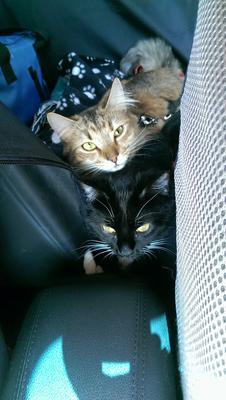 Kensi came to us about a year ago from the local pound. We already had one rescue, Danno, from a rescue group and he was getting lonely whilst we were at work so we decided Danno needed a friend.
We contacted the same rescue group again and one of the foster carers who also volunteered at the pound called us in a panic about Kensi as she was "due" in the next few days.
We only went to look however when she spent our entire visit kneading and purring in my fiance's arms we were already smitten. The visit to the pound was bittersweet but the next day we left the pound as new parents once again.
At the time the vet estimated her to be 16 weeks old and now she's nearly 1 1/2 years old. She's already bigger than her 2 year old brother.
We're not sure what she is and we don't really care either but curiosity is getting the better of us and we've started suspecting she's a Maine Coon mix as she gets older.
She loves to talk and is so affectionate. She's not a lap-cat or very keen on longer cuddles but is glued to our sides, rubs up against everything and loves giving headbutts. She purrs at the drop of a hat and immediately tells us when she's found a bug to chase and she can't see it anymore.
About 1am each night it's time to chase each other around the house at high speeds and wrestle.
---
Six The (Maybe) Maine Coon
By: Dani
(Colorado)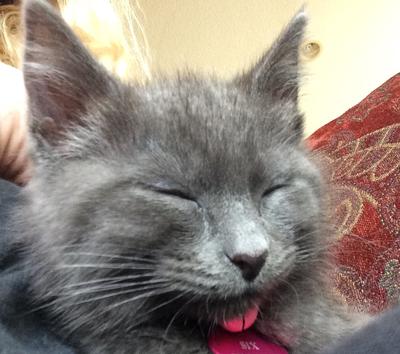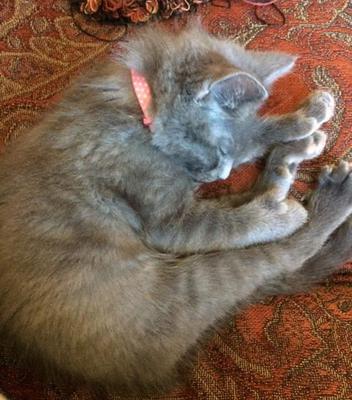 This is Six.  She was adopted from a private residence about a month ago.  We weren't told what breed she is. We simply answered an ad on Craigslist for kitten adoptions. 
We did get to see the mama cat. She had very long hair and is much bigger than our dog, who is 12 lbs. Six got her name because she has six toes on each paw. 
She has very large, pointed ears and very large paws. She also has the classic, fluffy mane around her face and neck, as well as the gray tabby stripe on her body. She is very sweet and loving, very vocal, and I've been able to train her much like a dog. 
She comes when her name is called, has learned to give kisses, knows the word treat and goes to her special "treat spot" by her food bowl when I say it. All this and she is only 9 weeks old!  
She loves kids and doesn't mind being handled. In fact, she prefers to be cuddled and held at all times. She is even loving with our Pomeranian. He was a rescue. They adore each other and play all day. 
We took Six to the vet but because she was so small the vet could not yet tell what breed she is. She did say that it is quite possible Six is a Maine Coon though because she did have quite a few traits. 
Unfortunately, the people we adopted her from lied about her age. We were told she was almost 8 weeks old when she really was only four. 
We didn't find this out until after we took her to the vet. We are almost certain she is part Maine Coon. We suspect the mama cat, who was an indoor cat, somehow got out of the house and mated. 
At the time of adoption, had not heard of Maine Coon cats. I was trying to find out her breed and typed her characteristics (6 toes, big ears, big paws, large body, long fur) into google and Maine Coon kept coming up. 
The more I read about them, the more convinced I am that she's Maine Coon mix. Take a look and let me know what you think. 
Rupert and Daffy
By: Dana 
(Dekalb, IL)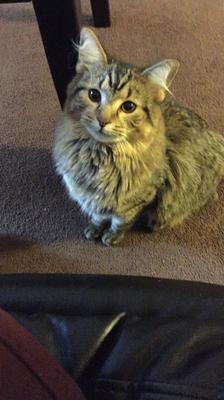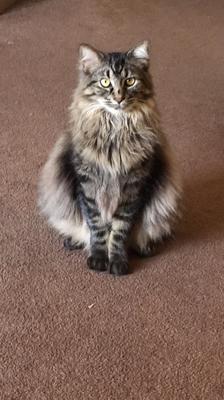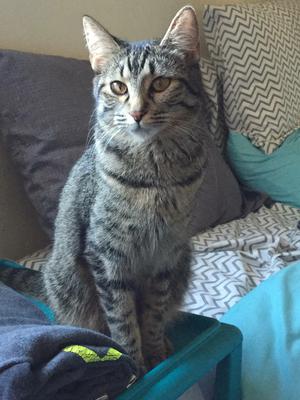 I have two cats. They're brothers. I had been fostering them and their mother when they were three weeks old fell in love with them and kept them.
Their mom is a short hair domestic. The first one, Rupert, is very, very cuddly. He is also pretty vocal and has a tiny little meow.
He has a big belly, a ton of fur around his neck and very pretty eyes. He also loves to play and explore! The second one is Daffy. He has about the same physical characteristics and is very playful.
He is very vocal especially when he is picked up and is always under your feet. He loves to give kisses but isn't much of a cuddler. He is also pretty long and when he lays down he can get very flat which is different that other cats I've had. 

---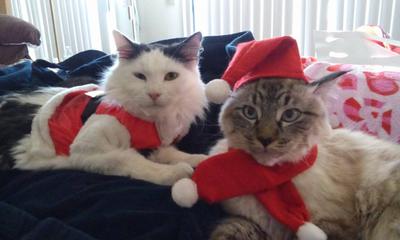 Charlie possible Coon Mix? (on the right)
Charlie
By: Michelle
(Santa Barbara CA USA)
I rescued Charlie (on the right) from a shelter and he is now approx 13 months old.
His size and weight surpasses his foster brother who is a year older than him. I don't know how much he weighs but he is very solid, heavy and long in comparison and he makes his brother seem petite and light.
He is by far a better, faster hunter-always snatching up kills quickly and efficiently (moths and bugs) and even snags them from his older brother who prefers to play with his kills. Charlie eats his kills immediately. 
He has a quite, high pitch chirping sound and raspy meow when trying to communicate he wants to go outside. He has a big appetite all day long and wont let me rest until he gets his treats or food. He will try to bury his left overs with newspaper.
He will walk in front of my feet, trying to herd me behind him, walking in a s shape path in front of me twisting his neck to see if am following him to his eating place. He is relaxed when being handled, his body like a limp noodle and very patient  when I am holding him, grooming him giving medicine etc. He purrs freely and loudly.
He can also be territorial - not wanting to share his liter box, kicking his brother out of sleeping spots and immediately lays down in my spot after I get up. When his brother gets attention, he seems to be put off and will try to take over as he must be the center of attention.
His fur is mix between medium and long, tufts of hair at his ears and in between his toes and he has a big beautiful fluffy tail. His eyes are a stunning yellow/gold. What do you think?

---
Miley the Wrecking Ball
By: Diana
(South Carolina)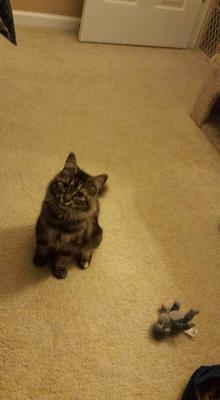 Here's her shaggy body. She's only 6mos so still small.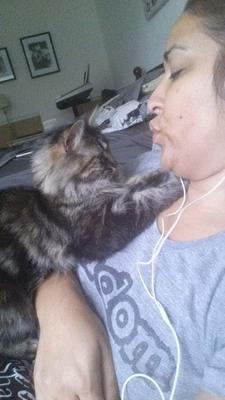 Her fluffy profile!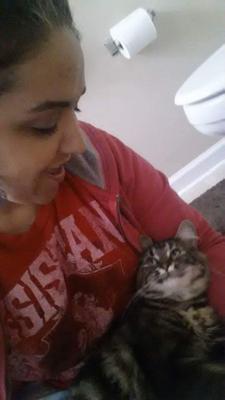 Never enough love!!!!!!!!!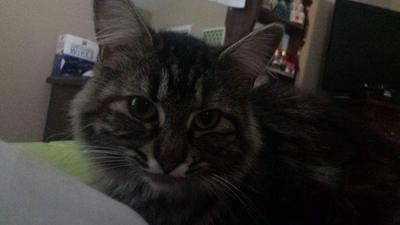 Ear tufts close up!
Miley (or Mai Tai as I affectionately call her) ran up to us at our doorstep one night, emaciated and absolutely starving for pets and being held. She is not chipped or spayed. We kept her while we searched for an owner with no luck. Miley was so affectionate and sweet that we fell in love and she is now our third kitty. 
Miley never can get enough love. If you are sitting (and the "new" cats to her are not in the room), she is in your lap or even more likely perched on your shoulder or laying on your chest. You can't walk into a room without fear for stepping on her as she is always around your feet. Miley chirps and coos constantly and meows her tiny meow when she wants attention or sees something super cool outside. She seems highly intelligent, as she always comes when called and leads you to where she wants you to sit down.

When you ignore Miley, she head butts! Your hand, arms, or often your face. If she can get to your face she will pretty much lick it off with kisses!
This is a cat who lives to play and be active. It's hard to wear her out! She loves attention, and she also loves food, although that could be from her time outside and not having enough food. She displays no food aggression.
I know it's highly unlikely to just find a coon like we did, but the resemblance on appearance and personality seems uncanny. I do think someone trimmed her body and face hair before we got her, but it's growing back in (we've had her about 6 weeks). She had a lion cut on her tail when we found her, which we are in the process of growing out. 
The only thing I can think is since we live in a transient area, that someone came down to get her and she got out, or a breeder came to the area to sell and lost one. Although Miley never tries to getv out of the door despite having lived outside for at least a little while. 
I'm stumped but think I may have a coon on my hands! 
---
Maine Coon/Tom Cat Mix?
By: Ambry
(Utah)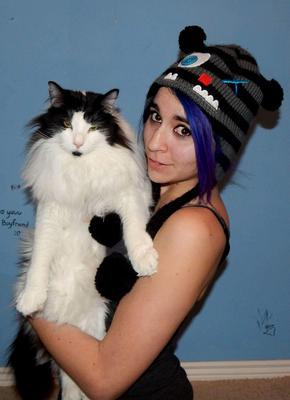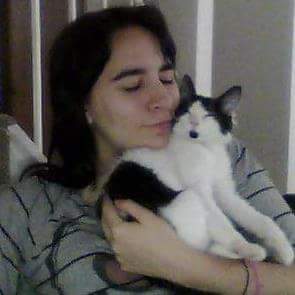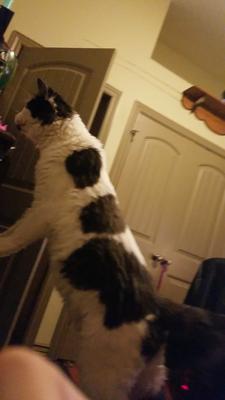 This is Arnie, I found him about 4 years ago when he was a kitten roaming the streets. 
He is a very loving an affectionate cat, but is also kind of skittish and selective with who he will show his true personality with  (I always chalked it up to how I found him, as he was malnourished and chased into a thorn bush by kids). 
When he was a kitten, He used to always want to sleep as close to my face as possible, usually settling for my shoulder area, he is still a cuddle monster to this day. 
He is a very tall cat, most of the places we have lived he has been able to reach the counter tops and knock things off with his paws, he's a playful little guy. 
He is super fluffy and has a mane and other visual and personality characteristics of a Maine Coon. He also has a preference of head butting over hands, I call him a face cat. 
I have attached a few photos of him, i would love to see if anyone else thinks he is a Maine Coon tom cat mix. (I do get him groomed to maintain the fluff so some pictures do not show his true fluffiness)
---
Could Delilah be a small Maine Coon
By: Julianne
(Ontario, Canada)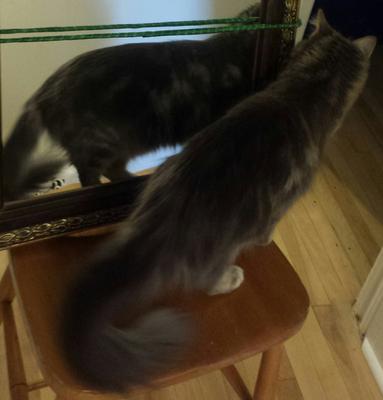 Delilah in the mirror, check her out.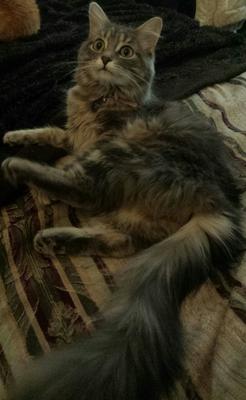 Chilling on the bed, something caught her attention though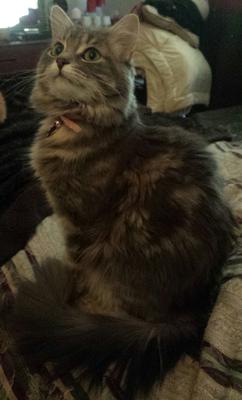 Delilah posing (with a little encouragement)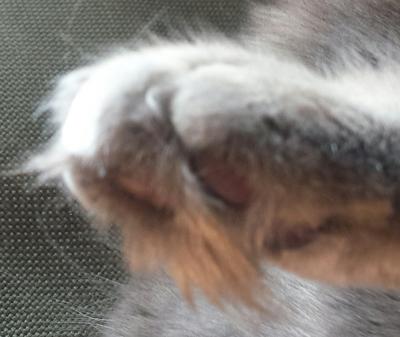 Delilah's paw
I have a beautiful 1 year old female cat named Delilah.  My husband and I adopted her from a neighbor across the street who lives in a seniors building and is in a wheelchair and was heavily socialized from birth. 
Her mother was a very skinny malnourished cat, who unbeknownst to her adoptive mother, was pregnant, so we don't know her pedigree or the fathers'. Delilah was one of the 4 kittens in the litter. I picked her out at 10 days old and frequently visited and played with her so we would bond, and so I could train her to be a therapy cat.

Delilah has always been quite petite in stature (at 11 months she weight 6.6 lbs) but has many of the Maine Coon traits and could be a 1/4 Maine Coon according to the vet.  Her fur is smooth, silky, shaggy, and lies flat on her body and has different lengths.
She does have a bit of a ruff around her neck, tuffs in between her toes but no tuffs above her ears.  Her tail is long and shaggy and drags along the ground.  Her eyes are a golden yellow with a green ring around the the pupil.  She has a sweet, intelligent and inquisitive look to her face.  People are always stopping to tell me how striking she and her markings are.   

I've had her harness and leash trained since she was about 10 weeks old and now  she loves going for walks: perched on my shoulder, in her carrier and now on the ground.  She loves going out for car rides,   visiting her friends at one of the local nursing homes and generally loves people. 
That being said, she is not a cuddly cat but will let you pick her up and is very gentle and not at all aggressive.  She loves being near my husband and I and at night she likes to sleep on me and suckle my earlobes. When I'm out of the house, she will go to the bottom of the stairs and continuously meow and will run to greet me when I come back.  (She will do that as well if she hears anyone down stairs.)    

She loves to play and will do flips in the air, loves to get into everything: drawers, cupboards, closets, suitcases etc.  She has a very quiet meow but loves to trill and chirp.  She also gets along well with dogs and my two 17 year old male cats.
We have not had her spayed yet as we would like to breed her, then train her kittens to also be therapy animals then give them to families who have individuals with special needs (all vetted and contracted out.) My husband and I would do this however on a volunteer basis and would need to raise funds.
I'd like to know, based on the pictures and her description if there is any chance of her being a Maine Coon mix and if not, would anyone have any idea what kind of cat she might be?
Thanks,
Julianne
---
Poe
By: Dinah
(Texas)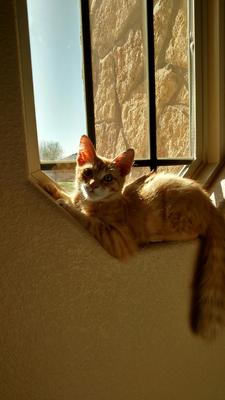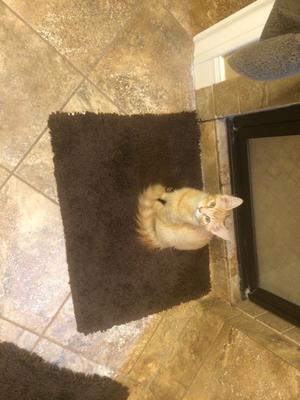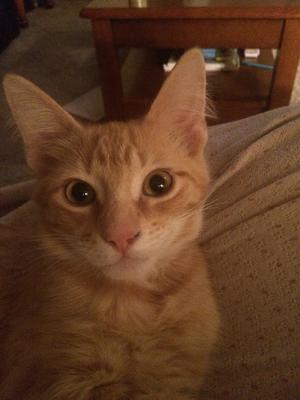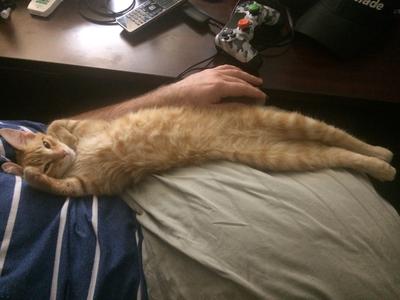 We recently rescued him from a shelter. We were told he was a year old.
We have never had a cat before so we thought he was one. When we took him to his first vet visit, the vet said he was 6 months after examining his teeth and his body.
While at the appointment, everyone was asking if he was a Maine Coon mix. I didn't even know what that was. He definitely has the ear hair and tail that they showed me. 
At his appointment we found out he was sick with 3 kinds of parasites. We finally have a healthy cat and now we wonder if he is a mix? Thank you, Dinah
---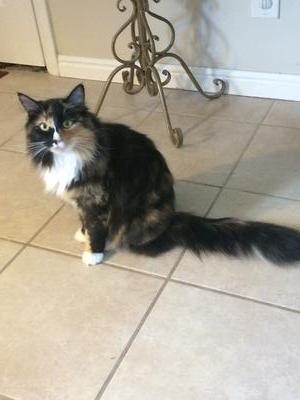 Charlie
By: Katie Burtch
(Layton Utah)
This is my girl Charlie. We got her in July 2015 from our local Humane Society. She was surrendered to the shelter after her owner passed away and the family didn't have the means to care for her.
We were told she was a Maine Coon but did not come with any papers.  She was a year old when we got her and was the size of a normal house cat but she has grown significantly since then. 
She has long hair with even longer thicker hair around her neck that reminds me of a lion. She has the tufts on her ears but they aren't as long as a lot of the pictures I've seen of Maine Coons.
She also has tufts of hair that stick out between her toes and a bushy tail that I lovingly refer to as a feather duster. She is the most affectionate loving cat I've ever had and is great with my kids. She definitely has a mouth on her and her meow is very distinct.
Sometimes I feel like I have full conversations with her. She also LOVES water. I have to shut my bathroom door or she is in the shower with me. So what do you think? Maine Coon or maybe a Maine Coon mix? 

---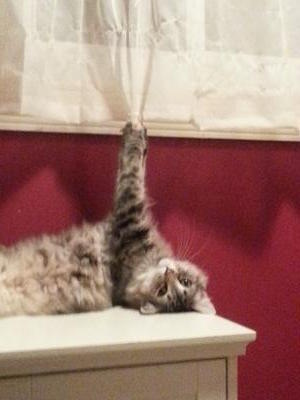 Petunia
By: Rachel Billings
(Troy, NY)
Petunia came to me at only a month old (that's what I thought her to be) she was found by my father. She was living with her 4 siblings and the mother on a flattened out box under a porch in the middle of October. The rest found good homes and I kept petunia. 
She has always been very pretty but was never as fluffy as her siblings until she got a little older. She has so much energy and I call her my ninja kitty. She is also very lovable as long as she knows you. She loves when I rub her belly and definitely has no problem letting me know when she wants something. 
I've thought her and her siblings were Maine Coon from when the time they were babies. as i've seen them grow they keep on looking more and more like Maine Coons. I know they are most likely not full breed but they have to be a mix. Either way, I love my crazy little fluffy butt. (One of the many nicknames I have given her)
---
Alice
By: Shirley
(Minot, ND, US)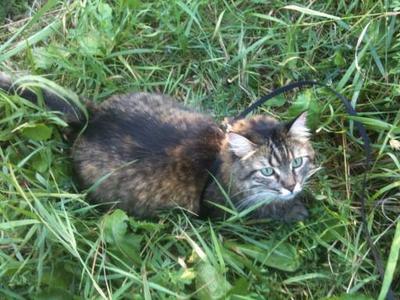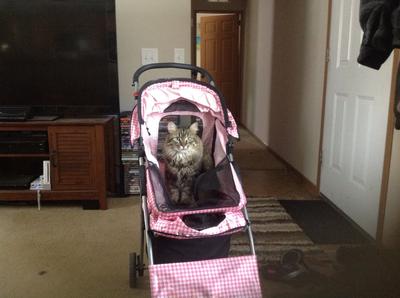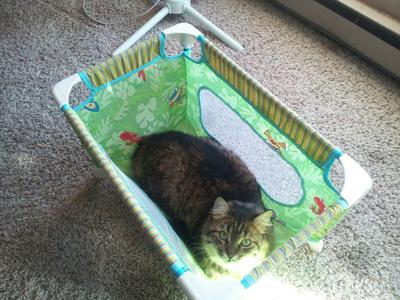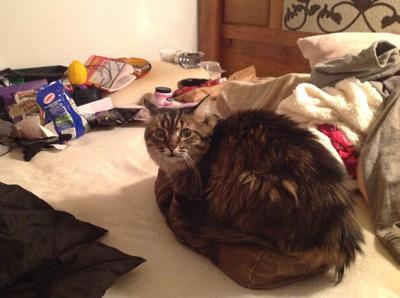 I got Alice from a kill shelter. I walked into a room of about 30 cats and sat on the floor. Alice climbed in my purse and forced me to pay attention to her. We filled out the paper work and three days later, on my birthday, we walked in the room full of cats and sat down the box. Alice immediately jumped in and looked up as if to say, I'm ready, let's go. 
Ever since we've been inseparable. She wakes me with her whiskers tickling my nose. I'm told she sleeps most of the day while I'm at work, and appears minutes before I get home, just in time to greet me at the door. When she wakes me in the morning she is very vocal about breakfast.
And when I'm busy and she wants attention she yells at me. She loves everyone, but nobody as much as mommy. She lets me know when someone's coming to the door. She even loves to go bye bye. I pull out the carrier, or stroller or leash and she's waiting at the door. 
Alice is definitely one of a kind. Especially her little goatee. She loves to be pet everywhere. Belly, face, butt, even her tail. And she enjoys being pet in all directions. Even her tail. I can fluff her like a troll doll. I am truly blessed and grateful for my precious friend. Best birthday present I ever gave myself. Her and I were meant to be. 
Oh and she defines scaredy cat. She loves people. But put a worm or her own shadow in front of her and she spooks. Weird cat. 
---
I Have a Kitten; Is He a Maine Coon Please Help
By: Mustafa
(London UK)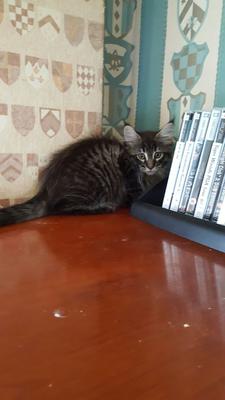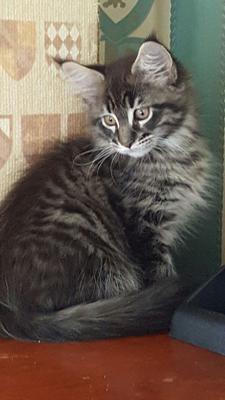 Very naughty and adventurous. Doesn't sit still.

---
Is My Fluffy Boy a Maine Coon or Maine Coon Mix?
By: Katie
(Fredericton, NB, Canada)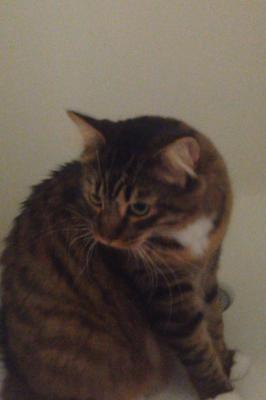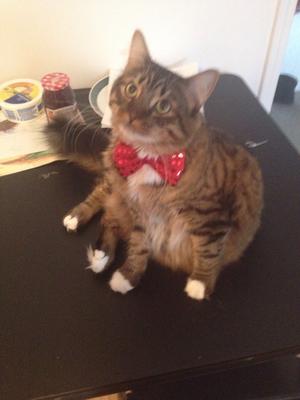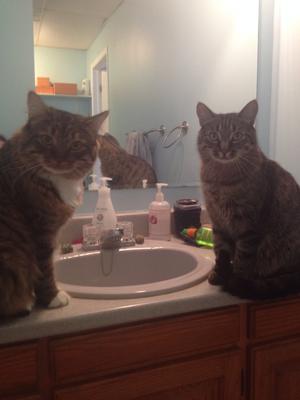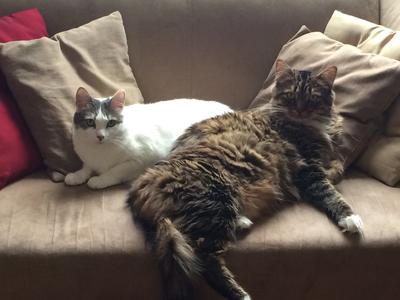 My cat Sirius is going to be 3 in November and is already way bigger then my 5 year old medium hair grey tabby, Nova. 
Sirius has very long fur and fur growing out between the pads of his feet. He also has a bit of a tuff around his neck and his tail is so fluffy. :D
He is quite a handsome little man. 

---
Amiah
By: Suretha
(Gansbaai)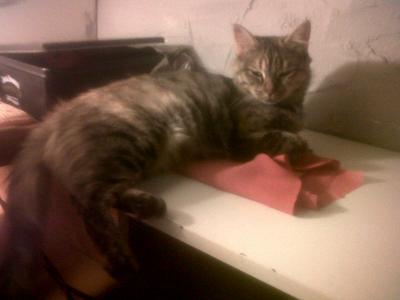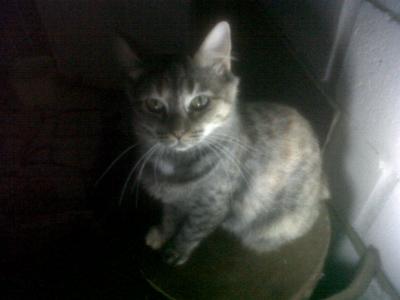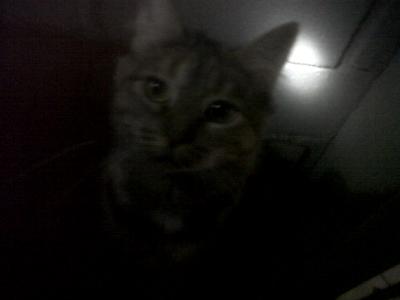 I got Amiah today. She's 14 months and pregnant from a pure Maine Coon male. According to the person I got her from she is part Maine Coon. Could you confirm maybe? 

---
Gary and Dianne 
(Suwanee, GA)
We adopted two kittens in November 2015. They are about 8 months old now. Zeb, our black & white looks coon but Gad, our tabby only has a coon tail. Gad is very quirky and our scaredy cat while Zeb is talkative and affectionate. Can Gad be coon with his short hair?

---
He Adopted Me
Lenny jumped over my railing one day, and never really left.
He's playful, catnip crazy, cuddles constantly, follows me everywhere, inside and out, meows when he greets me, loves hanging out with the dogs, goes hunting every night. 
He's 15 pounds right now,  and when stretched out is he is probably 3ft long (total estimate but takes up more than half my body length when lying with me so probably closer to 4ft)  

Top of Spring 2016 Maine Coon Cat Pictures