September 2015 Featured Coonies
Welcome to our September 2015 Album! Beat the heat with these cool Maine Coon Cats! Still haven't added your Coonie picture(s)to the albums? Click here to send them in today!
Harry Hotspur, a Geordie Maine Coon
Harry is purely and simply the biggest scallywag of a four Maine Coon household, and incredibly lovable.
---
The Care & Keeping Of Your Maine Coon Cat: It's hard to describe the love between a Maine Coon and their family. I know you understand! With such special family members often come special, breed-specific questions and concerns. Your loving Maine Coon is very unique, both physically and in purrsonality.
---
Issac, 7 Month Maine Coon
By: Nick in Manchester, UK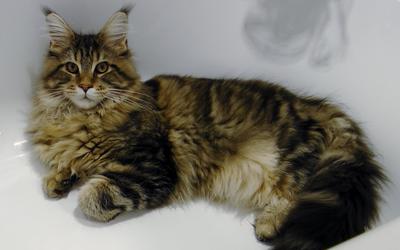 Only 7 months old but bigger than all adult cats we've seen before. Friendly with a dog-like personality. Very big, very friendly and vocal kitten! We just love him to bits!
---
Neo
By: Des Stanley in Cape Town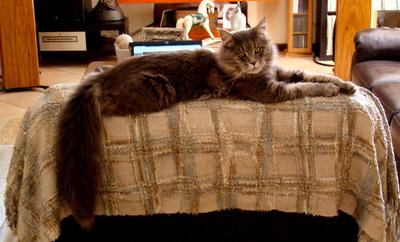 Neo is a grey smokey male 18 months old. Typically like a teenager, bouncing off walls when in manic mood, and when mellow comes looking for my lap or chest, or the arm or backrest of my chair.
Very friendly with strangers but dont touch, this is allowed on his terms only, much to the dissapointment of those wanting to get closer. Really unique cats.
---
Loki as a Kitten
By: Dee Doyle in Germantown, Ohio USA
Loki as a Kitten
His name is Loki. I adopted him from our animal resource which uses PetCo for adoptions.
He was so small and fluffy. He has grown to about 20lbs in 2 1/2 years. He is very sweet, loving and VERY vocal. If I am sitting at my desk he will come up and grab my arm with both declawed paws and meow at me. That usually means he wants fed or a treat.
He will go to door and meow real loud when he wants to go out in the yard. We have a small area that we fenced in and put chicken wire against the fence so he can enjoy the outdoors. He LOVES it.
He will sit at the fence and chatter at the birds in the trees just across the sidewalk.He will also chatter at them when I open the window. In one room he had a window perch and in the other he has a chair.
Loki loves to sit at the window and chatter at birds
I wake early and we have our alone time because I've had my Jack Russel for 11 yrs and she wants to sit on me when she is awake. So in the mornings Loki will jump up on my lap and lick my cold metal big drinking cup because I put ice and water in it. He likes the cold condensation on it. While he is doing that, I'm rubbing his back and scratching right at the beginning of his tail. Then I'll rub his cheeks. He opens his mouth and rubs against my hand when I do that. Then he will go to the door and meow to go out. I tell him it's not daytime yet, he knows I won't let him out until the sun comes up and as soon as it does he is back at the door meowing to go out. lol
When my husband gets up, they have a routine where Loki walks him to his cat condo where his food is and my husband has to check to make sure he has food, even though I feed him every morning when I get up. It cracks mu husband up.He will meow at him and stand up touching his arm or hand with his big paws until he checks the food situation. It's funny to watch.
Our son comes over and he smokes the ecigarettes. Loki doesn't like smoke. Yesterday our son blew a big cloud in Loki's direction. He got up and went in our bedroom and layed on the bed. I went in to check on him and he looked up at me with his eyes big and round, an innocent look on his face that just melts my heart. I'm so glad I picked him!
---
Fergusson the therapy cat- the purrfect companion
By: Gill Ballard in Temple View Hamilton, New Zealand
I have been trying to work out how to submit a video- but haven't been able to work out how- so here is the information.
Fergusson is my beautiful Maine coon cat - recently he has been picked up by several newspapers and also a TV station in Australia. We live in New Zealand.
Fergusson visits patients in our local hospital - he is so placid, and the patients adore him.
It is such an enjoyable and satisfying experience that I would reccommend it to anyone who can spare 2 or 3 hours a week to share their beautiful Maine Coon!
The video can be found on Youtube under the title Ferguson the therapy cat the purrfect companion (by Sunrise on 7) or on the Facebook page for The Waikato Hospital.
Fergusson also has a sister- Izadorable, but she hates the hospital so we don't take her.
Fergusson- Therapy cat - additional post and photo
Here are some photos of my beautiful Maine Coon - Fergusson ( as I had problems posting his video!)
He is 4 years old and weighs 10.5 kilos. It seems like he has a 6th sense as everytime I put his harness on and put him in his stroller (he is too big for me to carry around the hospital) he seems to know he is at work and is SO placid and will cuddle up to all the patients.
It makes them feel very special, so I don't tell them he does the same to anyone there! At home he is not so cuddly, although he will follow us around everywhere and sit at our feet, or roll onto his back and demand his tummy is rubbed. However he does cuddle a lot with our special needs son.
Seriously, if you have a lovely placid Maine Coon, do consider sharing him at a Rest Home or hospital for 2 or 3 hours a week. It is worth every second to sees the beams on the patients faces. They look forward to Wednesday afternoons and will even leave a message by their side saying"Wake me up when Fergusson comes"!
It's not just the cuddles, it also helps them relate their own experiences, and if they have visitors it can inject a different subject to the conversation. I have also been told by physiotherapists treating stroke patients - Look she's exercising her arm stroking him without realising it.
He has just been asked to appear on New Zealand TV and a start has been made by someone on writing a children's story book about Fergusson's adventures at the hospital.
Fergusson's favourite game is to see how quickly he can unroll the toilet roll- I think his main aim in life is to break a Guiness Book of Records time. He is certainly the king of our house. About 2 years ago I bought my husband a Lazy Boy chair for Fathers Day but as you can see in the photos Fergusson has taken ownership!
---
My Baby Jango
By: Jackie in West Allis
The most loving silly smart cat I have ever owned.
---
Sam
By: Terri King in Attica NY
This an update on Sam, a Maine Coon tuxedo cat I aquired when he was left outside in below zero temps. He is so happy and bossy in his new home. My yellow lab has come to love him too.
---
(Note from editor: Terri and Jackie, your pictures didn't come through - This happens when they are large files, meaning high quality photos. There are tips here for editing photos for the web, if you'd like to try again. Without an email address, I was unable to contact you.)
Get Everything Maine Coon at Your Fingertips - Now: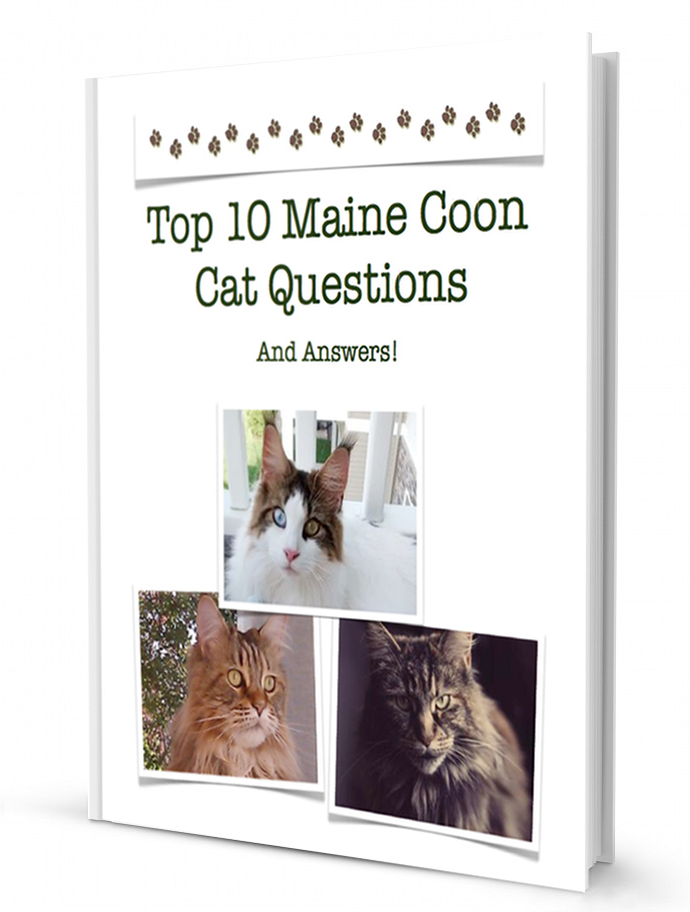 << The Care & Keeping Of Your Maine Coon is the ultimate guide to all the breed-specific needs of your Coonie. This unique breed has unique needs! A must-have.
The Top 10 Coonie Q & A's >>
is the essential handbook for all Maine Coon Questions, covering topics like nutrition and weight, "Is he a Maine Coon?," size, lifespan, and more.
Maybe-Maine Coon Cats For September: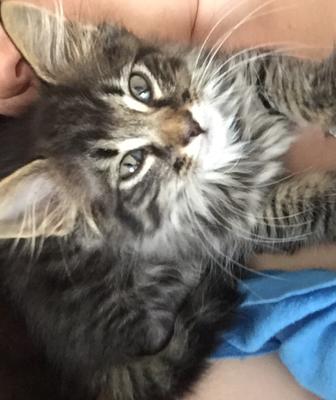 Sebastian
By: Courtney in Ohio


Loves to cuddle and meow at me when I'm in the shower. Very energetic but very cuddly.




---
The Care & Keeping Of Your Maine Coon Cat: It's hard to describe the love between a Maine Coon and their family. I know you understand! With such special family members often come special, breed-specific questions and concerns. Your loving Maine Coon is very unique, both physically and in purrsonality.
---
Emmy
By: Gaynelle Garner in Orange County, CA
This is Emmy. She's about 1 1/2 yrs old now and I adopted her from my local shelter last year.
Emmy was abused and abandoned and although sweet and loving, she has some serious trust and anxiety issues that I'm working to help her through.
Last year I Lost my companion, Tia to hepatic cancer. I adopted Tia when she was 2 and had and had 13 wonderful years with her. I knew I wanted to adopt again when I felt ready.
So I went down to my local shelter And visited the young kitty sanctuary and right away Emmy began to circle around me and chirp. Other cats were vying for my attention, but Emmy jumped into my arms and kissed my mouth and chose me.
I could all but hear her say, "take me home with you". At the time I adopted her, Emmy wasn't as fluffy as she is now and has grown to 12 lbs and is still growing. She looks to me to be mostly Maine Coon as she has many of the characteristics. However she was abused and doesn't like to be held often.
She loves water and will climb into the bath tub or shower expecting a drink of water. She's even tried climbing into the tub with me. Silly kitty! She speaks in a trill of chirps and is extremely vocal. I love her voice.
Anywhere I am she follows, but isn't as friendly to others. She's more shy with others, but has a belly rub addiction. She's truly a beautiful cat and I'm pleased she chose me as her new family.
Some of Emmy's characteristics:
She has the most beautiful markings I've ever seen with a double thick, medium to long coat, a rough around the neck, long skirt of fir on the under side, extra long wiskers, long tufts of fur in her ears and between her toes.
She's tall and rectangle in body and has large, round, almost snowshoe- shaped paws and a long fluffy tail. She churps and sings when she speaks, runs and jumps though the house at top speed and only stops to roll over and have her tummy rubbed. She's a character and a sweet kitty.
---
Alley
By: Elly in WA
Alley came to us as a stray at about six months of age. She was a multi colored shorthair kitten.
When she as about 3 years of age she developed the Maine coon long hair and distinctive ruff and big and very affectionate personality!
If we ignore her she comes right up and sits on my laptop or will softly bite me if I stop petting her. She has the "bob cat" like fur sticking out of the piointd of her ears and toes.
She's got the big eyes and larger than typical stocky body..
---
10 Week Old Ivy & Honey - Maine Coon, Coon Mix Or Neither?
By: Donna in Maine
Ivy & Honey
I just love these girls!
A neighbor had a beautiful, long-haired, calico female cat that had her first litter. The mother was so nurturing, loving, would talk to them constantly, and I swear would do headcounts of her babies - if one was missing, she'd make some sort of sound that made the kitten come running.
Plus, the mother would go out once her babies were asleep for "her" time to hunt. It was incredible to watch her prowl around, catch her prey, and bring it to the screen door so her kittens would see.
These were certainly qualities that I wanted in a cat. So, instead of one kitten, I got two girls. Here are my girls at 10 weeks old. They act so much like dogs with a bone - prancing with a skip in their step, carrying their favorite toys around in their mouths, running around as though they are in a speedway with arched backs and jumping in the air sideways!
The girls act more like puppies than kittens as they absolutely love to curl up with the boys and play with their feet. Oh, and they "talk" - a lot with their chirps, purrs, and sounds I don't even think have names.
As you can see in the photos, they have absolutely no fear. They are highly curious of everything around them.
Both girls absolutely love to lay on their backs in my palms and have their back scratched, it sends them into a deep sleep.
Let me know if you feel they are Maine Coon, Coon Mix, or neither.
Thank you for letting me share Ivy & Honey.
---
I Believe My Cat Is Part Maine Coon
By: Nicole Jacober in California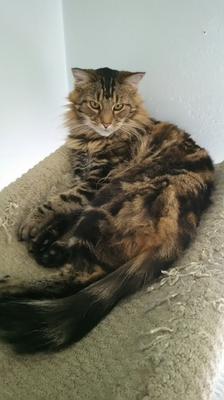 This is Mo, my approximately 5 year old cat and baby boy. He has a very distinct personality.
When we first got him, he rarely meowed but would follow me around everywhere around the house. As he got older and discovered treats, he got a lot more vocal and now begs for only treats in the same spot by the microwave where we would keep them.
He is super intelligent. He remembers simple actions I make and remembers where things are. He knows how to open doors just by watching us do it.
He is an indoor cat, but we have let him and our other cat out in the front and back yards while we watch them. They always try to sneak out, but now it has become a game to Mo. He sneaks out so someone can chase him like a hide and seek game. He never goes outside of our house perimeter but hides and explores until he gets bored of the game.
Our other cat, Parker, had a lot of adjusting to do with Mo, but after the final adjustments to her life, Parker and Mo love each other like brother and sisters would. They both know exactly where each other are in the house and if Parker gets stuck in a closet or room, Mo gets hysterical and meows loudly until someone will help him get parker out of the space if he can't get the door open himself.
---
6 Month Old Howie
By: Tammy in Niagara Falls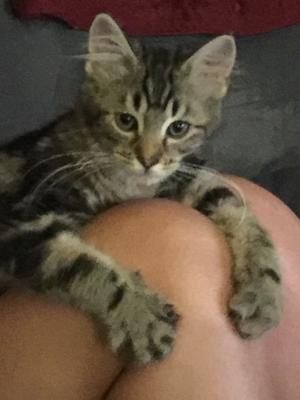 4 months old New to our home
We rescued Howie from a shelter couple weeks after I lost my 15 year that I also rescued as a baby.
I was devastated and it seemed our 9 year tiger kitty was lost as well. He has brought so much joy over the last 2 months. Even Rambo took to him after only 2 weeks and play daily.
Right away we started seeing different characteristics that I've never seen from all the other cats I've had. He's super affectionate with us and the other animals including our dog.
He chirps more than meow. If you can even hear him meow. He's always under our feet especially when we're cooking and if we go outside for a bit he lays on the back step waiting for us to come back In.
He's not gaining a lot of weight but it seems like he just gets longer everyday. He has super long whispers and whispy ear hair. He's a very soft furry love.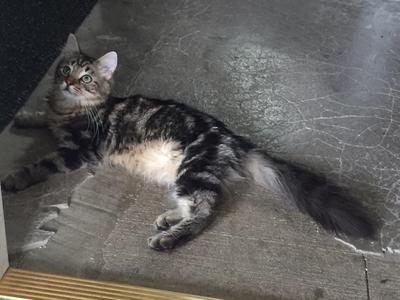 Additional Post:
Howie's a 5 1/2 month old long hair domestic we rescued after we lost our 15 year old to cancer. I was devastated of the sudden loss and our 9 year old was lonely.
After 2 weeks of slow introduction Rambo has adopted this cute buddle of joy as family. Hes so different from all my other kitties in many ways. He squeaks and coos. He meows (if you can call them a meow) very quiet and sounds different.its more like a meh then a meow.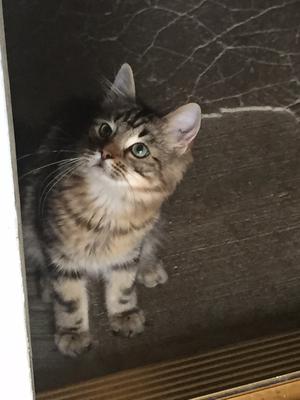 He will lay in my garden and hide to a point I will water and not know he was in there until he comes out several minutes later wet. He's always under our feet especially when cooking, He'll lay on the back step if I walk out waiting for me to come back in.
Although he is very long, has big paws and long whiskers I'm not quite sure if he has a little Maine Coon in him or not. A lot of people say he has the temperament and a bit of a resemblance so I cam to the experts. What are your thoughts?
---
Is Walter a Maine Coon?!
By: Lauren in Berkeley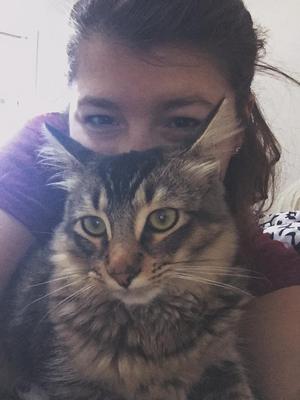 Walter is about 4 months old, and already pretty large! He's got a significant amount of fluff around his neck (maybe this is a ruff?) and the vet said that it looks as if he will have medium to long length hair eventually.
He's extremely active, almost always jumping or running around. He doesn't meow a lot, though he coos all the time and purrs very easily.
Thoughts on whether he's part Maine Coon? At the shelter I adopted him from, the volunteers named him "Bobcat" because of his appearance!
---
Clark and Eddie
By: Erika in Allen Park, MI USA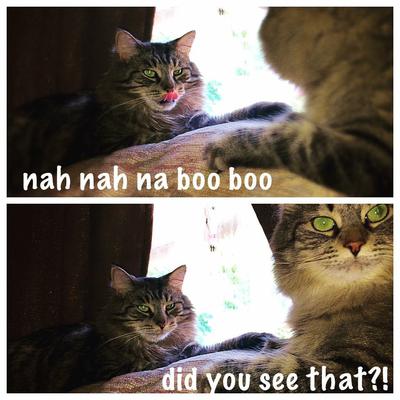 Silly brothers
I rescued these brothers when they were a little over one year old.
They were up for adoption with a lot of other kittens but they were the size of an adult cat so not many people wanted them.
I fell in live with Clark because of how sweet he was. I never had a cat that actually liked to be held! Clark would literally climb into your arms and want to be held like a baby.
Eddie was not the same way but he showed his own affectionate behaviors. He demands attention and loves to be aggressively pet. He also purrs extremely loud.
Both cats love being the center of attention and they are so loyal and loving.
---
Sophie
By: Kristin in Austin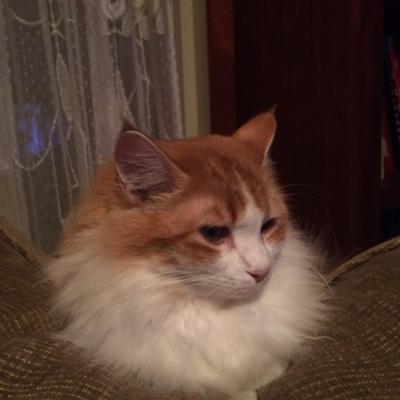 Hanging out
Sophie was four months old when we adopted her from our local no kill shelter in July 2013. She tufts of fur on her paws, and she has a thick underbelly of fur. She weighs 10 pounds and likes to eat.
She's affectionate and playful, still kitten like. She gets along quite well with her housemate, a six year old male tabby we adopted almost six years ago.
---
Boo Boo Must be at least a mix of Maine Coon
By: Dacia in Pottsboro, Tx USA
Boo Boo showed up in our garage and lived there a month he was just a tiny kitten. I fed him and he was litter box trained. I played with him with toys but he never came to me.
One day he let me reach over and pet him I picked him up brought him in the house and we have been best friends ever since. (three weeks now) His strange ear hairs have always stood out and he has a huge bushy tail.
He has thicker longer hair under his chin but he does not seem as long haired as a true Maine Coon. He likes to play with water. When I take a bath he sits on the edge of the tub and splashes.
One time he walked right on top of me while I was in the tub of water. I gave him a bath today. Did not seem to bother him one bit. He did squirm but mostly he was just trying to swat at the water.
He is really funny. He chirps at me, along with meowing. He does not like to be alone. He tends to play with everything around when left on his own making a pretty big mess haha..
I have two grown male cats. He so wants to be their friend. They do not try to hurt him but the really do avoid him. Their reaction to him hurts his feelings but he is not giving up.
He is totally unlike any cat I have ever had or been around. I had never met a Maine Coon before. I googled Bushy tailed cat and this is what I came up with.
I have seen only one cat around here besides mine. I live way out in the country. In the 2 years I have lived here I have maybe seen her 5 times. She is feral. Bushy tailed and from all the pictures she looks to me to be a true Maine Coon only sadly she is rather matted in places (poor girl) I imagine she must be the mom to Boo Boo. She is shades of brown and has all of the features. We live in way north TX.
I wish I had a better picture of him to share but honestly he does not sit still very long unless I happen to be napping or reading next to him.
---
Is Mr. Wiggles a Birman Maine Coon Mix
By: Kathleen Van Sandt in Coos Bay, Oregon USA
Mr Wiggles was a stray we found as a tiny kitten. He just kept getting bigger and bigger. He is cross eyed. We thought it was Siamese but somebody told us he was Birman with probably some Maine Coon.
He does have four white socks and white eyeliner.
---
Stinky "Maybe Maine Coon"
By: Felicia in Perris, CA, USA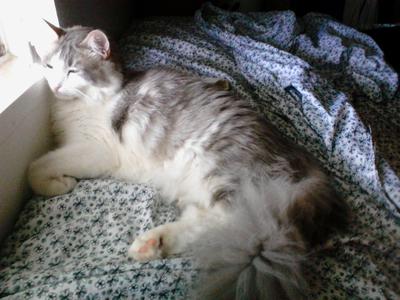 I adopted Stinky from a shelter at 4 months old, according to their information. I was simply told he was a long hair mix. He is now about a year and 5 months old. He is 30 inches long, with tail; 11.5 inches tall and weighs almost 13 pounds. He seems to still be growing.
He is very playful and requires lots of my attention. He seems to become more active at night and sit in window like a watchdog alerting me to anything unusual during the night.
He has a this chirping type of meow that he does to wake me up. He doesn't eat excessively, and exercises regularly. I have owned cats in the past, but never one this big or demanding.
Is he a Maine Coon or Maine Coon mix possibly? I appreciate any information or advise you can give me.
---
Toby & Murphy
By: Kate Novack in Pewaukee, WI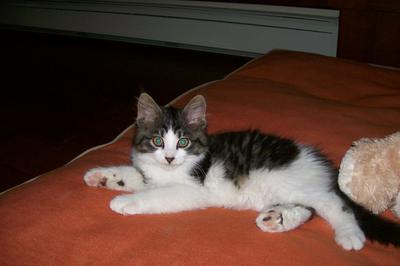 These are my two new shelter babies. Toby was 9 weeks and Murphy two years old when I adopted them.
Toby has some of the characteristics - lots of tufts in his ears and between his toes, medium length shaggy fur, but it's too soon to tell.
Murphy seems to have many indications he's a Maine Coon mix. He's a caramel color with gold eyes, bushy tail, shaggy fur, tufts between toes. They both tend to sit up on their back paws with their front ones up in front of them (like prairie dogs).
Any thoughts on if I might be on the right track. Of course, no matter what, I ADORE them both. They're "my boys."
---
Mikasa the kitten
By: Melanee in Buckeye, AZ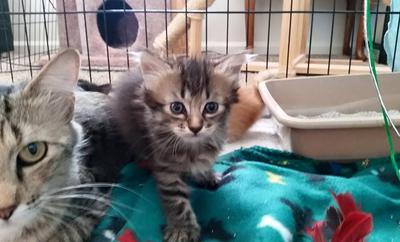 Mikasa with mom
Rescued Mom & her three kittens living in a drainage ditch.
Mikasa is the only female in the litter of three. I discovered mom almost a year ago and have been feeding her since, only after her litter was born was I able to get her.
She once had a beautiful long coat, gone now in this Arizona heat.
---
He adopted us.
By: Montese in Wisconsin
This is Bourbon. He left his calling card (paw prints) on my van window. That night he introduced himself to my daughter who was walking our lab/hound mix and didn't mind 1 of our 2 house pigs.
We figured he was about 3-4 weeks old by size and inability to eat hard food. We got lucky no fleas or ear mites, used the litter box right away, just underweight. We took him to the vet about 3 weeks later and was told he was 6-7weeks old 2 lbs and in good health. Yeah. I know he is not full Maine Coon. He has a boule coat, toe tufts, ear furnishings though my daughter cut off tufts on his ears, and across his shoulders his coat is shorter. Also his back legs are slightly longer than his front. Opinions please.
(Note from editor: Montese, your picture(s) didn't come through - This happens when they are large files, meaning high quality photos. There are tips here for editing photos for the web, if you'd like to try again. Without an email address, I was unable to contact you.)
---
Related: