September 2015 Photo Album
Welcome to our September 2015 Album! Beat the heat with these cool Maine Coon Cats!

Harry Hotspur, a Geordie Maine Coon
Harry is purely and simply the biggest scallywag of a four Maine Coon household, and incredibly lovable.
---
Issac, 7 Month Maine Coon
By: Nick in Manchester, UK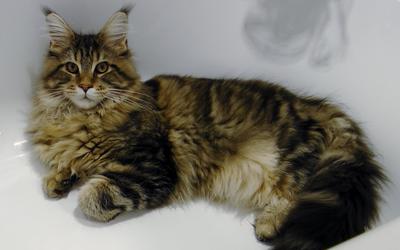 Only 7 months old but bigger than all adult cats we've seen before. Friendly with a dog-like personality. Very big, very friendly and vocal kitten! We just love him to bits!
---
Neo
By: Des Stanley in Cape Town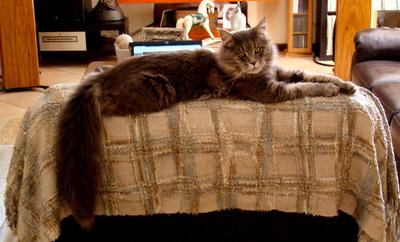 Neo is a grey smokey male 18 months old. Typically like a teenager, bouncing off walls when in manic mood, and when mellow comes looking for my lap or chest, or the arm or backrest of my chair.
Very friendly with strangers but dont touch, this is allowed on his terms only, much to the dissapointment of those wanting to get closer. Really unique cats.
---
Loki as a Kitten
By: Dee Doyle in Germantown, Ohio USA
Loki as a Kitten
His name is Loki. I adopted him from our animal resource which uses PetCo for adoptions.
He was so small and fluffy. He has grown to about 20lbs in 2 1/2 years. He is very sweet, loving and VERY vocal. If I am sitting at my desk he will come up and grab my arm with both declawed paws and meow at me. That usually means he wants fed or a treat.
He will go to door and meow real loud when he wants to go out in the yard. We have a small area that we fenced in and put chicken wire against the fence so he can enjoy the outdoors. He LOVES it.
He will sit at the fence and chatter at the birds in the trees just across the sidewalk.He will also chatter at them when I open the window. In one room he had a window perch and in the other he has a chair.
Loki loves to sit at the window and chatter at birds
I wake early and we have our alone time because I've had my Jack Russel for 11 yrs and she wants to sit on me when she is awake. So in the mornings Loki will jump up on my lap and lick my cold metal big drinking cup because I put ice and water in it. He likes the cold condensation on it. While he is doing that, I'm rubbing his back and scratching right at the beginning of his tail. Then I'll rub his cheeks. He opens his mouth and rubs against my hand when I do that. Then he will go to the door and meow to go out. I tell him it's not daytime yet, he knows I won't let him out until the sun comes up and as soon as it does he is back at the door meowing to go out. lol
When my husband gets up, they have a routine where Loki walks him to his cat condo where his food is and my husband has to check to make sure he has food, even though I feed him every morning when I get up. It cracks mu husband up.He will meow at him and stand up touching his arm or hand with his big paws until he checks the food situation. It's funny to watch.
Our son comes over and he smokes the ecigarettes. Loki doesn't like smoke. Yesterday our son blew a big cloud in Loki's direction. He got up and went in our bedroom and layed on the bed. I went in to check on him and he looked up at me with his eyes big and round, an innocent look on his face that just melts my heart. I'm so glad I picked him!
---
Fergusson the therapy cat- the purrfect companion
By: Gill Ballard in Temple View Hamilton, New Zealand
I have been trying to work out how to submit a video- but haven't been able to work out how- so here is the information.
Fergusson is my beautiful Maine coon cat - recently he has been picked up by several newspapers and also a TV station in Australia. We live in New Zealand.
Fergusson visits patients in our local hospital - he is so placid, and the patients adore him.
It is such an enjoyable and satisfying experience that I would reccommend it to anyone who can spare 2 or 3 hours a week to share their beautiful Maine Coon!
The video can be found on Youtube under the title Ferguson the therapy cat the purrfect companion (by Sunrise on 7) or on the Facebook page for The Waikato Hospital.
Fergusson also has a sister- Izadorable, but she hates the hospital so we don't take her.
Fergusson- Therapy cat - additional post and photo
Here are some photos of my beautiful Maine Coon - Fergusson ( as I had problems posting his video!)
He is 4 years old and weighs 10.5 kilos. It seems like he has a 6th sense as everytime I put his harness on and put him in his stroller (he is too big for me to carry around the hospital) he seems to know he is at work and is SO placid and will cuddle up to all the patients.
It makes them feel very special, so I don't tell them he does the same to anyone there! At home he is not so cuddly, although he will follow us around everywhere and sit at our feet, or roll onto his back and demand his tummy is rubbed. However he does cuddle a lot with our special needs son.
Seriously, if you have a lovely placid Maine Coon, do consider sharing him at a Rest Home or hospital for 2 or 3 hours a week. It is worth every second to sees the beams on the patients faces. They look forward to Wednesday afternoons and will even leave a message by their side saying"Wake me up when Fergusson comes"!
It's not just the cuddles, it also helps them relate their own experiences, and if they have visitors it can inject a different subject to the conversation. I have also been told by physiotherapists treating stroke patients - Look she's exercising her arm stroking him without realising it.
He has just been asked to appear on New Zealand TV and a start has been made by someone on writing a children's story book about Fergusson's adventures at the hospital.
Fergusson's favourite game is to see how quickly he can unroll the toilet roll- I think his main aim in life is to break a Guiness Book of Records time. He is certainly the king of our house. About 2 years ago I bought my husband a Lazy Boy chair for Fathers Day but as you can see in the photos Fergusson has taken ownership!
---
My Baby Jango
By: Jackie in West Allis
The most loving silly smart cat I have ever owned.
---
Sam
By: Terri King in Attica NY
This an update on Sam, a Maine Coon tuxedo cat I aquired when he was left outside in below zero temps. He is so happy and bossy in his new home. My yellow lab has come to love him too.
---
(Note from editor: Terri and Jackie, your pictures didn't come through - This happens when they are large files, meaning high quality photos. There are tips here for editing photos for the web, if you'd like to try again. Without an email address, I was unable to contact you.)