September 2014 Photo Album
Meet our Featured Coonies for September 2014! 
See a pretty girl named Stinky, as well as Bruno, Shadow, Tupper, Gizmo, Mozo and more in this Autumn Album.

Stinky
By: Brian A. in NY, NY USA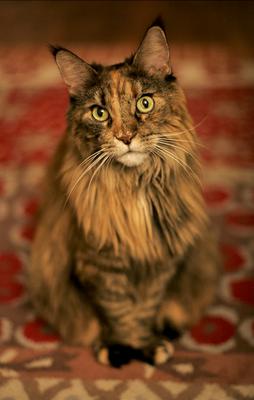 Stinky is the best cat. You hear that all the time, but she is special. Stinky single-handedly has converted cat-haters into believers.
She is smart, funny, impossibly cute, and the best friend and companion you could ever wish for.
She is also 18!
Stinky is in good health and enjoys her lazy life in NYC, looking out the windows at the busy world, as she takes it easy, relaxing on her owner's face while he sleeps at night.
We love Stinky!
---
Bruno
By: Holly in Amesbury, MA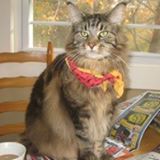 Waiting for Halloween
Here is a picture of my precious boy.
His name is Bruno but we call him King Bruno. He is 8 years old and weighs 24 lbs. He is a celebrity at the vets office.
---
Shadow
By: Caroline in The Netherlands
This is Shadow, born on 27 november 2013. He is al fullbreed Maine Coon.
He lives together with 1 male and 2 female coons in the Netherlands. After his brother died last year, we were lucky that his parents made another effort and so Shadow was born. We are very lucky to have him in our lives.
Shadow is very playfull and is very gentle in his approach. His tail is super long and thick. He weighs about 6.5 kg now and still growing.
---
Tupper
By: John Hanley in Williston, No. Dakota
Tupper is 15 years old and 22 lbs.
He is a bit of a grump which I find endlessly amusing. I am the only object of his affection although he tolerates his 4 yr. old, 12 lb. silver tabby exercise kitten, Weber.
He will often sleep on his back and stands at attention like a little soldier for his daily brushing being kind enough to turn for me to get him done on both sides.
He has provided more smiles than any one person deserves and is my most precious possession in life.
---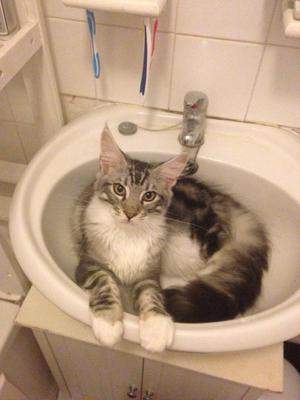 My Little Gizmo :*
By: Siobhan Pritchard
Gizmo begging for our gerbils and sleeping in the sink!!!
---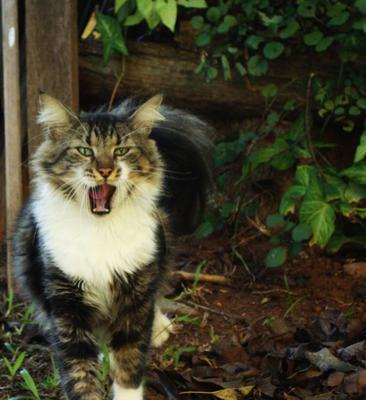 Mozo The King Of The Garden
By: Jerome Schroeder in Canoas, Brazil
That is Mozo my Maine Coon, he loves our garden and there is his place to rest and play.
The photo was takem during a summer day.
Thanks guys,
Jerome Schoeder.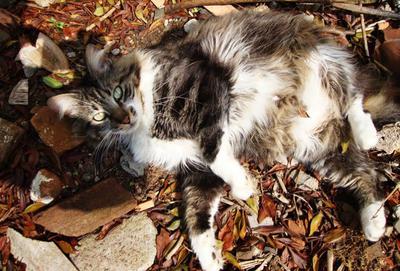 Mozo in a sunny day
Mozo resting in his favorite place
Hi,
Here is another photo of my cat Mozo resting in a sunny day.
Thanks
---
Lady Hadassah, a Gift from Father G-d!
By: Miss Patricia in Florida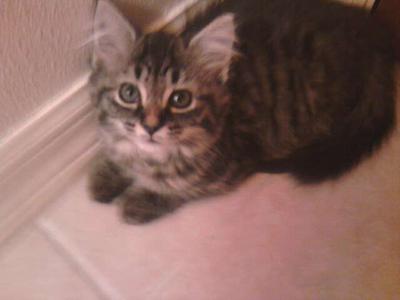 Lady Hadassah
My persian cat, of 13 yrs, Baby Button Boo Bear passed away from cancer and by the time it was caught and the Vet did surgery, it was too late. He died on the table while under anesthtic during surgery.
I did not want another cat, I thought. One day I went to look at kittens and was led to a Cat Rescue and they none of them looked likethe right one, in fact one bit me.
Then they said, "wait we have 1 more" and handed her to me and it was instant love. She nuzzled into my neck like Buttons used to and loved to sleep with me as he did too!
She is the joy of my Life!
---
Lucky
By: Courtney Brianne in Windsor, Ontario, Canada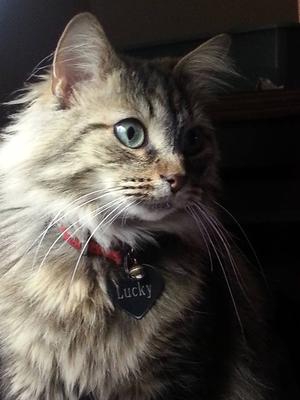 Lucky
This is Lucky. He is about 3 years old. My boyfriend and I found him in 2012 laying injured on the side of a road.
We brought him to the vet to recover from his injuries and a week later we brought him to his new home.
He LOVES to cuddle, beg for treats, and chase his little brother around the house (our new cat Nitro).
---
Our Cutest Gizzy
By: Ting in NYC, NY, USA
Gizzy all tucked in for bed!
Our Maine Coon cat, Gizzy (short for Gizmo), is a rescue cat from NYC. We met him at an adoption fair in Brooklyn and I could not stop thinking about him after I first saw him.
He joined our family 2 years ago and we could not possibly love him more.
He is actually a Maine Coon mix with tufts of white hair on his chest and his four paws. He has a cute pink nose, big round black eyes, and brown and orange striped hair everywhere else. And boy, does he have a LOT of hair!!!
His favorite activities? Drinking water from the kitchen tap, meowing loudly in the morning at 7am sharp to remind us to wake up and cuddle with him, trilling and rubbing against our legs, getting brushes while "scream" purring, running in circles around our coffee table while we chase him, and long naps while lying on our bellies.
I love dear Gizzy so, so much and hope that his cute pictures and loving nature bring happiness to other animal lovers everywhere :o)
---
Furby & Roxie
By: Fred Simbro in Athens, GA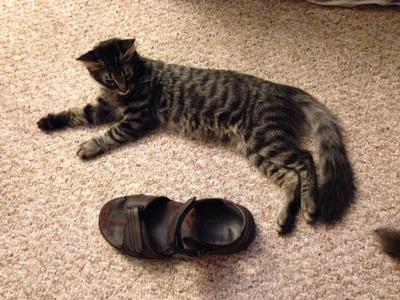 Furby 10 Weeks
Both found at about 4 weeks old. I took them and and have been having the time of my life since!!
Great kitties, though I use that word loosely..as you can see Furby's picture at 10 weeks and is laying next to my 9 1/2 size shoe....gonna be a big kitty.....His Sister Roxie, looked like she had the raccoon mask...so could not name her Rocky Raccoon so went with Roxie Raccoon....though I guess I should change to Roxie Maine Coon.
Both are very full of life and love to play...Will sit with me, when they feel it is best. It has to be their idea.
So, glad I rescued these two!!
---
My Sweet Furry Boy
By: Debbie in Wood Village, OR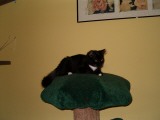 I adopted Max with his sister Lily as 5 month old rescue kittens. He was an adorable 6 pound fuzz ball. I knew I had a big boy on my hands when he weighed 11 pounds at a year old (and outgrew a cat collar) and still had huge feet.
He is a very gentle, sweet natured boy who loves to snuggle. Now at 5 years old my "little" furry boy is now 21 pounds and has grown into his feet. He is also a good brother to his 3 sisters (although he does like to annoy them sometimes and take their treats).
---
Mom you're too close!
Up close with PITA
By: Laura in Columbiana, OH
My son rescued PITA for me as my grandchildren call me Grandma Kitty, without a kitty.
PITA was to be euthanized if my son did not adopt her. I have her for just 5 days, and I can't imagine life without her. PITA is about 6 months old and has a lot of growing to do.
Naptime Anytime!!!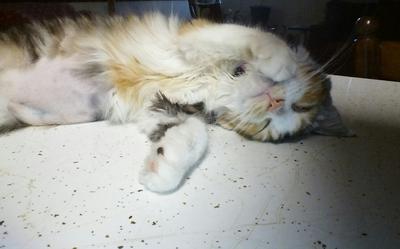 P.I.T.A. is 6 months old and loves to play, and do what most coonie kittens do, EAT!!
When she is not eating, she sleeps, so her body will grow to become the beautiful cat Maine Coon are famous for.
---
Garfield and Snicklefritz (twins)
By: Bett Spencer in Mission, Texas
We got Garfield and Snicklefritz from Pet care when they were 3 months old.
Looking at them (M on forehead) Tuffs in ears and on top. Snow shoe shoe feet and elongated canine teeth.
They are now huge and each weigh 20 lbs. I'm sure they are Maine Coon Cats.
---
Update on Pooky!
By: Ocea-Marie Hughes in United States
I'm ready for my close-up!
Pookie (Pooky) is not even a year old yet! He's only seven months but acts like a crazy kitten!
He's been getting into some trouble lately. He even tried to chew my homework! He is so funny. Once, he woke me up a 5 am just for attention! I love him though. But I really miss Pebbles. Pebbles is still in my heart. I love them both.
---
Bear
By: Bonnie in Churchville, MD
We found Bear at the shelter in November of 2013. He was listed as a Ragamuffin.
I realized once I got him home that he had some markings that grab my attention. The big "M" on his forehead. I knew then I found the cat of my dreams.
He now 14 months old, 10 pounds and full of energy. He's our shadow all day and night. My husband and I taught him to walk on a leash outside to get rid of some of his energy so doesn't renovate the house which he still does once in a while.
He loves to go outside and explore our 30 plus acres. My husband thought I was crazy when I told him that our little kitten was not a normal cat. I went on the Internet and showed him pictures of Maine Coons. He couldn't have been more happier and laughs at the food bill every month.
Bear is truly one of the best breeds I have ever had.