He's a 3 yr old neutered male. He was rescuded from a local college when a security guard discovered him under a bus.
The gurad took him home but discovered that his son was allergic. I adopted him. What a joy he is.
His name is Jasper. He loves to sleep with the dolls in my antique carriage.
Minnie was adopted from a local rescue organization when she was 8 weeks old.. She is without a doubt the funniest and quirkiest cat I've ever owned.
She loves to play fetch with her little paper balls. This is a game she started all on her own one day, by dropping the balls into my lap while I'm sitting. I throw it, and off she goes after it, to repeat many, many times.
She also loves to put those paper balls in her water dish, and often turns the full dish of water over on the floor.. She's a mess,and we wouldn't want her to be any other way!
Russell is our third Maine Coon, he loves to chase string & play bat bite.
Rusty is very loving he is 2 yrs. old & at this time taller than a lot of medium size dogs.
We got Bella from a breeder in New Hampshire. She is such a baby..picked her up just before Christmas last year (2012) at only 4 lbs and 8 weeks old. She is now just shy of 1 year old and over 12 lbs. Absolutely amazing.
She is a beautiful (here it goes) Silver Patch Tabby with White. Most people have not seen much of her coloring.
She follows me from room to room. Chirps, cries, does little funny noises all the time. Sometimes she drinks from her fountain or a glass by putting her paw in and drinking from her paw...what a nut!
What a love of a kitty!!! Oh...and playtime is mostly all the time, other than naps.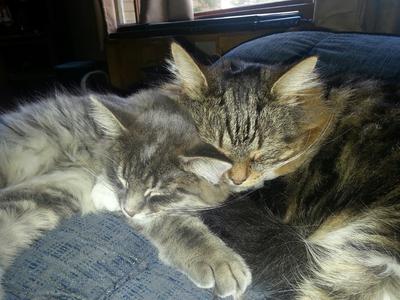 Yep, Payton is quite the character. He's my mutt cat, but you cannot deny his Maine Coon traits. I've had him for about 6 years. I got him when he was a year old.
My most laughable moments have been when I lived in a two story apartment building and there was a female cat down on the ground and they were "speaking" to each other from the window from that high up.
When I lived at another apartment, I had a Siamese jump on my porch and he talked to her. He may be fixed, but he's quite the little Casanova. Ask his little girlfriend Bella, who I got as a kitten last summer.
With my husband farming and me alternating between work and school six days a week, I'm glad he has her to keep him company. He also has that unique Maine Coon poise and I catch him sitting on the couch a lot like a man.
He has a foot and shoe fetish (don't trust him to sniff your toes because you are more than likely to get a love bite). He's also been known to beat up my oversized catfish pillow and bite it's whiskers.
This last week, I took him into the vet to get a tumor removed from behind his left ear. I was told to let him sleep in the carrier for awhile until the medication had been completely worn off. We fed him a little bit of moist food after we let him out and he started acting like him old self.
He has always played this game where you drag a string in the floor, he will grab that end and take you to a plastic bag lying in the floor over and over again. Well, last night he took me in to the empty plate. I thought nothing more of it until I went into the bedroom to study.
He was meowing to make sure I knew he was there and brought me string again. He jumped on the bed with it in his mouth and then jumped back down with it again. I looked down the hallway to see he went into the kitchen again.
When that didn't work, he came back up on the bed by my feet with the string in his mouth, make sure he stayed long enough for me to see it, and was trying to jump down again. Now the vet told us to only feed him half, so Brian had pulled his food.
Who thinks he was trying to coax more food out of me? I am going to now call it "going fishing for my human". He's so darned funny!
Bella girl is more reserved. She begged for attention when I first got her, but she's the first to now run when I stranger comes into the house. I have to coax her out of hiding and she has to stay on the couch by me, covered in blankets, before I can get her to stay.
She's been known to howl down the hallway in the mornings when she is hungry and has been known to bite my husbands toes or to nurse on the blanket on the bed at all hours of the night. She's also been known to get in the garbage and play with used QTips. I know gross, right?
I am constantly finding them all over the house. She has fallen into the bathtub with me and always wants to be covered up. If there are blankets, towels, even jeans, she tries to bury herself in them. I've had a couple of health scares with her too.
The first time, she had an abscess that was never found. Her temperature was up and her blood cells were sky high. The second time, she was not eating, drinking, and the vet could not get her temperature to go down,even with anti-inflammatory and antibiotics.
I was seriously worried about loosing her too early, but did my research and found some drops online that help her immunity. She's back to her ornery little cute self and is starting to like the belly rubs like Payton. They are always both laying on their backs wanting attention.
My kids may not be purebred, but I would not trade them for the world. Until my husband and I have kids of our own, these are my kids.
---
Kelly
By: Eleanor in Sheldon, IA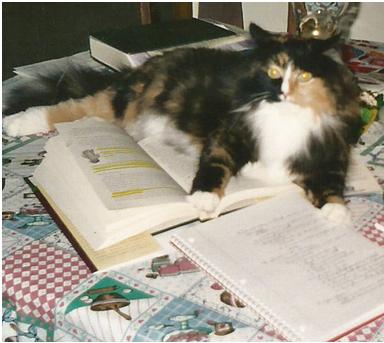 Kelly Studies
Kelly, my Maine Coon Mix, was a farm kitten who always wanted to get inside and now for 13 years she's been an indoor cat who never gets outside.
Her mother, Fluffy, had long hair but was a darker tortoiseshell in color. Kelly's litter mates were 2 orange tabbies, a black one with white paws, a mostly white one, and a mackerel tabby.
She recently underwent some serious health problems which came on very quickly. She wouldn't eat or drink and just slept. I called the vet and I was to have her there by a certain time.
When Miss Kelly saw that her carrier was in the kitchen, she ran and hid under the bed. I finally got her and put her in the carrier and meant to lock it. I went to do something and came out just in time to see her running into the bedroom again. Got her to the vet and she had a temperature of 105.
The vet gave her a shot and I gave her droppers of water. She just didn't seem to "respond". Thought she was going to die on my bed. The next morning, I was lying in bed and wondering if I had to have her put to sleep would I have to disinfect everything before getting a kitten.
All of a sudden she jumped on me as if to say don't count me out. After two more shots and one more under the bed episode, she seemed to recover; but later, one more trip to the vet, a change of diet, and the removal of plants was required.
Now she's back to being Kelly, as she follows me from room to room; sits halfway on the arm of my chair and halfway on my lap; and takes her paws to show me where she wants my legs positioned so that she can jump on me and then onto her window seat.
The carrier is in the garage, where it can easily be grabbed. She sits and begs at the fridge for the now forbidden treat, but she still loves me.
---
My big boy Cal
By: Lauren C in Bloomington, Illinois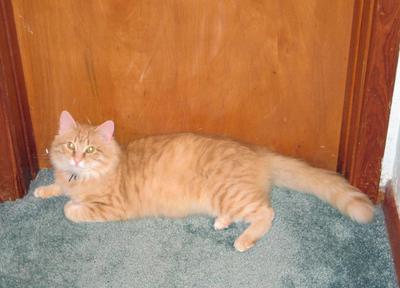 My Cal, but I call him Calbert
My 2 year old Maine Coon guy Cal arrived in my life in March of 2011. He was originally from Peoria, Illinois. A cat lover friend of mine found out I had lost my gray tabby of 21 yrs thru my facebook posts.
He knew this lady that had a cat she couldn't keep due to her allergies. It seems this guy followed her neice home one day.It turns out he had been dumped out or just abandoned.
She said she put up posts but nobody claimed him. So about a week or so later my friend brought him over, after being checked out at the local clinic.
He has been quite the experience. I have grown soo very fond of him. He is sweet, friendly, affectionate, and loves to play. He cracks me up when he waits behind a door and leaps a foot in the air and pounces on my feet when I come thru. He loves to cuddle in the bed, He just loves the attention I give him.
His thick fur needs alot of regular maintenace and I find it everywhere, It's even a condiment, lol. He follows me everywhere and is so curious about everything.
He is the best thing to happen to me in the last 2 yrs. I can't imagine my life without him now. I love my Maine Coon.
---
Peanut quirks
By: Andy in Mohnton, PA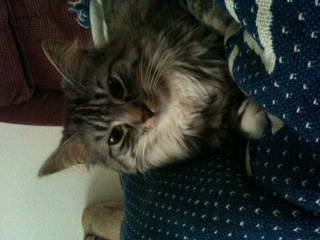 My little girl Peanut (year and half, 10.6 pounds) loves playing with Q-tips. Which I understand.
But when she is finished they always end up in her water bowl. ???? Anyone know why?
---
Moka... My Rescue Mix
By: Joe Fiedler in Piedmont, SD, USA
I had been looking for a cat and have always been fond of the Maine Coon.
My girlfriend found Moka online at the animal shelter in Lead, SD. A stray, brought in by the local police, we believe he is a mix of tabby, Siamese and Maine Coon.
---
Amma Cat Not Therapeutic :(
By: KathyB in Pt. St. Lucie, Fl. USA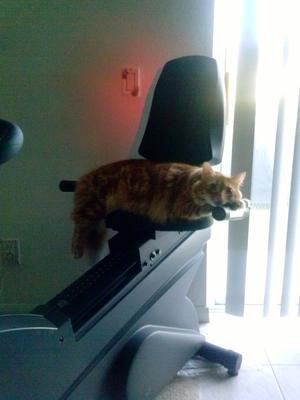 I am the King here 2yrs old
Amma therapy is a very gentle, feather like human or animal massage. Amma was rescued from a dumpster house, at 6wks old.
There is nothing about him that is gentle or therapeutic. Amma is a male neutered strange being. The cat runs across 2rms, to grapple our legs and bite us the mouth is so big now one set of teeth is on the inside of your calf, the other, way on the outside.
Amma likes pets, but only like this: pet - pet-purr then BITE. He likes to sleep with us sleep - sleep - nuzzle - purr then BITE any body art sticking out from the covers.
Ahhh, furniture 3mo. old, himmmm scratch right down to the wood. NOW, someone tells me I am a Main Coon Cat!!!
---
More Maine Coon Cat Pictures: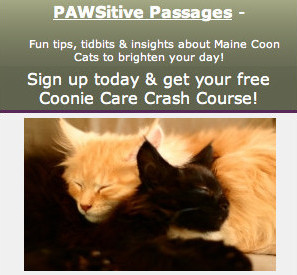 Maybe-Maine Coon Cats For September:
Meet Sly Cooper
By: David Kelley in Jackson MO
Cooper 3 months ago at the vets
Cooper adopted me about 3 months ago when he was 8 months old.
The people that had him said he was a Maine coon but Im sure probably a mix. He loves ro sneak around and catch you by surprise and he acts more like a dog than a cat.
Every morning he is waiting for me when I get up for his morning rub down lol. He is almost 1 yr old and weighs 12 lbs.
---
Zoe
By: David Santibanez in Modesto, California
Shes about 8 months old,very adventurous, she loves atenthion so much to the point were she will not let me text, she seems very smart ad at times almost seems like she talks, in her own way...
---
Our Possible Maine Coon Mix Tiger Rose
By: Ella in Allegheny Mountains, PA
Tiger Rose
This is Tiger Rose. She knows her name as Momma Cat which is what they called her at the local saw mill. She had at least 2 litters by the time we met her and we decided that we would bring her home after her kittens were "adopted" out.
We treated her for fleas, had her spayed, tested for feline AIDS and Leukemia (combo test result was negative), vaccinated and gave her a name. She's being treated for a mild eye infection and gets a dose of oral meds for ear mites on the 1st of October.
I'm not positive that she is part Maine Coon though her body shape is similar to that of a Maine Coon and some of her coat is like that of a Maine Coon. Her ears are kind of big for her size and her front legs and paws are rather thick.
The hair on her tail is kind of like a feather duster and she has small tufts of hair coming out of her ears and from between her toes. She is extremely friendly and very vocal. She's very intelligent for a cat.
She loves to play with my camera strap while I attempt to take pics. The hair on her belly is silky and it doesn't matt up even though you'd think it would.
She's rather small only weighing in at 8 lbs 4 oz and the vet said that she's between 3 and 4 years old. If there's any Coon in her it's probably a few generations back but I thought I'd submit a pic to this site anyway. I love the site! Thank you for putting it together.
---
Mew Coon
By: Alexis R. Mendoza in Colton, California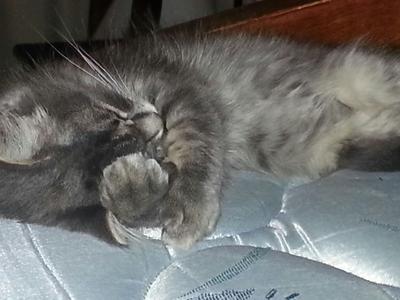 Mew Coon
Hey Everybody!
My Name is Mew Coon! My Mommy rescued me from a shelter in Jurupa Valley California. I am now 3 months old!
The shelter listed me as a tabby cat but my mommy thinks I may be a Maine Coon or a Maine Coon mix. I am fairly large for being so little. I love to play and cuddle. I eat tons! I love water!
And my mommy calls me a ballerina because I walk around the house so gracefully swishing my tail back and forth.I have such a big personality with quite some character (:
My eyes are golden green and I have a tiny meow,cute little chirps and loud purrs,oh and don't forget my gigantic paws!My ears are big with lots of fur sticking out, mommy says its a good thing because its better to hear you with (:
Well its nap time, it was nice meeting you all!!Your Friend,
-Mew
---
Vermont LuLu - My Dog In A Cat Costume
By: Russell in Central Vermont
I believe she is part Maine Coon. She has large mane, very bushy tail, plays with her water bowl, and is more like a dog than a cat.
I had two different people visit and say "Oh, you own a Maine Coon" within the last year. Also she reached her maximum weight (15 lbs.) when she was five years old.
She tolerates dogs but doesn`t like any other cats. I received her as a kitten but never saw the parents. She came from a Vermont dairy farm. Would you agree that she looks like a Maine Coon?
---
More Maine Coon Cat Pictures:
The Rainbow Bridge Album:

A Maine Coon leaves a mark on one's heart that is never forgotten. These are some beautiful tributes to amazing family members.

Cats In Sinks:

What is it about cats in sinks? Perhaps it's the size, the shape, the way they produce fresh water, or maybe it's just because it is so fun for a cat to be right in the way!
Next: