September 2011 Photo Album
Welcome to our September 2011 Photo Album! All the cats and kittens on this page were sent in during September. Scroll down to enjoy the many beautiful Maine Coon Cats, Maine Coon Mixes, and Maybe-Maine Coons!

Smokey......My Buddy
By: Bob Howard
(Columbia, SC)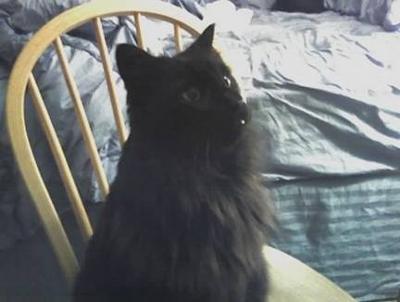 Smokey......My Buddy
Smokey is a 13 year old Maine Coon who will surprise you with a loud "Hello" if he doesn't know where you are in the house.
He rides in a car without a carrier, but he complains a lot about it.
He follows me from room to room as I get ready for work, and sometimes I think he's trying to delay me. This morning he got in the shower and laid down, so I decided to shave.
He jumped up on the cabinet and got in the sink. He's as smart as everyone says Maine Coons are.
When I put out a pouch of food on a plate, I don't open it. I ask Smokey if he wants to cook the food first. He walks up to the plate and knocks the pouch over then waits for me to open it.
I can ask him where Mommy is, and he'll go looking for her. He sleeps on my feet, and is very patient if I move.
Smokey is very afraid of thunder. When he hears it now, he snuggles on my lap and hides his face, but you can feel him shivering.
He was raised with my kids, who are adults now, and he is always happy to see them even when they haven't been able to visit for awhile.
One of the things he expects from me when I get home from work is a tour of the house. I have to pick him up and carry him all around, showing him the pictures, the fireplace mantle, and of course the refrigerator and mirrors.
He loves to be petted by strangers, and I love the way strangers come up to us in pet stores wanting to get a closer look at him.
Comments:
Big
by: Crystal Howard
He looks so much smaller in this picture but it is a great picture of smokey!
To Pat and Sharon
by: Bob
Thank you for your comments. You both must love your cats as much as we love Smokey. They are lucky to have you as their "parents".
Smokey
by: Pat in Ocala
I enjoyed reading about your cat, Smokey. He sounds like a delightful companion and the way you tell us about him shows that you care a lot for him. I, too, pick up my cat and walk around with her as we look at our various objects. We both love our time spent together whether its walking around the house and yard, or just sitting around watching TV or on the computer.
Smokey has the good life and we wish him many more happy years with you.
Smokey
by: Sharon
Wow, you bring him to the pet store? He must be leashed trained as are ours. He is beatiful!
---
Princess Chloe
By: Amy Layt
(Australia, Sydney)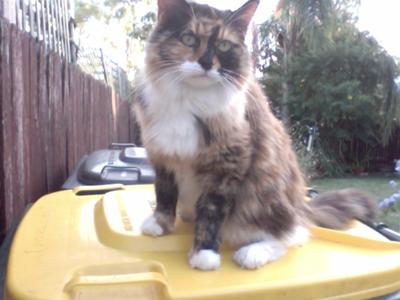 My beautiful kitty, giving to me when I was 8. Now she is 12 years old and still going strong.
---
Storm And Shadow

White one is Coon dad white bsh mum, only thing he got from mum is the colour. I think the coon gene is very dominant? Tabby is coon mum, Persian dad he's the exact colour of his mum fur is thick but not long like a Persian.
---
Ceasar
By: Karen
(Raleigh NC)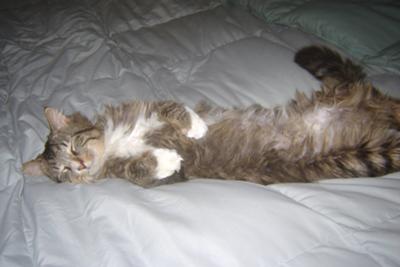 I just adopted this sweet boy from the pound I'm pretty certain he has a good dose of Coon in him!
---
Snickers in Glasses LOL
Snickers in Glasses
He is the BEST cat I have ever had! Most loving, most faithful, protective and not to mention the best temperament. He is 25 lbs.
We call him my Butterball! He is 11 yrs. old now. Never had a problem with him at all.
---
Meet Mr Sassee
By: Jackie
(Shelby, NC, USA)
I got Sassee around Thanksgiving from a lady who worked with my dad.
He was a fluffball little thing and just so adorable. He stole my heart away. He curled up around my neck on the drive home and stayed there until we got home.
He seemed like an awkward little kid with his big feet though! It took him a few years and suddenly the feet matched the body and I had this gorgeous 23lb cat. Until last year Sassee was going good, then suddenly we noticed he was having problems and when we took him to the vet and after several visits we found out it was worse than we thought.
We ended up at a specialist vet and Sassee has the urinary crystals and stones, classic of a male Maine Coon. That's when we really started thinking he was a M.C. After a lot of money and surgery my baby has a clean bladder and no crystals, no stones, but he is on a strict diet of RX cat food, lots of water and limited to certain treats.
But his personality has so drastically changed since we found out he was sick and probably has been for a long time, its like having a kitten in the house again! I hope we have a long long life together and no more vet visits!
Comments:
What a beauty
by: Purpleangie
You are so lucky...Mr Sassee is adorable...he looks so like our cat George...who is also on here. So glad he is better now and you can look forward to a long and happy lfe together...
he looks like rusty creamsicle
by: Pat
Our little Rusty Creamsicle will look just like Mr Sasee when he's all grown up. He is beautiful!
Thanks
by: Jackie
Thanks! He's a character and I love him to death.
---
Lily
By: Wendy (Easton, PA)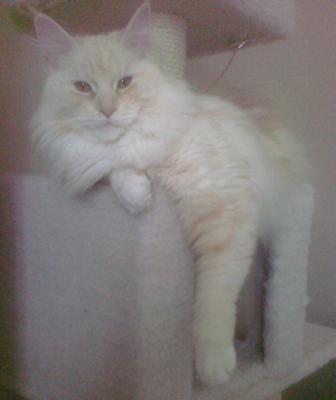 We adopted Lily when she was 9 months old, and she is now 18 months. It took about one minute with her to fall madly in love with her.
She loves to play fetch, play in her water bowl, and climb and run. She loves to snuggle and give kisses and is a licker! She loves to snuggle up under your chin and lick your face and hands. She talks a lot, follows me from room to room telling me all about her day and how she is feeling.
She loves to chase and ply with our two older (7 yrs old) non-Coon cats, and sure helps to keep them young and in shape! Us too :)
She is so special and unique, as Coon owners well know!
---
Dexter
By: Yagoda
(Poland)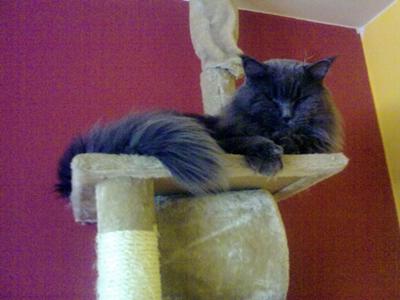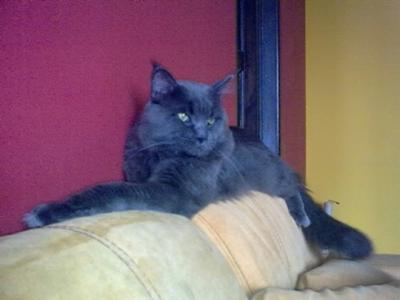 Dexter is 2 years Maine Coon stud. He is blue with a thick and dense fur and green eyes.
Comments:

DEXTER
by: Judy UK
Dexter is absolutely gorgeous. What is his colour called . . . .blue? Looks like he's ready for a cold winter. It would be great to see more of him but thank you for this glimpse.
---
Duncan The Prankster
By: Glenn
(Toronto)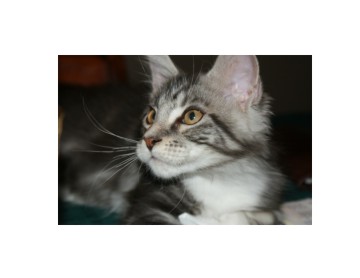 Duncan our boy
Duncan is 5 months old today (9/18/11) and is already 9lbs.
He already is the dominant kitty in the house of 3 cats and he is larger than one. He is great fun to play with and is really really active.
Recently, he has decided that drinking from his bowl is not enough and now drinks with his front hands. He scoops up the water and drinks from his hands.
Where he drinks is "any where he wants"
Duncan has the loudest purr I have ever heard. You just go close to him and his motor starts.
He is a beautiful puss and we love him very much.
Comments:
:0)
What a handsome boy! He has a sweet face.
---
"Minnie" Minerva
By: Rebecca Holton
(Brighouse UK)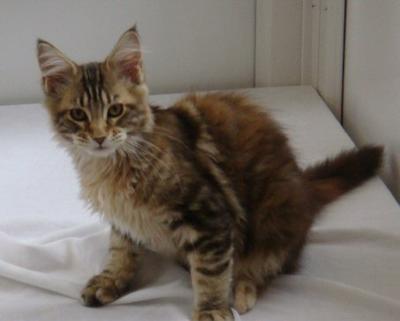 We picked Minnie up from the breeder the day before yesterday so she moved in with us 2 days ago.
She's a pure bred Maine Coon, a brown tortie tabby. She's settling in really well - full of fun, cuddly and naughty.
She was born on 3rd June so she's just 15 weeks old. The fourth pics is when she was a baby of 5 weeks. The others are Minnie at 15 weeks.
Comments:
Oooh
She's a little cutie!! :-)
Blanca
By: Yagoda
(Poland)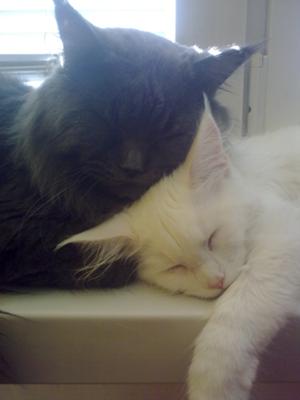 My sweet girl
Comments:
Just beautiful!
Looks like my buddy Max who has since gone to Rainbow Bridge.
---
Amazing Aggie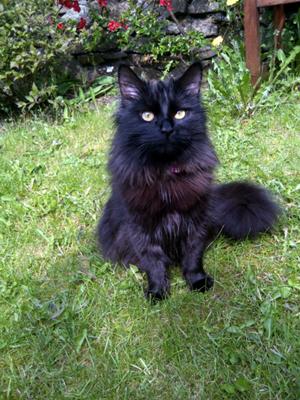 Here is Aggie my amazing little girl! We bought her of a family that couldn't look after her anymore almost 6 months ago now.
She has a great personality and can at times be very naughty but with eyes like that how can you stay mad?!
Comments:
:0)
What a sweet girl! She is very lucky to have you as a human pet.
Staying Mad?
I sure couldn't.
---
Meet Eddie Spagetti from Tacoma, WA
By: Witaka
(Tacoma, WA)
Eddie Spagetti
Eddie Spagetti came to us by way of our oldest grand-daughter. When she moved out she decided he was happier with us than he would be in her new much smaller place - Especially since he had his staff so well trained.
Eddie is good with the youngest grand-daughter (2 1/2 yrs & 17 mos.) he take the hugs and kisses well although he's not too fond of the excited scritches. (a few treats seems to smooth that over).
Although we had cats for years I was always more of a fan of the "d" word. In the past our cats generally avoided me unless the kids forgot to fed them.
Eddie however seemed to take it as a challenge to turn me from the dark side. I'm delighted to report that he has succeeded.
He is such a wonderful example of the breed I'm sure I will have others in the future.
---
"Boo ~ Boo" Abby Road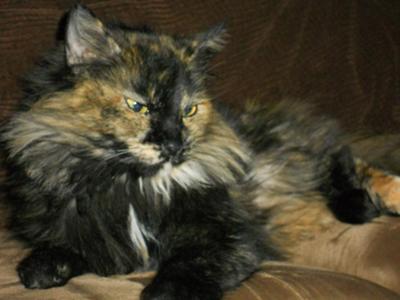 "Boo ~ Boo" Abby Road
She is the sweetest little girl EVER! She loves to cuddle and have her tummy stroked. She is adorable and loving.
Comments:
how long
by: sher
How long does it take for a maine coon to be full grown?
little snuggler
by: sher
She is adjusting to her new home wonderfully. Even the other cats are chilling out. I just love to come home to relax with my "kitty" girls! Boo~Boo is by far the lover of the bunch!
Boo~Boo is a beauty!
by: Pat in Florida
She has unusual markings and is beautiful. From what you say, she has a wonderful personality. May you have many happy years with her.
Yes I think she is too!
by: Sher
Yes I think she is also. My girlfriend is the one that pointed this breed out to me. We actually fround her under a deck we were tearing down at a friends home. She was frail with malnutrion and a broken back leg. We have had her with our family now 2-3 months. She has adjusted wonderfully with my other two cats. She is by far the cuddliest cat I have vever had. AND she does come when you call her!
Torticalico?
She looks like one. I had one of those--tortoiseshell back and calico front.
---
Butters approves- yes cats can smile!
HRH Princess Butternut Squash
By: Linda
(California)
Sweet, giant, playful, chicken. Spoiled, has this thing for drinking water, she cna tell the difference between tap and bottled, did I say spoiled?
---
My Sweet Pawstuctaway McMurphy
By: Dunja in Goffstown, NH
Murphy and his equally stunning sister, Candy Cane, have sent in lots of pictures! Since there is plenty to see and read about them, they have their own page.
Come meet Kelimcoons Candy Cane & Pawstuctaway McMurphy!

---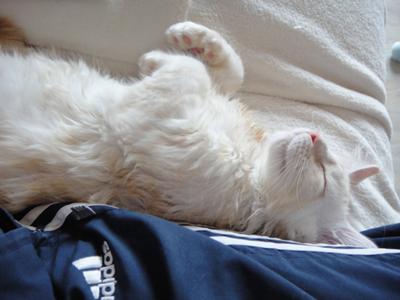 Marley Sleeping
Marley
By: Joy
(Scotland)
Marley and his beautiful sister, Muska, have their own page full of pictures and tidbits about them!
So, follow this link to meet Muska and Little Marley!
---
Crash, That's His Name
By: Michael Brooks
(Warren, Michigan, USA)
Crash is a real friendly cat. When I have people over he is right in the middle.
He does not hide, he will make his rounds for people to pet him & if he's got something to say to me he can be loud sometimes.
When he wants a treat he will meow several times until I look at him then he will lick his lips like come on I'm hungry lol.
Comments:
Now THAT'S a cat!
That's what I want, big guy, big cat. He's a monster :)
Cool cat
Michael you have one very cool cat there :-)
awesome
by: Katie- Jacksonville FL
Wow!! He is huge! Very cool looking cat! That is what I love about this breed, it is not a "normal cat". Everyone who meets mine that is the first thing they say lol, it's like a small dog.
Crash
by: Babbs
Crash is very handsome. Looks very big too. Thanks for sharing his photo.
"Man Cats"
by: Dean
I too am a big guy and so is my MC Eric. For guys, this is definitely a "Man Cat". Nothing about these guys is Froo-froo.
---
Qupie Girl (Q-pea)
By: Olivia-Paige
(Baldwinsville, NY)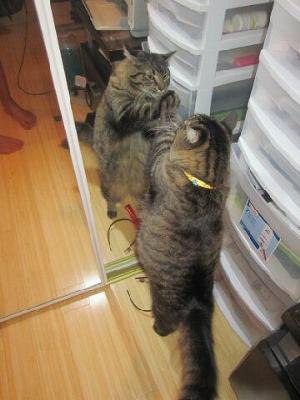 We adopted Qupie and her brother Jinx August 10th, 2010. I had just lost my former cat of 18 years my family felt we really needed a new cat, but I came home with two.
A few months ago I started researching what type of kitten Qupie "really" was because I have never had a cat or known anyone who has ever had a cat acted like she does. At first its little things, like follows us from room to room, just wants to hang out where we are.
First Snap Shot Of Qupie
She hates closed doors, on top of sitting next to them the entire time they are closed she will slam them open from time to time.
She really LOVES to talk, she has many sounds, from chirping, to meowing (plus many, many sounds)
She is ALWAYS ready to play, her favorite thing is to play with the laser, however just last week I downloaded new games to my iPad oops, sorry "her iPad") and she just loves; she has about 6 games, and she knows how to restart the games too)
These cats are extremely smart, I could go on and on, but if you have a coon cat you already know (wink)
She has all the markings of a coon cat, from the physical looks to the personality.
We are so thankful we have her and her brother in our family it seems complete again.
Oh' did I mention she LOVVVVVVVEEEESSSS to eat!
Comments:
Awww
by: Sanya
Aww what a beautiful lil cat. :-) Sounds like my Tali, she loves to jump on the laptop and press buttons. She knows the 'eject disc' button quite well haha. She also loves to eat. Finally got some weight on her, as she was abit too thin.
Great pics
Great pics, thank you for sharing. :-)
---
Eric and Chloe
By: Dean
(Rochester, MN)
Maine Coons in the morning
Eric is our 10 month old 14 lb. male Coon. Chloe is a 1 and a half year old 8 lb. female Coon. We call her Mini Maine Coon.
One of their hobbies is to run into the bathroom together, Eric flushes the toilet, and they both gallop back out. All in about 2 seconds! They don't watch the water or wait around the bowl. Just in and out. They especially love to do this when I am in the shower!
Does anyone else have Maine Coons that do this? We call them drive-by flushes.
Comments:
MC Flushers
by: Traci
That is AWESOME! My little MC Echo hangs out on the top of the toilet and tries with no avail to flush it. I love that he does it when you're in the shower. They are such little smartie pants.
MC Flushers
by: Helen
We can't leave toilet paper on the roll dispenser because Bezzer Buzzer will "paper" the bathroom and shred it to a million pieces. Which is cheaper? Water or toilet paper?
question
by: jason
Are your two coons brother and sister? I have two white maincoons Jack & Chloe. :-)
I have shredders too.
The toilet paper has to be kept in the clothes hamper. So far they haven't learned to open it.
Check out those bushy tails!
by: Sanya
Aww cute. Haha, my cat Tali loves to attack toilet paper to shread it. Sometimes she'll even try to eat it.
Answering Questions
by: Dean
They are not brother and sister but they might as well be, given that they get along like peaches and cream. They are both rescues. Chloe was found in a barn after a flood, but she has just came along amazingly. With her very social personality you would never know she had been through such a horrific event. Neither one of them shreds toilet paper (at least not yet). They do like to get up on Tina's vanity, knock things off one at a time, and watch what they do. They slowly move the item over to the edge and then...off it goes! Apparently this is VERY entertaining to them! Oh yes! And Chloe has discovered how to open the cupboards...but that is not the best part...THEN SHE CLOSES THEM WHILE SHE IS IN THEM! They are both what I call "scary smart".
---
My Beautiful Maine Coon Cat Baby
By: Tanya
(Kempton Park, Johannesburg, South Africa)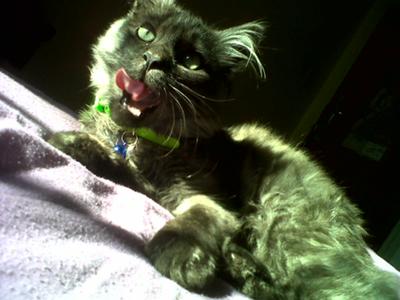 Smurfy
Smurfy is a beautiful, lovable, craze sometimes split personality kitten...
We found him in a gutter near our home and instantly took him in and since then he is the king of the house lol.
We didn't know that Smurfy is a Maine Coon until we met a lady who told us he was, since then I've been interested in these breeds.
He has his own unique personality nothing I've seen before... Dog like behavior and very lovable.
Maybe-Maine Coon Cats For September:
I Believe My Sweet Baby Mew May Be A Maine Coon Mix
By: Sabrina
(Natchitoches, Louisiana)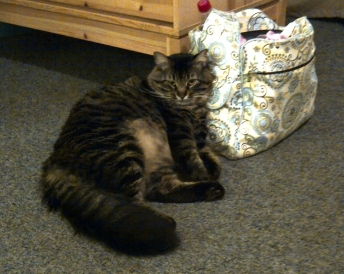 Mew about 3 months ago
Someone gave me Mew 2 and a half years ago.
I am a HUGE cat lover. He was this adorable fluffy kitty. I had never seen a cat like him. As he got older he got HUGE. Everyone would pick at me and him. I thought he had to be part wildcat with how huge he is.
The lady who gave him to us told me his mother was huge like him and one of his sisters. She doesnt know what the father looked like. However, I have now seen the mother and although she does not have his coloring she is fluffy with the huge tail.
Today at work I was showing my beautiful baby off and someone said "OHHH look at that beautiful Maine Coon" I had never heard this before and upon some research I believe that Mew is some what Maine Coon.
I now have an 8 month old daughter and Mew participates in raising her. He will gently swat her when she does wrong and play with her when she is being good.
He talks constantly and even has adopted his own little brother. He is ADORABLE and I love him no matter what he is but this explains ALOT about his size.
Comments:
Mew the Maine Coon
by: Gail (Quincy, MA, USA)
Mew absolutely looks like a Maine Coon cat, especially her size and behavior. You will enjoy many many years of funny antics from your beloved furkid.
A suggestion would be to brush her fur at least twice per week as she's got 3 layers and is susceptible to severe fur matting, which is a royal pain to work out. I use a dog comb since the teeth are further apart; I don't like cat brushes since they tend to hurt the skin since they're like little needles no matter how gentle you brush.
You'd be amazed how much dead fur is picked up with the comb. After combing, then I have a soft baby brush that I just brush her all over, including her legs and tail. She absolutely luxuriates in it with her stretches, trills and coos...kind of like a kitty spa treatment, LOL! On the odd occasion where a mat has to be cut, she's very good and stays still, then she gets "pretty brushes" (I don't give her a treat though because I don't want to associate treat with maintenance; you could find yourself with a weight issue).
Mine babbles at me all the time! She jumps on the bed to tell me when to get up, squawks at me if I stay up too late watching TV (well, this diva needs her beauty rest after all...), follows me room-to-room... I could go on forever, but you get the idea. The best part of all is her temperment - she's so sweet. Good times.
Simply Sharing my Stupendous Sentiments of Studly Supremacy as Shown by Mew
by: An Admirer of Mew Highness
I am merely an admirer of Mew. Not a secret admirer, as he full well knows how much I adore him. He is a WONDERFULLY tempered cat, spoiled (and he knows it) and his brother from another mother, Eaks is the same way, so that is definitely a product of their environment. They are just pampered, sweet, animals. Mew seems to have a bit more personality though, and these days he tells me that that's indicative of Maine Coon. He is HILARIOUS, and when he found out he was part of this exclusive club, his sense of entitlement elavated even more. He is the PERFECT specimen of a healthy, happy Maine Coon, and his attitude exemplifies everything I've read about the breed and their tendencies. Mew is a beautiful boy with a hilarious personality an an even brighter attitude, whether it be good or bad, which from what I have seen depends on the situation. I have never met a cooler cat, and I will leave it at that. :o)
---
Is He A Maine Coon?
By: Obilyn
(San Diego)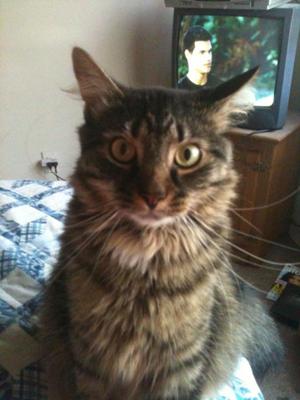 Hi there... I have tried to ask this question on your Facebook page, but was unable to get a response.
I adopted a cat last year. He is 2 years old and has all the physical and behavioral traits of a Maine Coon.
But I would love to know for sure if he is. Your opinion means a lot to me. I love have to say... I love your website!
Reply:
Hi Obilyn,

Your boy looks very sweet! I do remember your questions about his weight & diet on the Facebook page. He seems perfectly healthy and spry, that is good!
A while ago, when it comes to evaluating Maybe-Maine-Coons, I handed over the reigns to our lovely readers. My personal answer is always the same, "Maybe!" And as you probably saw when you sent in this page, there are a lot of them! We just added a new gallery of Maine Coon Cat photos - Maybe-Maines, and we'll be sure to add him!
As for his heritage, that is just impossible to know for sure. When it comes to cats that seem to have a Maine Coon "look" and similar personality traits, all we can do is read up on the breed, and make a guess. It's up to the owner to decide if they want to present their cat as a Maine Coon mix. A lot of people ask how to find our for sure, but the only way to do that is to look at a cats pedigree.
You mentioned that your boy has all the physical and personality traits, but you just want to know for sure. When I look at this picture, I would guess he could be a Maine Coon mix. Occasionally a purebred cat ends up abandoned or in a rescue or shelter, then their pedigree would be lost. More often the cat in question is a look-alike or a mix. Unfortunately there is no secret formula to tell for sure!
The only other thing I would mention is that I have been working on a fun Ebook just for our friends with this particular dilemma. It's going to be titled "You May Have A Maine Coon If..." and it will be an enjoyable look at the breed, traits, mixes, why so many cats seem to be Maines, and a check list of things to look for to help you decide for yourself. If you are getting our newsletter, Tattle Tails, you'll be the first to know about it's release.
Thank you so much for your compliment! I love meeting all these wonderful kitties, too!
All The Best,
Carrie
Comments:
He has the expression...
of an owl. Cute.
I say he's a mix
by: Dean
Having a good bit of experience with MC's and MC mixes I would say he is at least a mix. How big is he? How much does he weigh?
Thank you
by: Obilyn
Dean: He weighs 13 pounds. He is I would say, average size. He is extremely fluffy because all of the fur. I heard they are not fully developed until they are anywhere between 3-5 years old.
In regards to the comment that he has "owl eyes"... That he does. Imagine waking up to those eyes staring at you! :)
---
Stanley
By: Kathy Gereski
(Madison, AL)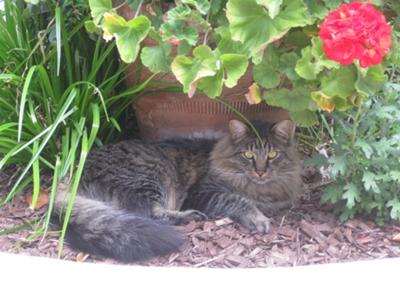 Stan Chilaxin' in the Garden
I adopted Stan from an SPCA mobile shelter 2 years ago. He was about 8 weeks old at the time.
I had no idea he was a Maine Coon, but his paws and ears seemed unusually large for a kitten. As he got older, I noticed his tail became more and more fluffy and his fur began to fill out.
He also started the well-known "chirping" and clown like behavior (crawling into bags, suitcases, playing fetch with hairbands, etc.)that is typical of Maine Coon cats.
Now he is almost full-grown and like my baby - he follows me everywhere and loves sitting with me. He also likes to bring home "presents" like live chipmunks and mice. Stan is also very dexterous with his paws and can open doors if they have a handle type doorknob.
All in all, Stan is a pleasure to have around; he is a very social cat who loves people and will hang out in a room if we are entertaining. He is a very special part of our family!
---
Sammie
By: Yvonne
(Hamilton, NJ)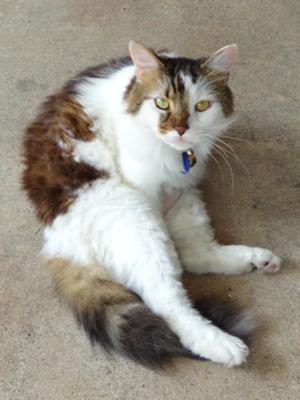 Sammie Man:
This is a cat that someone had dumped in my neighborhood. We took him in after he was found living under our shed 3 1/2 months ago.
Comments:
:)
by: Tracy
He's gorgeous! :)
---
Is Jazz a Maine Coon Mix?
By: Deva
(Rhode Island)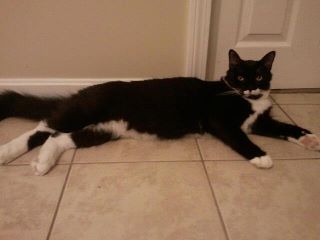 We got him from shelter in RI and he is very big for a 1yr old cat compared to our other 1 yr old cat :)
He measures from tip of nose to very end of tail 3 feet long when he's standing (not even strached out) so were just wondering if he has some in him.
He is very like calm and cool and you can hold him any way you want very friendly and even likes a bath blow dry every now and then :) He also was said to be a Maine Coon mix at shelter!
---
Ollie
(Edinburgh, Scotland)
Not sure if Ollie is a Coon or not, he definitely is a big lad, and is no shy and retiring wall flower.
He vets people as they come into the house, and does not allow them to go into rooms unless he is with them! Most of the time he has a lovely nature but does hold a grudge!
If he loses his football when we are playing, he thinks nothing of taking a swipe at us, even if he wanders off in a huff, he will make a point of taking a swipe on the way past later in the day\night.
He's very independent and like most cats, loves to sleep.
Comments:
Oh Yeah!
by: Deb
He looks very much like my MC Ralph, who lived to be 20 years old. He is ADORABLE!
What a beauty
by: Ariel
Ollie's tummy shot is precious..what a sleepy, dreamy pussy cat. Life's good for this cat!
---
Jasper K. Evans
By: Shannon Evans
(Ogden, Utah, USA)
I am wondering if my Jasper K. is a Maine Coon. He is HUGE at 6 months old! He seems to have the characteristics. Or is he a mix??
Comments:
Jasper
by: Gail (Quincy, MA, USA)
I would say 'yes' but unless you've got purebred papers, it's safe to assume he's a mix. He's a very handsome boy indeed.
What a tail
by: Helen
Jasper is a handsome dark target tabby and what a tail. It should develop into a fine feather duster!
Jasper
by: Mary Lou
Even if he isn't a Maine Coon, he is adorable!
My Own Jasper
by: Jessy
At the age of 4-months-plus, is not huge, but he's getting longer and longer and his tail is fluffing out to beat the band. Noticeable because his buddy Thai Foon, only slightly younger, weighs more but comes in a more compact package. Also Jasper twirls in the air like Nijinsky and Thai Foon is more earthbound.
---
Crimson
By: Michelle
(Oklahoma City)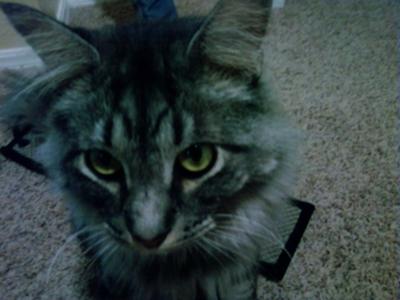 Is Crimson a Maine Coon? He is a very active and playful cat. When we got him from a shelter he was just under a year old.
He has been a part of our family for just over 2 years now. He loves attention and will knock our other cat out of the way to sleep in the bed next to me every night!
He has long gray hair and huge paws. There are long strands of hair coming out of his ears and paws. He also has a long bushy tail and long fur around his face that almost looks like a lions mane.
Most of the pics are about a year old and he is slightly bigger now. He is definitely a huge part of the family!
Comments:
Crimson's a beauty!
by: Gail (Quincy, MA, USA)
Judging from your photos, it appears that Crimson does have MCC in her. Enjoy - she'll keep you busy, LOL!
---
Introducing Our Kitten Tali
By: Sanya (Northern Ireland)
Loves the washing machine. lol
We got Tali, known then as 'Missy', from a workmate of my husbands. She's now about 14 weeks old.
Such a cuddley, friendly, playful, curious kitten. Loves to 'talk' to us, loves eye contact and to lay in the sunshine. Excellent 'soccer' player lol, loves playing her little ball toys.
Oh she looooves sitting infront of the washing machine when we have it on. Cute! We think she's a Maine Coon mix, but not 100% sure.
Comments:
Goodness
Man. look at those FEET! Time will tell but i think there is a very good possibility.
Arrrrhhh
by: Joanna Ward
So sweet just like our bundle of fluff. Hope you both a happy life together xxx
Tali
by: Kim
Be careful with kittens around dryers. I had a friend who didn't realize their kitten climbed into the warm dryer to sleep.
---
Could Leandro be at least part Maine Coon?
By: Ruth
(Belfast, Northern Ireland)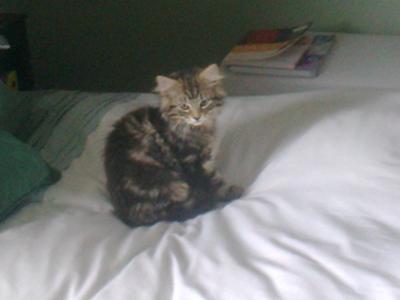 9 wks old, sitting on Mums bed
I have recently got a beautiful male kitten - he's what I had termed long haired tabby. But my friend said when she saw him that he looked Maine Coon.
What do you think? His name is Leandro.
The most recent picture is the one of him on my bed when he was about 14 weeks. He has a lovely nature, follows me around a lot and is a great mate to little Lola.
Comments:
Maine coon mix
Oh he is too cute and he really dose look to be a maine coon mix I had a maine coon and now i have a maine coon mix and he looks alot like my little guy i have and my maine coon i had who passed away last year he is a beautiful kitty enjoy him :)
I would think so!
by: Heather
I wld think so.. I was told one tell tale sign is the "M" on his forehead... check out the list of other traits on this site.. at any rate he is adorable!! enjoy!
Maine Coon Mix
He definately looks like a Maine Coon Mix! I had one that looked just like him, "Sarge" he passed away 5 years ago. He was awesome, he loved fetching the small foam balls. He would drop one in front of me when he wanted to play..he would bring it back 15 times..just like a dog!!! I have to Maine Coon brothers now..they are 5 months old. Enjoy him, they are wonderful cats!!!!
---
Our Lovely Jojo
By: Jenny
(Kissimmee, FL, USA)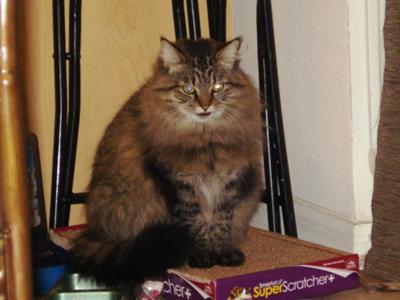 My kids and I were lucky enough to adopt Jojo from a cantor at our church. She's very loving and likes to talk to us. Although Jojo isn't a big cat, because of her looks, especially the "M" on her forehead, we've always wondered if she is a Maine Coon.
No matter what breed she is, we will love her always.
Thanks!
Comments:
Maine Coon?
by: Sgt Pepper
I think JoJo is definitely a Maine Coon. Not only does she have the "M" and traditional colors, her paws are HUGE. They call those "show shoes" type paws. JoJo looks like a great friend.
Very likely
by: Samantha
Her fur looks very thick, especially the bit around her neck. Even her big bushy tail! Her size would match too. She certainly does look like she's got some Maine Coon in there!
---
Possible Tabby Maine Coon?
By: Samantha
(UK)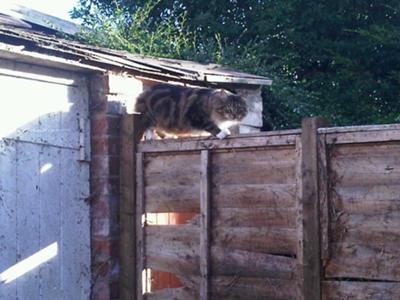 4 White Socks, Bushy Long Tail, Big Feet!
This is Sox (a cooler way of calling him "Socks" because of his four white paws. He is almost 3 human years old.
We got him for free from a lady at work whose two cats had two litters at the same time! I was drawn to him instantly because of his clownish nature and his beautiful fur.
He is quite clumsy because of his big feet but he has his mad moments too when he will go hyper and run around the house!
He likes human company, but not too much fuss, he usually likes to sit with me but not on me.
I don't really know how he could be a pedigree cat because I don't think his parents were special breeds, but he does look the part!
Comments:
Look Alike
by: Helen
Well, you could have fooled me. He looks very much like a CC, especially his deep body profile. Sox has a wonderful classic target pattern with good contrast. A real beauty!
Thanks
by: Sam
Thanks for your thoughts Helen, his fur is very thick but lovely to feel. He constantly needs brushing as he gets tatty easily, despite the fact he washes himself about 20 times a day! His feet also have tufts of fur sticking out of them which he manages to get all sorts of things stuck in! I can't believe his likeness to a Maine Coon, considering he's come from two everyday normal domestic house cats!
---
5 Month Old With The Temperament Of A Dog And A Feather Duster Tail
By: Tyler
(Lincoln,Maine)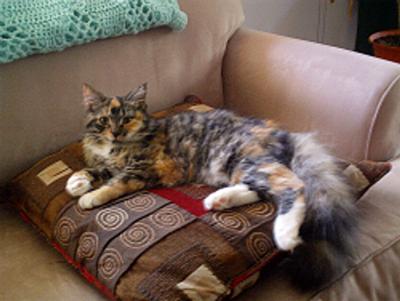 This is Winky whom I received for free from a friend of a friend whose cat bred with a feral one.
She is a 5 month old tabby and I am reasonably sure that she is at least part Coon. She has all of the characteristics such as the fur between her paws, tufts in her ears and bottle brush tail etc.
She fits the temperament described to her, and actually loves to play fetch when I throw the ball for her. Shes not a lap cat but will follow me every where I go and will actually wait outside the door if I close it.
The only exception to the temperament would be a phobia to water. Poor thing became so traumatized that I had to switch to cat wipes.:)
Gorgeous by: Portshe
She is a beautiful cat! You and she are both lucky to have each other. I have 2 Maine Coons and there is nothing like them!
Thank you.
by: Tyler
Thanks! I always though she was a nice looking cat. She is my first cat ever. I live in an apartment and dogs are not allowed but cats are,not that im complaining:) I understand its hard to tell but do you think she is coon? Her mother is similar looking but has no pedigree. The Norwegian tabby looks very similar in appearance so do think you can tell me what the differences between the two are? Even in New England,Maine the odds of two pure bred coons accidently breeding are slim, so I suppose she will always remain somewhat of a mystery as to her full parentage.
the feet
by: cb
Does she pick up her front feet very (regally) high with the toes pointed down and the head held high, she has got a lot of Maine Coon in her!! Enjoy.